A great many people that go skiing opt to rent skis rather than buy their own equipment, and for plenty of good reasons.
Ski rentals are an affordable way to get the necessary gear for a ski trip without laying out a great deal of money.
While renting skis may seem like something only people completely new to skiing might try, plenty of experience skiers will rent skis as well.
Image
And if you think renting skis means you're getting a beat up pair that was previously used to clear someone's yard, think again. The ski rental business has changed a lot.
So what you should you know before you rent skis, and what should you look out for when you get to the ski shop? Here's everything you should know before you rent skis.
Why rent skis?
Image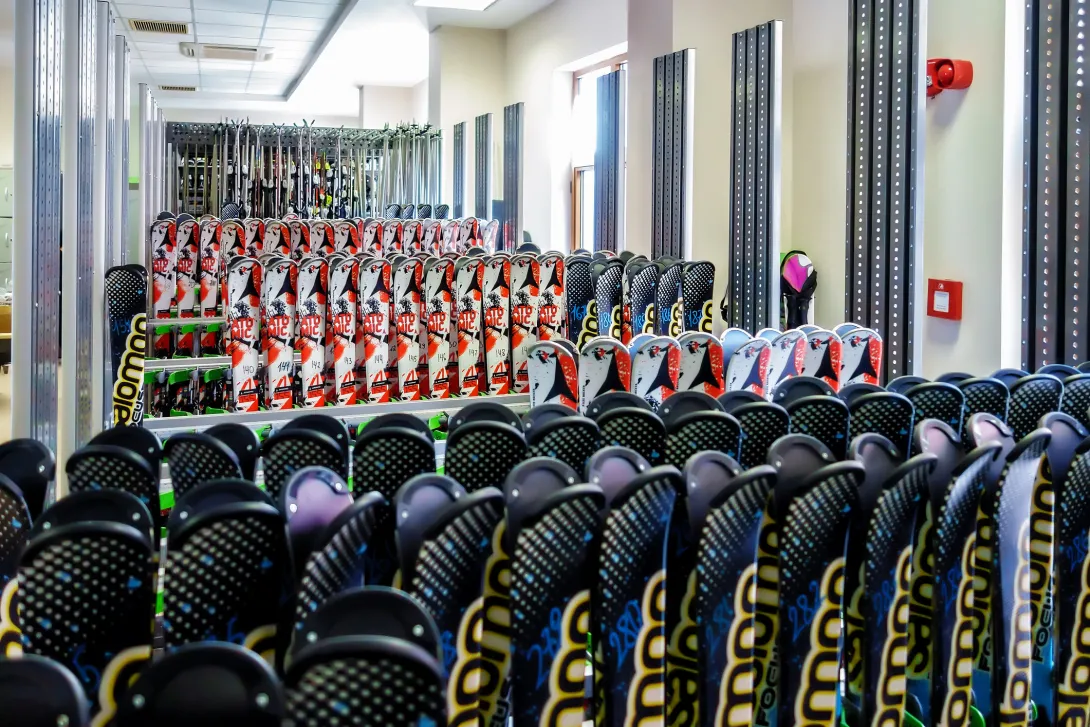 Off the bat, you'll need to make a decision if you want to rent skis.
Assuming you don't already own a pair of skis, then you'll likely consider renting skis vs buying them.
The best reason to rent skis is it will cost a heck of a lot less than buying skis.  Even a used pair of skis will cost you hundreds of dollars, whereas a ski rental could come in well under $100 for a pair.
Yes, over the years, buying skis will be a better value, but you'll incur a large up front cost to buy skis.  And if you're new to skiing, what if you don't love skiing? Or have to stop for a while for a variety of reasons? Renting skis can have major financial benefits too.
Image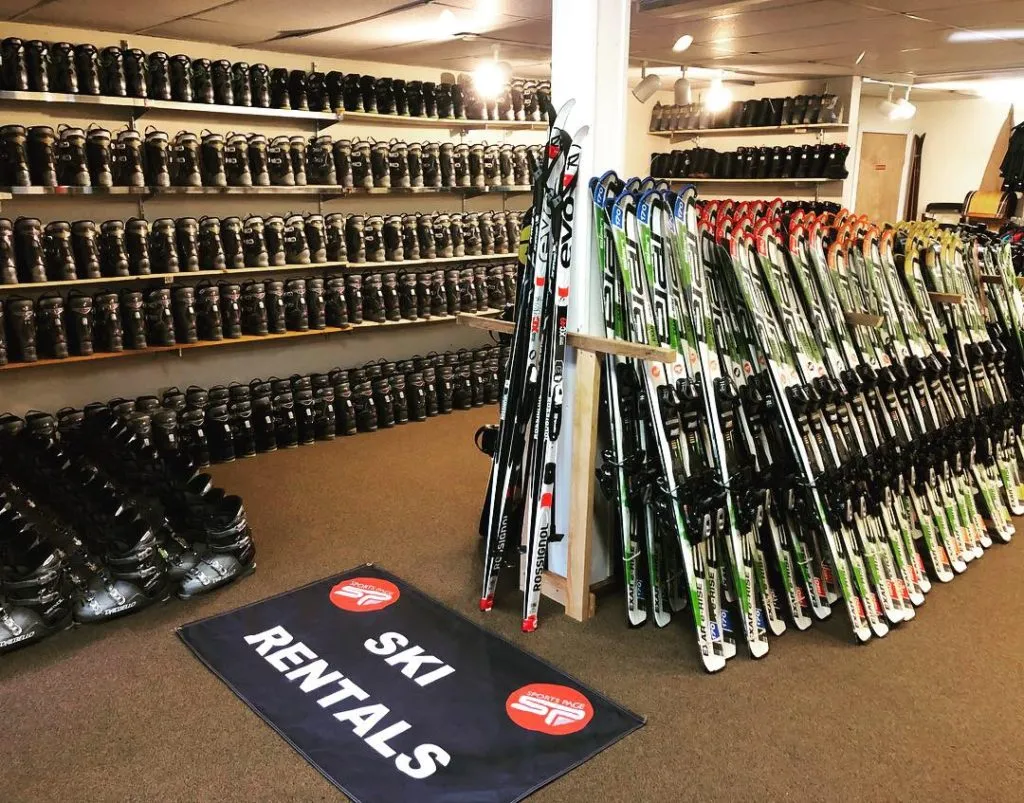 Another great reason to rent skis is you won't be responsible for their upkeep.  Waxing, cleaning, and generally caring for skis (especially between seasons) is not simple, so if you're renting them, you don't have to worry about caring for them when not in use.
Ski rentals are also convenient if you have to travel to your ski destination.  People that own skis will have to pack them in the car or even fly with them in order to get them from home to the mountain and back.  Packing up ski equipment is not easy and a real pain.
Renting skis is also a way to test out different equipment, such as short skis, or a specific brand or model you've been considering.  It can be a cost-effective way to try before you buy.
Image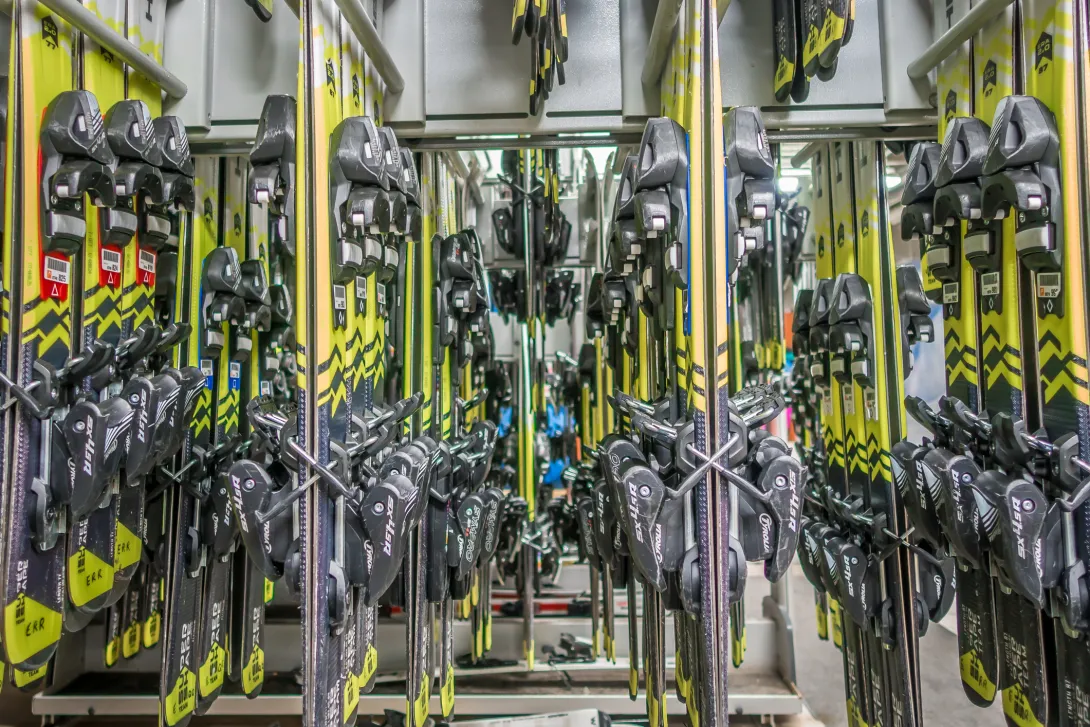 And if you have kids, renting skis is almost the only option to consider. Because kids grow so quickly, buying equipment means they will outgrow it after perhaps just one season.  
Sure, you can sell back your skis to a ski shop and then upgrade your kids to the next size, but you'll lose money.  Buying skis is best when you can count on them for a few years.
Where should you rent skis from?
Image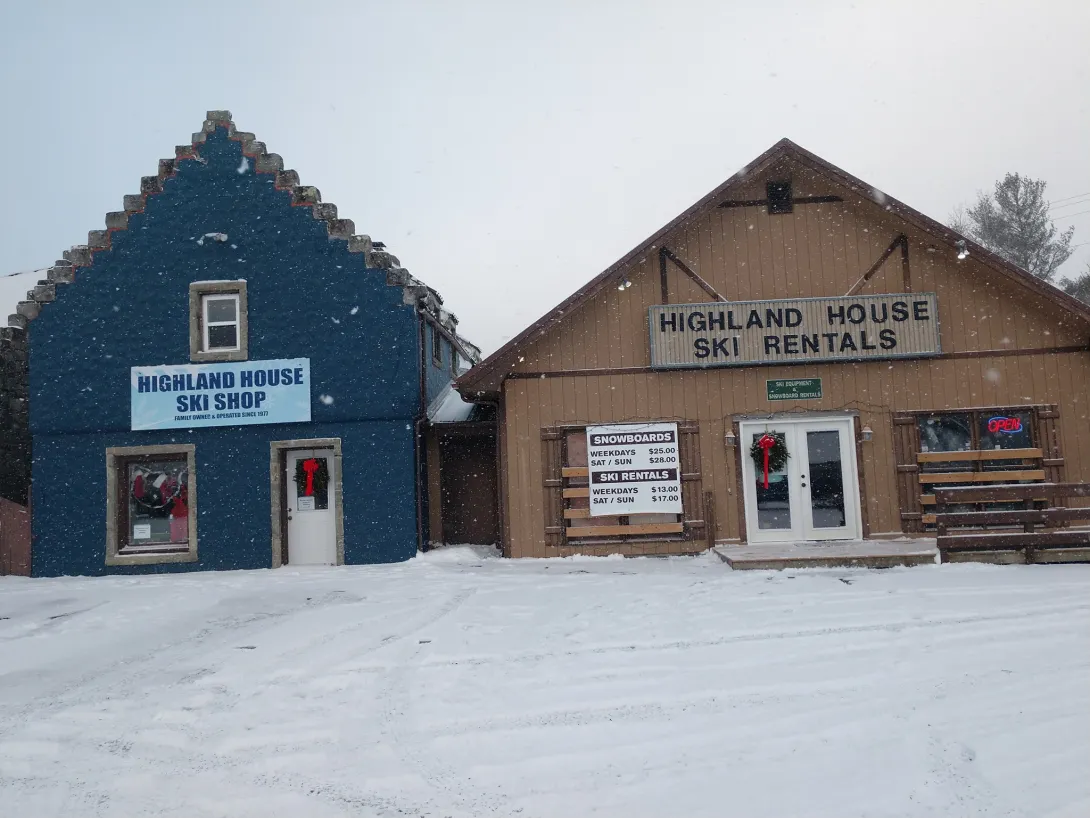 The easiest place to rent skis from is at the ski resort you are going to.
Every mountain has a ski shop that rents out gear.  The advantage of renting skis from the mountain shop is you pick them up and drop them off right at the mountain.  You don't need to lug them around (unless you're doing a multi-day rental).  When you're done, ski to the shop and drop them off.
In general, renting skis at the mountain will probably cost you more than somewhere else. You'll have to check prices, but I've generally found this to be the case.
Image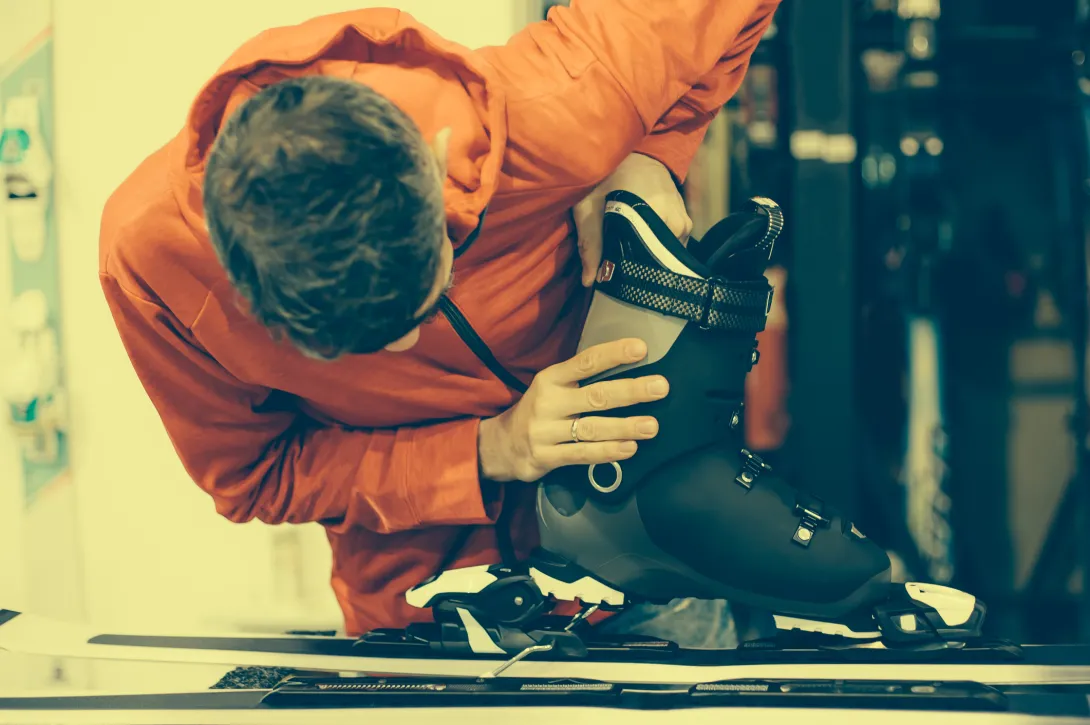 In addition, the ski rental shop at the mountain can be busier than local shops, which means you may not be able to get in and out as quickly.  To be fair, any ski shop can get busy, but it seems like the ski mountain resort locations tend to attract more people who simply book a ski trip and then get their skis at the mountain since they're already there.
Some ski resorts rental shops will actually drop off your rental at your hotel.
The best alternative is often renting skis at a local ski shop nearby the mountain.
Image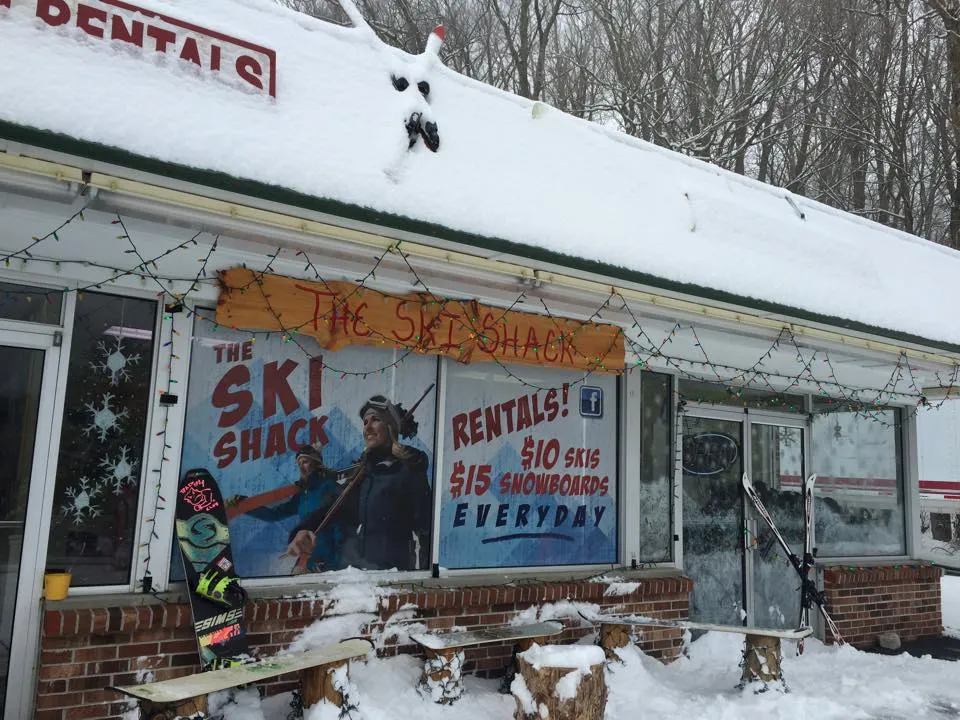 Most ski towns have at least one or two ski shops nearby that rent skis. Not only will they probably cost less, but they may have a wider inventory of skis to consider.
I've often found the prices to be substantially cheaper at an off-mountain location, and the lack of crowds a major advantage.
Are rental skis any good?
Image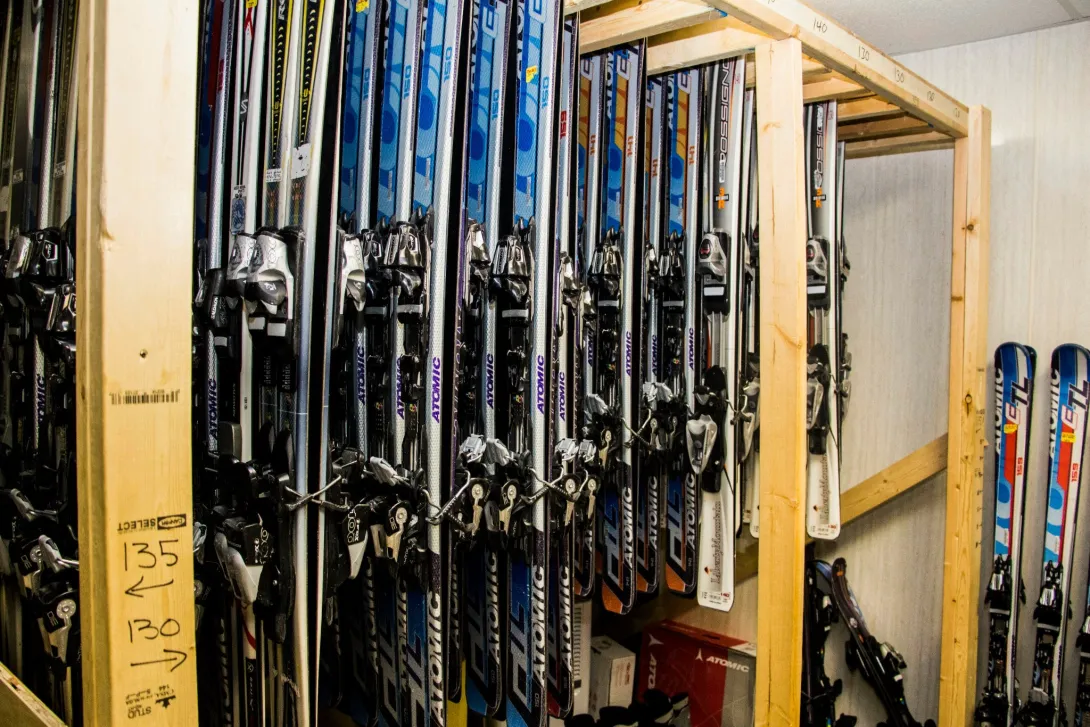 I remember renting skis as a kid and getting pairs that looked like they had been used for years before they got to me.
Renting skis today has become a better process, and in general, you can count on skis that are plenty good for your needs.
If you're not a professional skier that needs the latest models to help them shave seconds off their slalom run, the skis you can rent are probably good enough for what you're doing, especially if you're brand new to skiing.
Image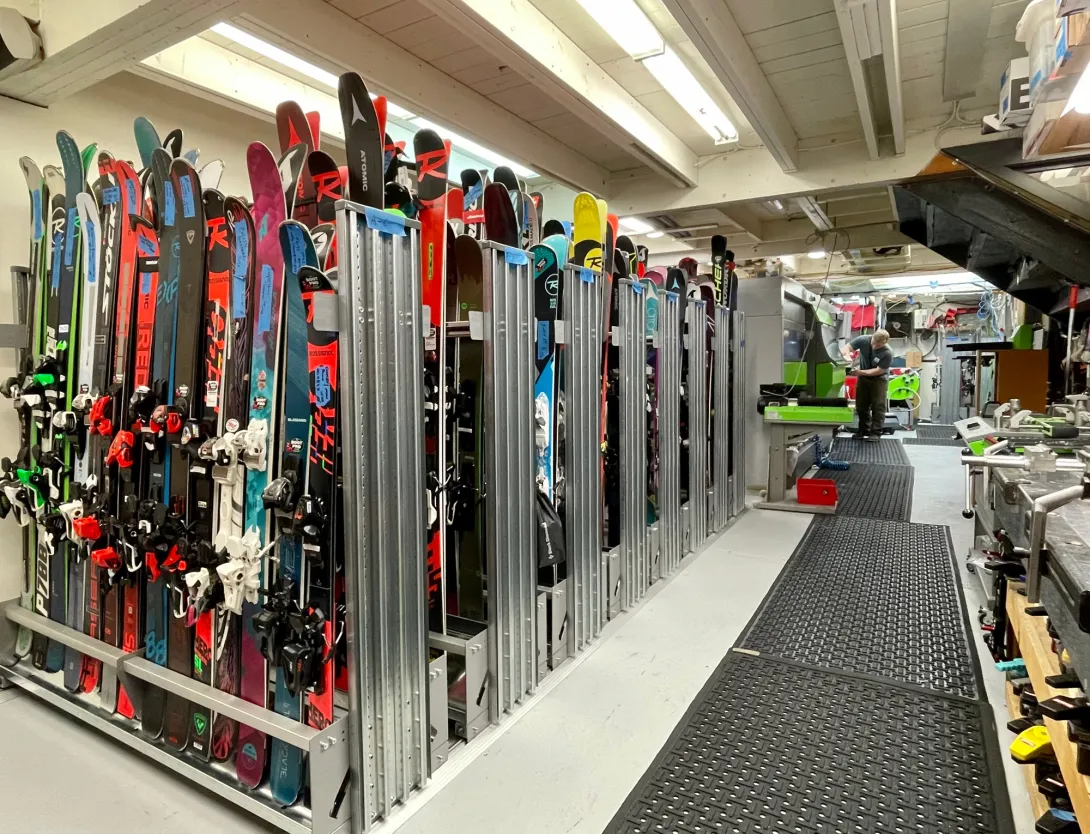 Ski shops will likely carry a variety of brands, such as Nordica, Rossignol, Salomon, Völkl, and K2, but the exact inventory you can expect will be somewhat of a crapshoot when it comes to a shop's inventory, sizing, and gear condition.
The way to ensure you're getting something good is to first make a reservation in advance. While most ski shops advertise you can walk in and get something, you're better off calling up and making a reservation before you arrive to ensure they have something in your size and waiting for you.
If you do care about which brand or model to rent, then you'll want to check the shop has that in stock and ready for you when you arrive.
Image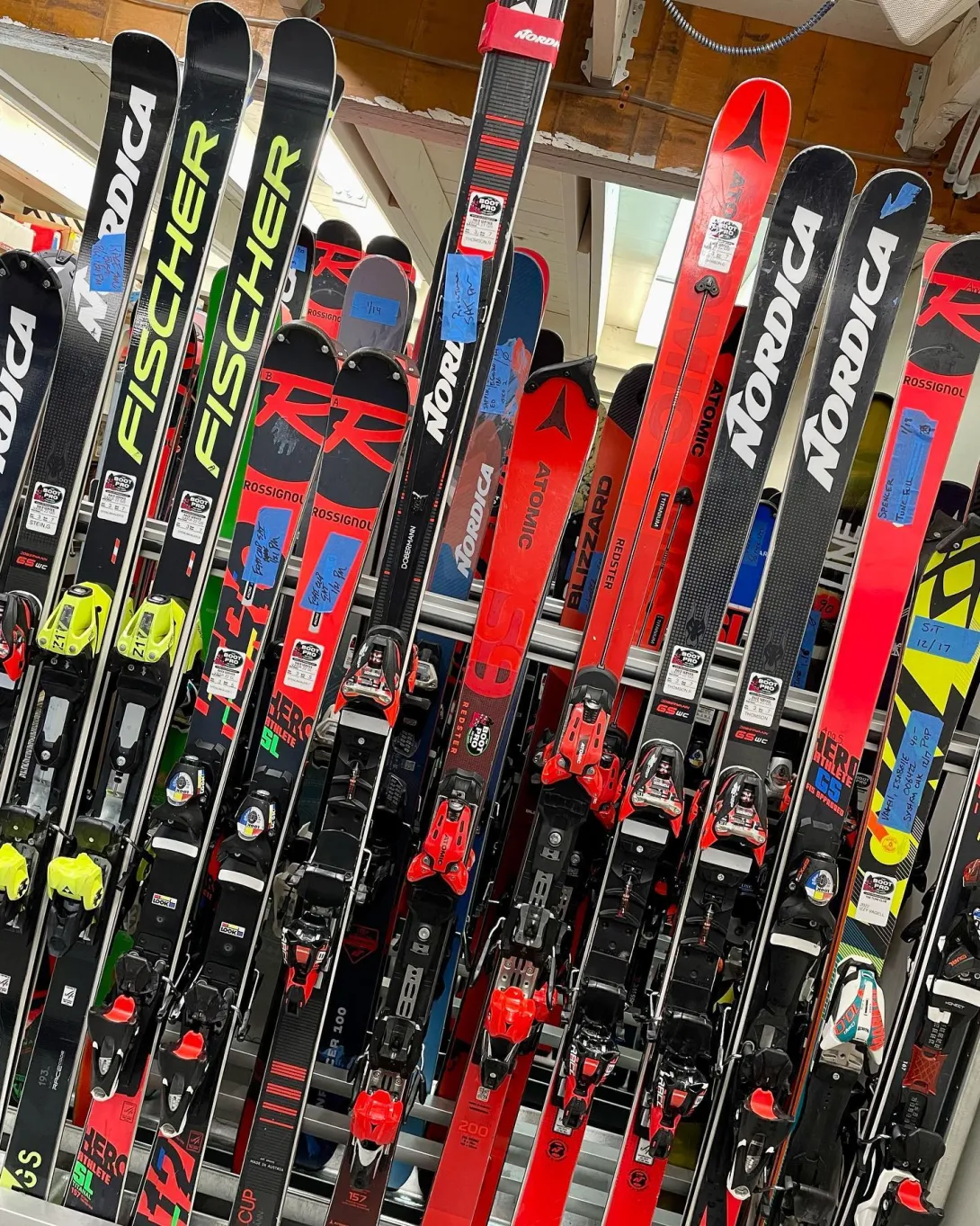 If you're brand new to skiing and don't know a pair of Salomon skis from a salmon fish, then don't sweat the choices too much.  Let the shop know you're new and want something good for a first-timer. 
Once again, I've found off-mountain rental shops to have a greater variety of choices that can ensure you're getting something good.
How much does it cost to rent skis?
Image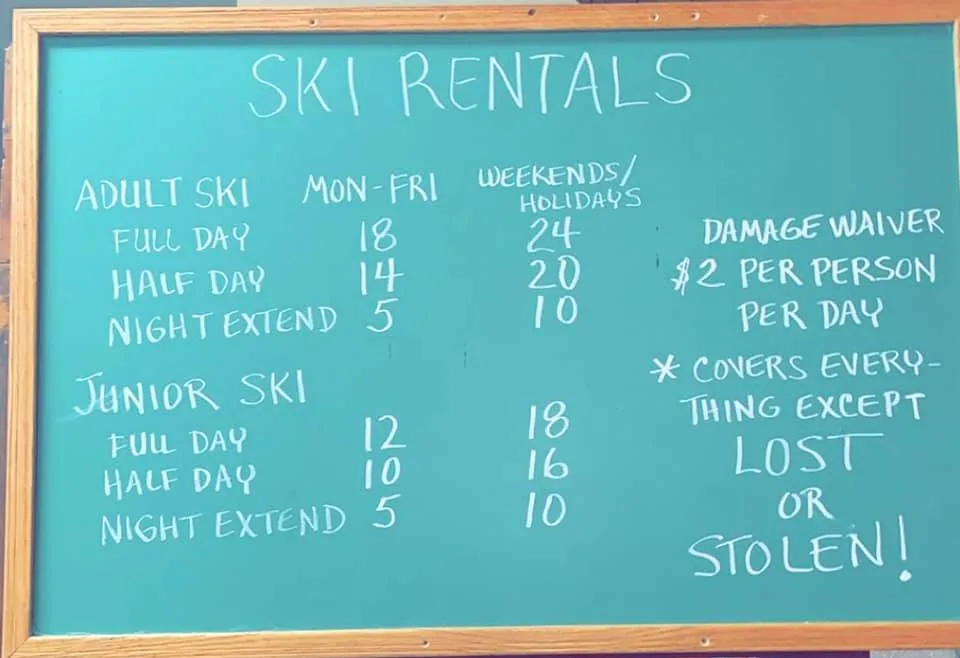 The exact cost of renting skis, boots, poles, and a helmet will vary depending on where you go, but we can give you a ballpark idea of what to expect.
The average cost to renting skis, boots, poles, and everything else you'll need is going to be around $30-$40 per person, per day.
The per day price can get cheaper the more days you rent skis as part of a multi-day package.
Image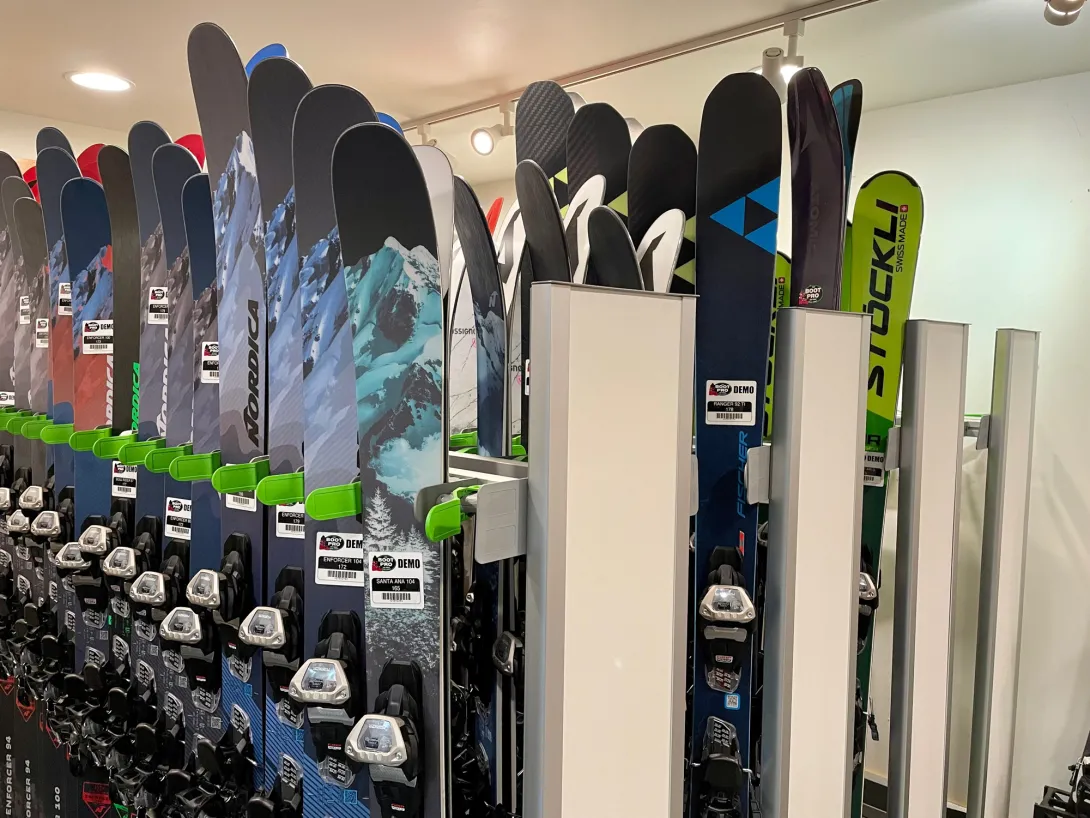 The exact cost will depend on which mountain, shop, and country you are visiting.
Any rental you get should not only include the skis, but boot, bindings, poles, and a helmet. Usually the cost of poles and helmets is nominal or even free.
Read more: How Much Does It Cost To Ski?
When should you book your ski rental?
Image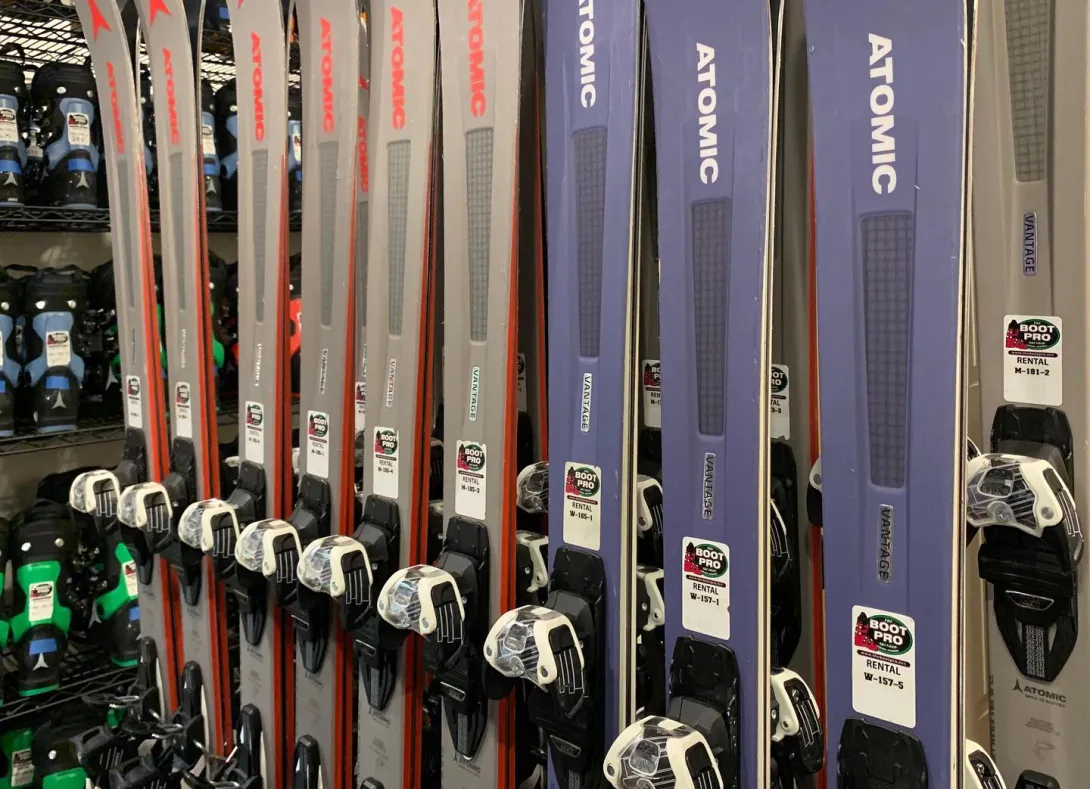 If you're not picky about the type of skis you rent, you can likely make a reservation just a few weeks or days before you need them.
Most ski shops have an abundant supply of skis, and only sell out in the case of day-of rentals during busy times of the year.
It's a good idea to call ahead and confirm availability and make a reservation for your family, especially if you're skiing over a weekend or holiday.
What should you ask when you pick up your rental skis?
Image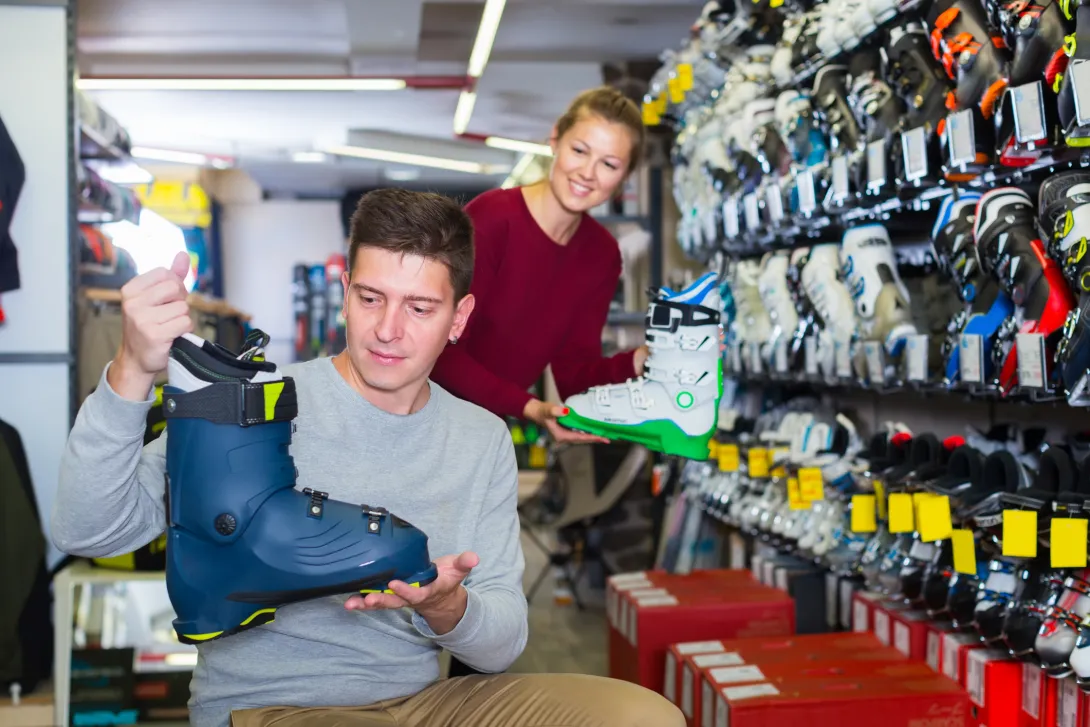 Besides knowing your shoe size, there are a few things you should ask the person renting skis to you.
Your ski rental needs will evolve over time from ski season to ski season. Asking the right questions up front can not only get you the right stuff, but ensure you don't have to come back later for an adjustment.
What level of skier am I?
Image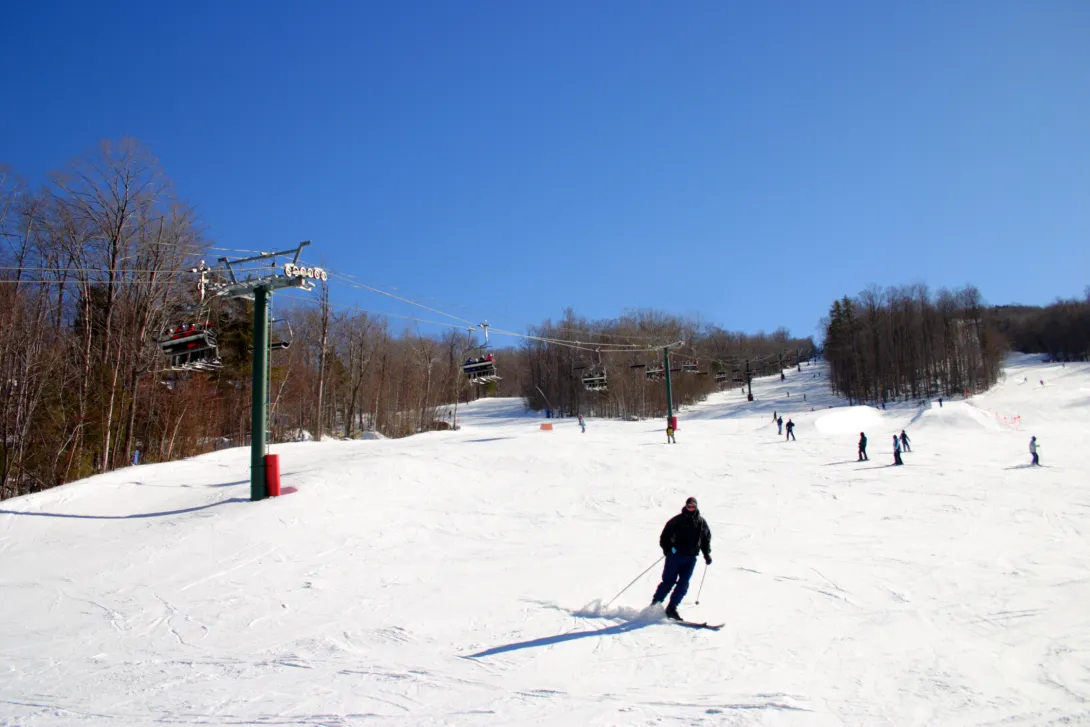 Skis are made for different ability levels, so it's important to describe your ski history.
Are you someone that likes to ski fast? Will you ever leave the beginner hill? How many times have you ever skied?
In general, you'll want skis to match three aspects of your talents:
Ability

beginner, intermediate, or advanced

Ski conditions

powder, hard pack, groomer, ice

Personal preferences

speed, control, or confidence
It's okay if you're unsure about #2 or #3, the ski shop should be able to recognize the answers to those for you. 
How should my boots fit?
Image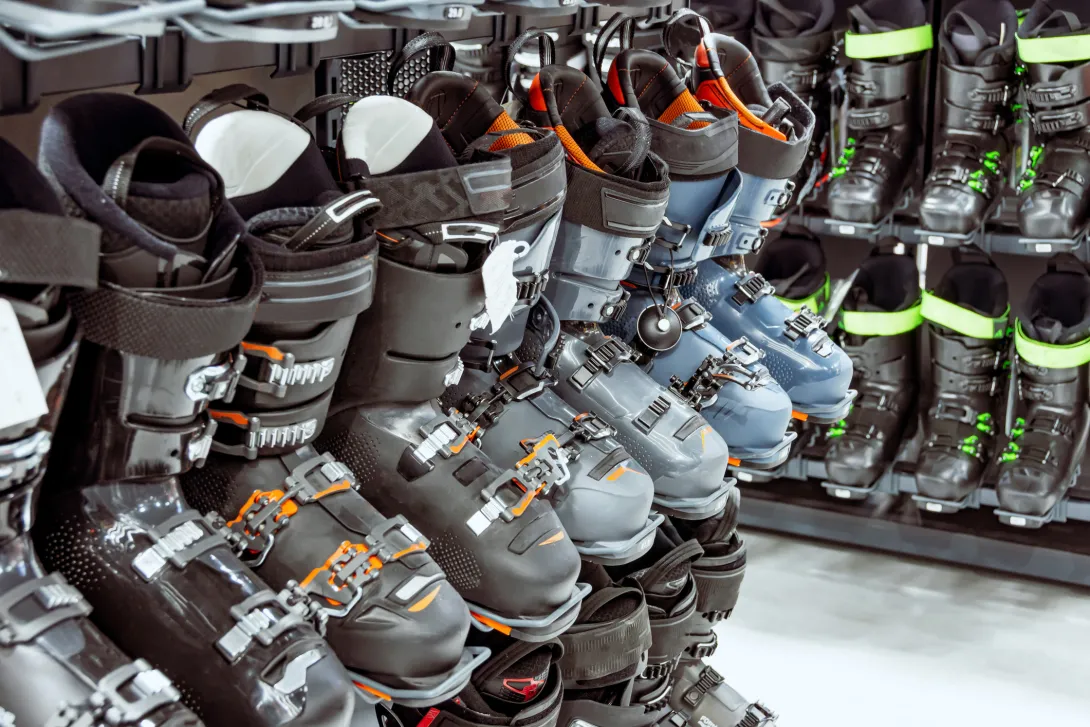 Boots are where I make the most mistakes with ski rentals, because I underestimate the comfort of them.
The shop should do a good job fitting your boots when they measure your foot and give you a boot or two to try on.
What you need to do is ask where your foot should be in the boot, and how much "give" your foot should have when walking.
Read more: How to choose the best ski boots
Image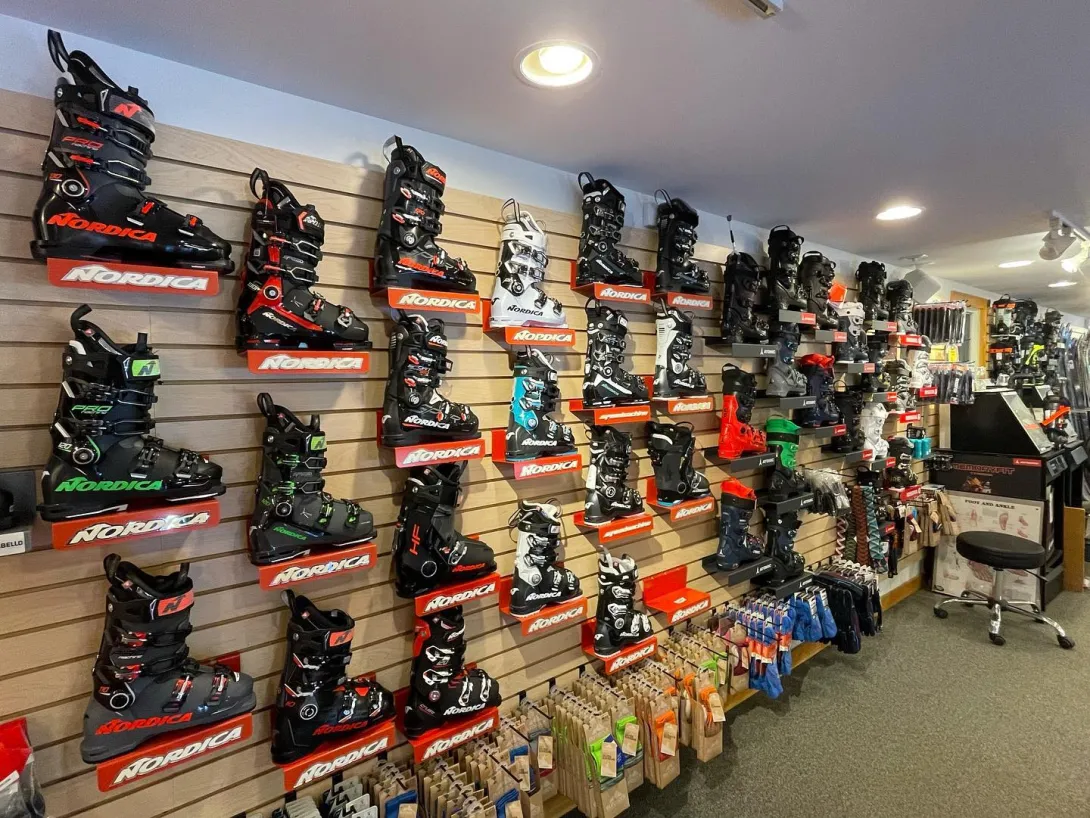 It's difficult to know how the boots will fit when you're in a shop standing vs having them on after a few hours skiing. Ultimately, you want a pair of boots that will allow you to be in control of your skis without feeling like your foot is in a vice.
If you have too much room in your boot, you can get blisters and even loss of control of your skis.  If your boots are too tight, your feet can hurt from hot spots and pressure points.
Ideally, you want a snug middle-ground.
How to pick the right skis
Image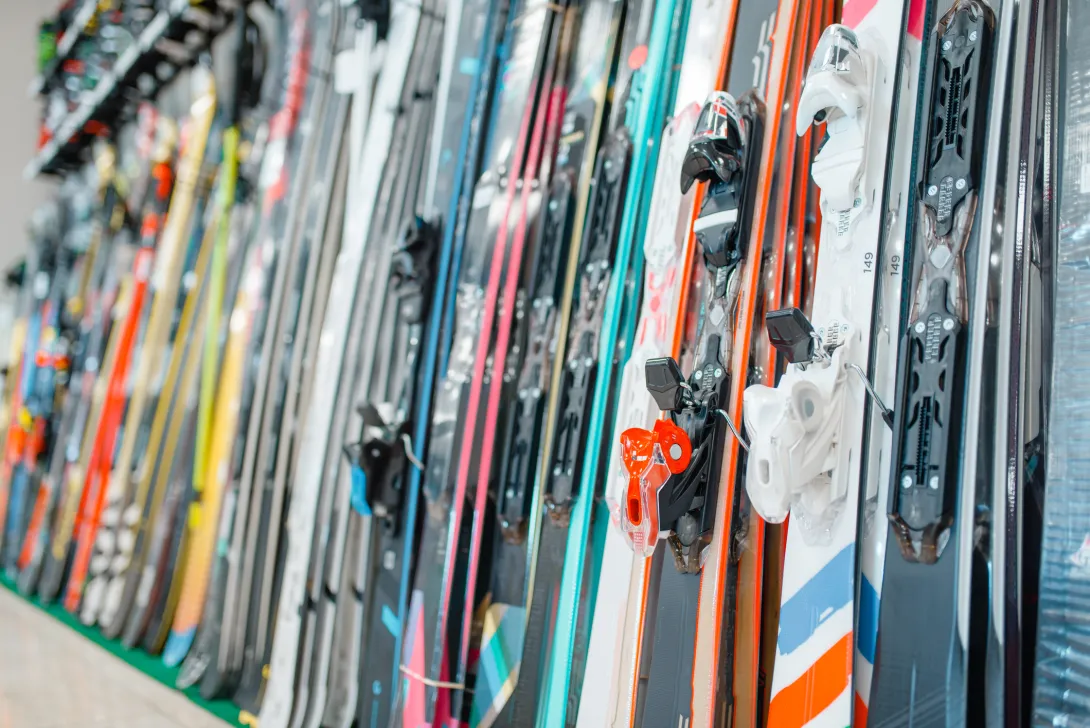 When you go to pick skis, you'll want to consider three factors:
Skiing ability
Shape of the skis
Length of the skis
If you're a beginner or just entering the intermediate phase, an entry-level set of skis makes sense because they are shorter, softer, and narrower.  These skis will make it much easier to learn basic technique and initiate and complete turns.
Image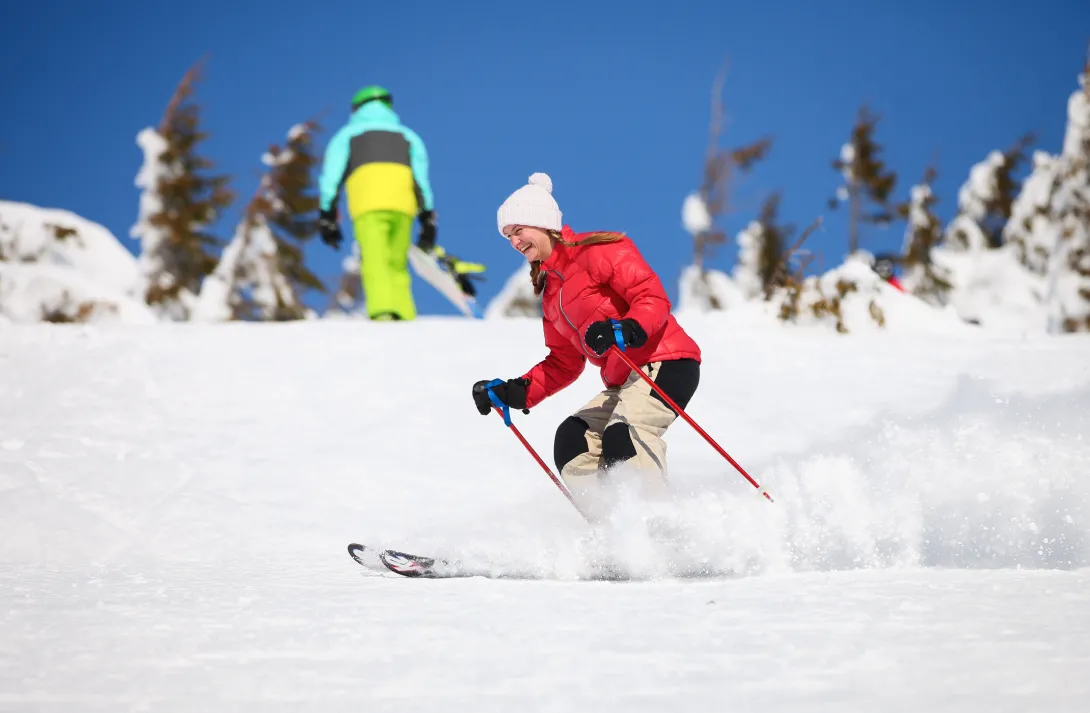 For intermediate skiers, you'll want skis that can better handle different types of terrain and faster speeds. A slightly longer, stiffer and more stable rental ski is a good choice. The height of the ski should approach eye level when held up to your face.
Advanced skiers will want to opt for a demo package, which are essentially retail skis with very adjustable ski bindings to accommodate a wide variety of boot sizes.  Demo skis incorporate the latest technology for the ultimate ski experience.
What is a demo ski?
Demo skis are considered to be the very best skis you can rent because they're essentially skis that would otherwise be sold to someone.
These are very new models that have highly adjustable bindings to fit various boot sizes.
You'll want one if you feel the typical rental ski is holding you back.
Of course, the top quality comes at a higher price and renting demo skis will cost you much more than if you rented other kinds of skis.
What you'll still need to buy
Image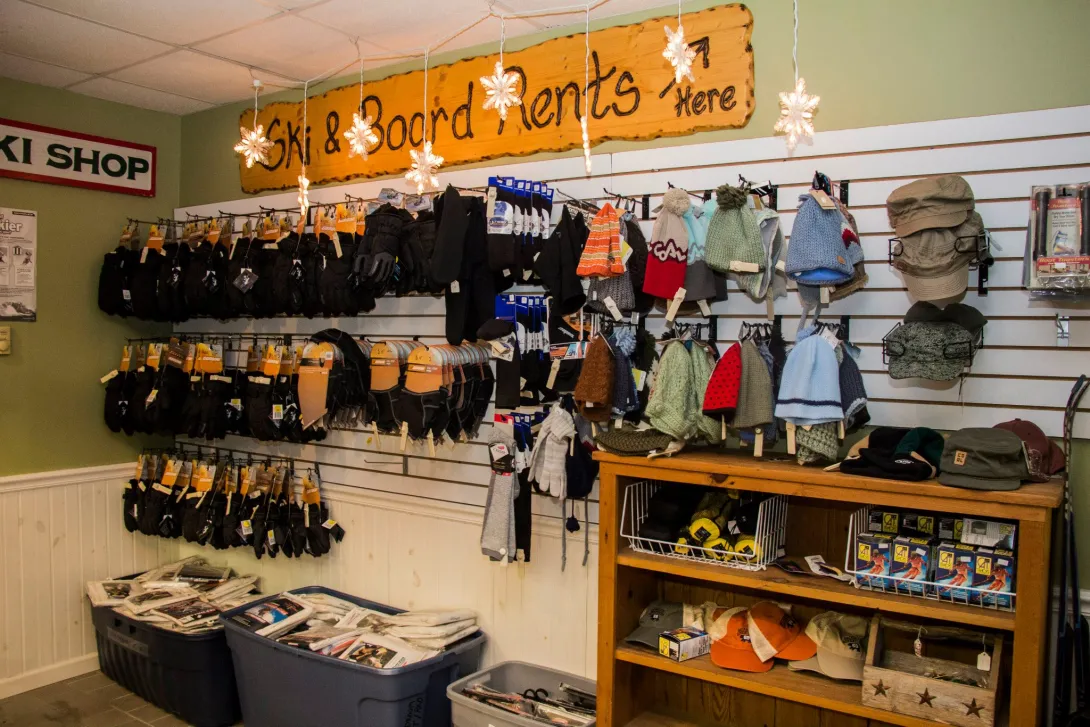 You can rent the basics for a ski trip, but you can't rent everything you'll need to ski.
Ski clothing is something you'll need to purchase separately, although most ski shops will sell these items too.  You'll probably find better deals on ski clothing if you purchase it somewhere else, such as online.
Besides renting ski equipment, here's what you will need to buy:
Ski pants
Hat
Ski socks
Fleece or sweater
Read more: What To Wear First Time Skiing
Image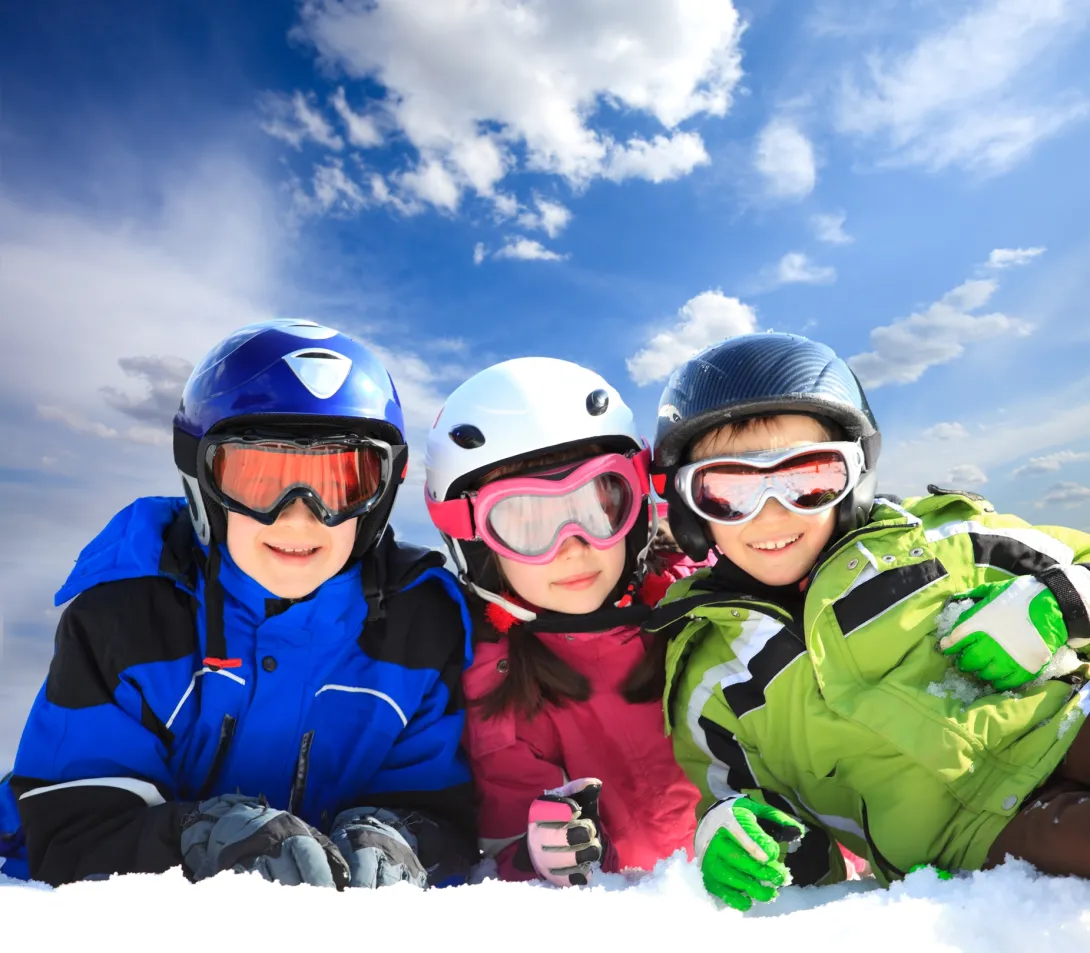 It doesn't matter if these items are name brand or even new. The only consideration is if the outer items are water proof.