Ski equipment is not cheap these days, especially when you're just starting to collect your gear. Your skis are going to be one of the biggest expenses you will make and also the most important to get right, so make sure you do your research and shop around before settling on a pair of skis to call yours. 
A new pair of skis can cost you anywhere between $400 and $1000. The good news is that beginner ski gear costs less than more intermediate and advanced gear. The bad news is that purchasing skis alone isn't enough; you also need to get a pair of ski boots, bindings, and poles in order to complete the setup. The total cost of your starter ski gear setup will cost you around $600 to $1500. 
When you're just starting out, I recommend purchasing cheaper gear or used items and upgrading your equipment as you get better. Depending on how often you ski, you'll likely only want your starter skis for a couple of seasons and then be selling them to buy a longer, more performance-based ski to use for years to come. 
Image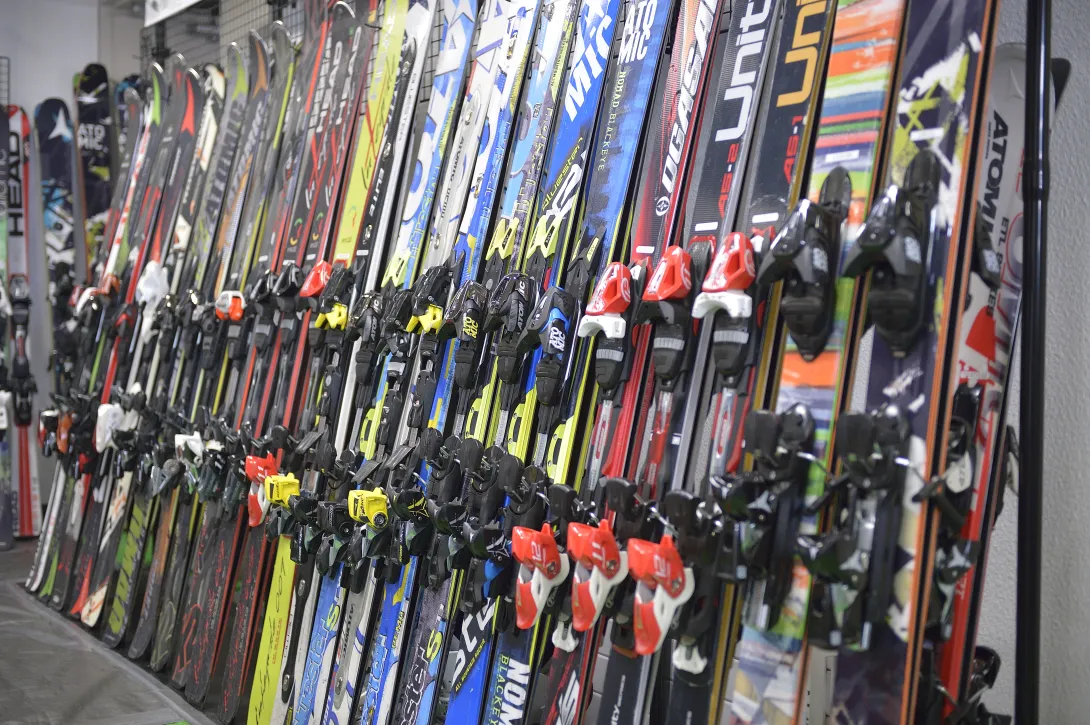 There are a few different things you'll want to consider when purchasing your ski equipment. Keep reading to learn how to pick the best ski gear for both your budget and performance, as well as specific tips to save money when shopping for your perfect pair of skis!
Things To Consider When Purchasing Skis
1. Weight
Image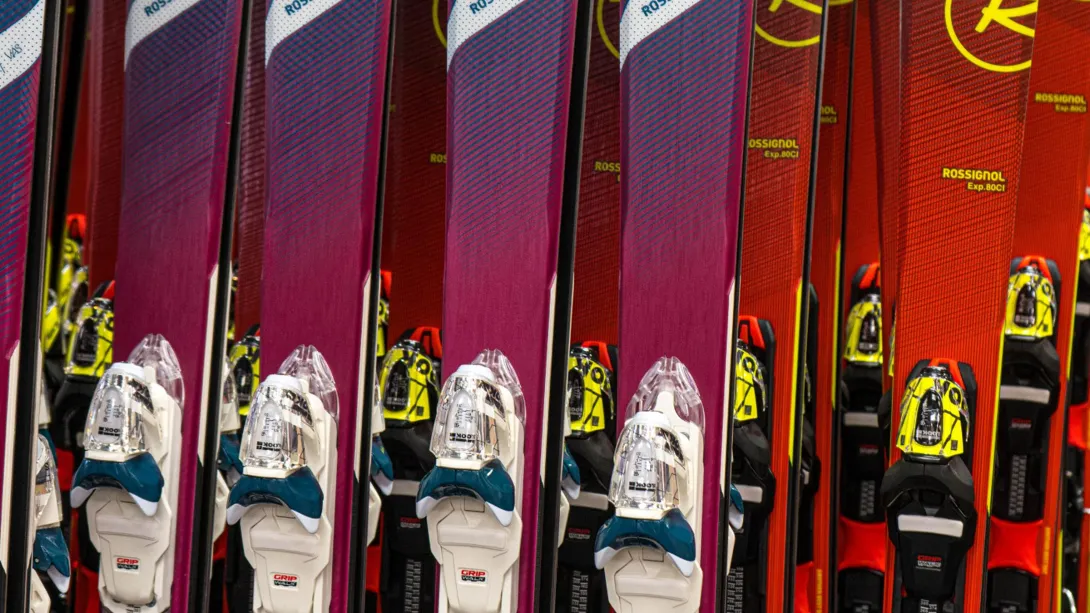 Weight plays an important role in your skis' stability and your ability to control them.
A heavier skier exerts more force when traveling down the mountain. The ski also flexes more if there is more weight on it. Because of this, if you weigh over 200 pounds you should consider a more advanced longer ski.
If you are a small skier, you may find that you prefer skiing on a shorter more beginner friendly ski even as you advance as you could find that a more intermediate or advanced ski may not flex or bend the way you need it to if you're not able to exert enough force.
2. Skill Level
Image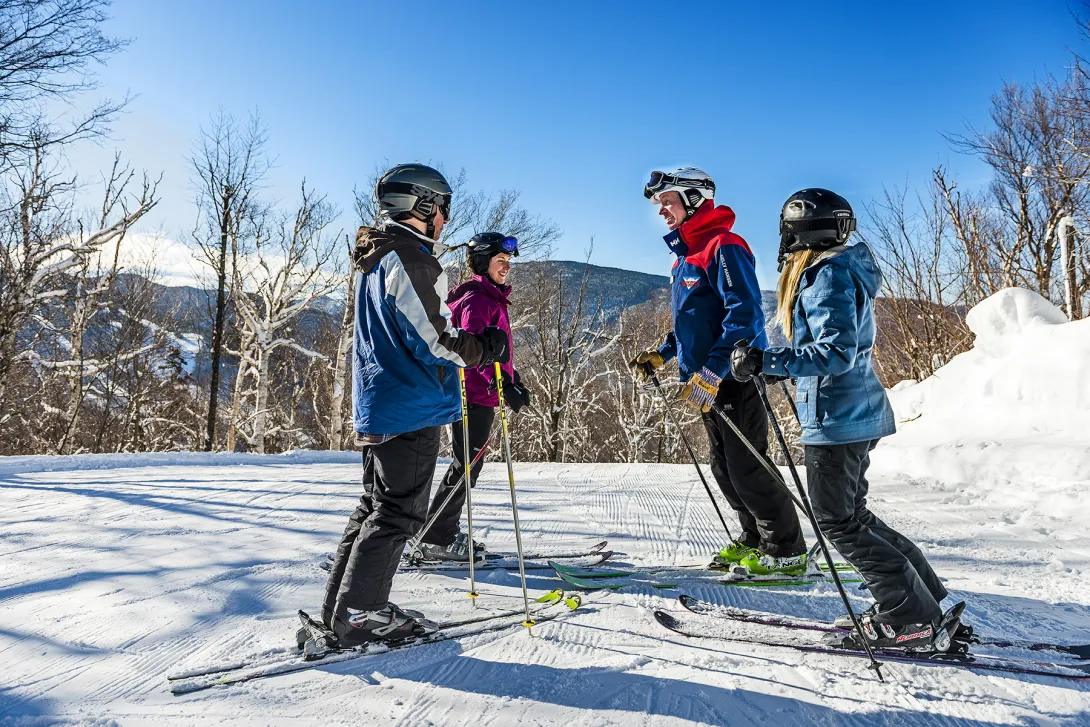 Arguably the most important factor to consider when shopping for skis is your skill and experience level.
Buying a ski for the wrong experience level could lead to decreased confidence and increased injury. And we want your time on the mountain to be as enjoyable as possible!
If you're brand new to skiing, you'll be traveling at slower speeds and turning more carefully. If you have been skiing for a while now, you'll be skiing faster and making more aggressive turns. This means that you will want shorter skis with more flex and shape when you're just starting out. These skis are going to cost less than a longer sturdier ski made for those flying down the mountain at higher speeds and looking for more of a performance ski. 
3. Ski Style
Image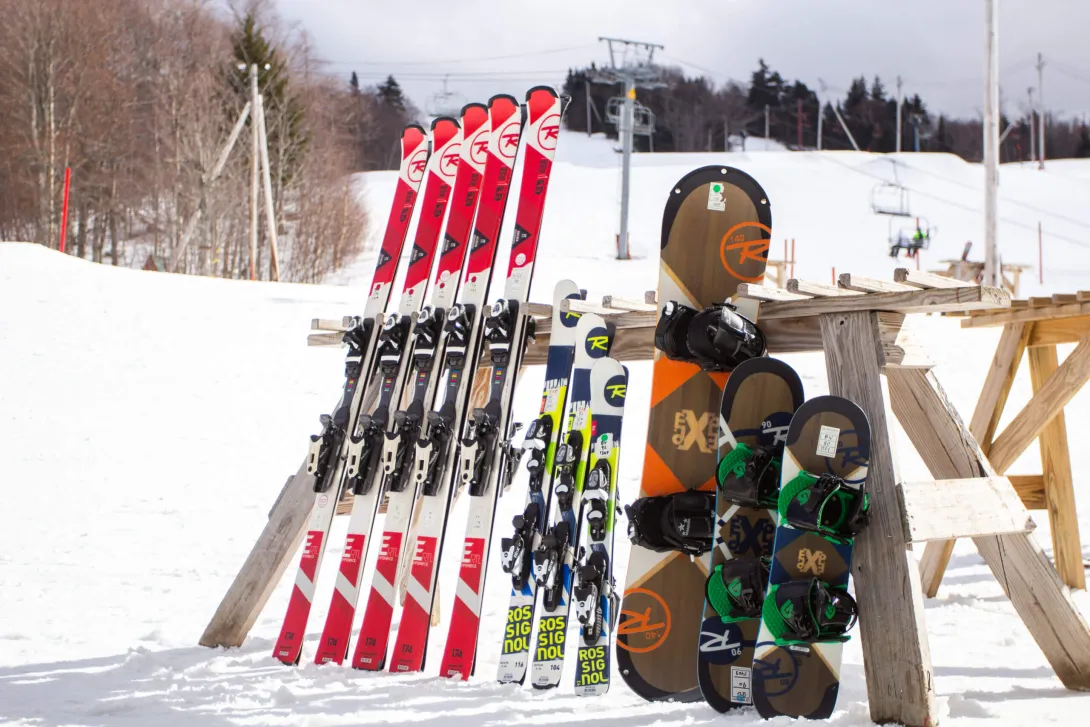 Skis that have brand names plastered on them or fancy graphics are going to cost a lot more money than those with solid colors and small logos.
If you're okay foregoing fun designs, your wallet will be happier in the long run. You could always add your own stickers if you'd like to dress it up later!
Other Gear To Buy
Boots, Bindings, and Poles
Image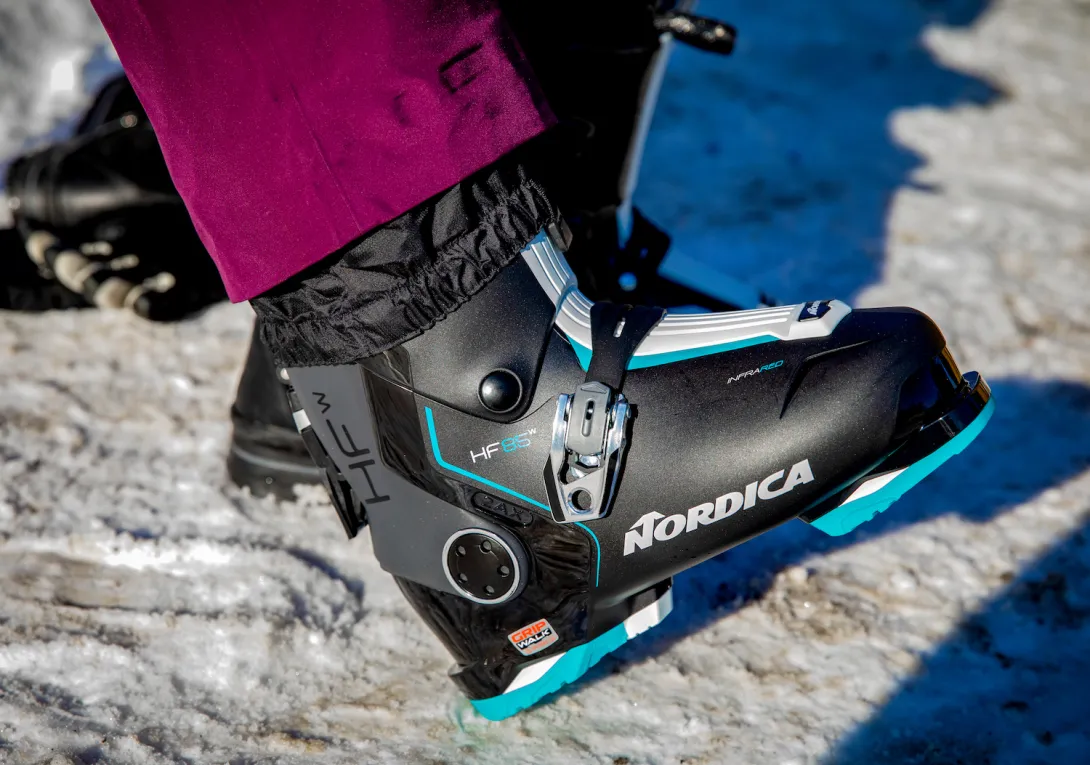 Finding the right ski boot for you is just as important (if not more) as finding the right ski. I'd even argue that you should buy your own pair of ski boots before buying your skis.
A good pair of ski boots will cost you between about $200 and $500. You'll want to find a pair of boots that are comfortable to wear, warm, and easy to take on and off. I know first hand how miserable it is to wear a ski boot that is too tight or too loose. 
Bindings and poles are pretty universal for the most part. Bindings will cost you around $100 to $100 and poles can cost you between $20 and $50. As long as they do they're job, that's all that matters.
How To Save Money On Skis
If your budget for skis is on the lower end, don't worry! There are plenty of ways to save money when purchasing skis.
Purchase Used Gear
Image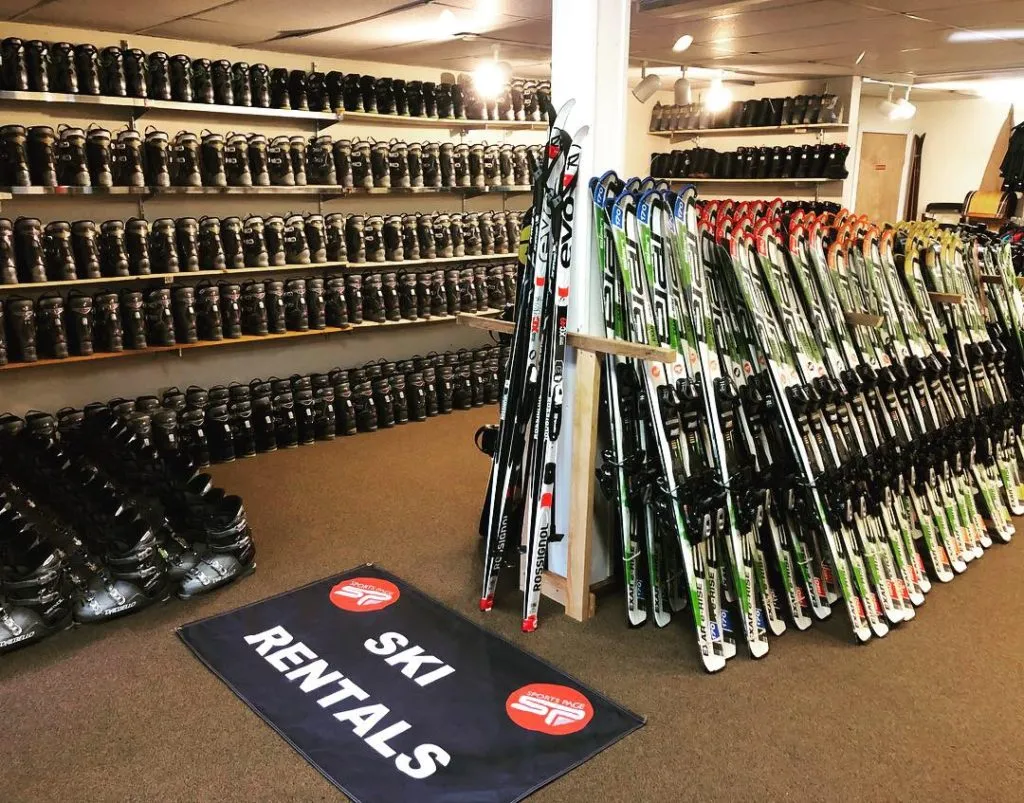 One of the best ways to save money on gear is by purchasing skis that are gently used.
Whenever you go to your nearest ski shop, sometimes you'll find a "used" section. This is the best place to start as employees will be able to guide you to make the best purchasing decision and will be able to tell you if there's anything you should be weary of when considering a particular pair of skis. 
If you don't find anything there, check out a ski swap, Facebook Marketplace, Craigslist, or ask around. While you can save a lot of money purchasing skis this way, you want to make sure that you're able to test out the skis and review them carefully before making a purchase.
Shop The Clearance Rack
Image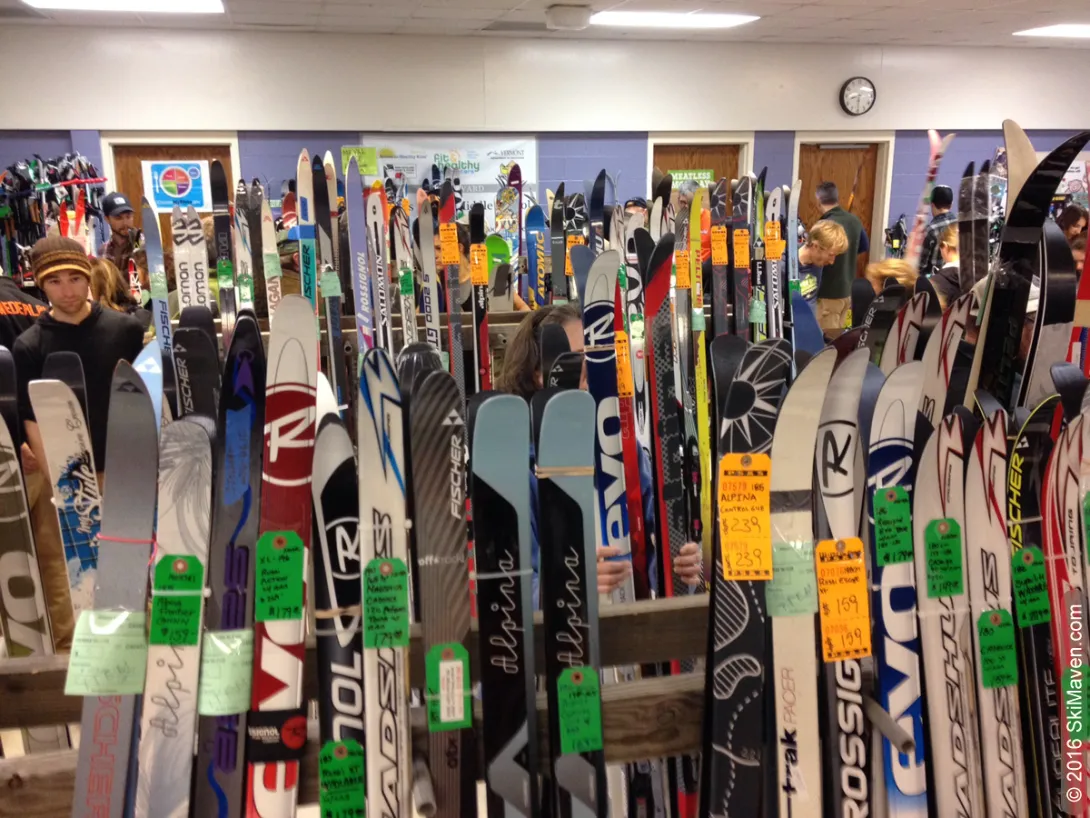 Shopping in the sales section or clearance rack is where you will find the cheapest pair of skis.
If you're on a tight budget, this will be the best place to go. Buying skis from last season or in colors/patterns that didn't sell well could save you hundreds of dollars. If you don't care what your skis look like and would rather buy the cheapest pair of skis possible, start in the clearance section.
Rent Your Equipment Off The Mountain
Image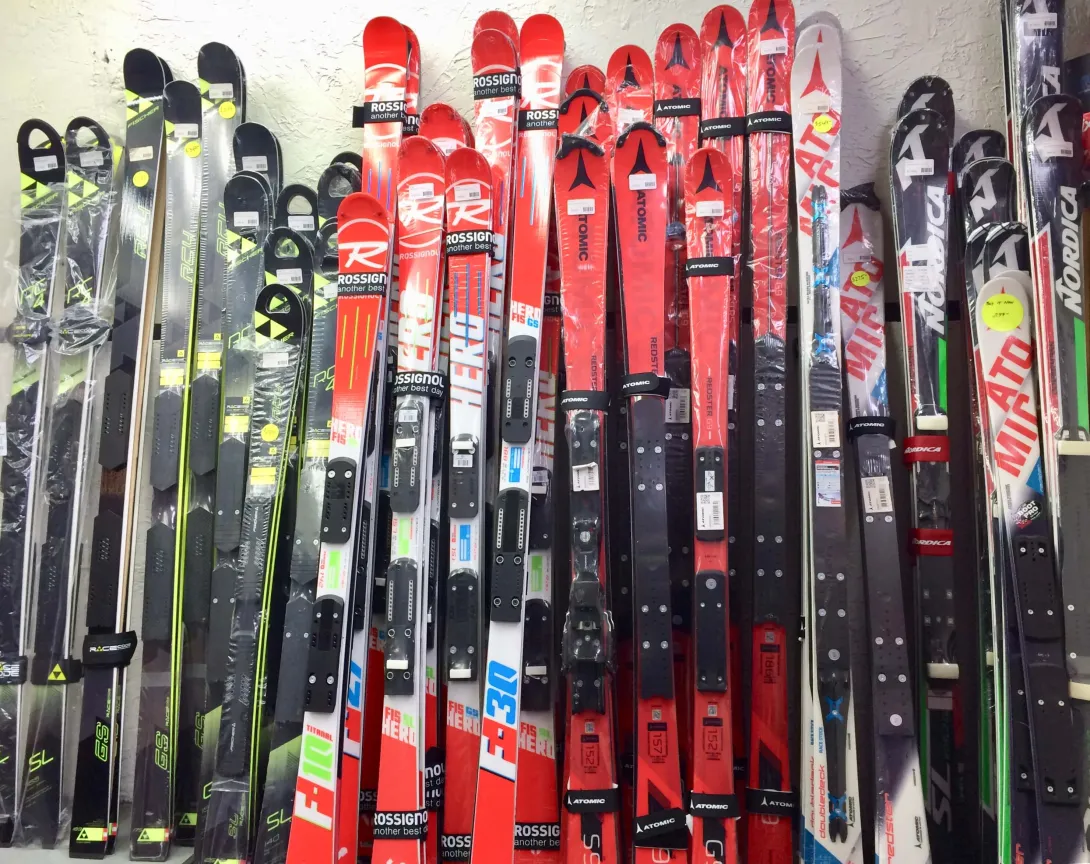 We always recommend renting to try different types of skis out before committing to buying a pair, but understand that it can get pricey.
Renting skis from a smaller resort may not be too expensive but renting skis at a busier resort could cost you around $80 a day and require standing in line for hours. Renting skis off the mountain at a local ski shop, Christy Sports, or REI could cost you closer to $20-30 per day.
Shop around and compare prices when renting your equipment to make sure you're getting the best deal possible!
Read more: Should I buy or rent skis?
Research & Compare
Image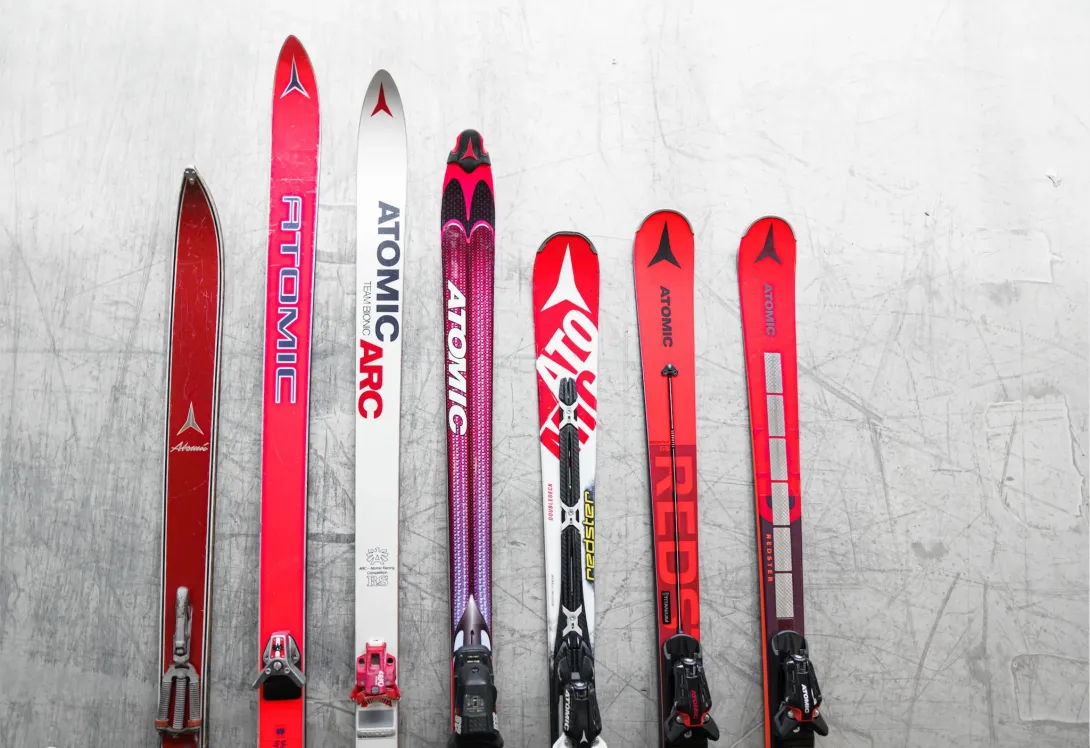 Be patient.
Take your time researching, testing out different skis, and getting a feel for what you prefer. Picking the wrong skis can lead to lower confidence and higher injury, where picking the right skis will allow you to get comfortable on skis and improve your skills faster.