Skiing is a great way to spend time with family and friends, and Vermont has some of the best ski resorts in the country. But if you're new to skiing, it can be tough to know which resort is right for you.
Fortunately, this guide will help make your decision easier. We've compiled a list of the best Vermont ski resorts for beginners, based on factors like price, terrain, and location.
So whether you're from Vermont or just visiting, read on for the top beginner ski resorts in the Green Mountain State!
Mount Snow
Image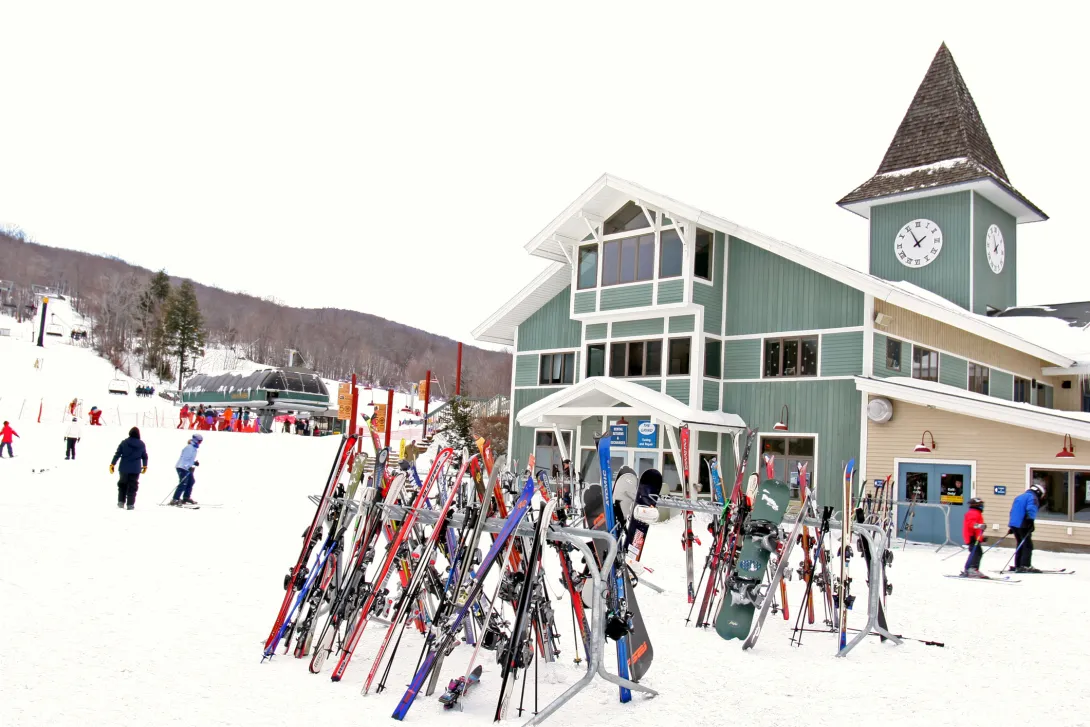 If you're looking for a convenient "big mountain" ski resort, Mount Snow is the place for you.
Mount Snow in Vermont is a great choice for skiing due to its incredible terrain and varied snow conditions. Located in the Green Mountains of southern Vermont, Mount Snow offers over 600 acres of skiable terrain with a vertical drop of 1,700 feet. This ski resort provides an incredible variety of trails for all levels and abilities that range from beginner-friendly beginner parks to extreme double black diamond trails.
The mountain receives more than 125 inches of natural snowfall each year and is supplemented with several hundred thousand gallons of water each day to create some of the best snow conditions in the East.
Image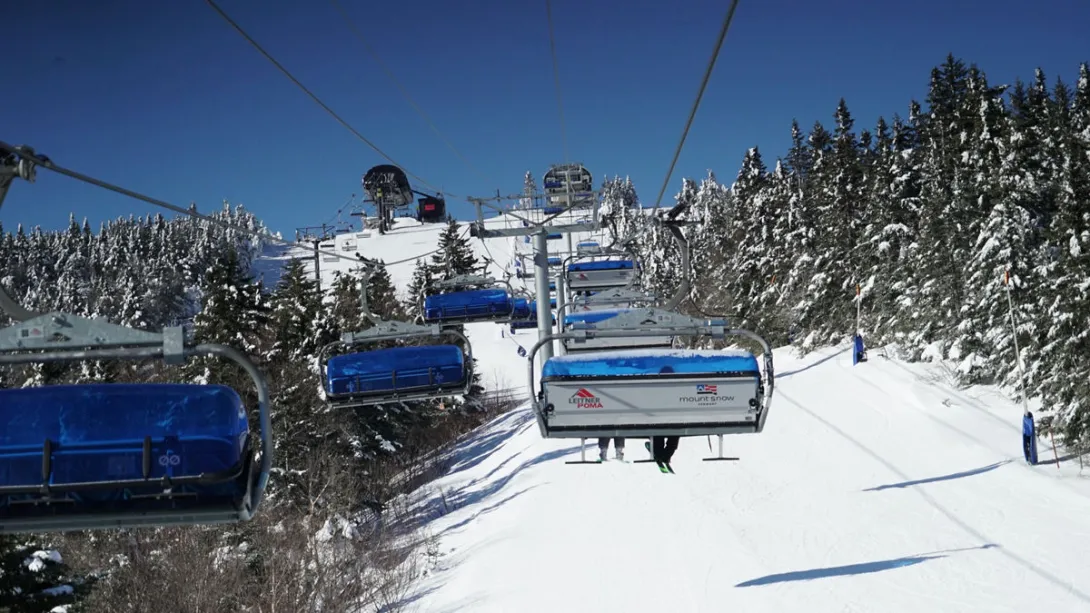 It boasts an impressive 27 lifts, including 4 high speed express quads, 8 triple chairs, 7 double chairs and 2 surface lifts - ensuring that you won't have to wait long time to get up the mountain!
In addition to its amazing terrain, Mount Snow also offers night skiing on 20 trails until 9:00pm every Friday and Saturday during peak season. The base lodge also has a nice selection of food available so you can fuel up before or after hitting the slopes.
Image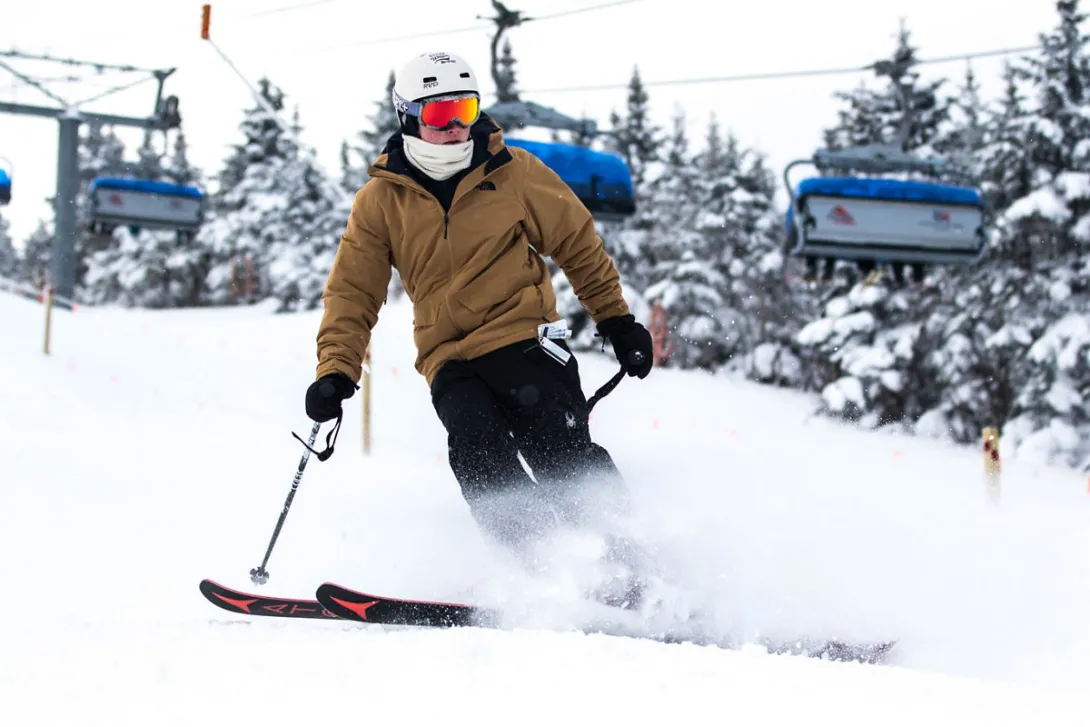 This ski area also offers a variety of winter activities other than skiing and snowboarding such as tubing, ice skating, snowshoeing, cross country skiing and more.
With nearby lodging options ranging from cozy inns to luxurious hotels, it's easy to make a vacation out of your trip here! Whether you're just looking for some fun on the slopes or wanting a full weekend getaway experience - Mount Snow is definitely worth checking out if you're ever in the area!
Okemo
Image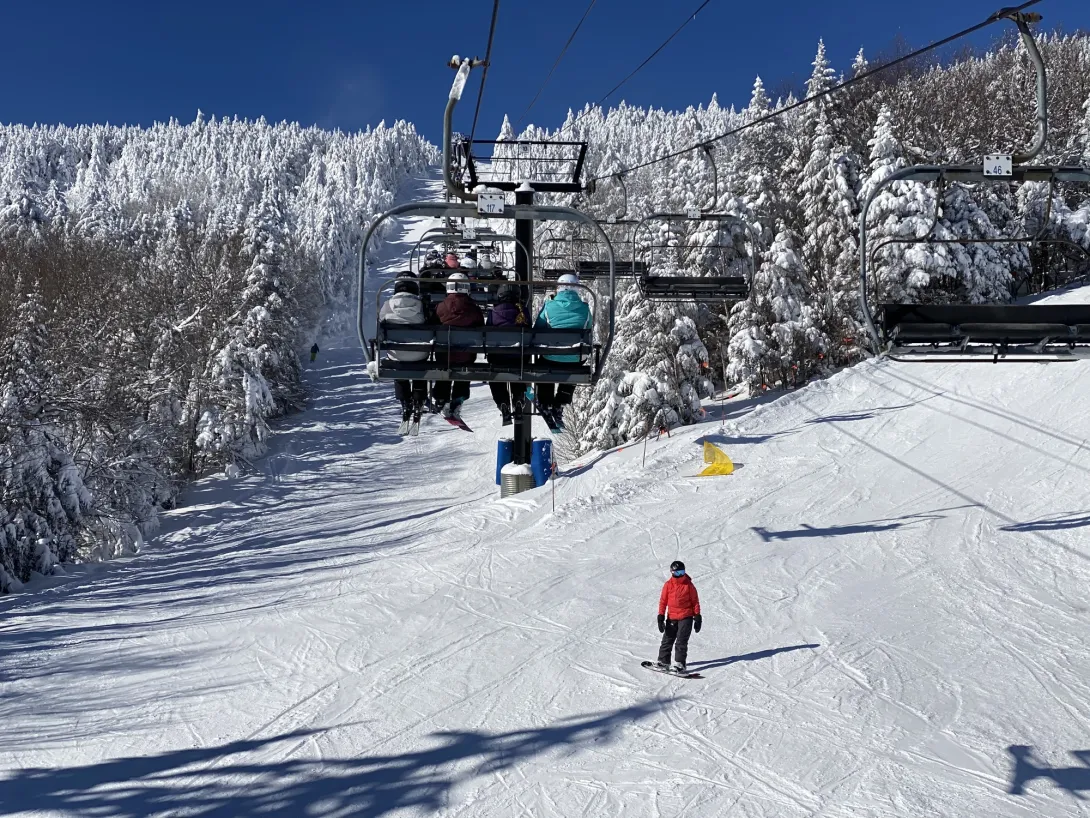 Okemo Mountain Resort in Vermont is an excellent choice for skiing, as it offers a wide variety of terrain and activities for all levels of skiers. The resort is located in the Green Mountains and provides breathtaking views from its slopes. The resort boasts over 120 trails, ranging from beginner to expert, allowing everyone to find something that will suit their skill level. Its six peaks provide a unique experience for riders, with different types of terrain to explore.
The mountain also offers plenty of family fun activities such as tubing, snowshoeing, kayaking, cross-country skiing and snowmobiling. Okemo is known for its commitment to safety on the mountain, offering avalanche awareness courses and equipment rental services to ensure everyone has a safe and enjoyable experience while skiing or participating in any activity they choose.
Image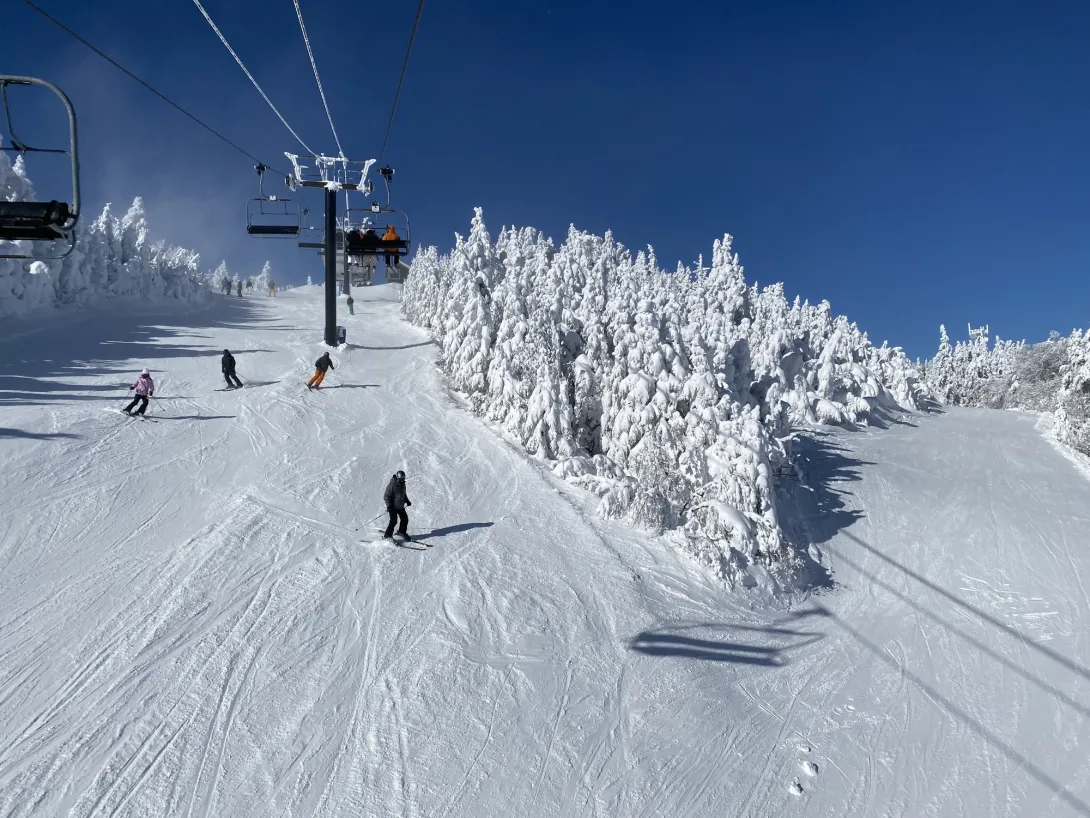 In addition to its slopes and activities, Okemo also has a full-service village that features restaurants, cafes and shops where visitors can enjoy tasty meals or find souvenirs to commemorate their visit. Accommodation options include condominiums, townhouses and hotels - all within an easy walk of the ski lifts.
For those who are looking for a good time off the slopes or have non-skiers in their party, Okemo offers many other attractions such as ice skating rinks at both Jackson Gore Village and Round Top Lodge; the Adventure Zone Fun Park with zip lines; X-Country Ski Center; Berry's Playhouse; Big Air Bag; Carriage Rides; Tubing Hill at Jackson Gore Village; Snowshoe Tours at Round Top Lodge; Yoga classes on the slopes, guided hikes at Ricker Hill Orchard & Sugar House and much more!
All these amenities make Okemo Mountain Resort in Vermont an ideal spot for ski trips with friends and family alike - providing fantastic opportunities for everyone regardless of their ski level or activity preference!
Bromley
Image
Bromley Mountain, located in the heart of Southern Vermont's Green Mountains, is a premier winter destination for skiers and snowboarders alike. With an elevation of 2,284 feet and a summit reaching 3,284 feet, Bromley offers stunning views from its summit as well as plenty of terrain to explore. The mountain offers a variety of trails for skiers and riders of all levels and abilities from beginner to expert. Novices will find gentle groomed slopes and wide open bowls perfect for learning the sport, while advanced skiers and boarders can take advantage of the steeps on the Back Bowls or challenge themselves on one of the mogul runs.
In addition to great skiing and riding, Bromley also provides incredible apres ski activities at the Adventure Center. The Adventure Center features an outdoor ice skating rink with rentals available and a variety of tubing lanes where visitors can zip down the hill without having to strap on skis or a snowboard. There is also plenty to do off-the-mountain in nearby Manchester village with shopping outlets, art galleries and eateries offering up delicious local fare. Those looking for an even more varied experience can make an easy day trip over to Lake Champlain in Burlington which has lots of recreational opportunities including fishing, kayaking, sailing and swimming in summer months.
When it comes to selection in terrain type as well as off-hill entertainment it's no surprise that Bromley is such a desirable destination for skiing enthusiasts. Its location in Vermont's Green Mountains gives it a unique topography with long open runs ideal for cruising down the slopes but also plenty of challenging terrain for those who love testing their skills. All this combined with its close proximity to a number of towns filled with modern amenities provide visitors with everything needed for a complete ski experience regardless if they are just starting out or have been hitting the slopes their entire life.
Stratton
Image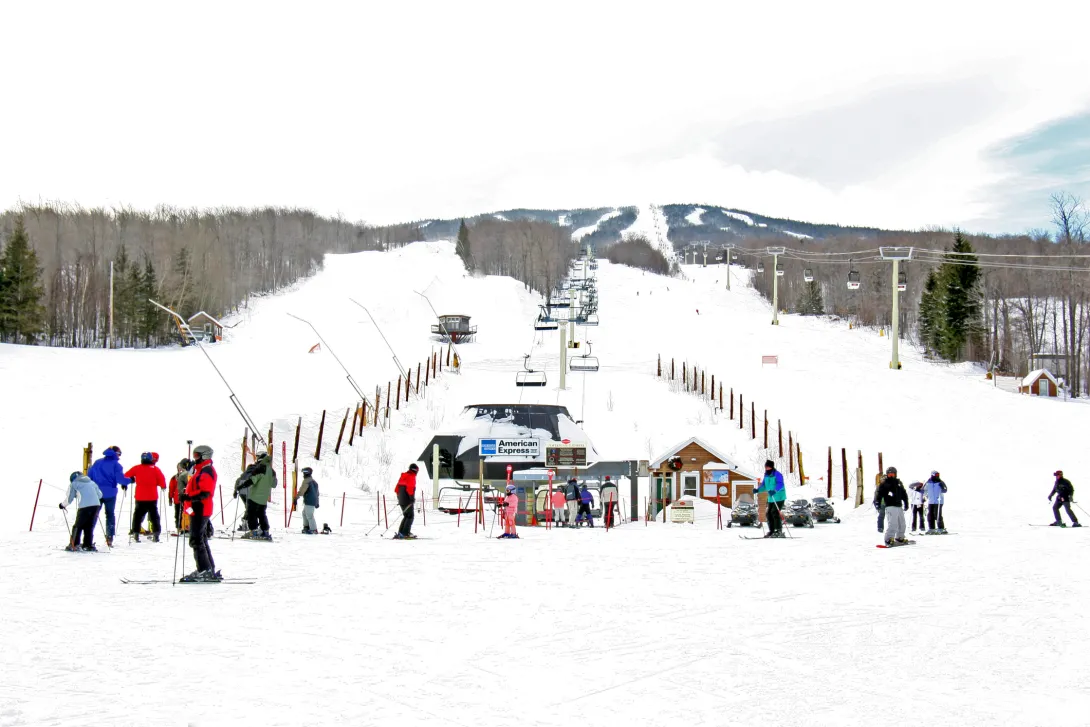 Stratton in Vermont is an excellent skiing destination for any skill level. It offers a variety of terrain, from easy groomers and beginner slopes to black diamond runs for the more experienced skiers. The mountain is home to some of the best snow conditions in the Northeast and has over 500 acres of skiable terrain, making it a great spot for skiing without ever getting bored.
Stratton has a long-standing tradition of world-class skiing and hosts several annual events, including the U.S. Freeskiing Open and Burton US Open Snowboarding Championships. With its combination of quality snow, diverse terrain and exciting events, Stratton provides an unforgettable experience for skiers at all levels.
Image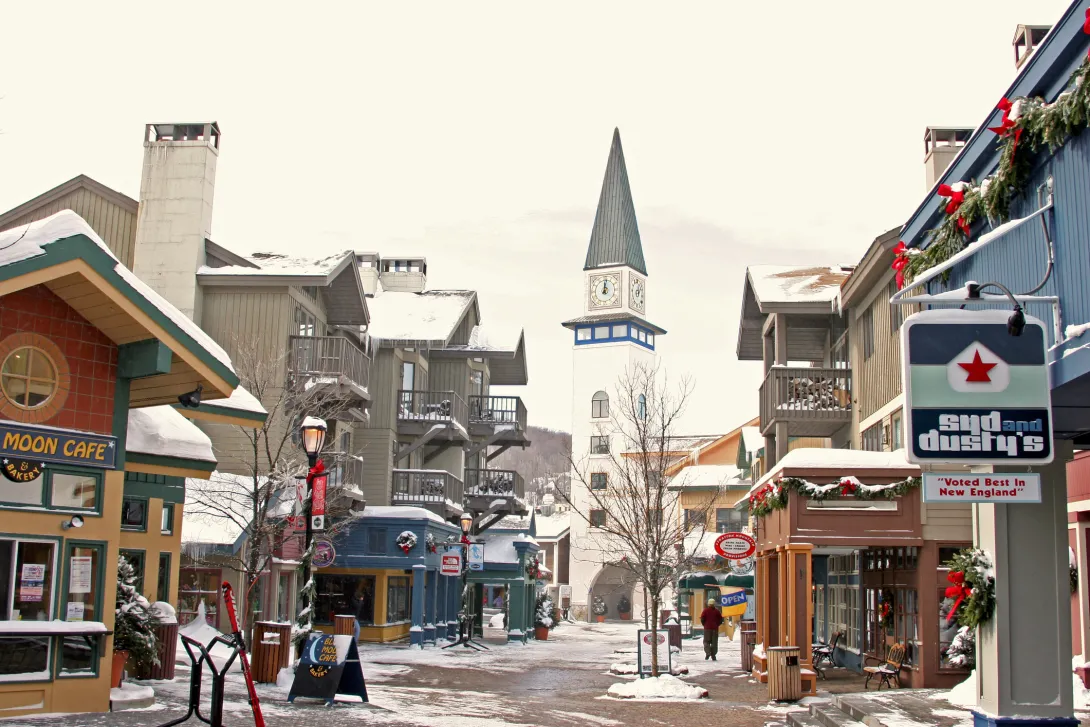 The mountain also offers many additional activities like tubing, snowshoeing, and cross-country skiing. For those wanting a break from the ski slopes there are plenty of restaurants onsite as well as nearby shopping opportunities located in Bondville Village near Stratton Mountain Resort's base lodge. Other amenities include ski rentals and lessons, children's programs like the Treehouse Adventure Center where kids can play while parents hit the slopes, plus access to full service spas or daycare centers for kids 5 and under.
Whether you're looking for an adrenaline rush carving down one of Stratton's advanced runs or just taking things easy on the bunny slope with your family, this Vermont ski destination has something for everyone!
Stowe
Image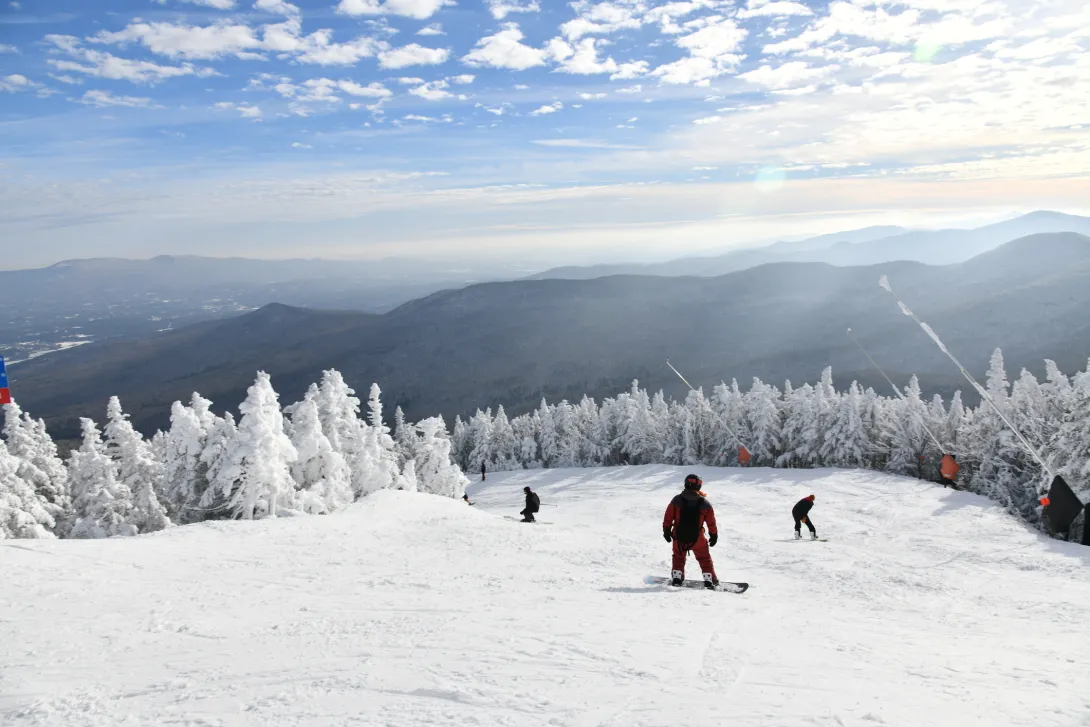 Stowe, Vermont is an ideal destination for skiing due to its variety of winter activities and stunning mountain landscape. With over 116 trails, 300 inches of snowfall each year, and 8 top-notch ski resorts, Stowe provides a perfect playground for skiers of all levels.
The terrain in Stowe is full of diverse options for skiers – from wide open groomers to bumpy black diamonds and gladed tree runs. The resort also offers a substantial amount of expert terrain, from steeps on Mount Mansfield to the legendary Front Four which is known as one of the toughest shots in the east.
In addition to great skiing opportunities, Stowe's natural beauty makes it an attractive destination for vacationing families. From its rolling hillsides to its iconic green church spires, it's easy to see why Stowe has been dubbed "The Ski Capital of the East." Visitors can take advantage of its picturesque mountain views while exploring nature parks or taking part in winter activities such as dog sledding and fat biking.
Image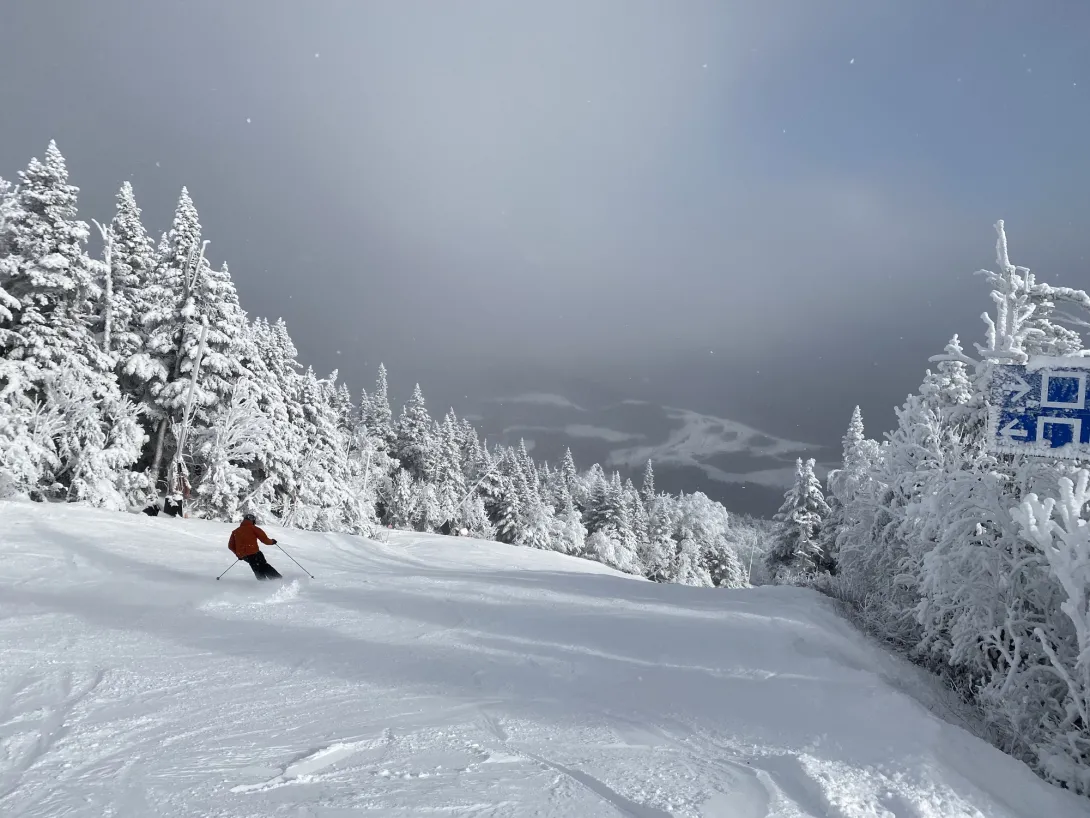 Stowe also offers plenty when it comes to après ski entertainment. Its charming village features boutique shopping, art galleries, and cozy eateries with locally sourced ingredients. During peak season there are often events that happen within the village such as live music performances or outdoor movie screenings.
Overall, Stowe is an excellent choice for skiing due to its incredible mountain scenery, plentiful ski runs, outdoor winter activities, and charming village atmosphere. It truly is "The Ski Capital of the East" – a cherished destination that will provide you with unforgettable memories every time you visit!
Smuggler's Notch
Image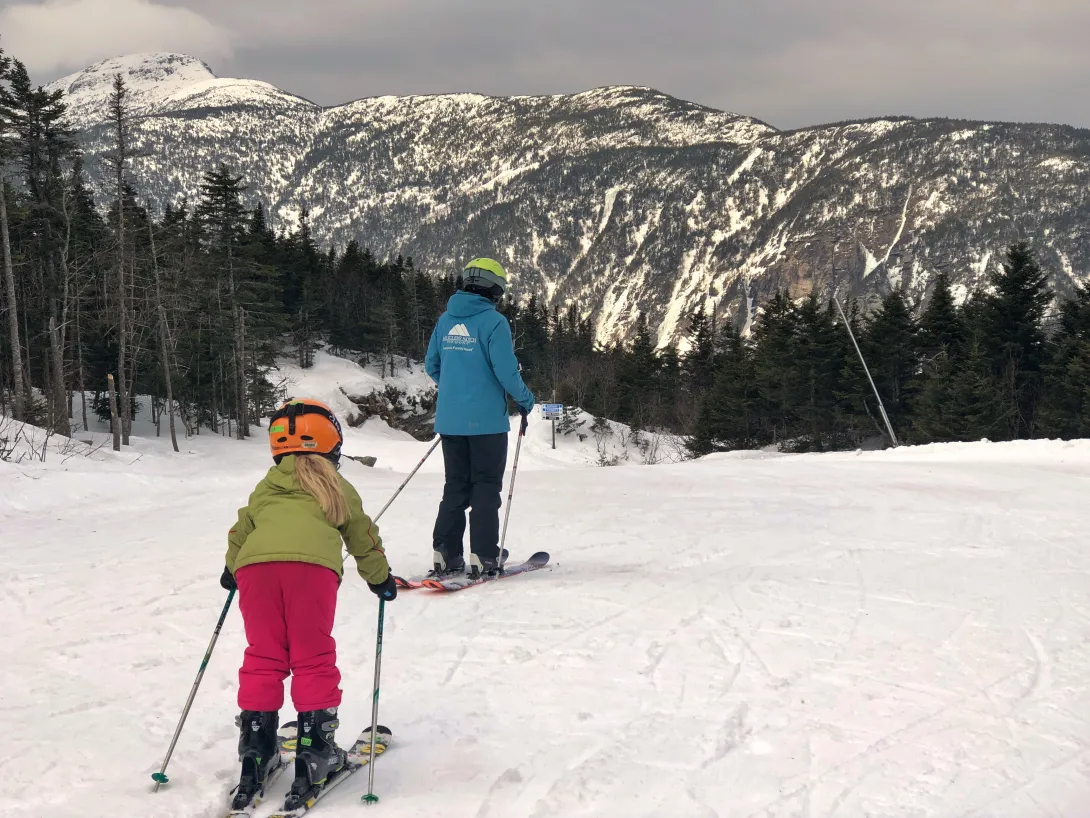 Smuggler's Notch in Vermont is an ideal destination for skiers of all levels and abilities. It offers a variety of terrain and activities that make it an ideal spot to hit the slopes. From challenging alpine runs to groomed glades and breathtaking views, Smuggler's Notch has something for everyone. The trails are well-maintained and offer plenty of opportunities to explore the mountain. Additionally, the ski resort offers winter activities such as snow tubing, snowmobiling, and ice skating. The mountain village is also home to several restaurants, shops, and accommodations that cater to both locals and visitors alike.
The distinct geography of Smuggler's Notch makes it an ideal skiing location for all types of ski conditions. From steeps to trees, moguls to glades, there is something for every skill level from beginner to expert skier. With over 30 trails spread across three interconnected peaks ranging from novice-friendly slopes on Morse Mountain to more advanced runs on Madonna I & II, there is truly something for everyone at Smuggler's Notch.
Moreover, the resort features two terrain parks as well as a dedicated learning area so beginners can quickly get comfortable with the fundamentals of skiing before tackling harder runs.
Image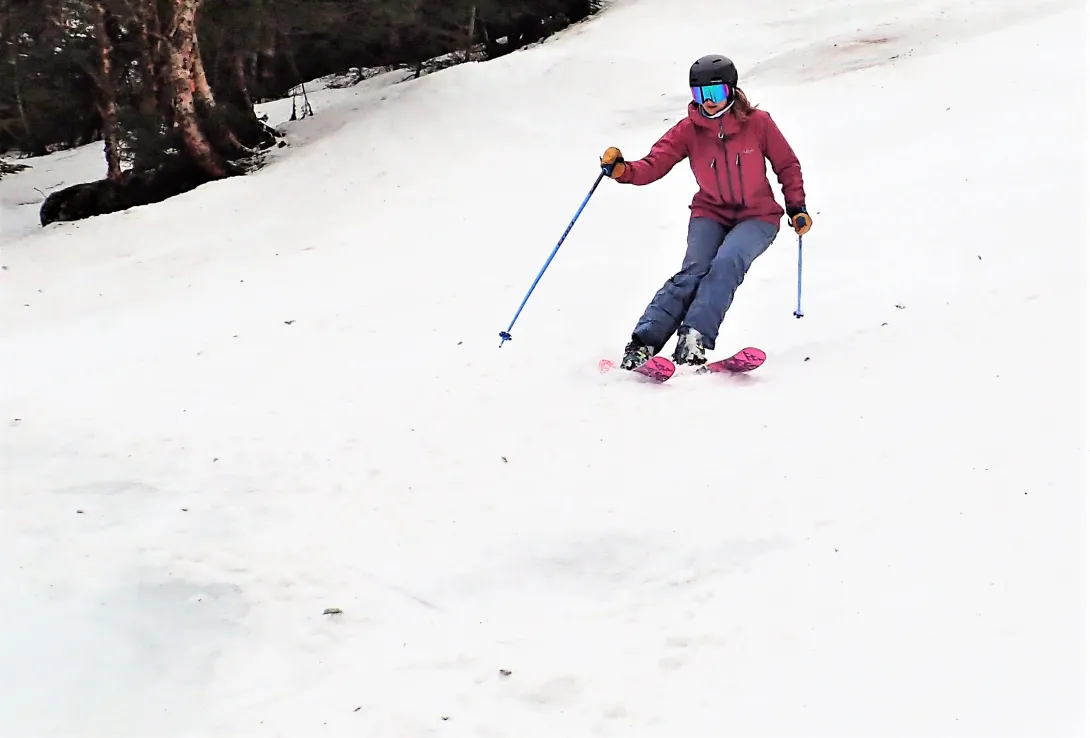 Aside from its diverse terrain selection, Smuggler's Notch prides itself in providing excellent service during your ski experience with experienced instructors who can help you maximize your time on the mountain according to your skill level and goals.
In addition, you will find a full range of rental gear available in their rental shop so you don't have to bring your own equipment if you don't want too - making it easier than ever before to enjoy a day on the slopes! Lastly but not least, night skiing is available until 9pm making it possible for anyone who wants to squeeze in some extra fun after dark!
Smugglers' Notch is an ideal destination for all winter sports enthusiasts looking for a convenient getaway with plenty of options for skiing or other outdoor pursuits. Whether you're searching for a thrilling ride down black diamonds or just want some fun family time in the snow - this resort has it all!