It is essential to wear a helmet while skiing in order to protect your head and brain from serious injury, or even death, that can be caused by a collision with other skiers, snowboarders, trees or the ground.
Ski helmets are designed specifically to reduce the risk of injury by absorbing some of the impact when you hit something. The hard outer shell helps to redirect some of the kinetic energy away from your head, while the layer of foam inside disperses the remainder over a larger area.
Helmets also provide protection from objects falling from above such as branches and ice chunks kicked up by skiers ahead of you. They also offer protection against extreme cold temperatures, precipitation and wind which can cause hypothermia if exposed for too long. Last but not least, they improve visibility in bad weather conditions like fog and heavy snowfall.
Ski helmets come equipped with built-in visors and vents for air circulation which allow you to see clearly without having your vision obscured by snowflakes sticking to your goggles.
Types of Helmets
Image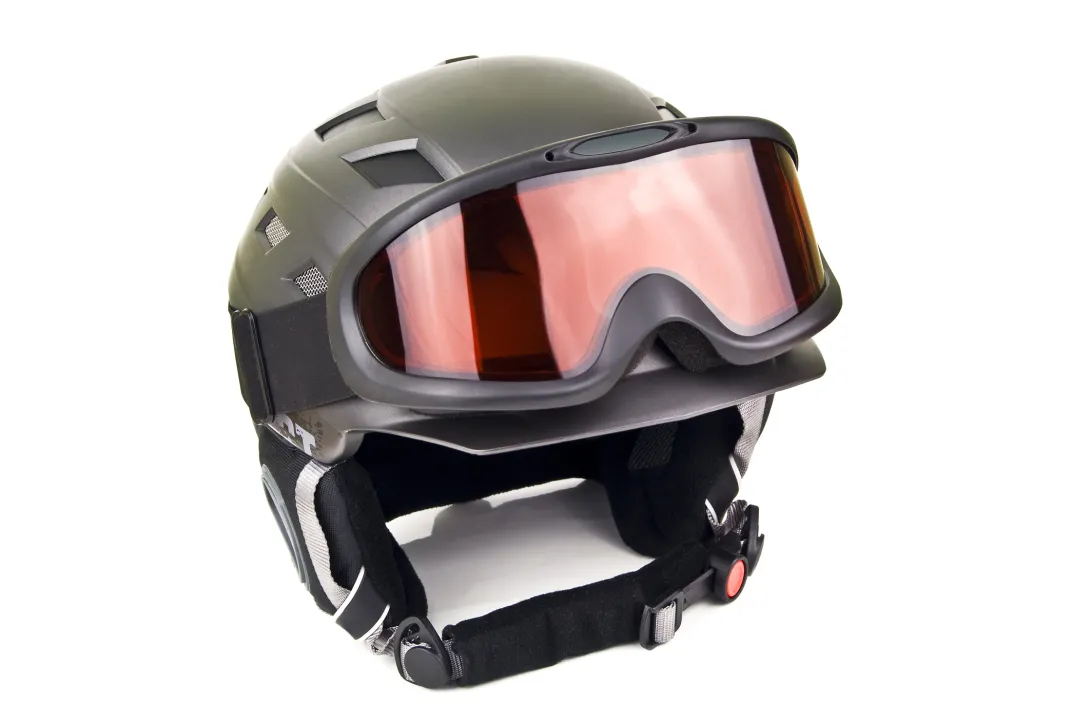 In-Mold: An in-mold ski helmet is made by injecting a layer of shock-absorbing foam into the outer shell of the helmet in one single process. This helps to create a strong and lightweight structure that is also able to absorb impacts. In-mold helmets shells are thin and flexible, which allows for a comfortable and secure fit.
These are great for backcountry skiers as weight is a critical factor that you want to eliminate as much as possible while still having full protection.
Injection Mold: Injection-mold ski helmets mold the shock-absorbing foam to a separate shell, typically made of high-impact ABS plastic. They are a bit heavier than in-mold ski helmets, though they offer more durability.
This can be extra beneficial to beginners and those working on improving their skills on-piste as you'll be more prone to everyday knocks and falls during those stages.
Safety Certifications
Image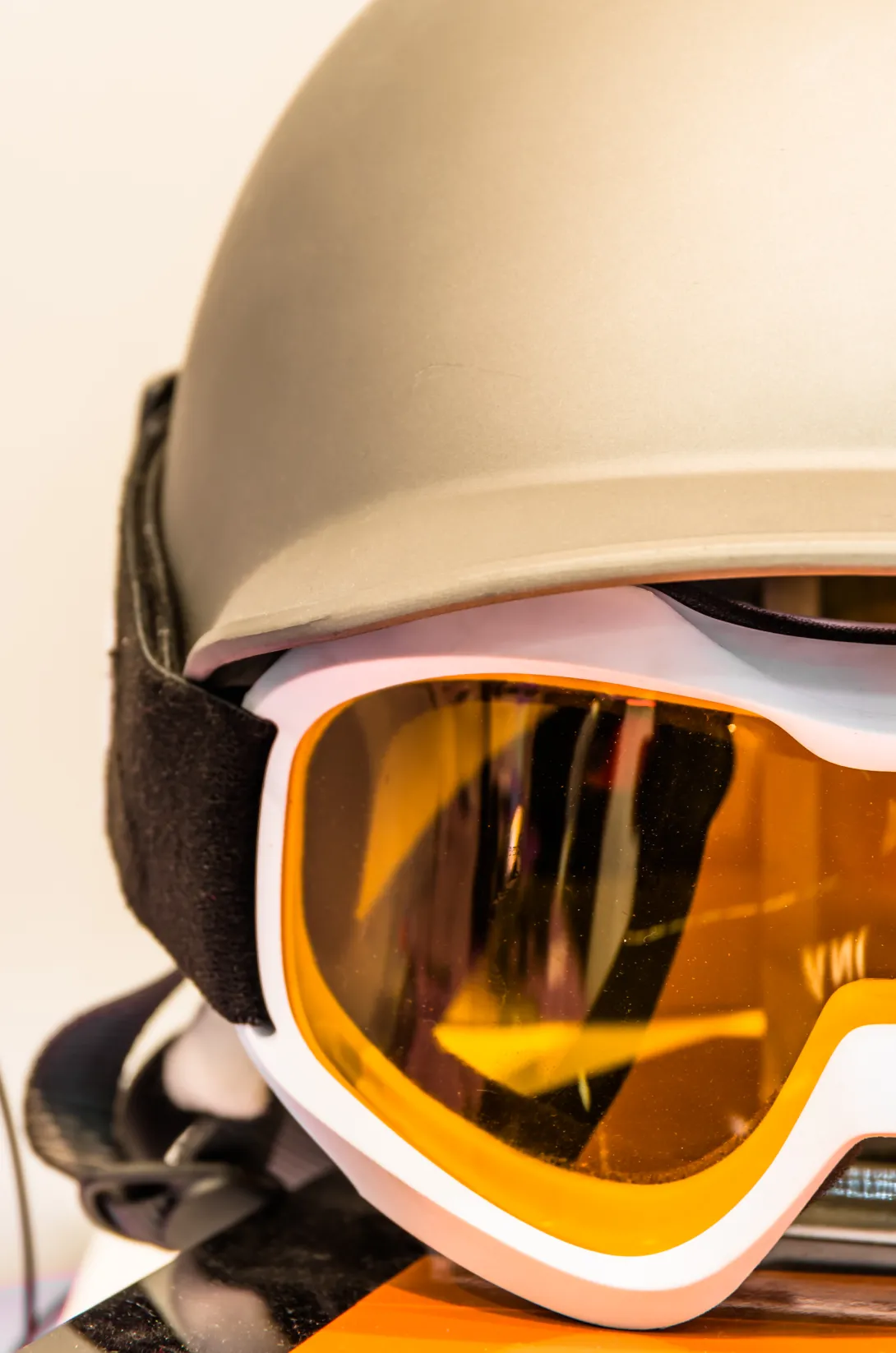 Safety certifications are important for ski helmets manufacturers to ensure that their products meet certain standards of quality and performance. You want to make sure that any helmet you buy has one of these two safety rating stickers on them:
ASTM F2040 is the North American standard for the performance of helmets. It covers a range of factors that can affect the performance of a ski helmet, including its impact absorption capabilities, stability, retention, and ventilation. Helmets that meet the requirements of the ASTM F2040 standard are considered to be of high quality and suitable for use in non-motorized winter activities, like skiing and snowboarding.
CE EN1077 is the European certification for the performance of helmets in both the alpine and resort. The certification primarily focuses on impact testing and divides helmets into two classes: A and B. Class A helmets are full-shield while class B does not cover the face. It is possible for helmets to meet both CE EN standard and ATSM, but they don't always overlap.
Helmet Costs
Image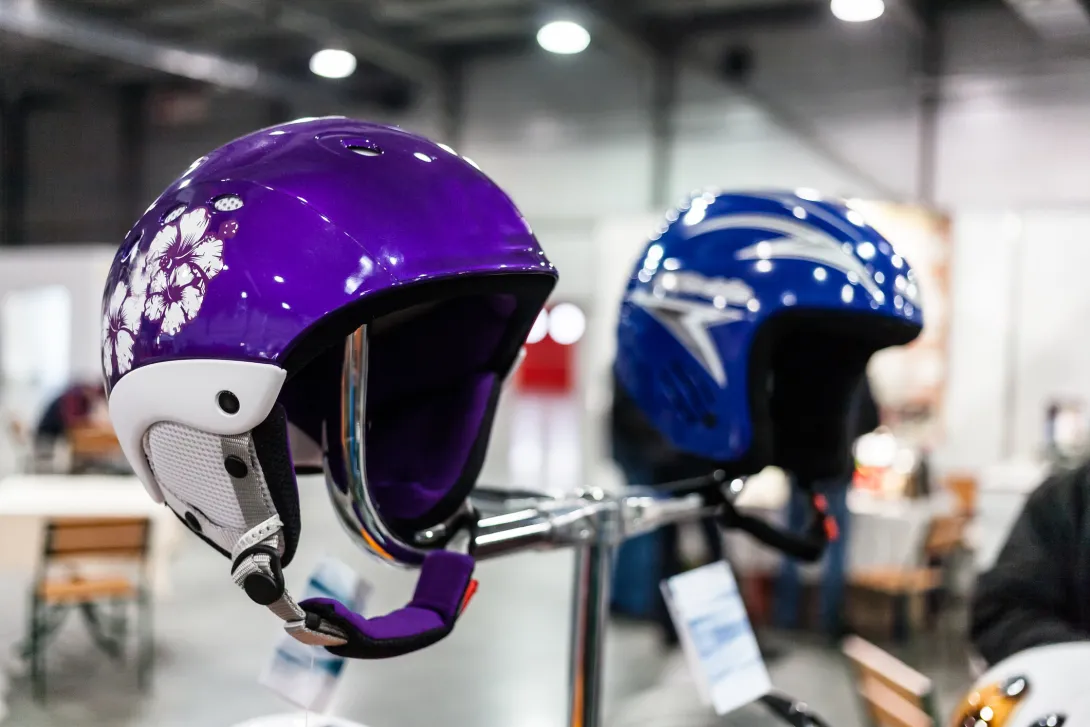 The cost of a ski helmet can vary widely depending on a number of factors, including the brand, the materials used, and the features and technologies included.
In general, ski helmets prices range from around $50 to over $300. Budget-friendly ski helmets options can be found in the $50 to $100 price range. These helmets are often made with basic materials and may have fewer features and technologies, but they can still provide a good level of protection for skiers and snowboarders.
More expensive helmets are often made with higher-quality materials and may include more advanced features, such as MIPS technology, advanced ventilation systems and audio compatibility.
Fit
Image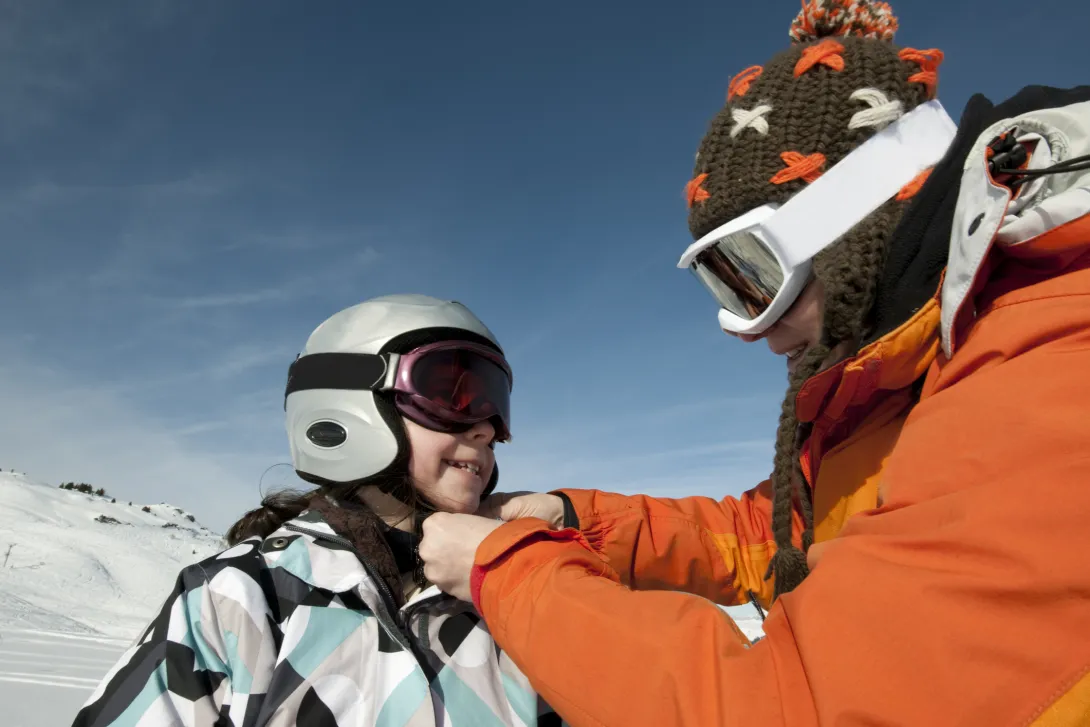 How To Find The Right Size Ski Helmet
Helmets come in the standard small, medium, large scale. To measure your head for a helmet, use a tape measure to measure the circumference of your head just above your eyebrows.
Then use a size chart to determine the right size helmet for you. If you can, I urge you to try the helmet rather than stop here to ensure a safe and comfortable fit.
How Should It Fit On Your Head?
Image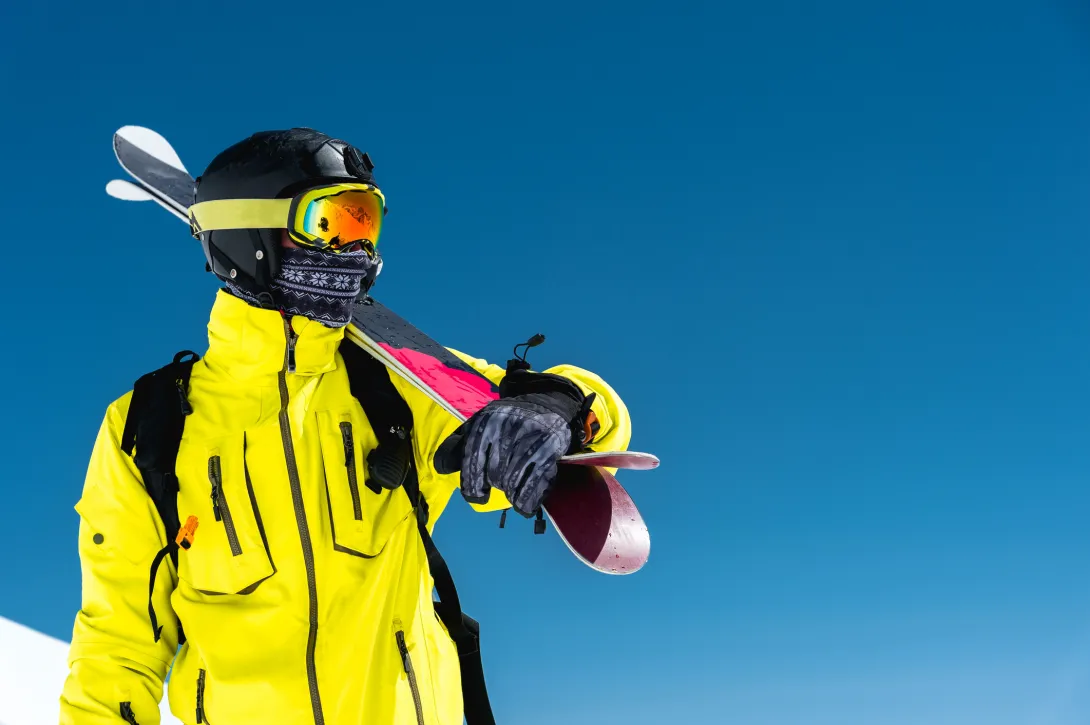 The helmet should be tight enough to stay in place when you move your head, but not so tight that it causes discomfort or pressure points. You should be able to fit one or two fingers between your head and the helmet.
The buckle should be positioned just below your chin and the straps should be snug but not too tight. If you have goggles already, bring them with you to ensure a smooth integration between helmet and goggle.
Features
Image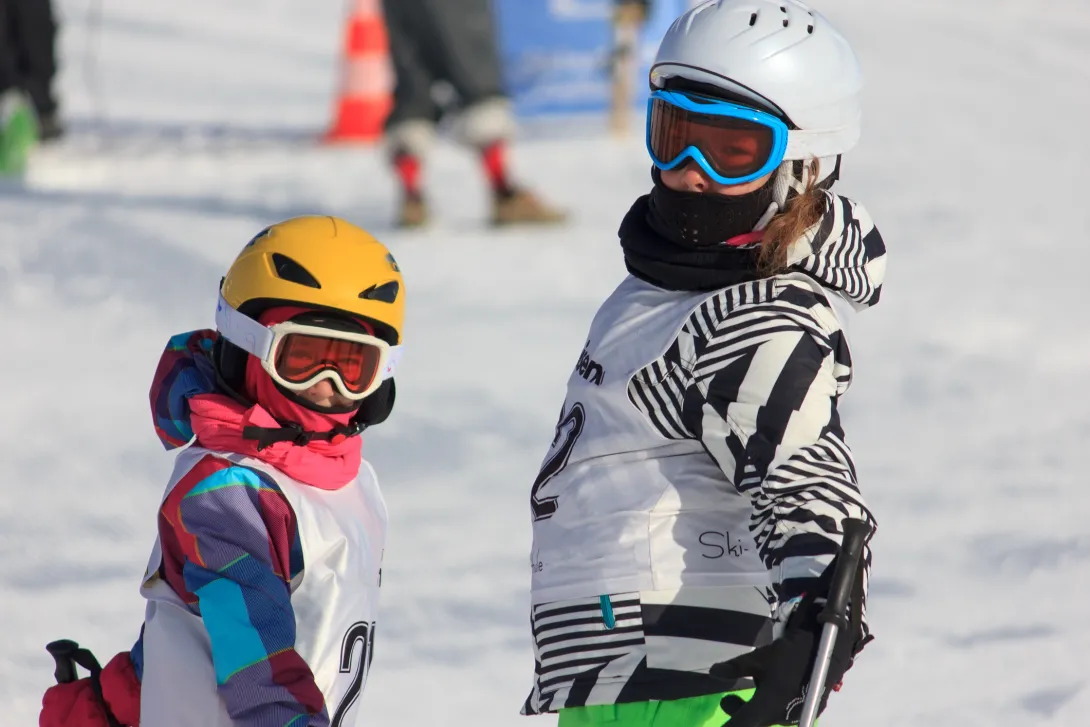 MIPS Technology
MIPS (Multi-Directional Impact Protection System) is a technology that is designed to reduce the risk of brain injury in the event of a fall or collision. It helps protect against rotational impacts, which can occur when the head is subjected to a twisting force during a fall as is common on the ski slopes.
MIPS technology works by adding a low-friction layer between the helmet's outer shell and the liner. This layer is designed to allow the helmet to rotate slightly on the head during an impact, helping to reduce the rotational forces that can cause brain injury. It is typically used in conjunction with other protective features, such as foam liners and adjustable straps, to provide a comprehensive level of protection. I highly recommend purchasing a helmet with MIPS technology.
Warmth and Ventilation
Image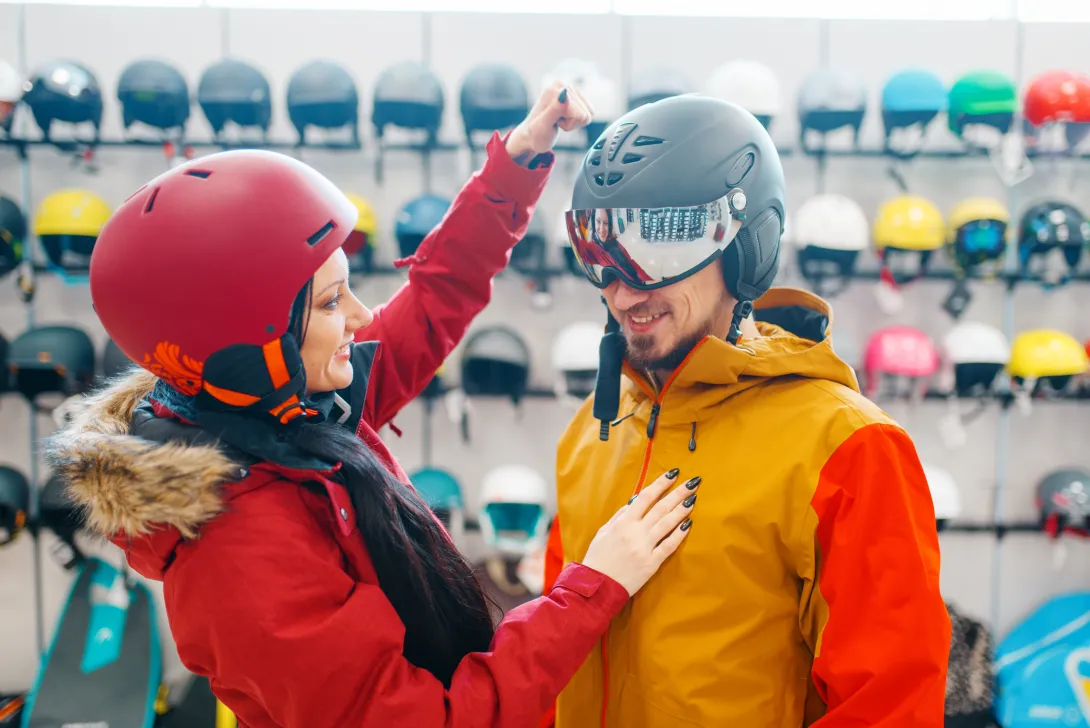 You're really not supposed to wear beanies under helmets, but that's ok because ski helmets have come a really long way in the past decade or so and have really stepped up their warmth and ventilation capabilities.
Many ski helmets come with removable liners or ear pads. Even more sophisticated helmets have vents in their shells that can be open or closed as much as you'd like. The ideal helmet for you will allow you to have the perfect ratio of warmth to ventilation.
Goggle Compatibility
Aside from a good fit on your head, you need to make sure that your helmet fits snugly with your goggles as well. If you don't have enough space your goggle's air vents could get smushed.
But if you have too much space you will find yourself with a brain freeze and the subject of some finger pointing. Bring your goggles with you when trying on helmets to ensure a smooth integration between helmet and goggle.
Additional Features
Image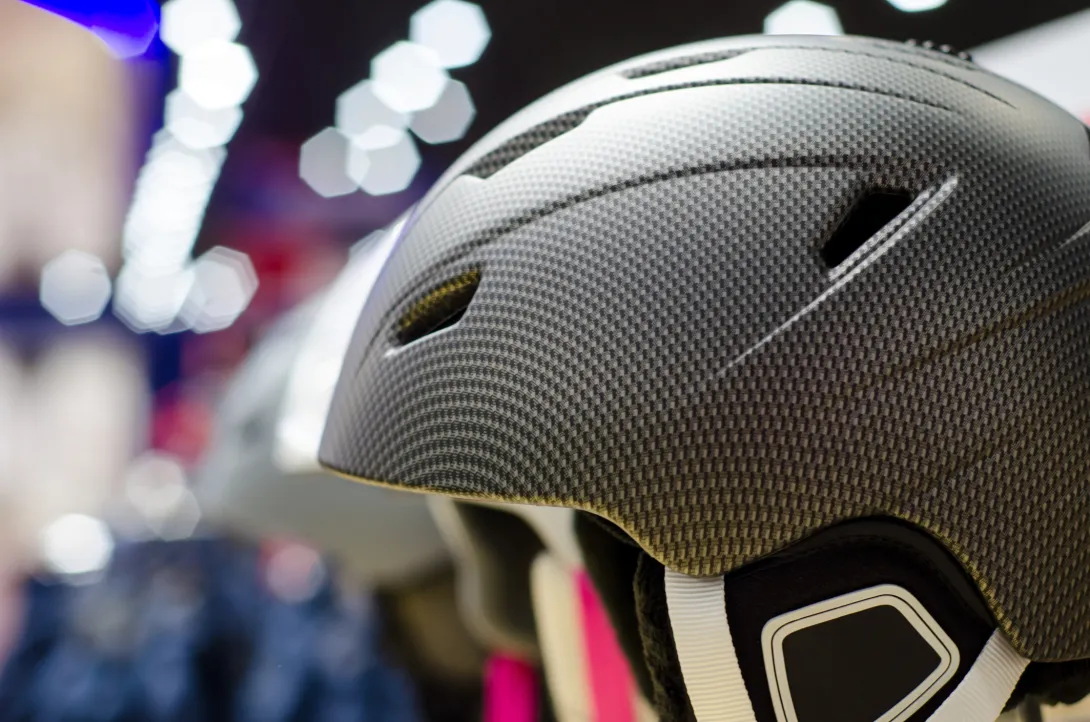 Some features you may want in your goggles but definitely aren't necessary include: built in speakers, a camera mount, goggle clips, gps tracking, and more. You'll find that many helmets come with clips on each side to secure your goggles, which is a great thing to include.
A camera mount is nice for photographers as well to ensure both hands are free while you're riding. Speakers can be great, but be aware that they can affect your situational awareness.
Overall, the right helmet for you is one that fits well, has a high safety rating, and has the features that will make your day on slopes as comfortable as possible.
Wearing a ski helmet is absolutely vital for anyone who intends on taking part in alpine sports such as skiing or snowboarding as it provides critical protection from collisions as well as brisk weather conditions which could otherwise lead to severe injuries or death if left unchecked. As such, making sure that your ski helmet fits correctly is paramount before engaging in any winter activities so choose wisely!