September is here, and the Labor Day weekend signals the unofficial start to fall. This also means ski season is not too far off.
Family skiing can be a great vacation, the opportunity to get fresh air and exercise. It can be a fun, exhilarating experience for even the youngest members of your family.
But skiing with kids can add some complexity. Catering to different ages, experience levels and interests requires a little bit of planning.
Here are our top tips to make your ski day a fun-filled event for the whole family.
Ski smaller mountain/family friendly destinations
Image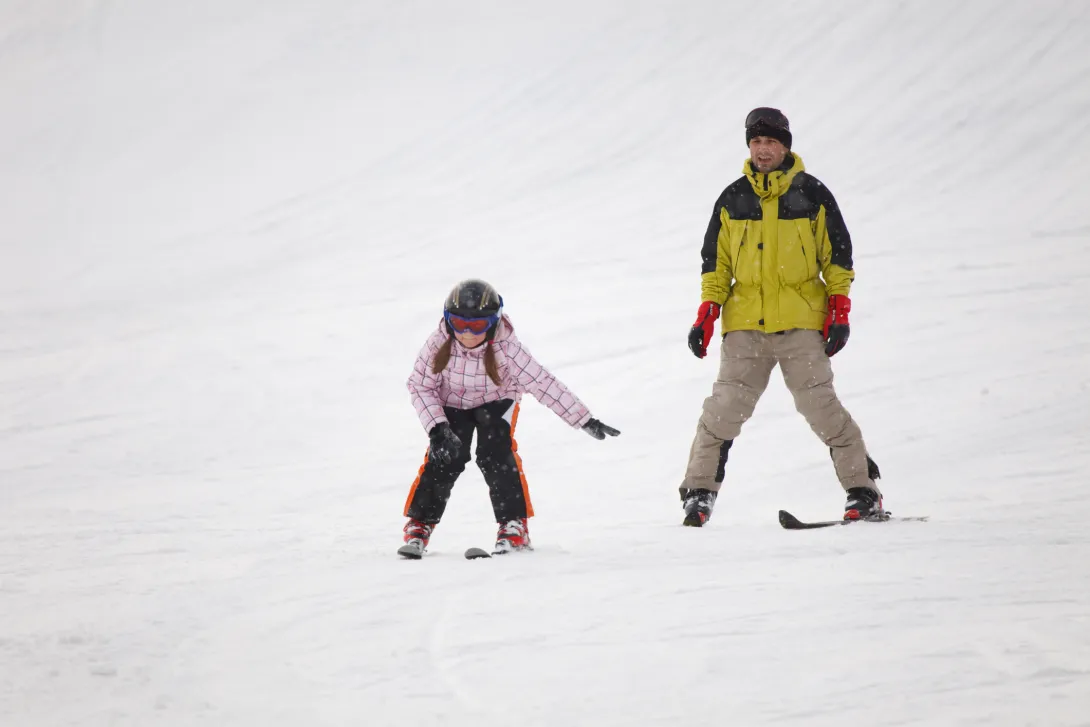 If you love to ski and revel in the thrill of the big mountains, do consider that even a smaller mountain will look big to kids, so starting on a beginner hill may be a good idea. There first couple of times, your kids might not even go past the beginner slopes, so no need for a big, pricey ski resort at first. 
Picking a family friendly resort is an added bonus. Kids will see other people their own age, and staff will be experienced in dealing with younger kids. Dining and activities will also be designed with kids in mind, making your life easier. 
Invest in lessons
Image
Some people may be great at teaching their kids to ski, but it can be worthwhile to let a professional do it while mom and dad a break or go ski on their own. Kids also get the chance to meet new friends and ski with others at the same level.
Most ski hills have deals on skiing lessons, where kids can learn the correct way to ski, and the get the basics under their belt. As we know, sometimes ours kids listen better when it is someone else explaining what they should be doing.
Let your kids help pick out their gear
Image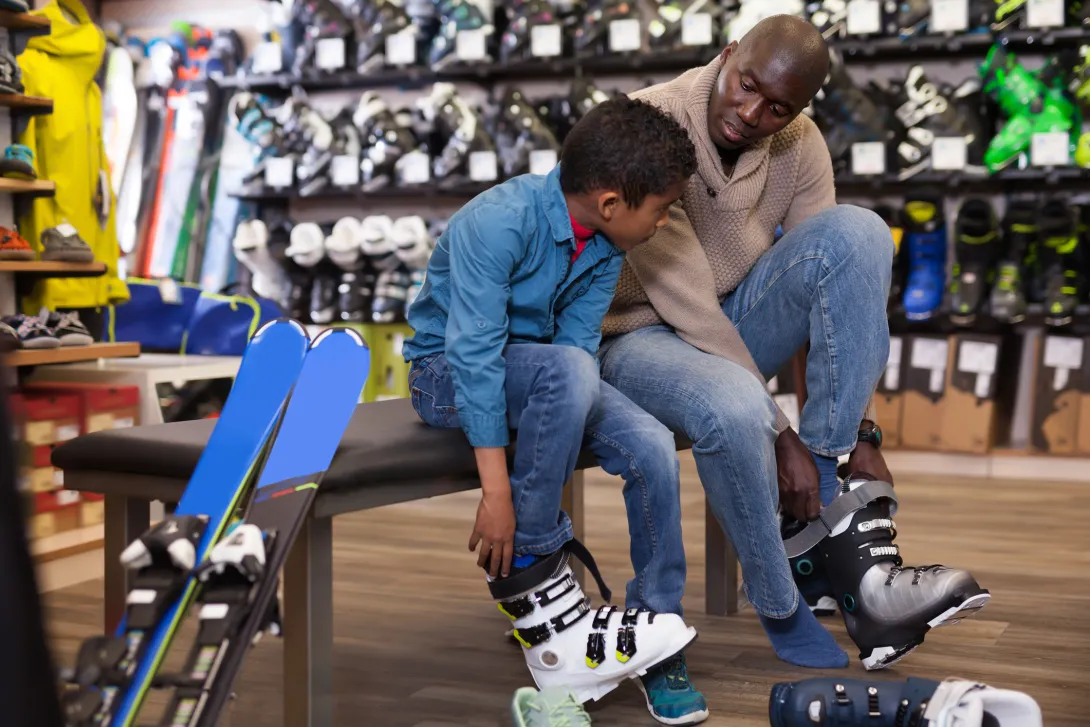 Making kids part of this planning process will get them excited about skiing. Of course, you have to guide them as to what is suitable for a ski day, but letting them pick out their favorite color jacket and try things on can help immensely.
This can extend to other things as well, such as picking out their favorite snack to bring along for the car ride or looking at what fun things to do in the lodge.
Rent/ borrow equipment
Image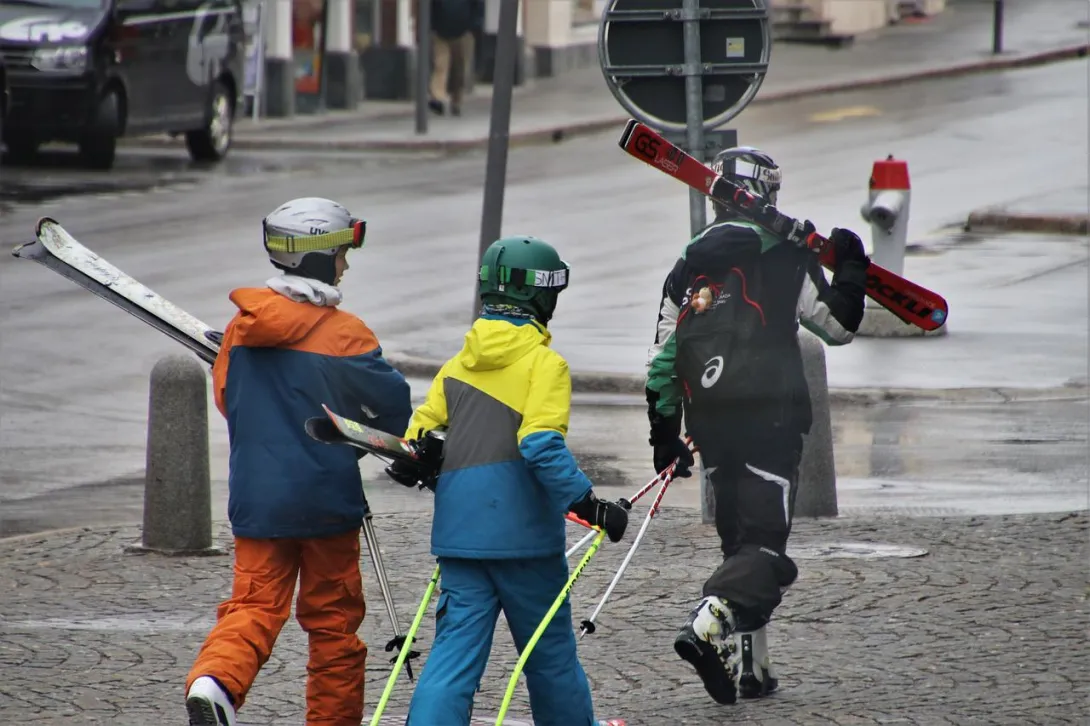 For the first couple of times, it is helpful to rent equipment, including skis, poles, boots and helmets; especially if you are unsure about your kid's appetite for skiing.
Kids can grow inches in one season, so if you think you are only going to go a couple times, if may be worthwhile to see if you can borrow stuff from a friend or family member. Also, there are many groups that organize ski swaps or stores that have deals on used items.  
Let kids try snowboarding or skiing  
Image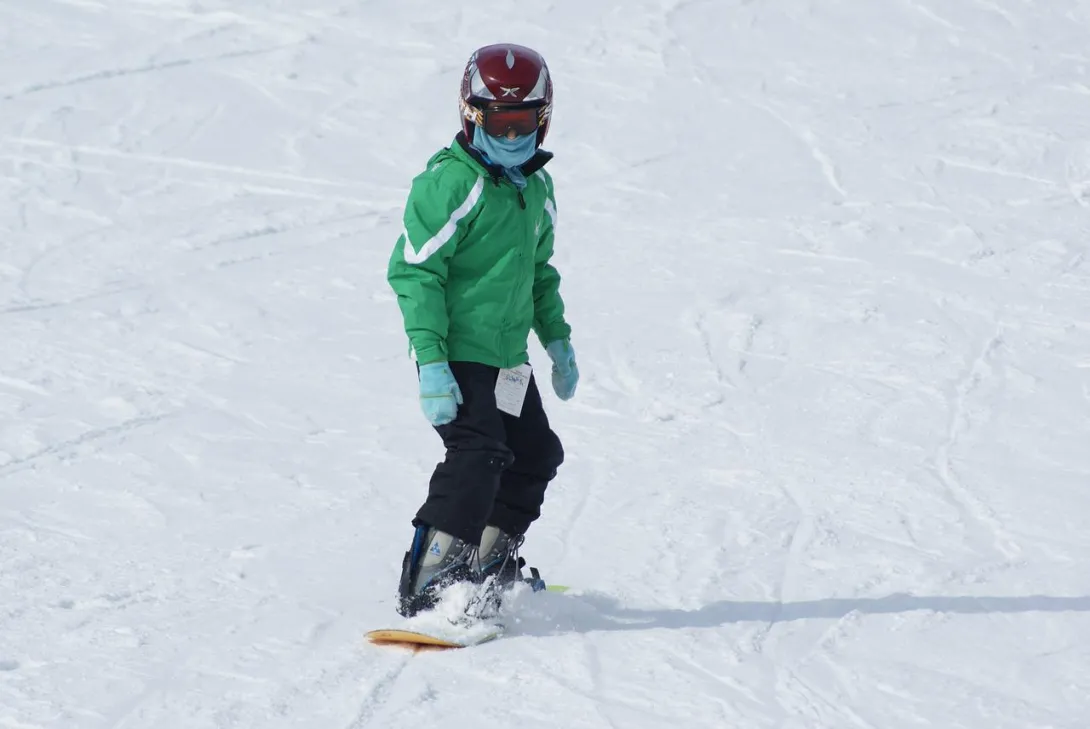 You may enjoy skiing or snowboarding; both are great ways to explore and have fun outdoors in the winter. But if your child shows a strong preference for one or the other – why not let them give a try ? Snowboarding has become incredibly popular, with plenty of young kids wanting to try it out.  
This is another reason why it may be helpful to borrow/ rent equipment while your kids try out skiing and snowboarding, figuring out what they like best. 
Look for deals
Image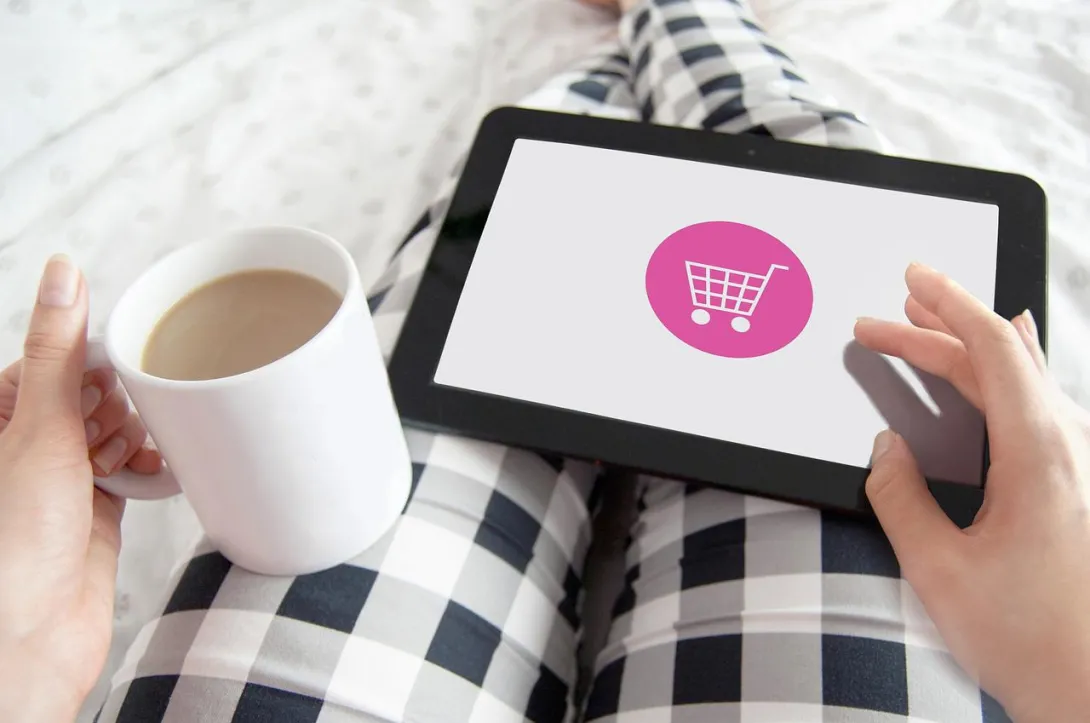 Skiing is not cheap, especially when you multiply the cost by a family of three or four. So why not get a deal when you can?
Many ski shills offer kids ski free programs, or promotions that includes lessons. There are also many age based discounts or family deals for lessons and lift tickets. Look around, ask friends, and check out online promotions through retailers like Costco.
If you buy your lessons and lift tickets ahead of time, you can also save money. For more experienced families, season passes are a great way to save money.
Make sure everyone is warm
Image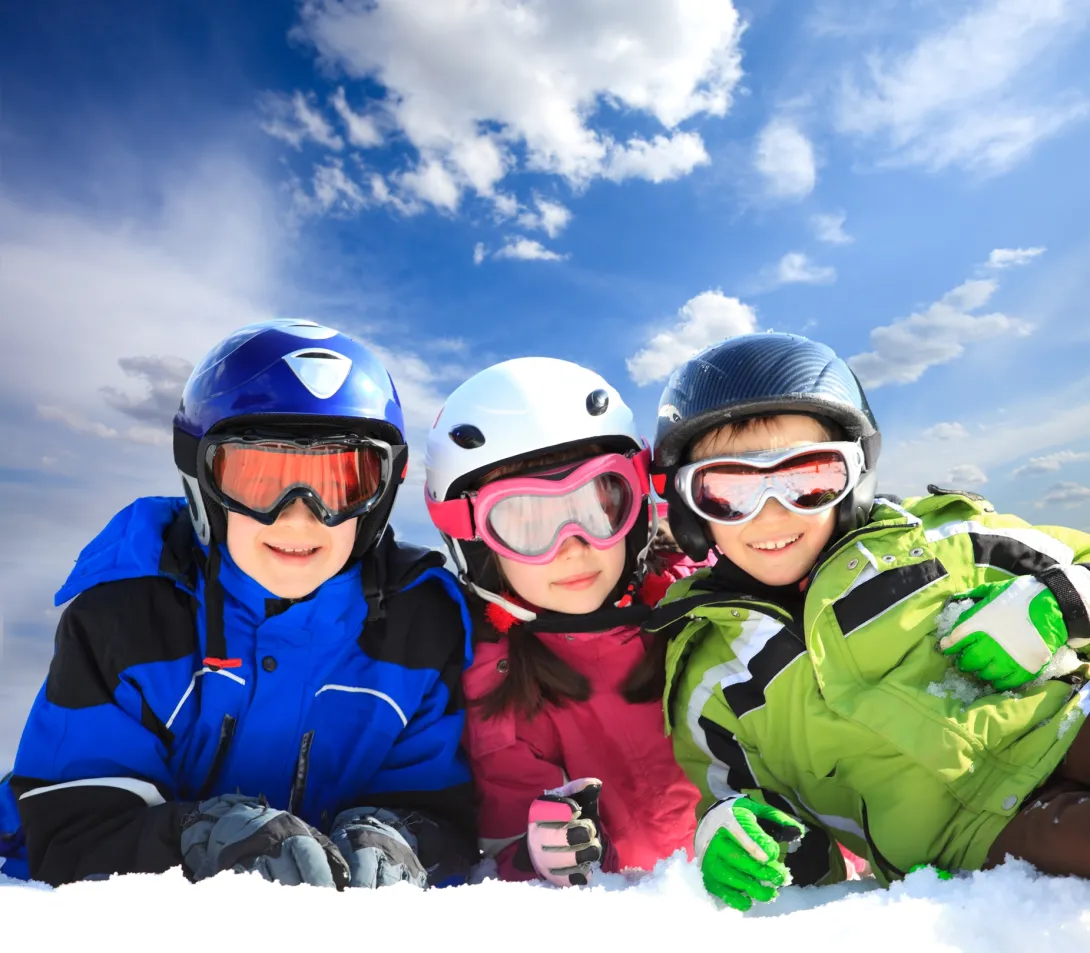 Playing outside, many kids can go hours without complaining about being cold, but regardless, do plan ahead for your ski day, making sure they have the appropriate layers to keep them warm throughout the day.
As with adults, a good pair of gloves or mittens, along with a waterproof jacket and ski pants are key. Don't forget about goggles and a helmet. If you are skiing in chillier conditions, consider a face mask or balaclava, as well as warm ski socks.
Bring snacks
Image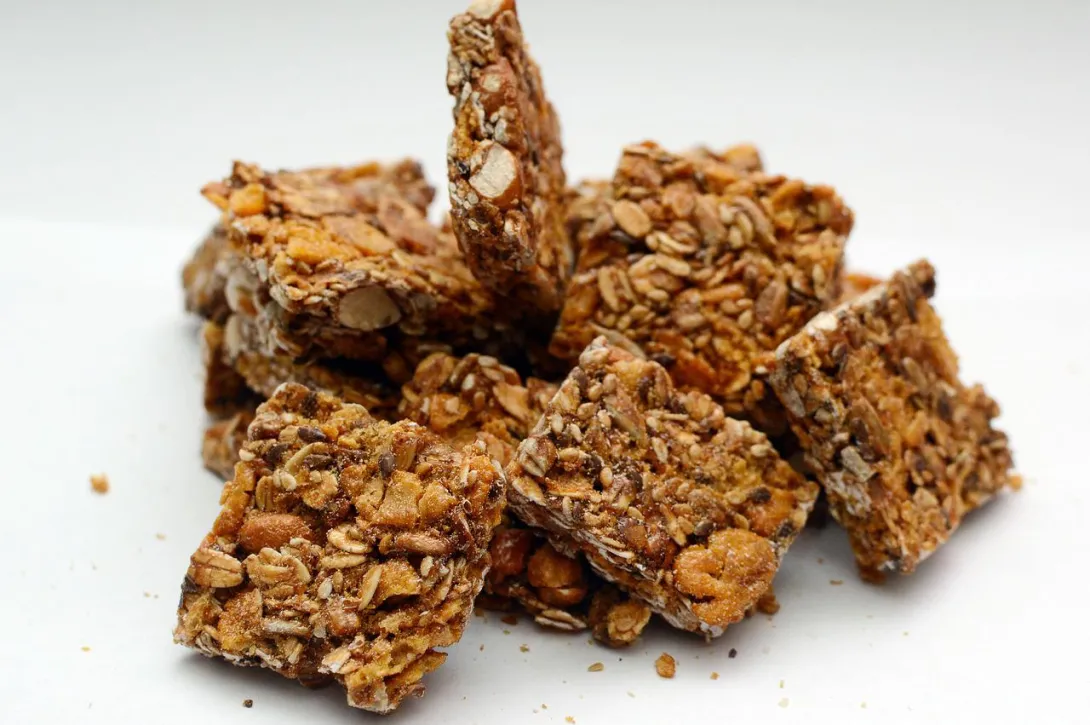 Kids love their snacks (actually, parents do as well), and it is not a bad idea to pack a few light snacks while skiing or for the car ride to and from the hill.
Keeping hydrated is important, especially if you are skiing for a long time between breaks. Some skiers like to bring along a light, waterproof bag for water bottles, snacks and phones.
Ski half day
Image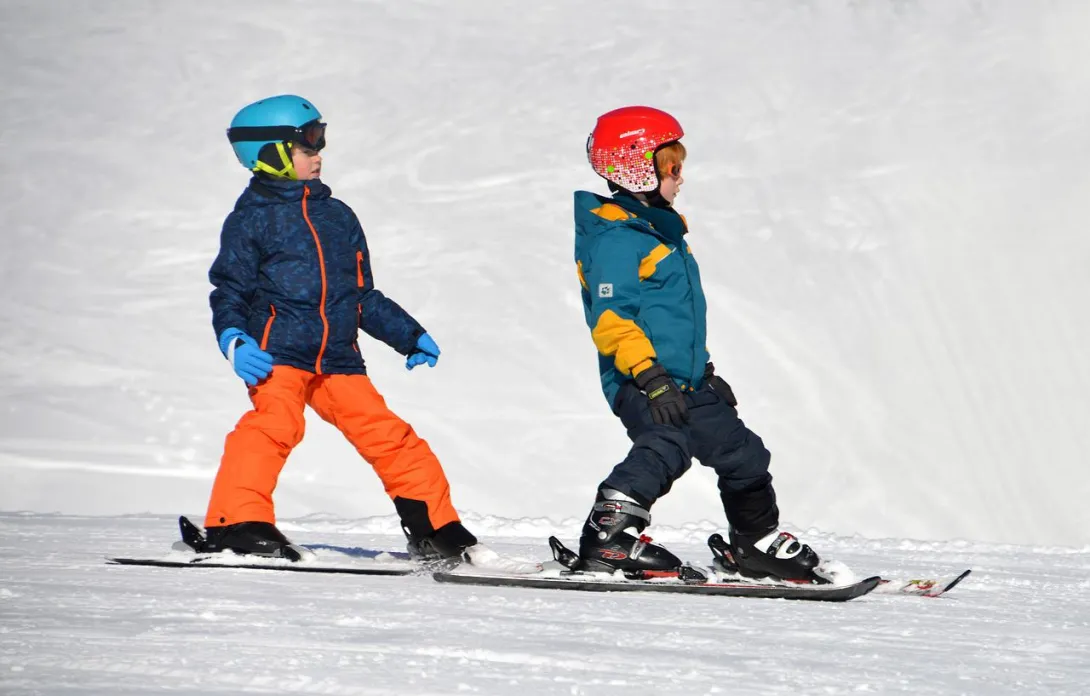 You may want to get your money's worth, but the first couple of days of skiing can be overwhelming and tiring. So maybe don't push through for the whole day. Some places have half-day passes, so consider a couple of hours in the afternoon for a more leisurely day.
Or alternatively, start the day with lessons and ease into the whole skiing process. Once your kids have a few lessons under their belt and their confidence grows, they may be better prepared for a full day of fun on the slopes.
Pick the right age
Image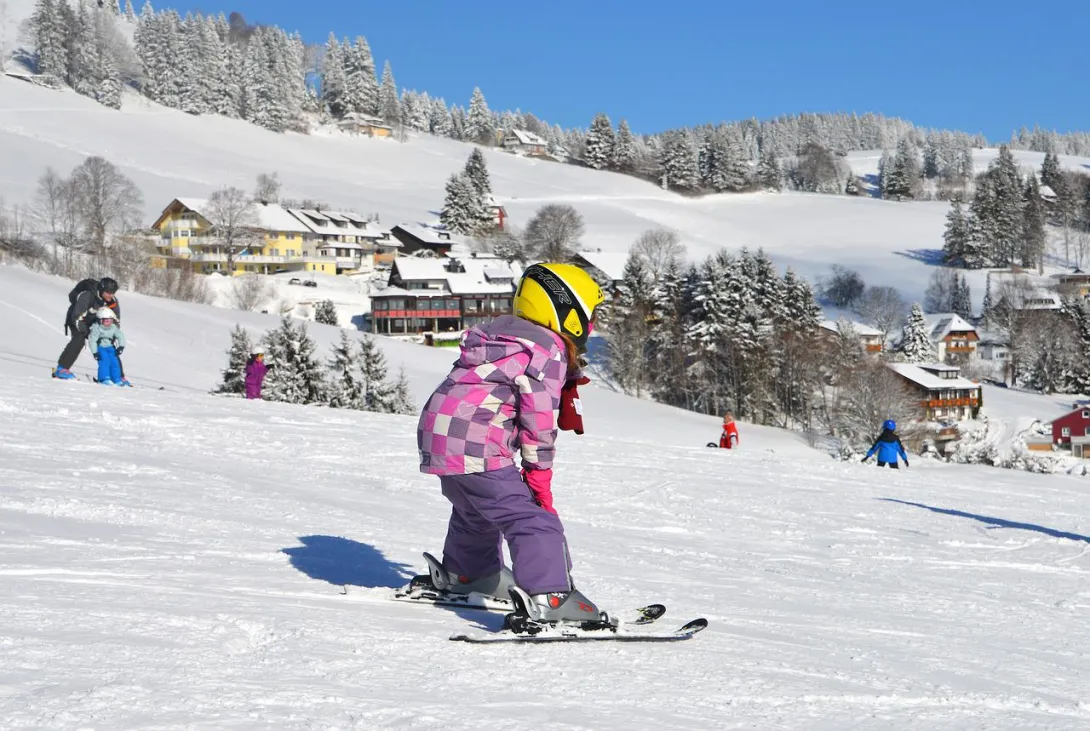 Some kids can ski early, but resist the temptation to force your young ones to ski too young or if they are really not into it, which can end up ruining your day.
Many ski lessons start around 4 or 5, so it is best to check it out before you leave. Some ski hills have a nursery program or babysitting services which may be a help for younger kids who need more breaks and a rest.
Ski with friends
Image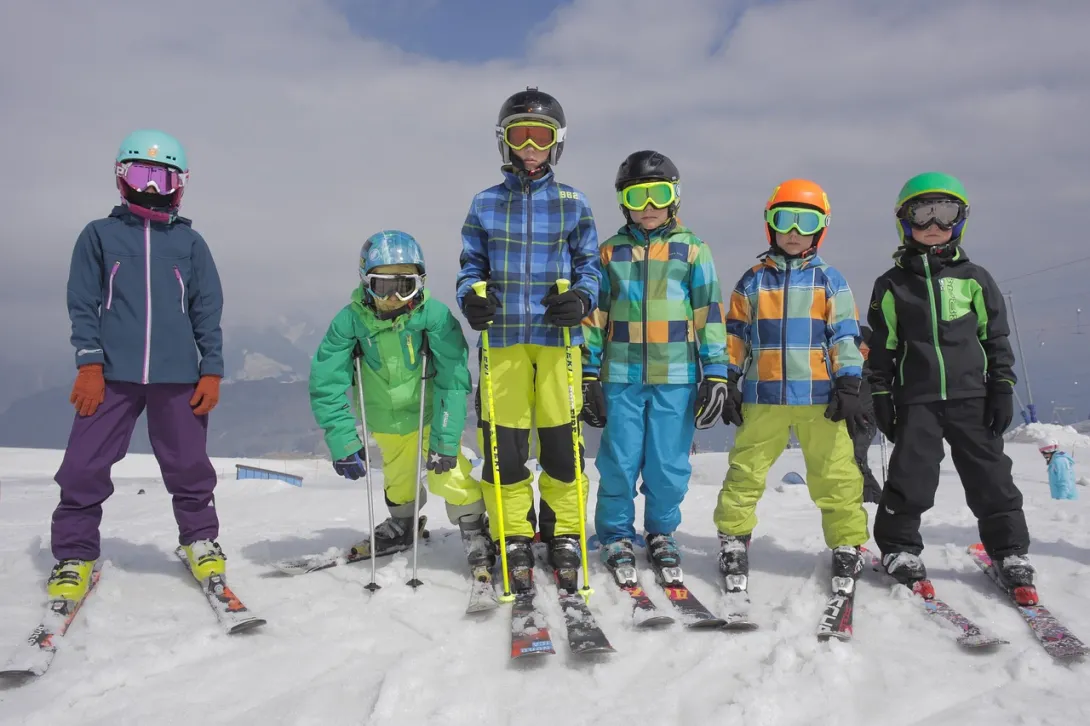 This can be a great way to add more fun to the day, and your kids may enjoy the whole day a lot more if they are there with some of their friends.
It might also make them more likely to go off on their own to ski lessons, especially if they are shy or aren't on the same level as their siblings.
Book ahead
Image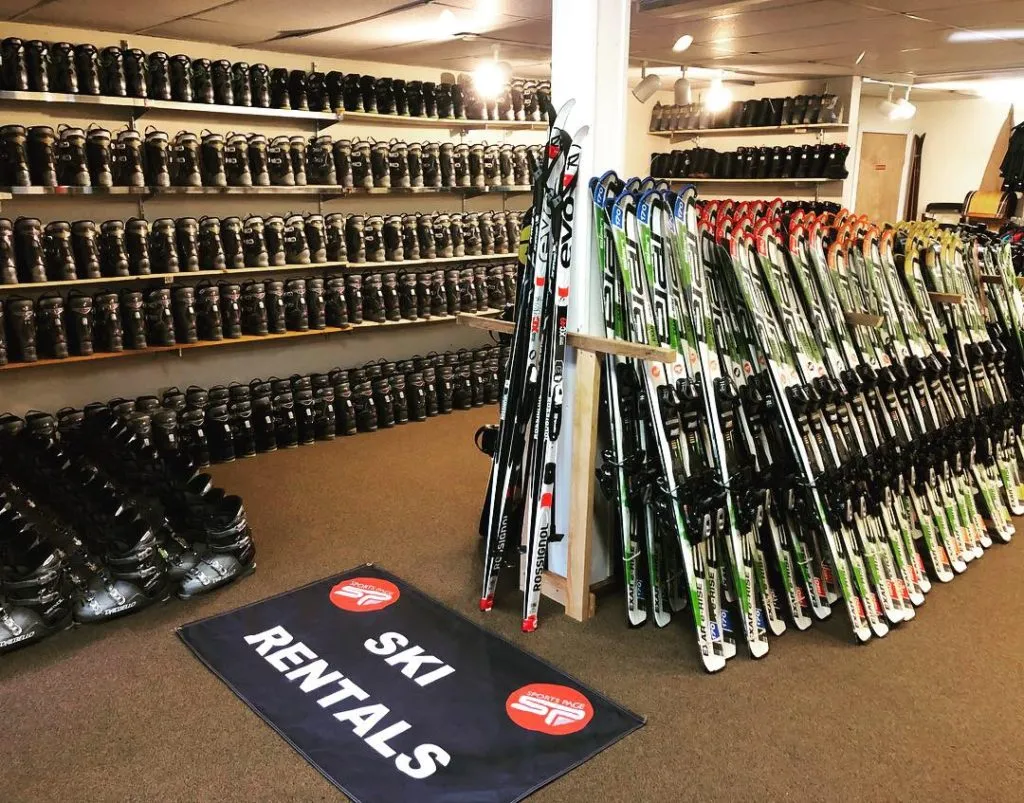 Everything takes longer when you are getting a whole family ready to ski. If you can, purchase your lift tickets and book rentals ahead of time, this will help minimize the amount of time waiting around or in lines.
Often, ski hills offer significant discounts for purchasing tickets in advance, especially 7 days or more. This will also save you from waiting in lines, which can certainly be longer on the weekends when many families like to ski.
Do your homework
Image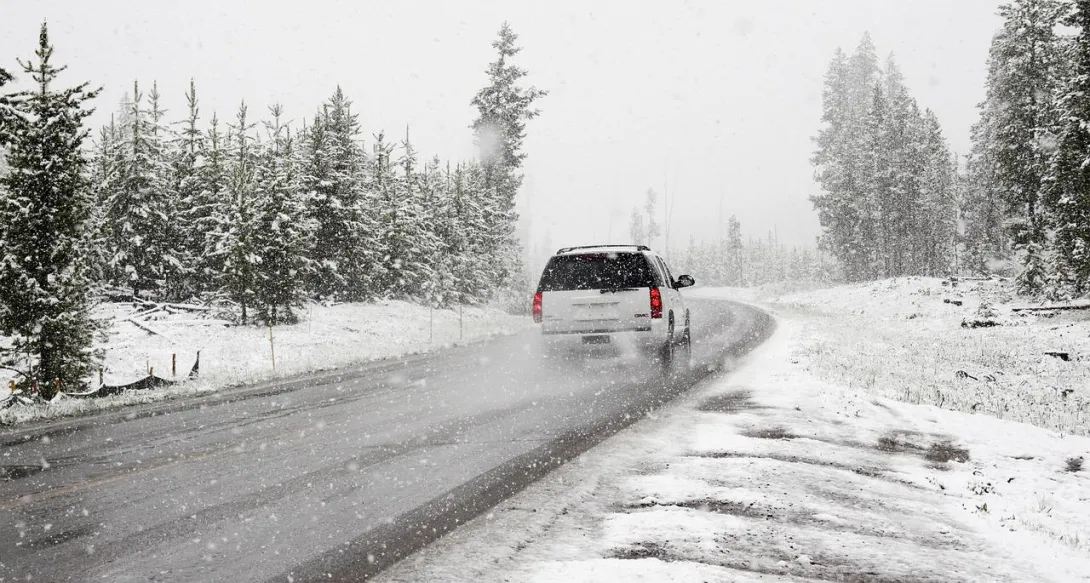 From picking out the right ski hill to checking the weather, there are a lot of factors to consider. Take a few minutes to research your hill to determine if it is a good fit for what you want to do. Getting the lay of the land, everything from directions to the hill to where everything is located, helps the day go more smoothly.
Also, check the weather and plan accordingly. A warmer day, wetter or colder conditions all call for different clothing. It is best to know ahead of time what to expect and include multiple options.
Enjoy non-ski activities
Image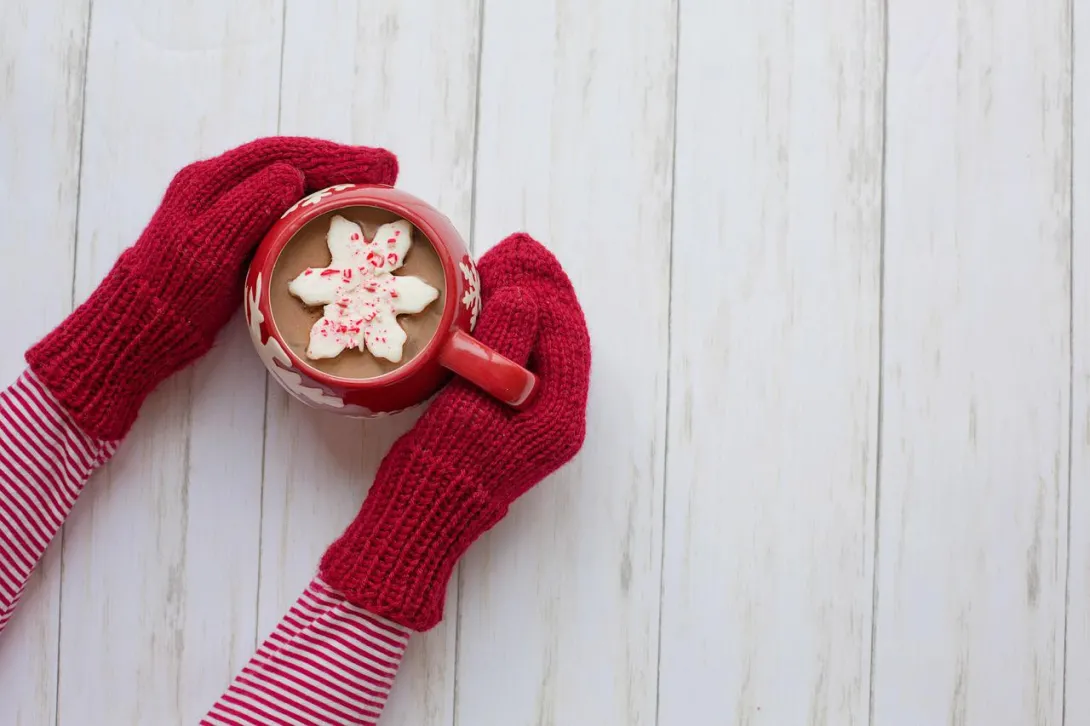 Not all the fun is on the hill, so take time out for kid friendly meals and activities in the lodge. These added perks underscore why it may be beneficial to pick a family-friendly hill.  
Some resorts have games, sleigh rides, sledding or if you are spending the night, try a dip in the pool. Some even have nighttime shows and fireworks.
Have fun
Image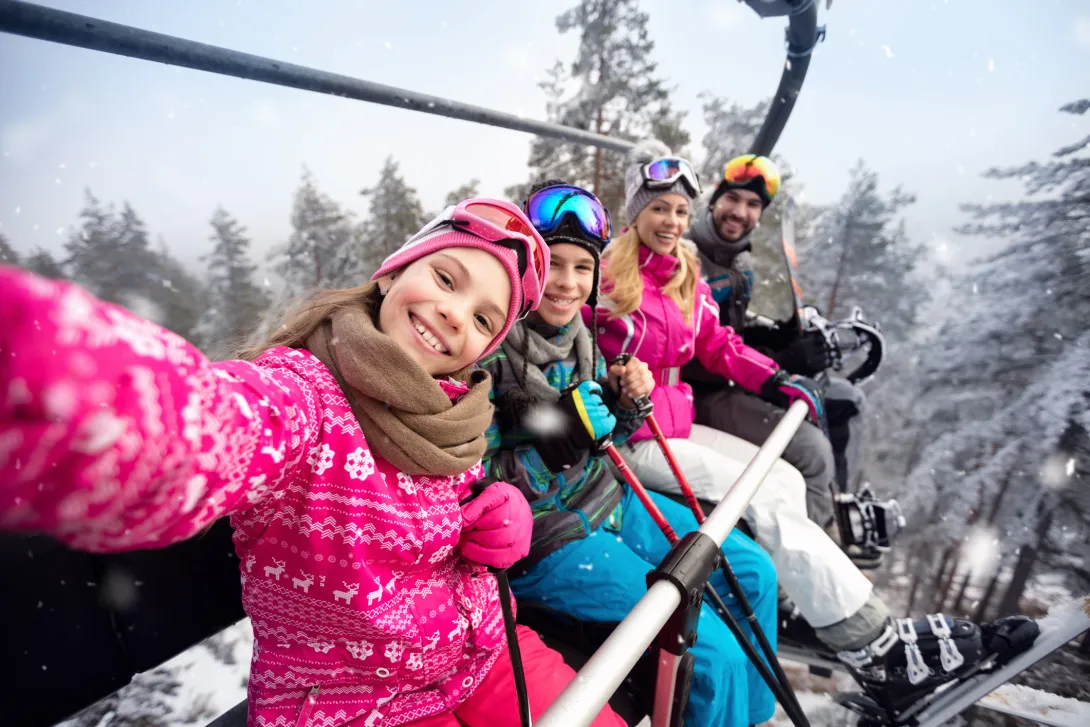 Remember, this should be about having fun. If everyone is super cold and wants to get hot chocolate or wants to relax in the snow for a few minutes – take a break, Make snow angels or build a snowman and be sure to take lots of pictures.
This also means going with the flow and being flexible. Not everyone in the family may want to do things at the same pace of time, and that's okay.