While most people immediately think of going to Colorado or Europe for their ski trips, you can't sleep on California ski resorts.
California ski resorts are often ranked among some of the best in North America thanks to its consistently heavy snowfall, streamlined processes, and fun atmosphere. California ski resorts really make sure that all you have to focus on is having a fun day on the slopes, rather than stressing about where to go and what to do.
Keep reading to learn everything you need to know about skiing in California, and the 5 best ski resorts in California for beginners!
Skiing in California: Everything You Need To Know
Image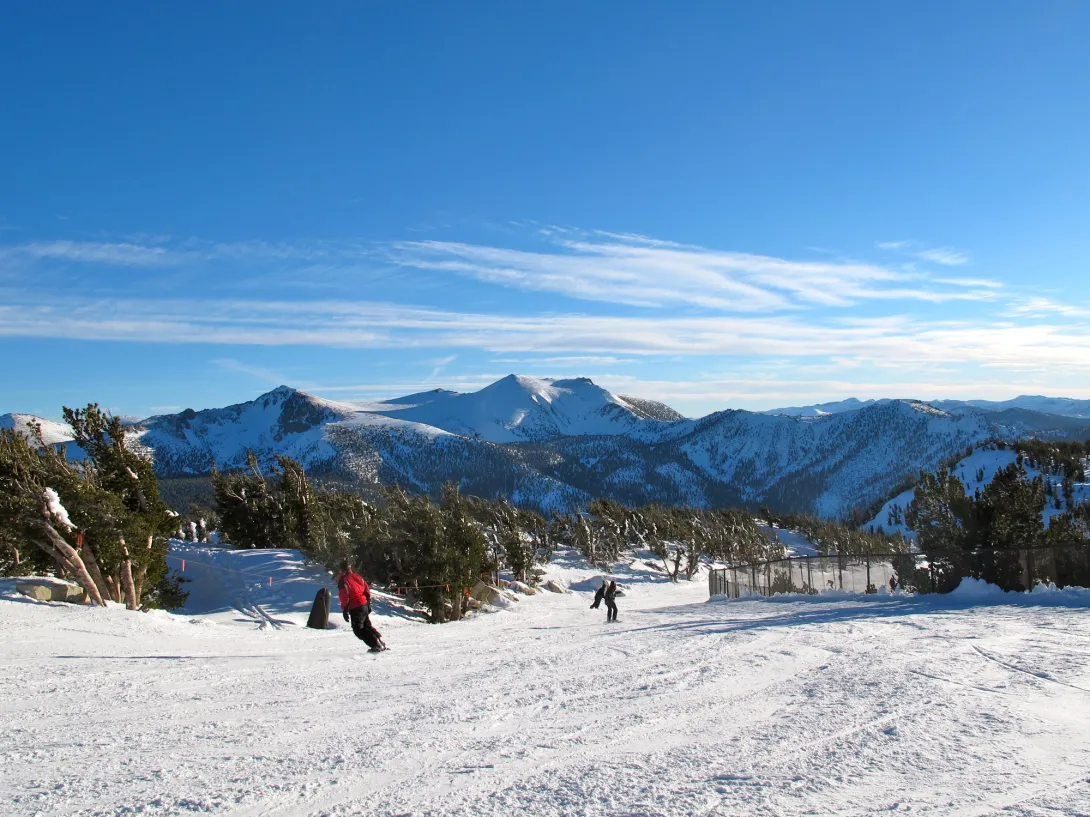 When it comes to skiing in California, what tends to scare people away the most is the price. It's no secret that California (especially NorCal, where you will most likely be skiing) isn't cheap, but personally I find it to be fairly easy to ski on a budget as long as you do your research, compare beginner packages, and make your bookings in advance.
Once your vacation is booked, you'll understand why people flock from all over the world to ski in California! The ski resorts are efficient. They ensure that you are able to learn in a safe, unintimidating environment and then progress at your own pace as your skills improve. There is plenty to do in California both on and off the ski slopes, and I highly recommend adding our list of the best ski resorts in California for beginners to your bucket list this winter!
5 Best Ski Resorts For Beginners in California
Big Bear Mountain Resort
Image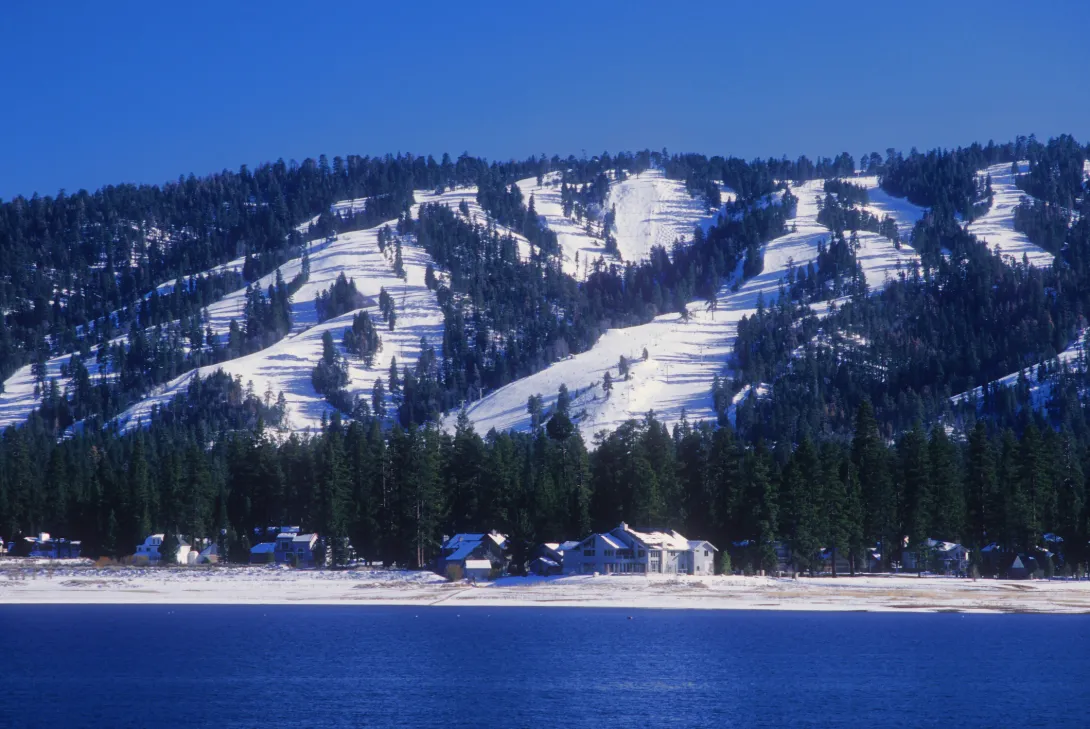 If you're located in Southern California, Big Bear Mountain Resort is the best skiing you'll find within a day trip of Los Angeles. It's one of the cheaper lift tickets in California and allows access to both resorts in Big Bear Lake: Bear Mountain and Snow Summit. Snow Summit is a better resort for complete beginners and there are plenty of easier runs at Bear Mountain that will help improve your skills and progress.
The Bear Bottom area at Snow Summit is the best place to learn how to ski. Snow Summit offers lessons both day and night, so if you're looking to learn without the crowds you may want to take advantage of night lessons. Once you've mastered the green runs at Snow Summit, try your hand at the terrain parks or move on over to Bear Mountain to take on some more challenging runs.
When you're not on the slopes, there is so much to do in Big Bear Lake. Go snow tubing, explore the village downtown, relax around a fire, or in a cozy cabin hot tub. Big Bear is such a cozy and beautiful town that I highly recommend visiting this winter!
Mount Shasta
Image
Mount Shasta Ski Park is a quirky Northern California ski resort that really caters to beginners. Here, you'll find less expensive lift tickets than you'll find at other California resorts, a great ski school, and plenty of beginner friendly terrain. Mount Shasta really makes it easy for beginners to feel less intimidated by walking you through every step of the booking process with a helpful guide on their website and very helpful staff on site to guide you in the right direction.
You'll find the beginner area at Mount Shasta just in front of the main lodge, and more green runs/designated slow areas to the left hand side of the park. If it's your first time skiing, I highly recommend visiting Mount Shasta Ski Park this winter!
Mammoth Mountain
Image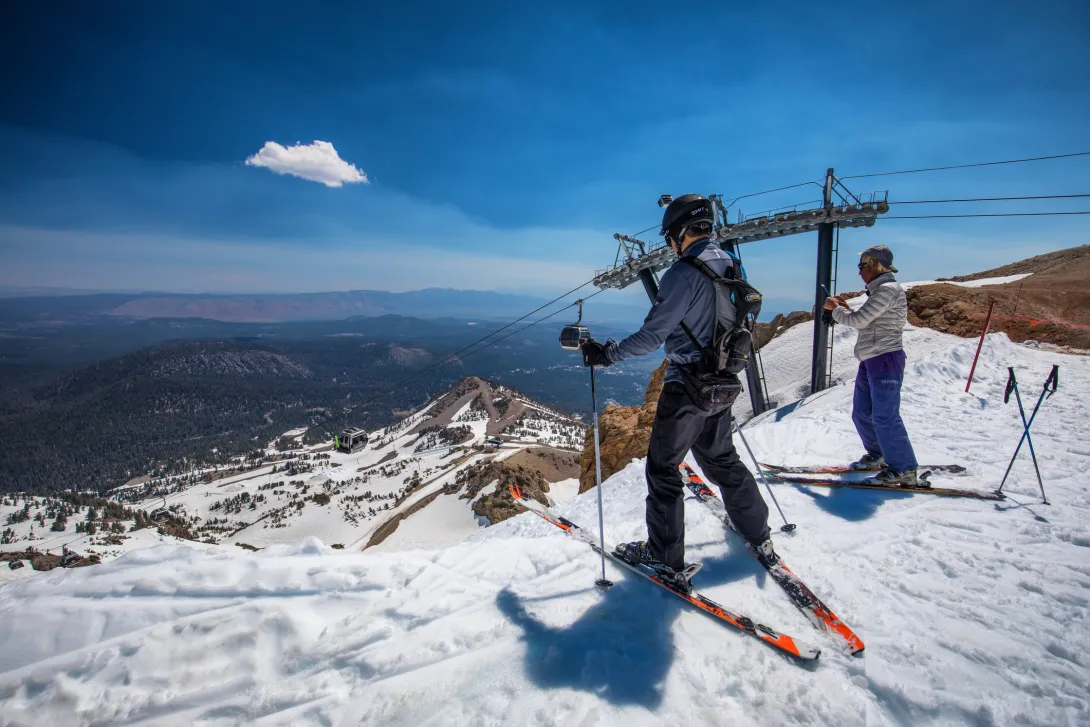 Mammoth Mountain is (as I'm sure you've guessed by the name) a massive mountain resort. Located on the south end of the Eastern Sierras, Mammoth Mountain has over 3,500 acres of skiable terrain including three separate beginner areas and the highest lift-served summit of any California resort. And it's efficient to navigate thanks to the lift infrastructure and free shuttle service throughout the area.
There are a variety of green runs located within the three beginner areas at Mammoth Mountain: the Main Lodge, The Mill, and the bottom of chair four. I recommend starting at the Main Lodge on the Discovery Chair (chair 11) to learn on Sesame Street and Apple Pie, and then progress your way to Easy Rider, one of the highest greens, and slowly try more difficult runs from there.
When you're done skiing for the day, be sure to head to town for live music, delicious food, and a beer!
Sierra At Tahoe
Image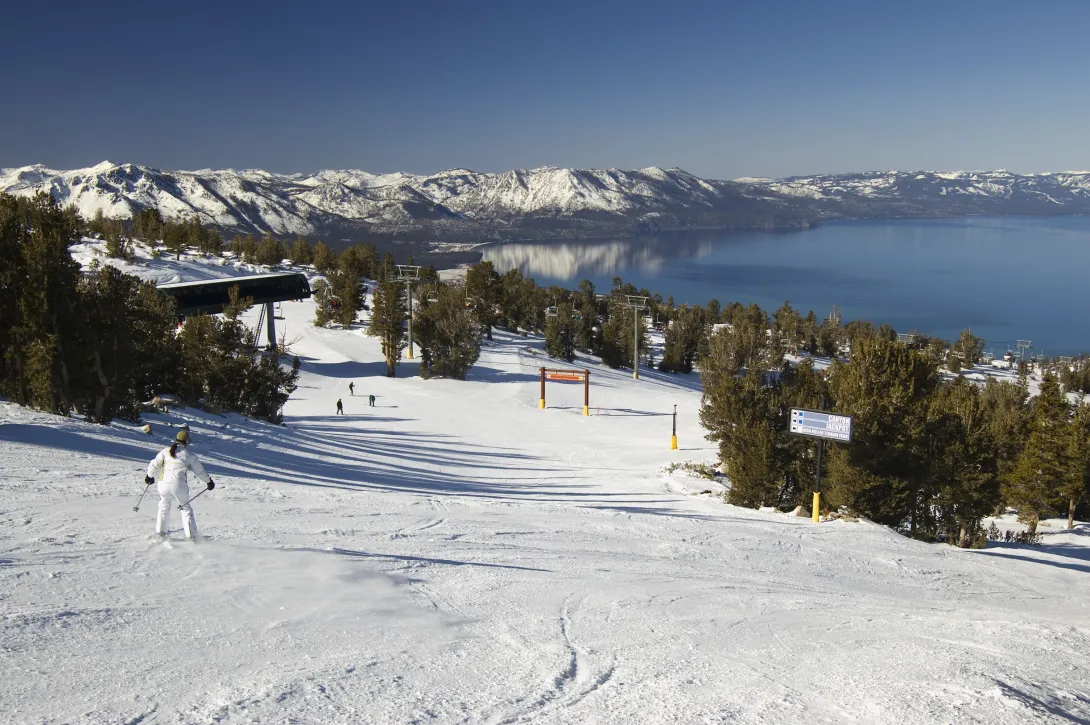 Sierra At Tahoe is my favorite ski resort in the Lake Tahoe area for beginners. It has plenty of beginner terrain while having a lower cost than other ski resorts in the area. Sierra at Tahoe contains 18 green runs as well as 2 magic carpet rides in a specific beginner area called Easy Street. This is where you will learn to ski, especially if you opt to take lessons.
When you're done skiing for the day, head to Blizzard Mountain for snowtubing or to one of the 11 restaurants on the mountain. Or veer off the mountain to explore the surrounding areas of Lake Tahoe. You'll find live music, delicious food, and epic views everywhere you turn!
Squaw Valley Alpine Meadows
Image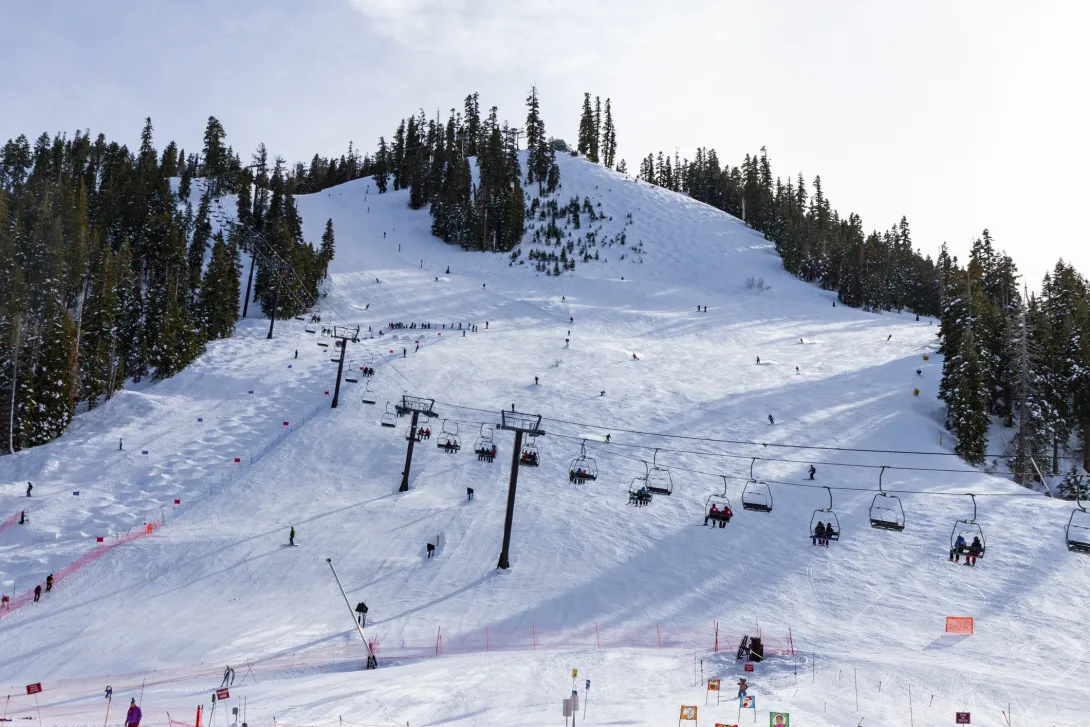 Squaw Valley Alpine Meadows is one of the most expensive ski resorts in Lake Tahoe, but it is the largest ski resort in California and consistently rated as one of the best in North America. They even have their own app which really simplifies your day, especially as a beginner. With more than 6,000 skiable acres and plenty to do, it's safe to say you'll never get bored at Squaw Valley Alpine Meadows.
The Squaw Valley side contains most of the beginner terrain with a little bit more over at Alpine Meadows. I'd recommend starting at Squaw Valley and venturing over to Alpine Meadows as you progress as Squaw Valley has two magic carpet lifts and more beginner terrain. Both ski areas offer lessons, so compare each package to see what works best for you.