The United States is known for its vast mountainous landscapes in the West and Northeast, which are the best places to play outside in the winter time.
If you clicked on this blog post, I think it's safe to say you've been dreaming about shredding down the mountain in some white fluffy powder this winter. If you're just getting started, finding a good place to learn how to ski in the United States can be an intimidating process.
While most ski resorts will have areas for everyone from beginner to advanced, some ski resorts are better than others for beginners due to the terrain and quality of ski school.
As a full time traveler originally from Colorado, I've skied at pretty much every major resort (and many small resorts) that you can think of. Keep reading to learn which ski resorts are the best ski resorts for beginners in the United States all the way from California to Maine.
Top Ski Resorts For Beginners In The United States
Buttermilk Mountain at Aspen Snowmass, Colorado
Image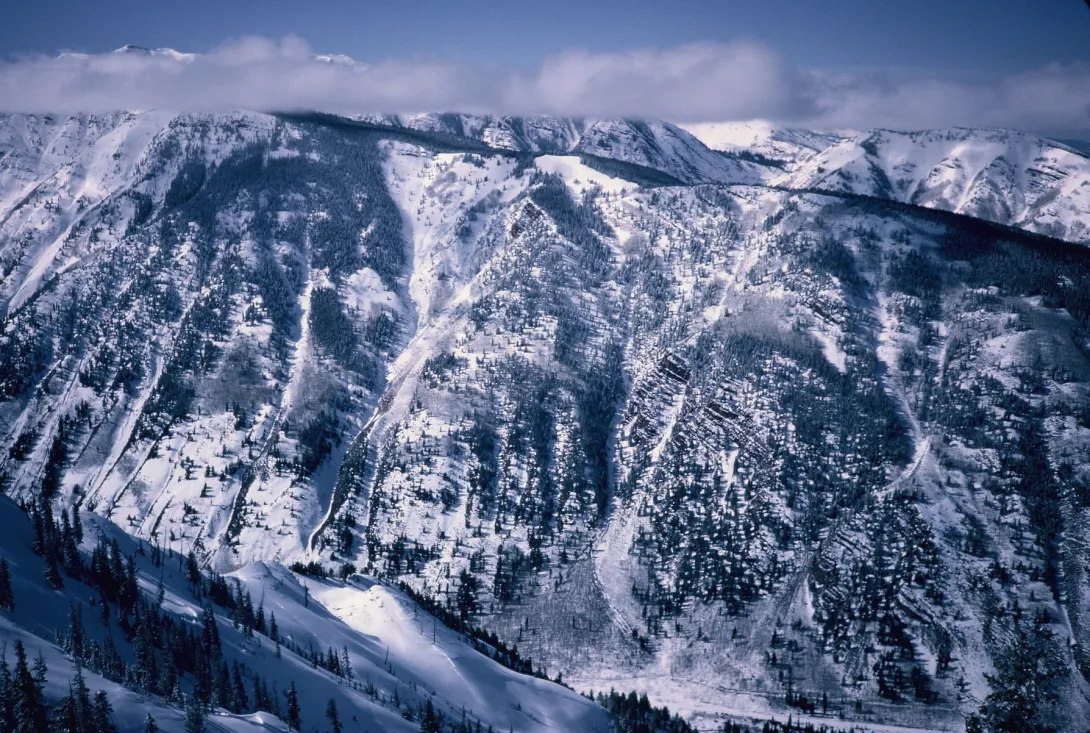 There are four ski resorts in the Aspen Snowmass area of Colorado.
Buttermilk Mountain is the best for true beginners as they have a separate mountain dedicated to beginners and an excellent ski learning program.
Aspen Snowmass is also a good area for those just getting started on their skiing journey as they have a few areas dedicated to beginners and plenty of green and blue trails for those ready to put their skills to the test and continue improving.
When you're done skiing for the day, I highly recommend heading to downtown Aspen to enjoy delicious food, live music, and some of the best apres-ski adventures in the world!
Whiteface Mountain, Lake Placid NY
Image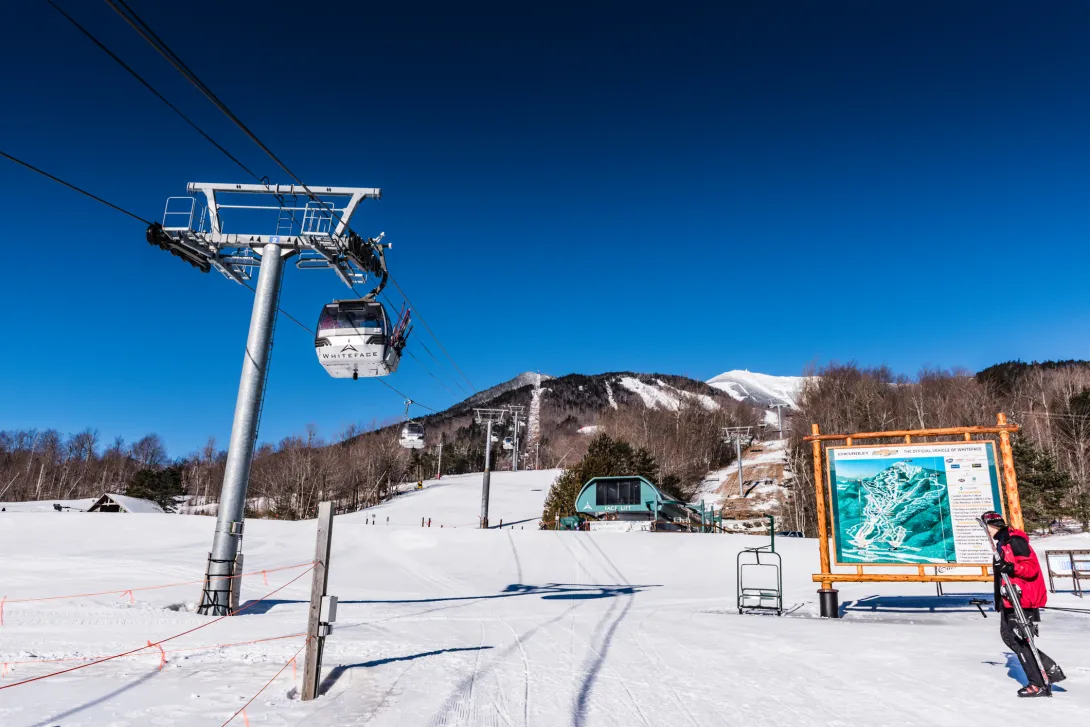 For those on the East Coast, you have to check out Whiteface Mountain this winter in Lake Placid New York, the heart of the Adirondack Mountains. It's by far one of my favorite places to ski in the United States!
The town of Lake Placid is known for their Olympic Training Center and while Whiteface Mountain has plenty of expert runs, the area at the bottom of the mountain is perfect for beginners to learn how to ski from the world class ski school. The bunny hill allows you to really hone in your skills, and there are plenty of green and blue trails that will allow you to progress smoothly all the way to your first black runs.
If you're located in the Northeast, I highly recommend spending plenty of time this winter on Whiteface Mountain!
Snow King Mountain, Jackson Wyoming
Image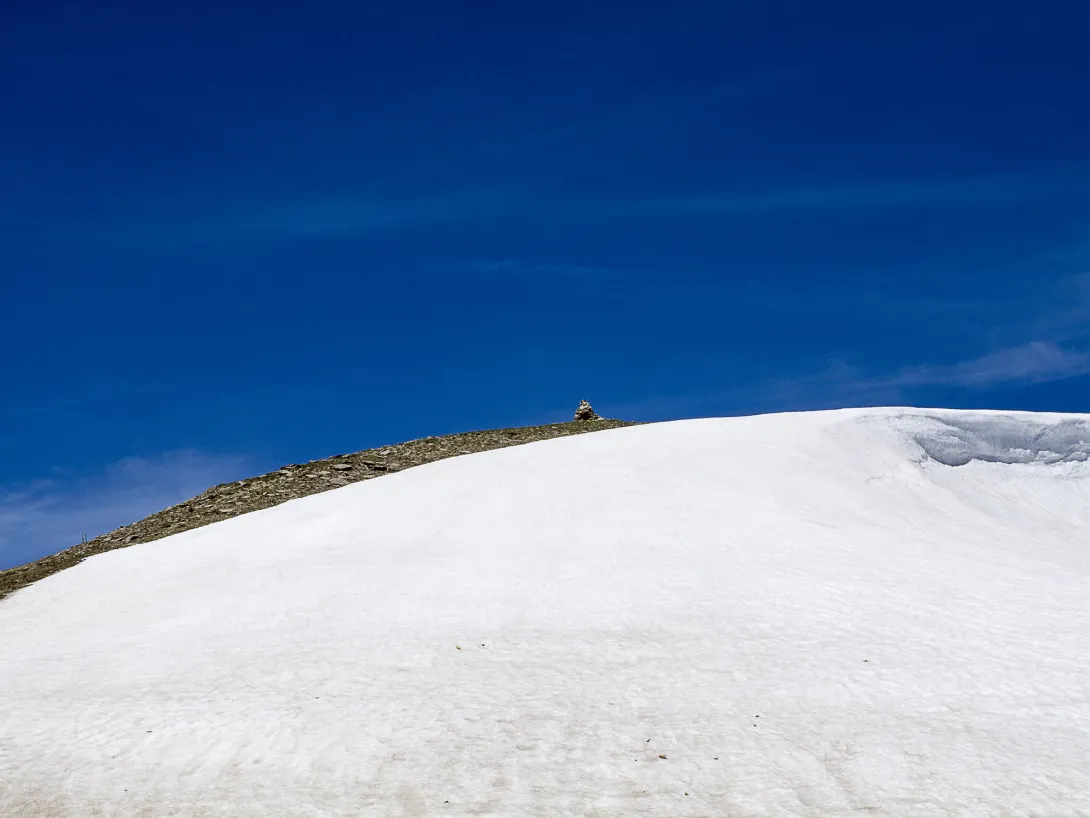 While the town of Jackson Wyoming is most well known for its expert level runs in the rugged peaks of the Jackson Hole Resort, that's not the only skiing available in town. Located just outside the main town square is Snow King Mountain Resort, which is a completely different environment from Jackson Hole.
Snow King is a much more beginner friendly and family friendly resort full of beginner runs and fun festivities such as snow tubing available. It's a less crowded resort perfect for learning. When you feel confident, you can put your skills to the test at the Jackson Hole Resort across town in the Teton Village.
Steamboat Springs Resort, Colorado
Image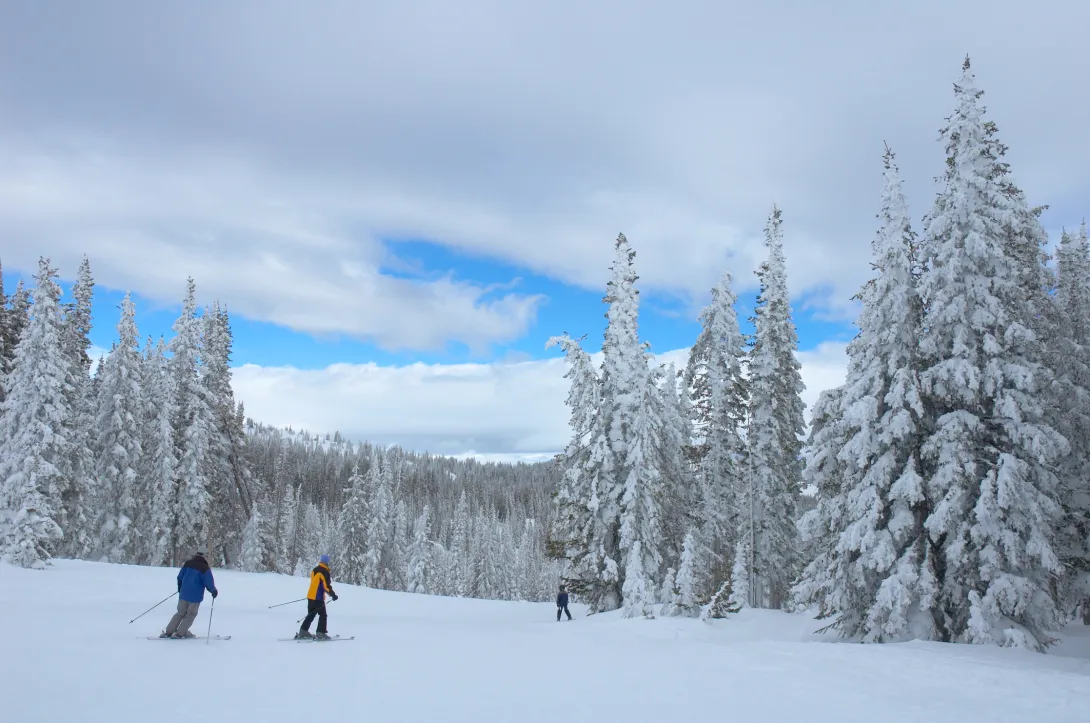 Steamboat Springs is one of my favorite places in the winter, partly due to the fact that they have excellent beginner to intermediate ski trails and also because of the wide array of adventures you can partake in other than skiing such as visit the Strawberry Park Hot Springs, go riding around the backcountry on a snowmobile, visit the downtown area, try your hand at snowshoeing, and so much more.
When you're just starting out you may not want to ski all day every day, and there's no better way to relax your muscles than by soaking in a hot pool surrounded by nature!
Heavenly Mountain, Lake Tahoe California
Image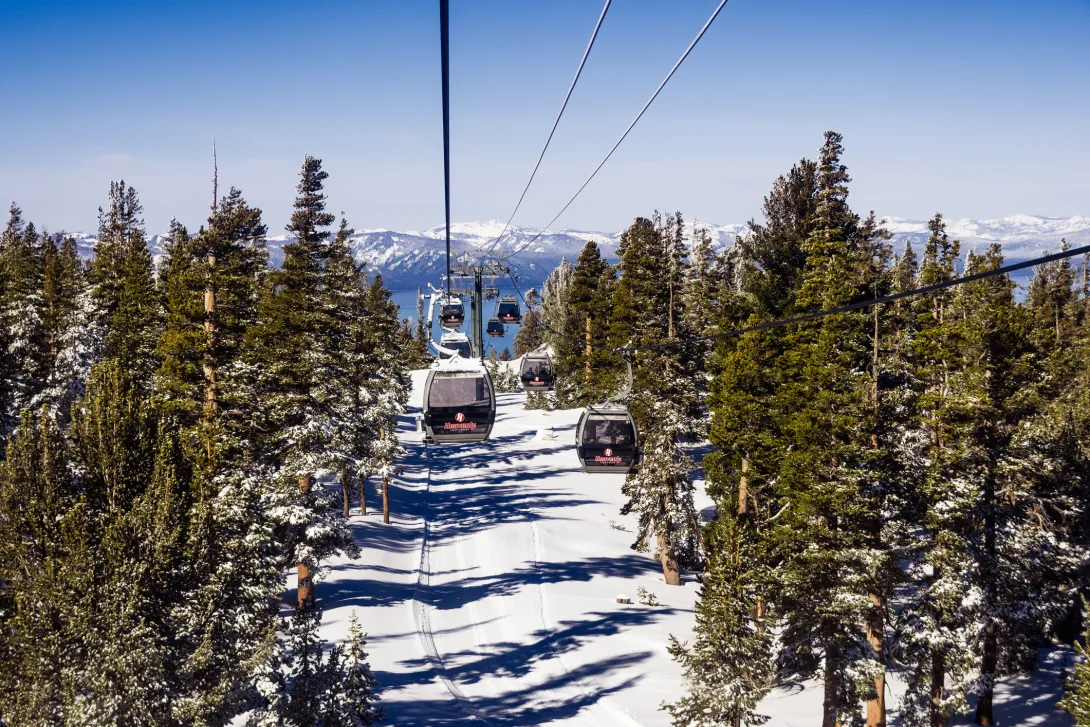 Lake Tahoe California is one of the most magical places on this earth, especially in the winter time! There's a reason why people flock from all over the world to ski in Lake Tahoe each winter.
Due to its high elevation, plethora of mountain terrain, stunning backdrop, and amazing vibes, it's the perfect place for your next ski adventure. There are many ski resorts in the Lake Tahoe area and it can be tough to figure out which resort would be best for you.
As a beginner, I highly recommend Heavenly Ski Resort on the Northwest side of the lake. Heavenly is one of the lower elevation resorts in the area and has an excellent ski school, allowing beginner skiers to learn the ropes in a less crowded area and have plenty of space to practice their skills. I highly recommend making a trip to Lake Tahoe this winter, and checking out Heavenly Ski Resort!
Big Sky Resort, Montana
Image
The Big Sky Ski Resort in Big Sky Montana has earned a thrilling reputation thanks to its high elevation and steep runs particularly on Lone Peak. But don't let that scare you away, because Big Sky is full of gentle slopes at the base of the mountain and is an excellent place to learn how to ski.
There are so many trails to choose from and the resort is not one of the more crowded ones, so you'll be able to progress at your own pace. Big Sky also has many ski in/ski out condos, making it an easy place to book a vacation this winter.
Stowe, Vermont
Image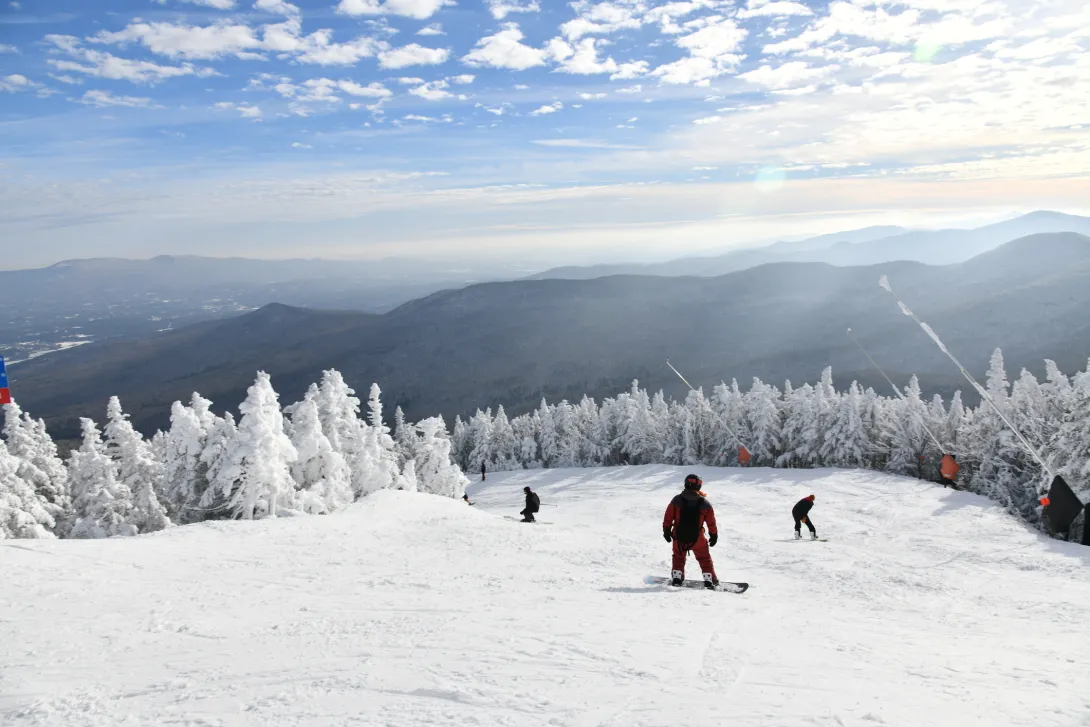 Stowe Mountain Resort is one of the best and most beautiful places to ski this winter.
The resort is located at the base of Mount Mansfield, the highest point in Vermont. Not only is it an excellent place to ski, but the town of Stowe is an adorable area jam-packed full of activities for the entire family to enjoy.
After you've completed a few runs, visit the spa, go ice skating, try the different breweries around town, go zip-lining, snowshoeing, and so much more. If you're located in the Northeast, you have to make a trip to Stowe Mountain Resort this winter!