I tell you all the time how important it is to take ski lessons. But what type of ski lessons should you take: group or private lessons? This decision is an important one to make because you need to make sure that you are able to learn to ski in the type of environment that works best for you.
In this blog post we'll break down everything you need to know about both group ski lessons and private ski lessons from their cost, time commitment, pros, and cons. Then you will be able to determine which type of ski lesson would be the ideal learning environment for you and your family.
Keep reading to learn all about ski lessons! Determine whether to take group or private ski lessons in order to become the skier you want to be.
Group Lessons
Image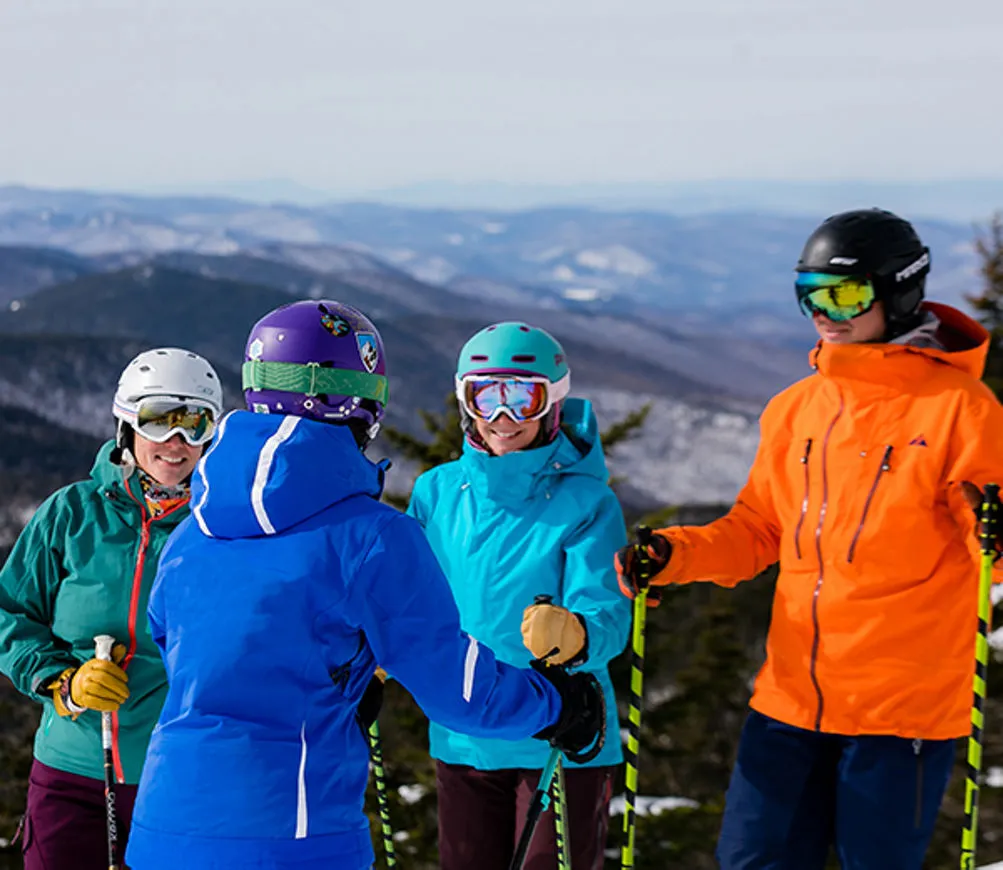 What To Expect
Each ski school has their own way of doing group lessons, but typically group lessons are offered as 3 hour sessions in either the morning or afternoon over a period of 5 or 6 days.
In group lessons, you will be placed with about 6-10 individuals who are around the same age or skill level as you. You will receive instruction in a group and then have some time to work on your skills and you will all progress together.
Time Commitment
Image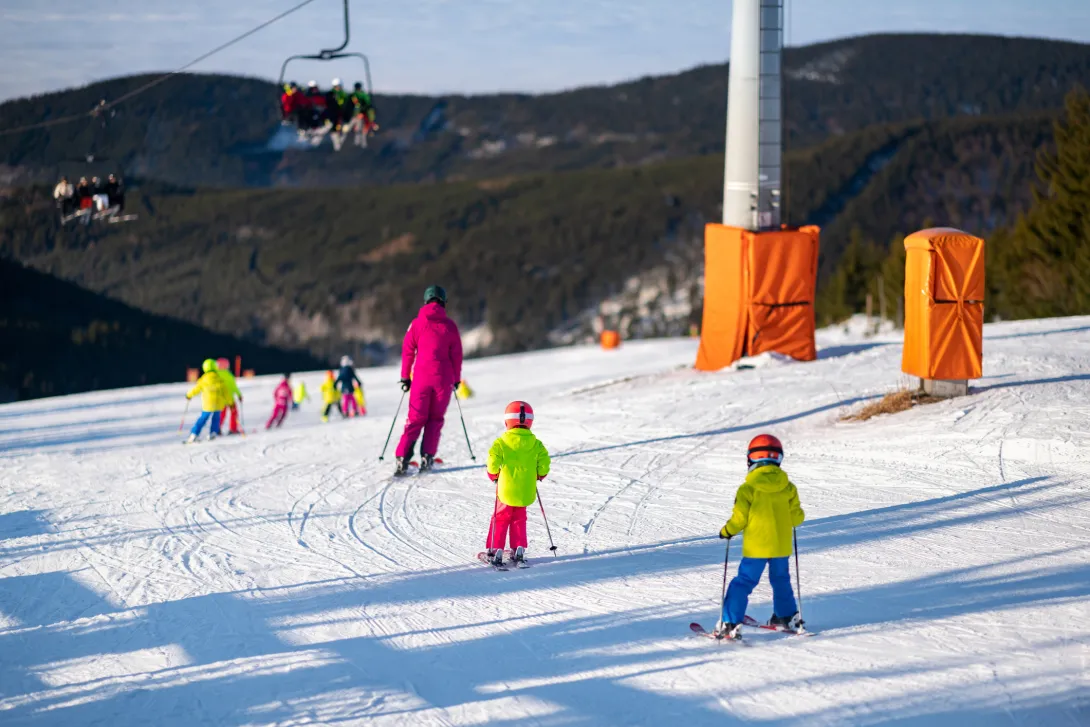 Group lessons take place over a longer span of time than private lessons will, so they're best for those who plan to ski for a week or more. You can take lessons in the morning and either practice your skills or go on a completely different adventure in the afternoon.
If you have young kids, you will likely be able to find camps to send them to if you're looking for all day lessons.
Cost
The cost of ski lessons varies widely depending on the resort and specific program, but in general group lessons are going to cost you around $20-30 per hour which is much less than the cost of private lessons.
Pros of group ski lessons
Image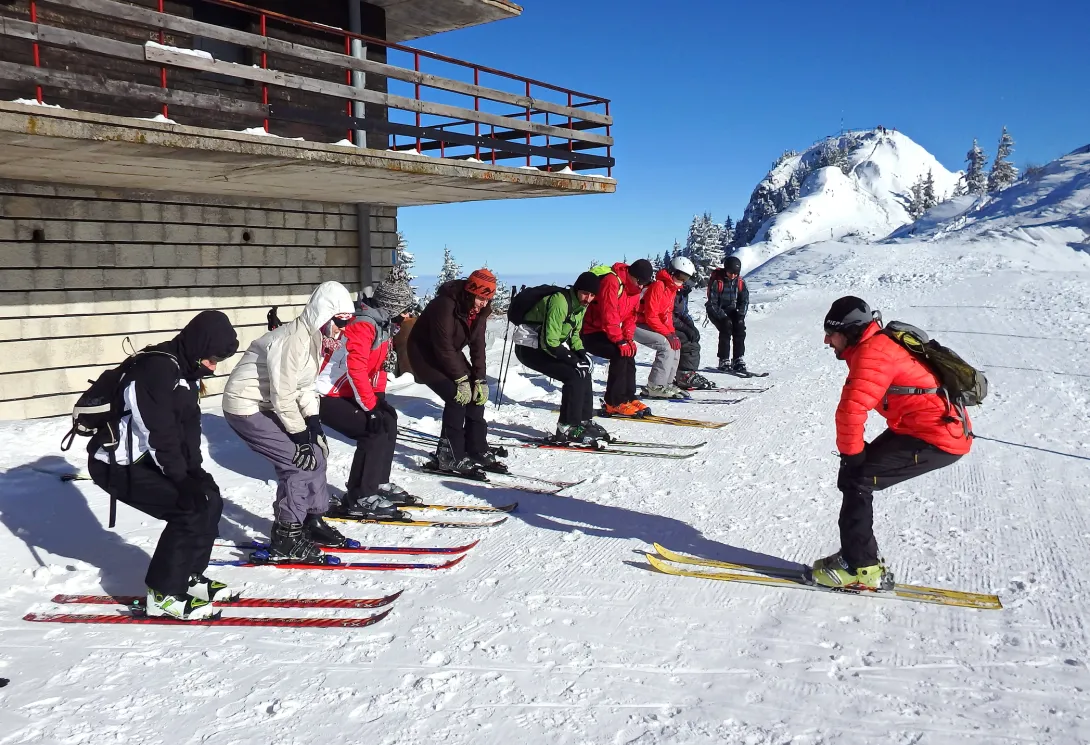 There are many pros to taking group ski lessons.
The cost is lower than private lessons, making it a much more affordable option for learning how to ski.
They also allow you to meet other skiers at your age and ability level, which is great for someone who wants to meet people to ski with.
When you take lessons, you also will most likely receive skip the line privileges, allowing you to practice your skills more instead of waiting in line.
Cons of group ski lessons
Image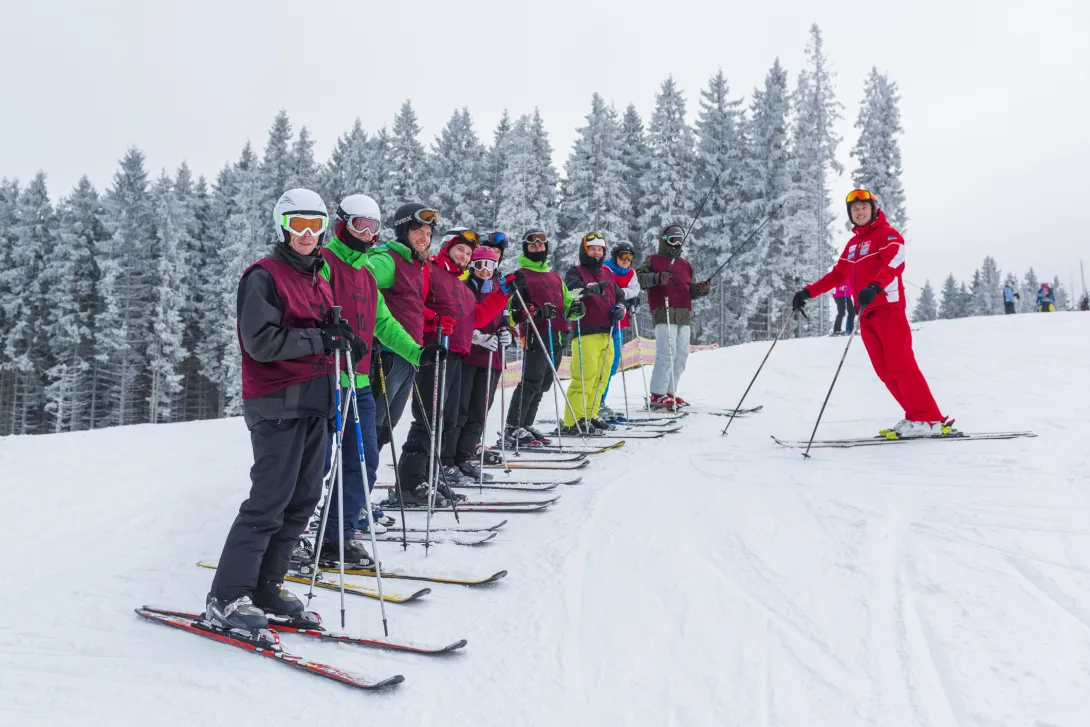 The main downside to taking group lessons is the lack of one-on-one instruction. You still do receive some one-on-one instruction in group lessons when you get some free time to practice, but it's not the same as having someone hold your hand the entire way down the ski slopes while giving you 100% of their full focused energy.
Another con to group lessons is having to progress as a group. If you're the type who picks up instruction quickly or happens to be a natural born skier, you may find yourself bored on the mountain a lot of the time. However, repetition is king, so if you find yourself in this situation you can always keep on practicing.
Private Lessons
Image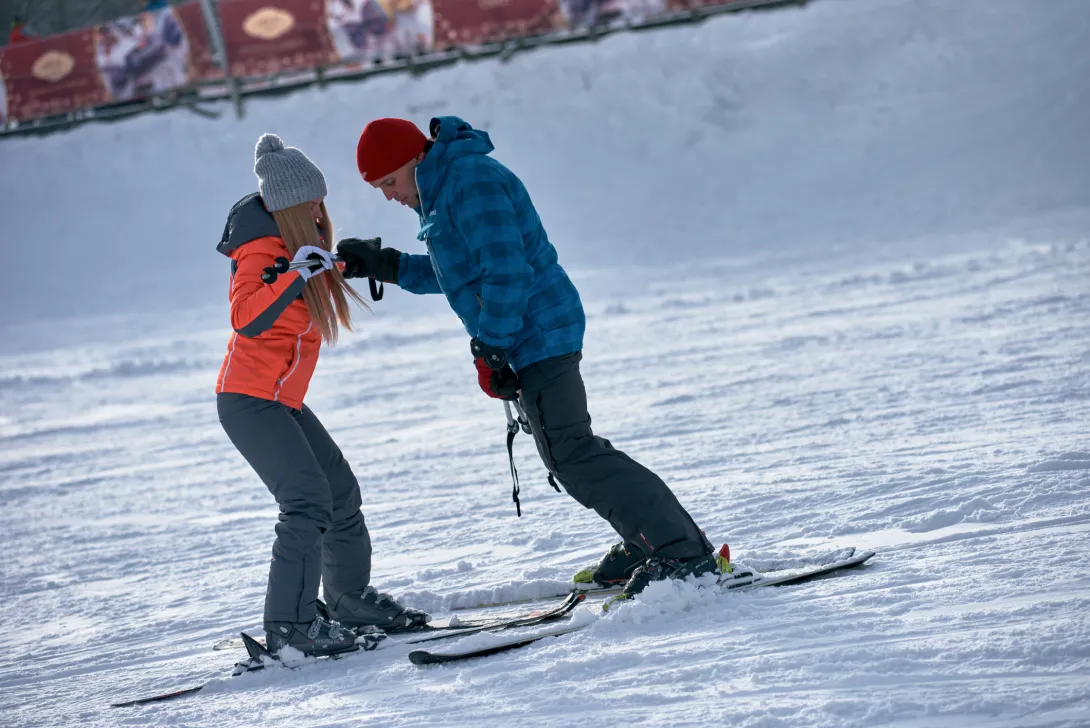 What To Expect
Private lessons are exactly what they sound like, one-on-one learning time from a professional ski instructor.
Most resorts have their own private instructors that you can book by the hour, but most ski towns also have great freelance instructors looking for business as well.
Either way, private ski lessons typically run by the hour and allow you to progress at your own pace. They offer a level of flexibility and attention that you can't receive in group lessons.
Time
Image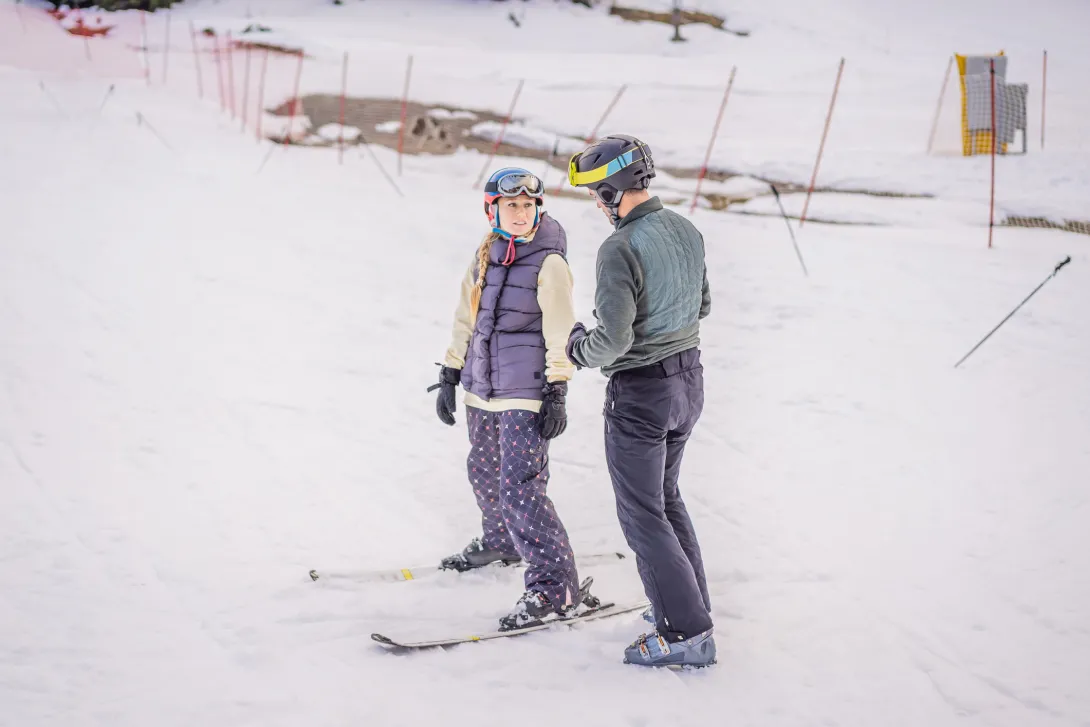 Private lessons go by much faster than group lessons, so they are a great option for those who are just on the mountain for a weekend or so and don't want to spend an entire week taking lessons.
You can schedule private lessons however you so choose, but if you're just starting out I'd recommend booking a one hour lesson 2-3 days in a row and then seeing how you feel. Sometimes people just want an instructor to teach them the basics, some people like spending time with an instructor for a while until they feel comfortable enough to ski on their own. It's totally up to you!
Cost
Private ski lessons typically cost around $100 per hour, but each instructor sets their own rates so it could be more or less but it will always be approximately double the cost of group lessons.
If you're looking to minimize the cost of private lessons, a great option would be to split lessons between a friend or two or get a private lesson for the family.
Pros of private ski lessons
Image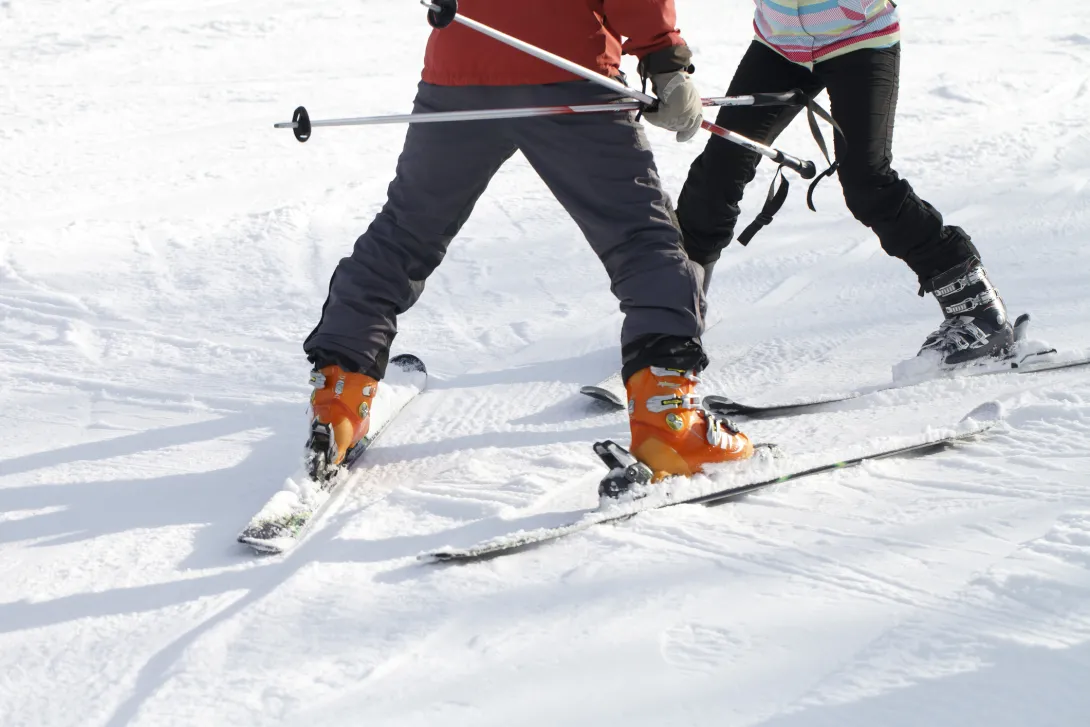 Getting one-on-one feedback from a professional ski instructor will ensure that you learn how to ski properly and progress as quickly as possible.
Not only do you get to learn how to ski, but you also have someone by your side correcting you the entire time, who will catch any mistakes and ensure you pick up good habits from the very beginning.
Read more: How Many Ski Lessons Do Beginners Need?
Cons of private ski lessons
The biggest downside to private ski lessons is the cost, but one-on-one instruction can be worth its weight in gold. The other downside is that it's less social than group lessons so it won't be as easy for you to make friends who are at a similar skill level as you.
Should You Take Group Lessons or Private Lessons?
Image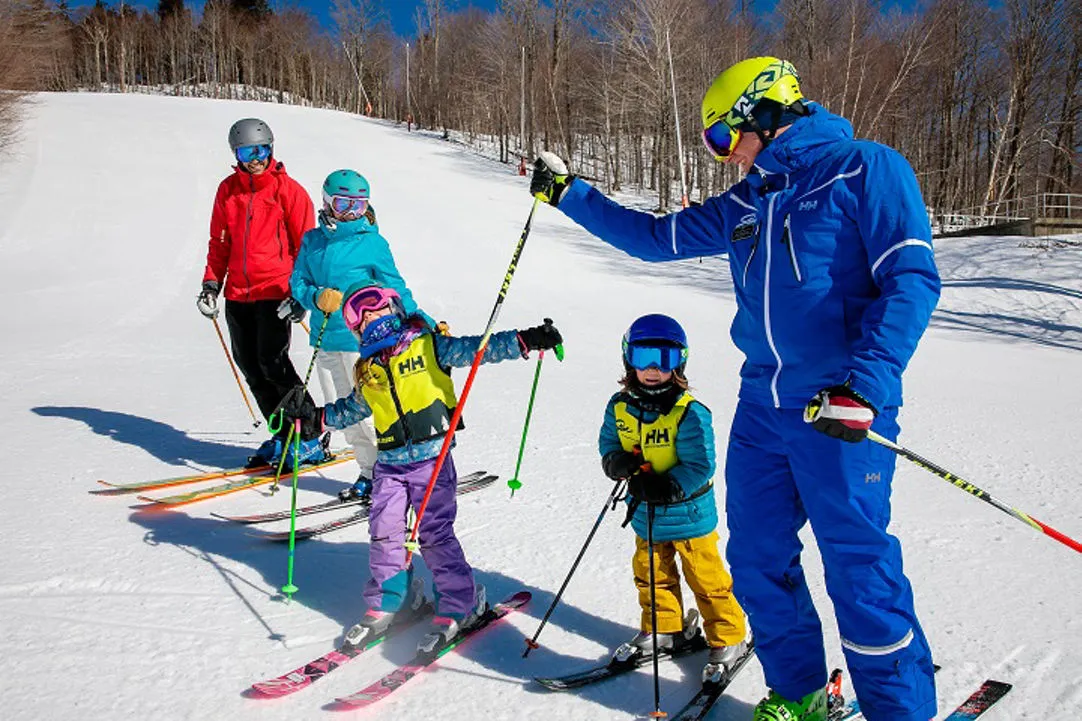 Now that you have learned all about both group ski lessons and private ski lessons, how do you determine which is best for you?
Who Should Take Group Ski Lessons
If you have a lower budget, a week available for lessons, or maybe don't know many people who ski at your level, take group lessons!
Who Should Take Private Ski Lessons
If you have a higher budget and value one-on-one instruction, take private ski lessons. If you have 1-2 friends who are at a similar level as you and also looking for lessons, consider splitting private lessons with them.
No matter which method of ski lessons you choose, be sure to absorb as much information as possible, ask questions, and remember to have fun!
Read more: Is It Worth Getting Ski Lessons?