One of the best ways to avoid getting cold while skiing is to employ a clothing strategy known as layering.
Essentially, you wear specific layers of clothes that can be easily put on or taken off with the idea that if you start getting overheated or too cold, you can easily adjust.
Moreover, layering helps avoid becoming miserable on the ski slopes because once you get cold (or even worse, wet and cold), it can ruin your day.
How to layer for skiing
Image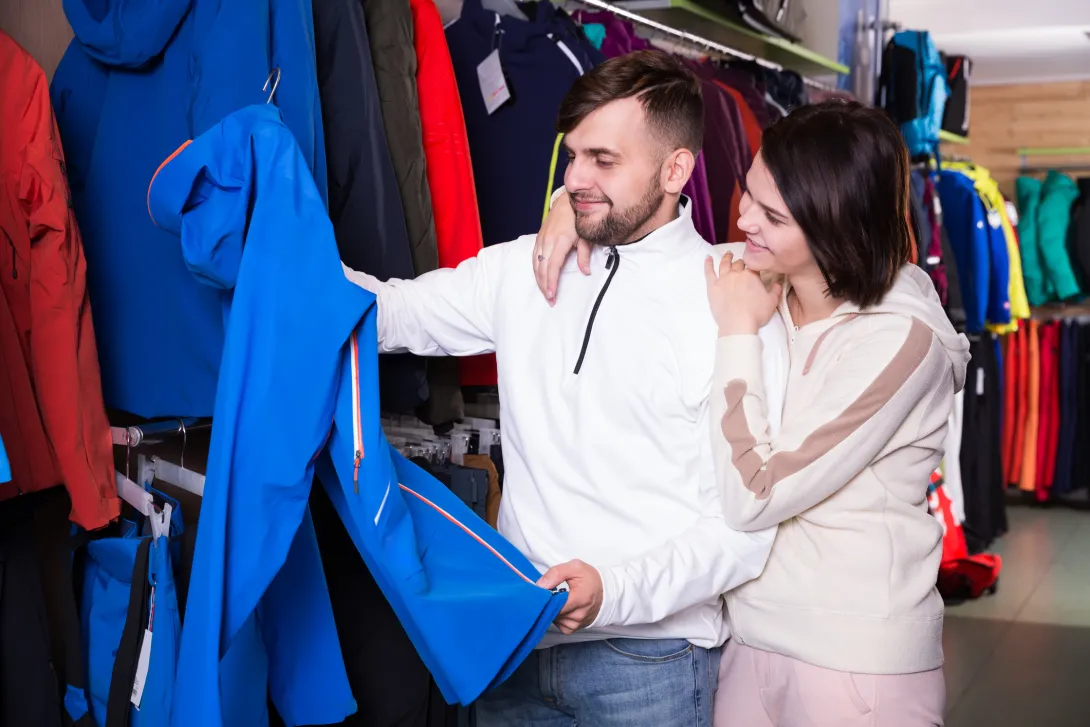 Dressing for skiing is all about layering. You've probably heard it before, but that's because that's how it's done. But you shouldn't put on just any random layers.
You will stay nice, dry and comfy in pretty much any kind of weather if you just put a little bit of thought into it.
The basic strategy for layering are based on these 3 layers of clothing:
Base Layers – should wick away moisture
Mid Layers – should trap body heat
Outer Layers – should keep away the wind, rain &  snow
You're only going to need a base layer, you're going to need a mid layer, and then you're going to need a outer layer.
Base layer
Image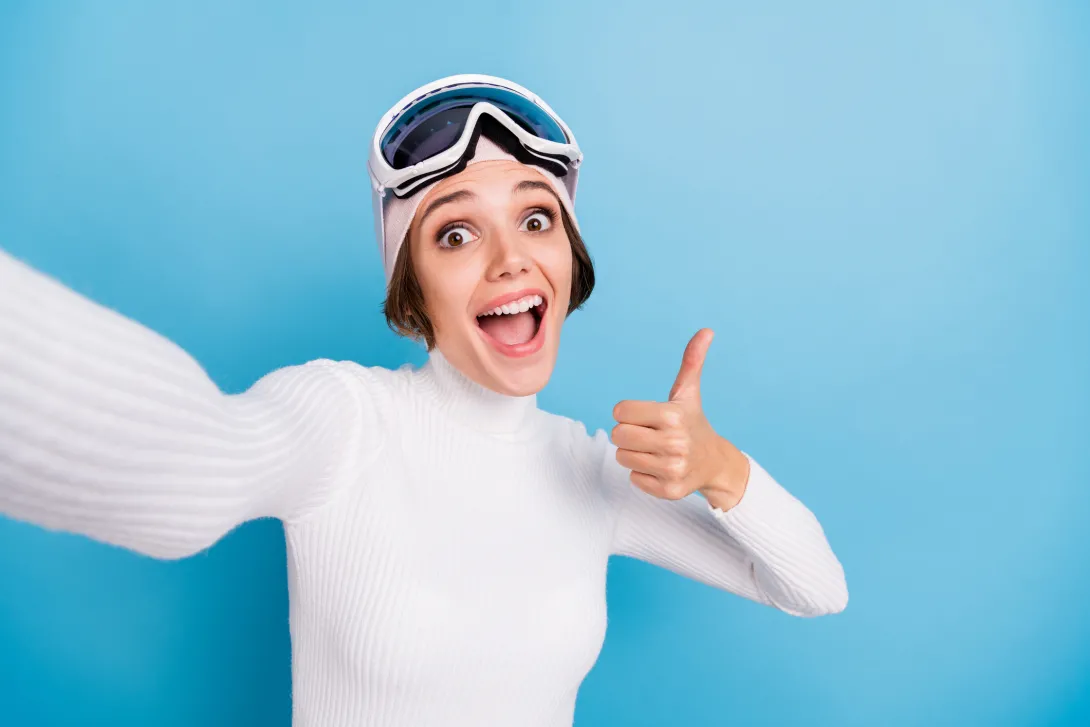 The base layer sits next to your skin and it is trying to keep you warm and dry even when you're sweating.
You're going to need a base layer for your upper torso and legs. 
I recommend using a merino wool layer, as a merino wool is very nice and soft against your skin and also keeps you warm if it gets wet. You could also use a synthetic blend here as long as it's insulating.
It's critical never use cotton as a base layer, because as soon as cotton starts to get a little damp from your sweat or snow or rain, cotton will lose any insulation properties and this it's going to be as nice and comfy as a wet newspaper against your skin.
As for your legs, you're going to want pants that are below your ski pants. Many skiers buy ski trousers so they fit comfortably and won't have excess material inside your ski boot.
Middle layer
Image
The second layer is going to be the middle layer. The job of the middle layer is to keep you warm.
Most days on a mountain, a wool layer will suffice. I prefer to wear a fleece for the insulating properties it has, without getting too bulky.
If it gets really cold, then you can go for a thin down jacket.
One days when it's warm out (above 40°F), you can put this layer away in the locker back at the ski lodge or wherever the rest of your non-skiing gear is stored.
Outer layer
Image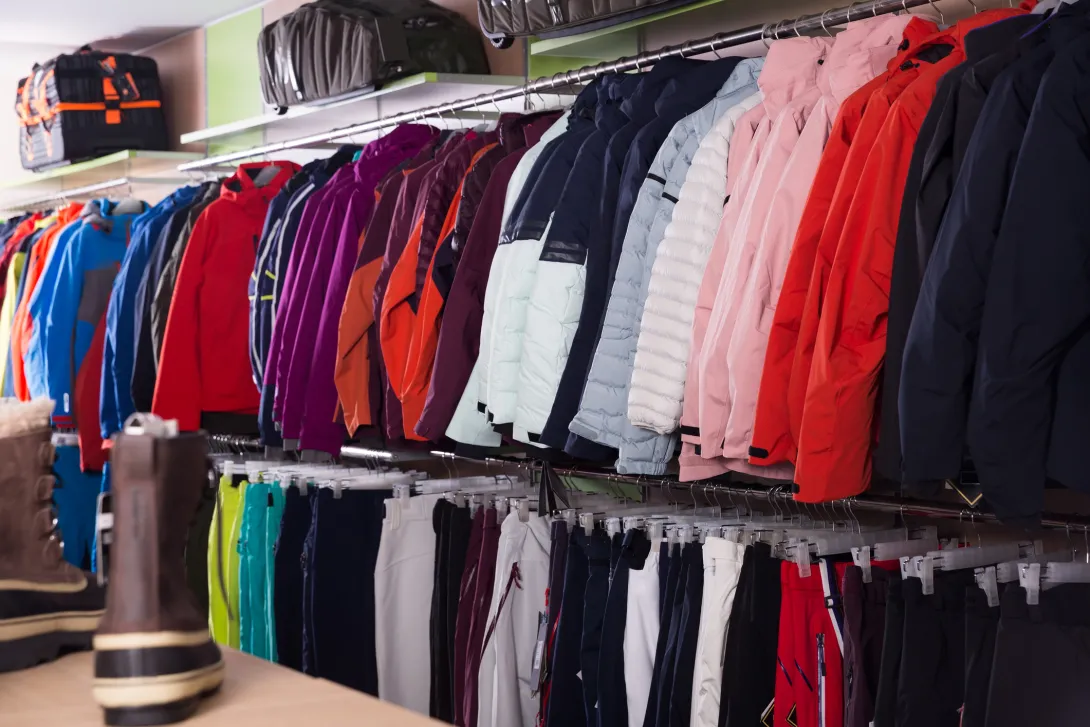 The outer layer is what most people think of as a shell is like your Gore-Tex jackets.
The outer layer is designed to protect you from the environment that protects you against the wind, the snow, the rain and so on.
It retains the heat from the two other layers, while keeping out any water from the elements around you on the mountain. When you fall, sit, or otherwise come in contact with the snow, you won't end up wet and cold.
You're looking for a ski jacket (snowboard clothing will suffice as well) that is waterproof, but remains breathable.  Leave the rain jacket at home.
Neck gaiter
Image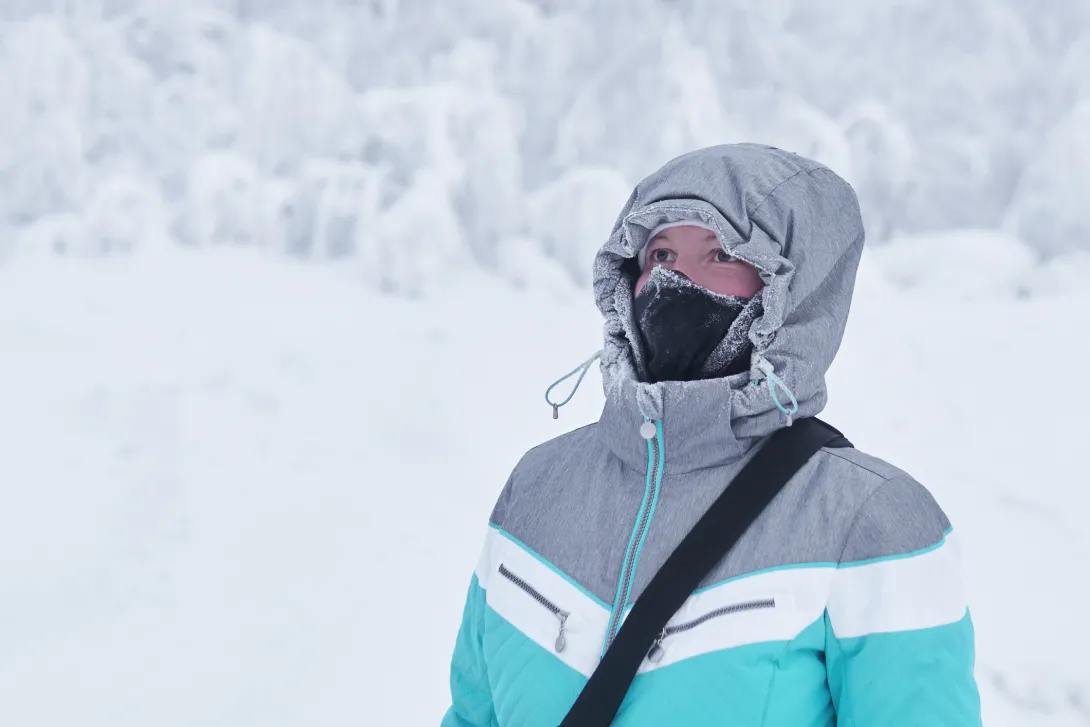 You're also going to need a neck gaiter to keep your throat and mouth warm and dry.
I like to wear gator, so it sits just under the helmet and also protects my neck and my face against the cold.
Protecting our neck is important because that's one of the places you will lose most of your heat.
Socks
Image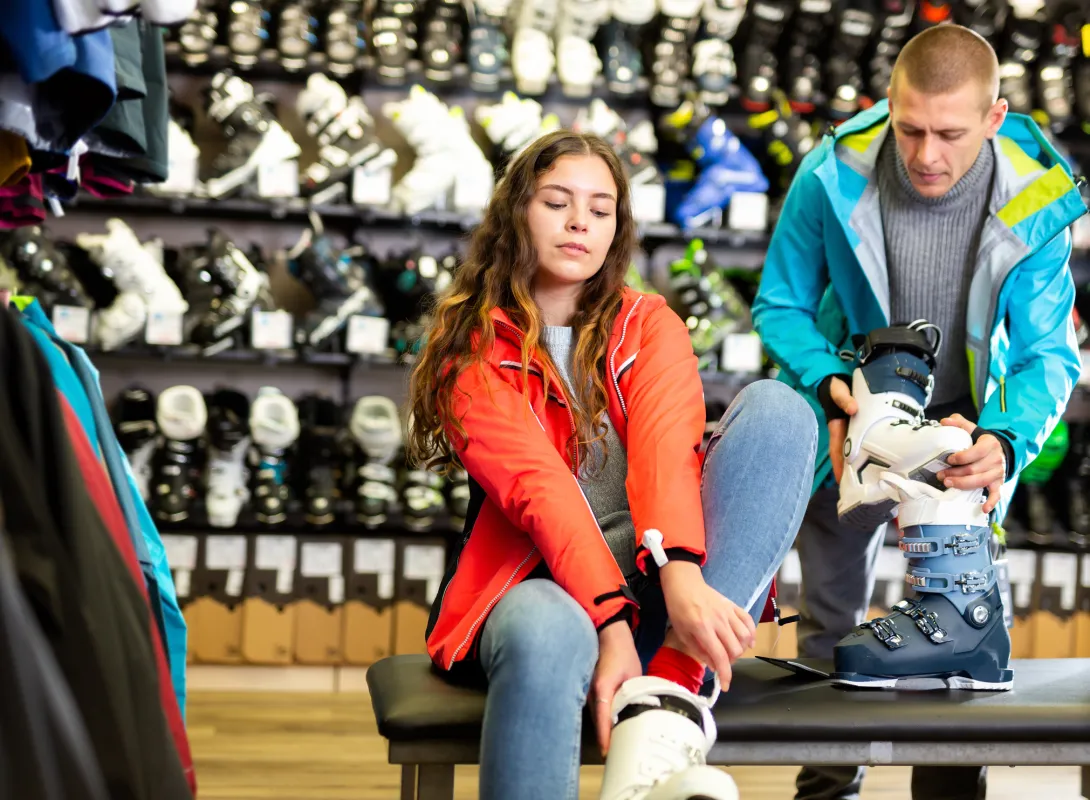 If there's one area most new skiers forget about most commonly, it's your feet.
Regular cotton socks won't do a great job at keeping your feet warm and once your feet get cold, it can ruin the whole day.
There are many brands that produce "ski socks". They're more similar than different, so ensure you have two pairs with you.  One to wear, and one to dry out.
How to stay warm all day while skiing
Image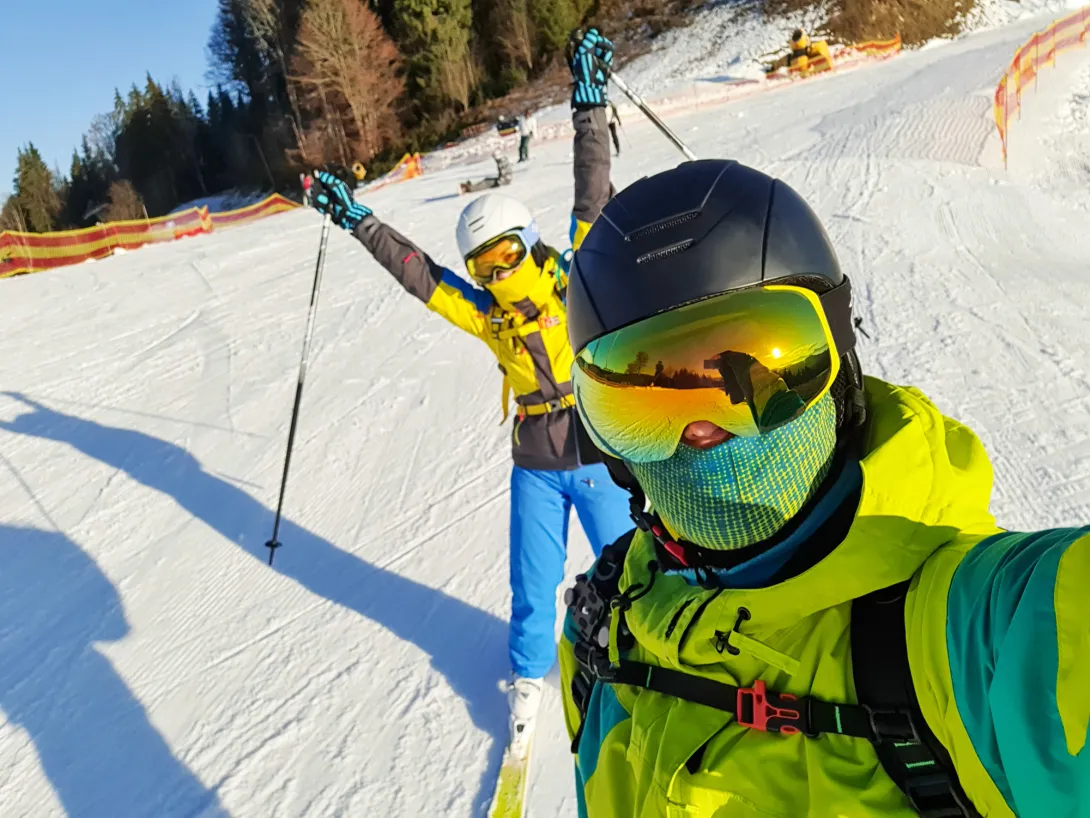 Skiing will generally warm you up after just a run or two, but it's easy to cool back down again on the ski lifts or if the weather is particularly chilly.
Beyond wearing the 3 layers, it's a good idea to take breaks indoor when possible.  Whether you grab lunch at the ski lodge buffet, head back to your chalet, or take a breather in a building on the mountain, getting a break from the elements for even just a few minutes can make a big difference.
While you're in for a break, a warm beverage can also greatly help.  
You also want to minimize your skin that is contact with the air. Cover up any exposed skin to keep yourself insulated.
Layering tips & tricks
Image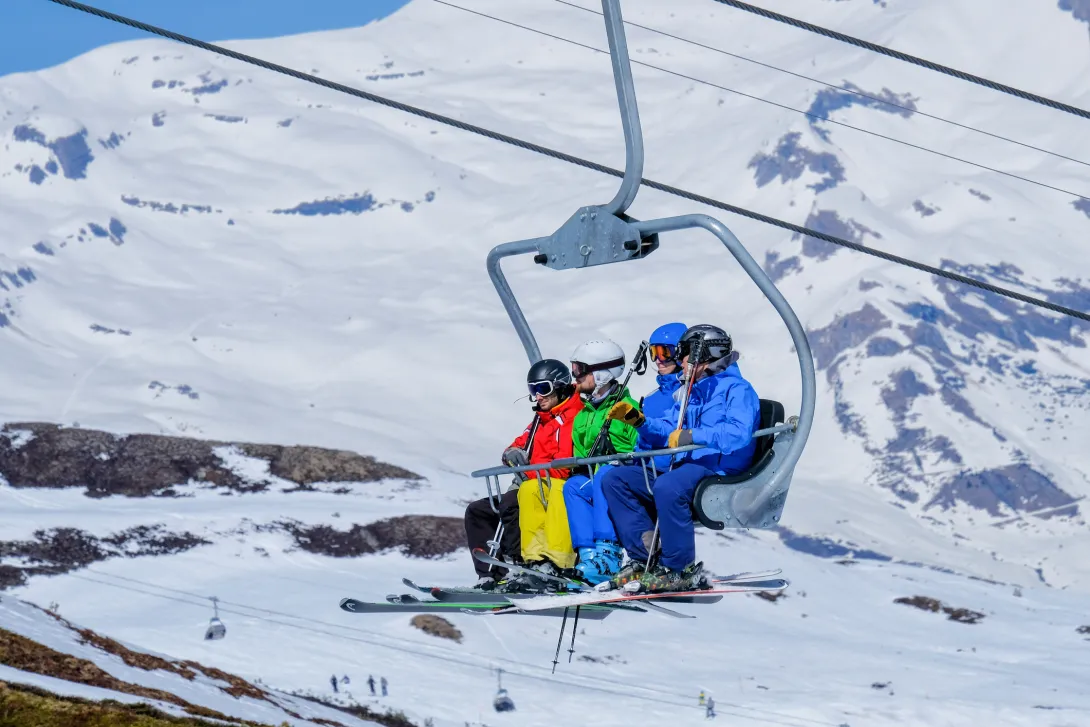 Never wear cotton as your base layer.
Always start off with dry clothing.
After skiing, put your clothes to dry so they are ready for the next day.
Avoid more than 3 layers because it will just get too bulky.