Finding the perfect fit for your ski boots is essential to having a great time on the slopes. Over the years, boot technology has evolved. AS a result, there are solutions for various feet and skiing abilities. Your ski boot is where you communicate with your skis. A great fit eliminates any miscommunications making your ski experience as enjoyable as possible. 
Your boot should fit snuggly and comfortably with no pressure points. Matching your ski boot to your ski abilities will help ensure your boot does its job. Understanding a few basic numbers will help you determine which boot is the best fit for you. 
Anatomy of a Boot
Image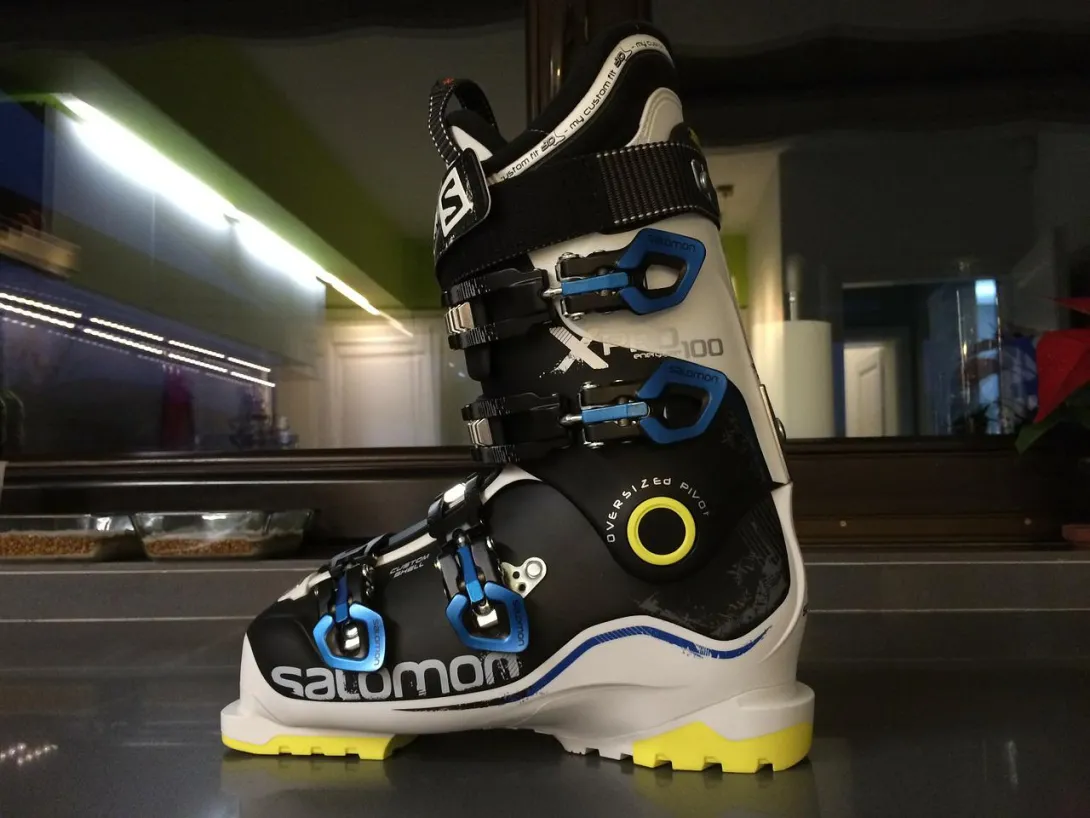 All boots are comprised of a hard plastic shell and a liner. The liner on the inside of the boots insulates and provides comfort. These liners compress significantly in just a little bit of time. You will want to consider a tight boot, knowing that it will compress. The goal is to have a boot that will fit well for the season, not just the first few days. 
The liner and the boot are two separate pieces. When trying on boots, it is often vital to take the liner out to ensure the best fit or to solve complex fit issues. Touch your toe to the front of the boot. You shouldn't be able to fit more than a finger or two between your heel and the back of the boot. 
Both liners and plastic shells can be heat molded to customize the fit. Heat molding should be done by qualified professionals that can best guide the process for your model of boot. 
Ski Boot Sizing Chart
Image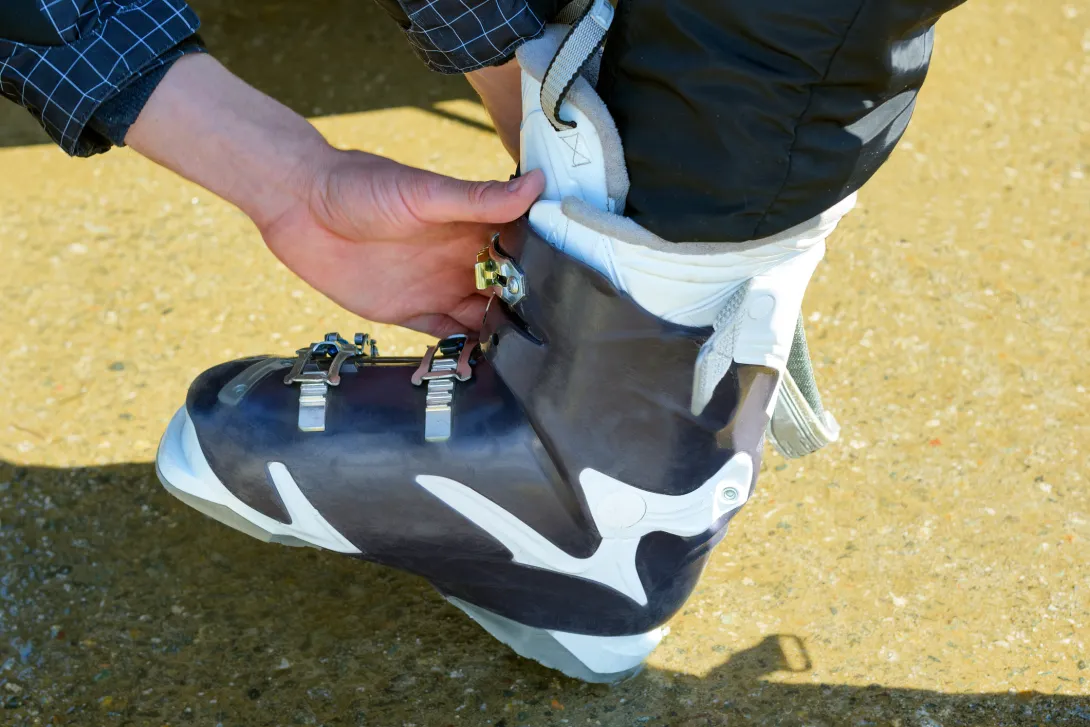 Like shoes, ski boots come in various widths, sometimes referred to as the "last." The three standard sizes are narrow (97-98 mm), average (100 mm), and wide (102- 106 mm). They are measured at the top of the foot, where your toes connect to your foot. If you have high arches, it is worth noting that the wider the boot, the greater the boot's volume.  
To find your ski boot size, you need to measure the length of your foot in centimeters. Start by putting your heel against a vertical surface, such as a wall, and measure the length from the heel to the tip of your longest toe. You can also take this measurement by tracing your foot onto a piece of paper and measuring from the heel to the longest toe. If you need to measure your foot in inches, multiply that by 2.54 to calculate the measurement in centimeters.
Image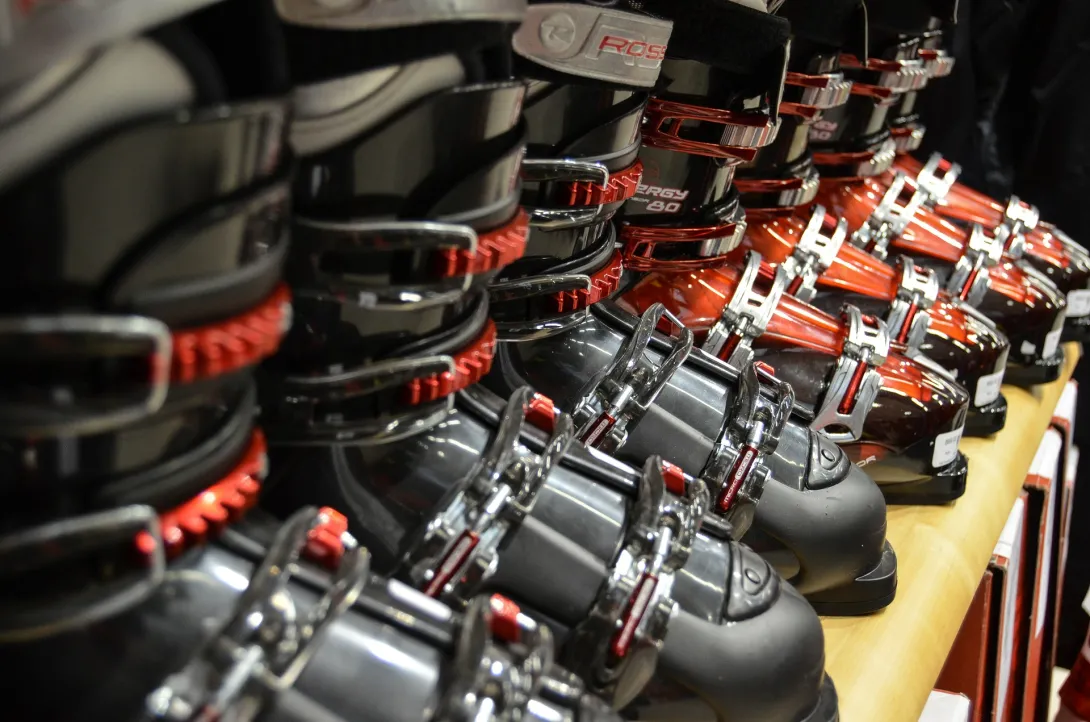 Measuring will always be the most accurate way to assess your boot size. We often buy shoes without measuring our feet, and sizes vary from brand to brand. This inaccuracy renders conversion charts less accurate, but you can use to conversion chart below to get an idea of your boot size. 
Beginner skiers can get away with a slightly larger fitting boot, but more advanced skiers tend to stick to their measurement or even a ½ size smaller. Utilizing the knowledge of a boot-fitting professional is critical for a more refined fit. 
Buckles and Cuffs
Image
Start by buckling the top cuff buckles and power strap first. Ideally, your buckles are in the middle of the notches when latched. Micro-level adjustments are an option if you feel like you fall in between notches. Each buckle will twist in one direction to tighten it and in the other to loosen it.
Taking advantage of these micro and macro-level adjustments can make an overwhelming difference in the fit of your boot, so take some time and explore those options. You may find that your ski boots need tightening throughout the day. Don't feel like you need to settle. Take the time and make this minor adjustment for optimal comfort and fit. 
Your legs should be centered when standing in an open boot without the liners. If the cuff is off-centered on your leg, make the necessary adjustments. Complete this check both while standing and while in your skiing stance. 
You can find the adjustment for the cuff by identifying the rivets that connect the cuff to the boot. Rotating these rivets will make the cuffs shift in or out as needed. 
Flex
Image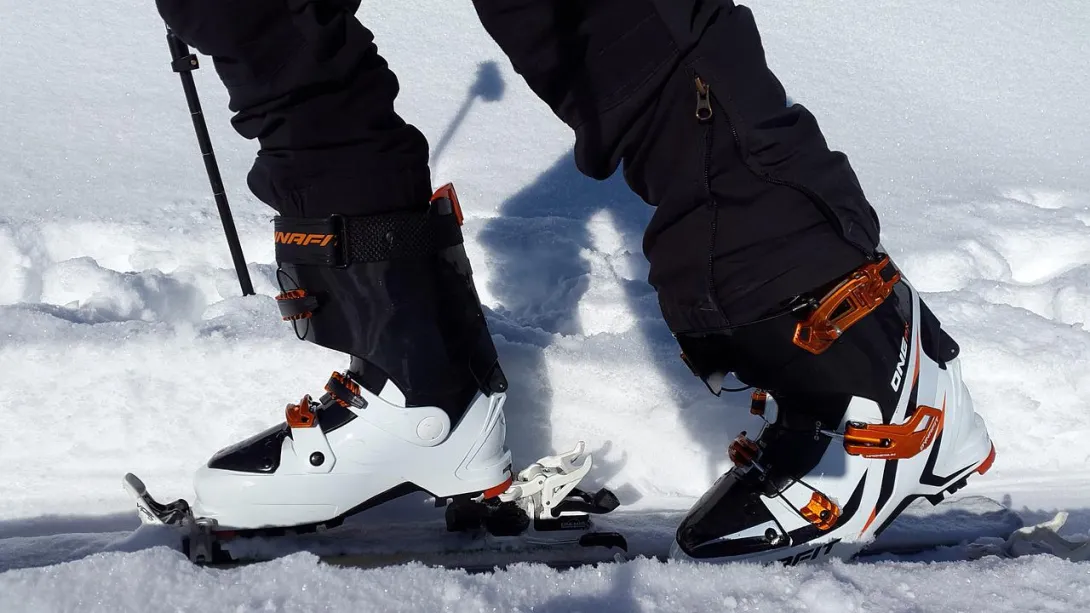 Flex refers to how difficult it is to flex the boot forward. Beginners will look for boots that are softer and easier to flex. More advanced skiers will want a stiffer boot. While there is a standard coding system, the boot flex index, 50, is soft, and 130 is stiff. However, there is no standard practice for determining the flex index, so use the flex index number as a guide, not an absolute. 
The flex also varies for men and women. Generally, women max out on the flex index at around 110. Gender, as well as height and weight, can all influence your desired flex index. Another factor can be terrain. Downhill racers tend to want the highest flex index. Some more advanced skiers that choose to ski in powder or all-mountain will prefer a slightly softer boot.
Image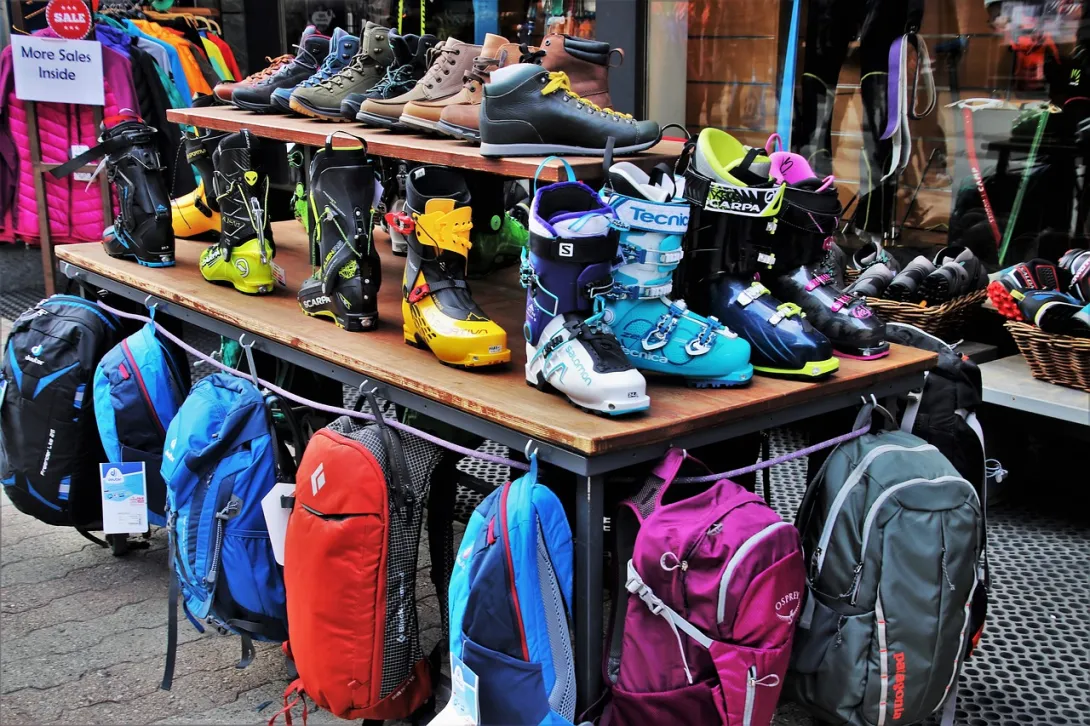 Men that are intermediate skiers will want a flex index of around 85-100, and women will look for approximately 65–80. Beginners will want to stick to the below these numbers. 
Some ski boots have a natural forward lean built into them. While modern boots are trending to a more upright structure, this is specific to each skier. The natural forward lean is, for the most part, easy to adjust to some degree. 
Buying Boots Online
Buying boots over the internet presents an opportunity for great deals and variety in models but buying online also introduces some challenges. Knowing your boot size, width, and flex index is a great start. Make sure that you select a reputable brand that falls within your budget. Boots are an excellent place to spend your money. 
When your new boots arrive, make sure to try them on. Don't just put them on for a minute and call it done. Wear them around the house for a while to be sure there are no pressure points. 
There are many boots on the market, and there is a boot for every skier. Using some basic knowledge and taking your time to try a variety of boots will help ensure you find your perfect match.