30 First time skiing tips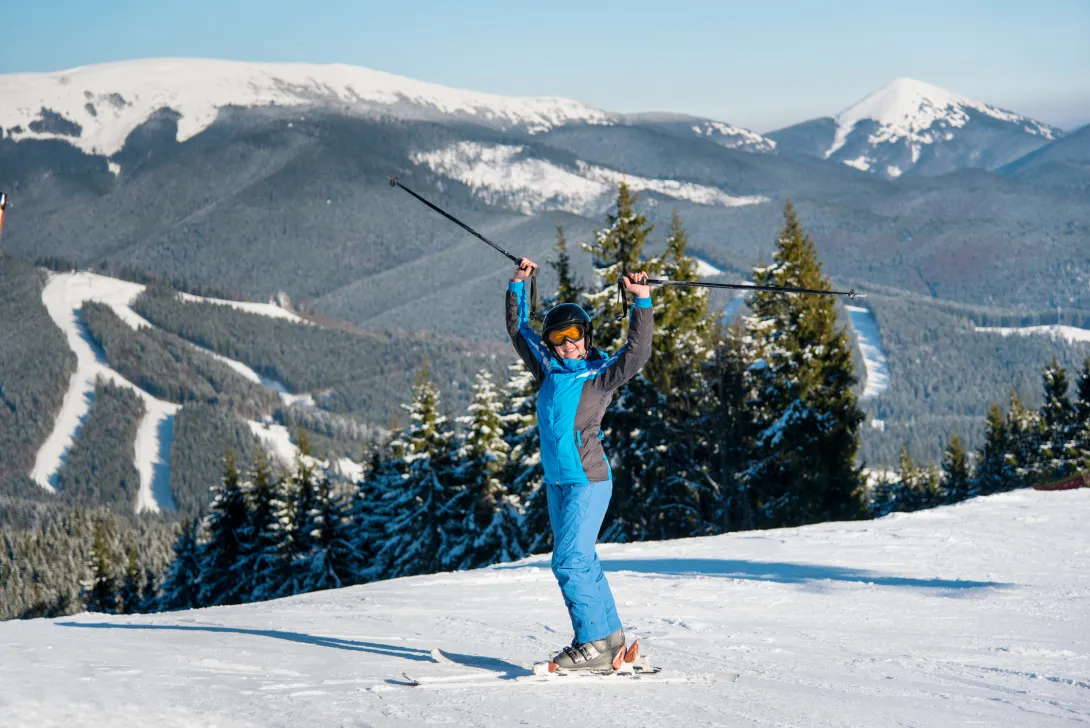 Ready to try skiing for the first time? 
Whether you've never skied or are getting back to it for the first time in many years, there are always good tips and advice for how to do it right. Just like all sports, there are certain pitfalls you can avoid with some helpful advice.
In an effort to help you save time, money, or physical pain, we've compiled a list of the very best first time skiing tips everyone should keep in mind before they head to the slopes.
1. Pick a mountain that's good for beginners
Image
Not all ski resorts or ski mountains are optimal for a first time skier, so you're going to want to choose the right mountain for you.
While most mountains have areas for first time skiers, some mountains are a better choice because they have more trails designed for beginners. Moreover, smaller mountains will have far less demanding trails compared to the larger ones.
It might be a good idea to start off with a smaller mountain if it's your very first time. Not only will there likely be more trails that are ideal for you, the price of a lift ticket is probably cheaper too.
2. Get lessons from a pro
Image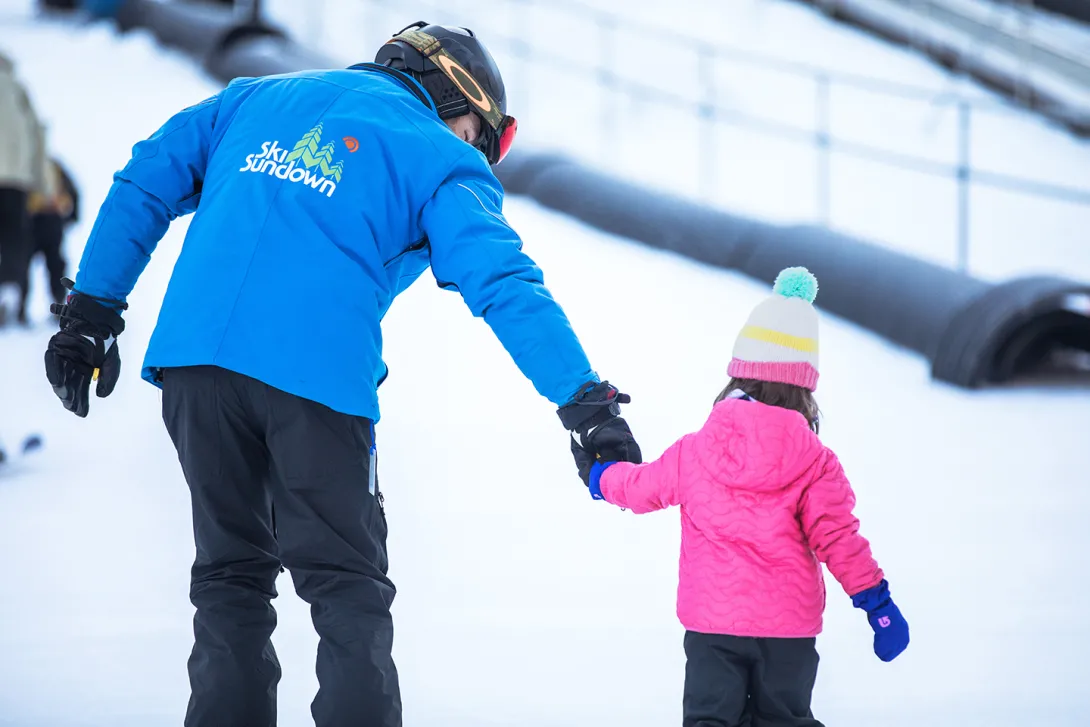 Ski lessons aren't cheap, but the last thing you want to do is try to learn to ski without the proper guidance and get turned off by the entire experience.
Ski instructors offer more than just the basics of training. They can provide personal advice on how to get going and really help you understand and master the proper ski technique.
Ski lessons should give you the basics of skiing, while ensuring you're doing everything safely. 
Skiing for he first time can be a very frustrating experience, as you're trying to understand balance and control at once. You're less likely to get annoyed or angry with a ski teacher than a close friend or relative! 
3. Bring money with you for lunch
Image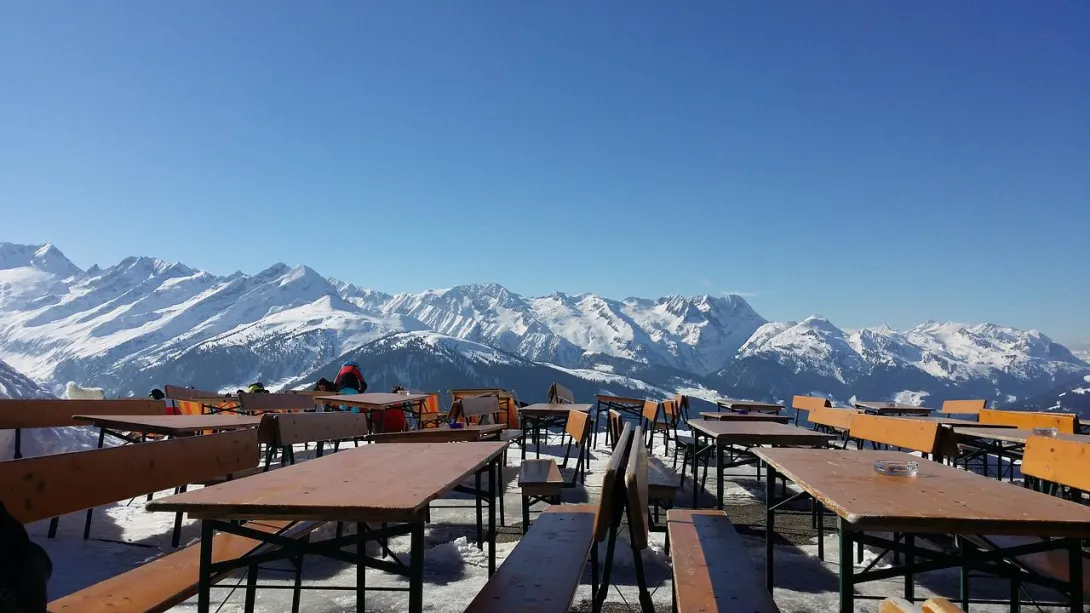 Skiing will make you hungry, so be sure to plan for a lunch on the slopes.
There's usually a restaurant of some kind on the slopes, so bring cash so you can hop in and get something to eat (and warm up).
Unless you have a ski-in, ski-out chalet, it's impractical to take all your equipment off and drive back to your place and then come back again.
4. Wear sunscreen
Image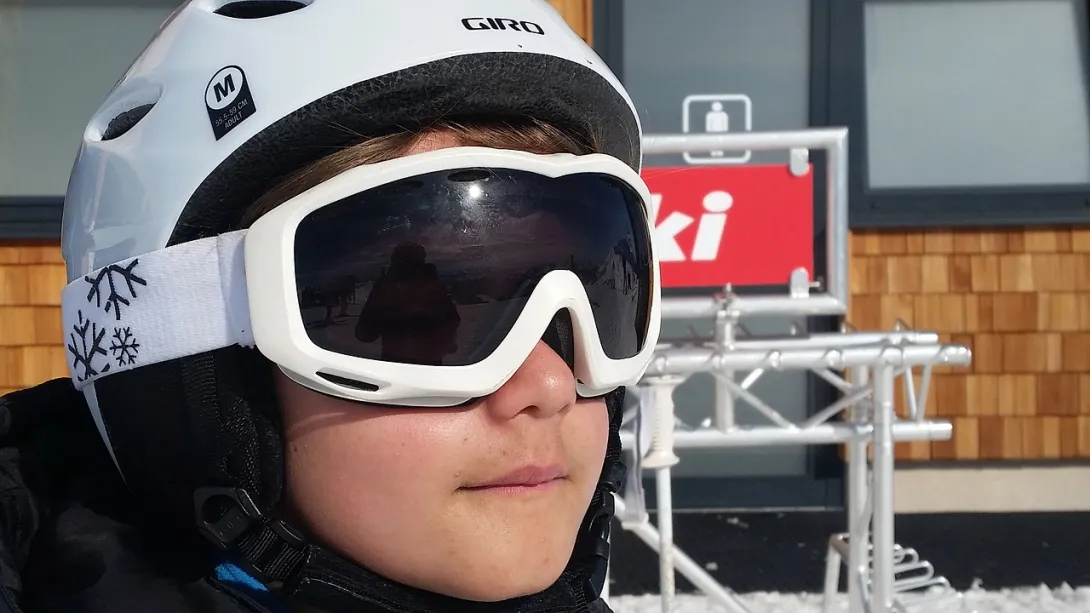 This may seem strange, but you can absolutely get sun burned while skiing.
The UV light is much more easily reflected in the white snow, which increases your likelihood of burning dramatically. 
The reflection of the sun off the snow can give you a sun burn, or even just "racoon eyes" from your goggles. 
5. Get your body in shape before you ski
Image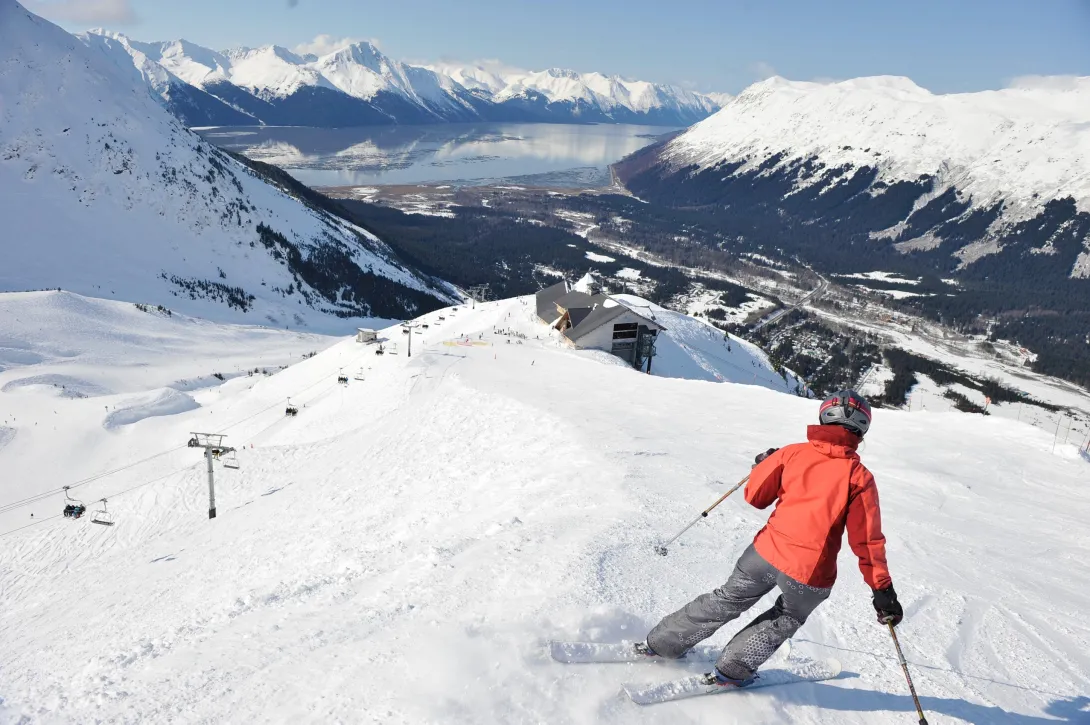 You're going to discover quickly a number of muscles you use when skiing that you don't use in every day life, so it's a good idea to prep as much as possible.
You don't need to get "swoll" by any means, but it's a good idea to prep with some cardio and leg work before you ski for the first time.
6. Consider travel insurance
Image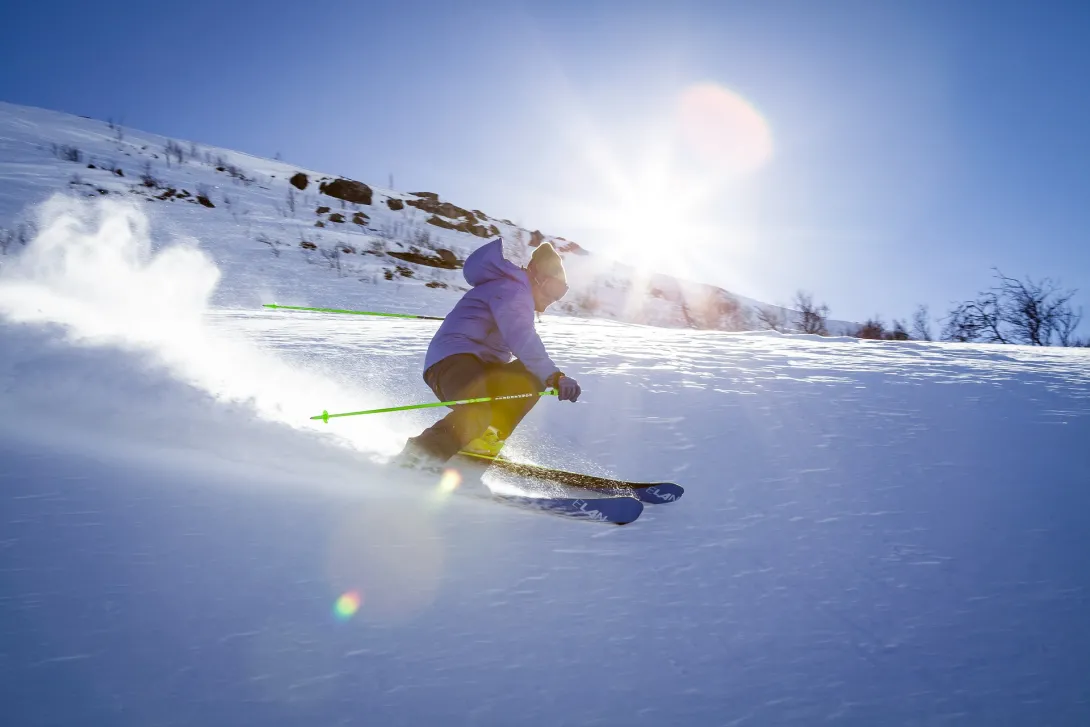 It's unlikely, but you could get hurt while skiing and travel insurance will take the sting out of the bill.
Whether you are skiing in your own country or overseas, travel insurance can cover many scenarios such as hospital bills, accidents, and more.
A lot of people don't think about travel insurance because they have health insurance.  Travel insurance goes above and beyond your own health insurance plan, such as if the hospital or urgent care location you visit is out of network.
7. Don't fear the fall
Image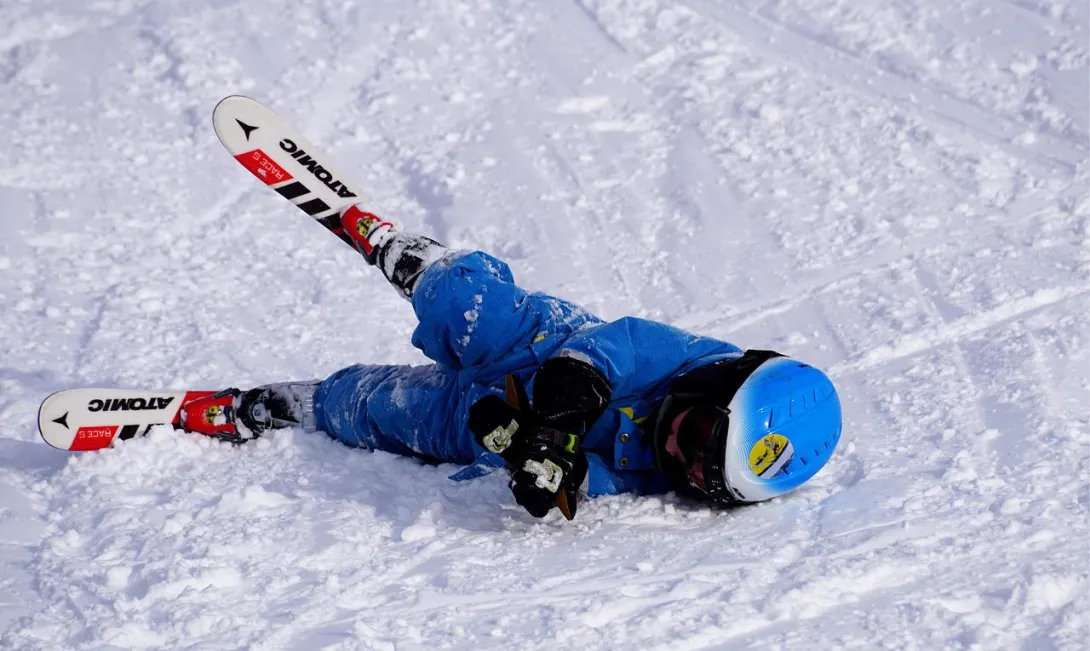 Everyone falls when skiing, and first timers will fall a lot.  Don't sweat it.
As long as you aren't skiing out of control, falling is not going to be a big deal. Most of the time you'll end up laughing it off. Remember, you're falling into snow and not pavement.
One piece of advice when it comes to falling is if you sense it coming, just let it happen. More people get hurt trying to undo the momentum.
8. Don't expect to master skiing right away
Image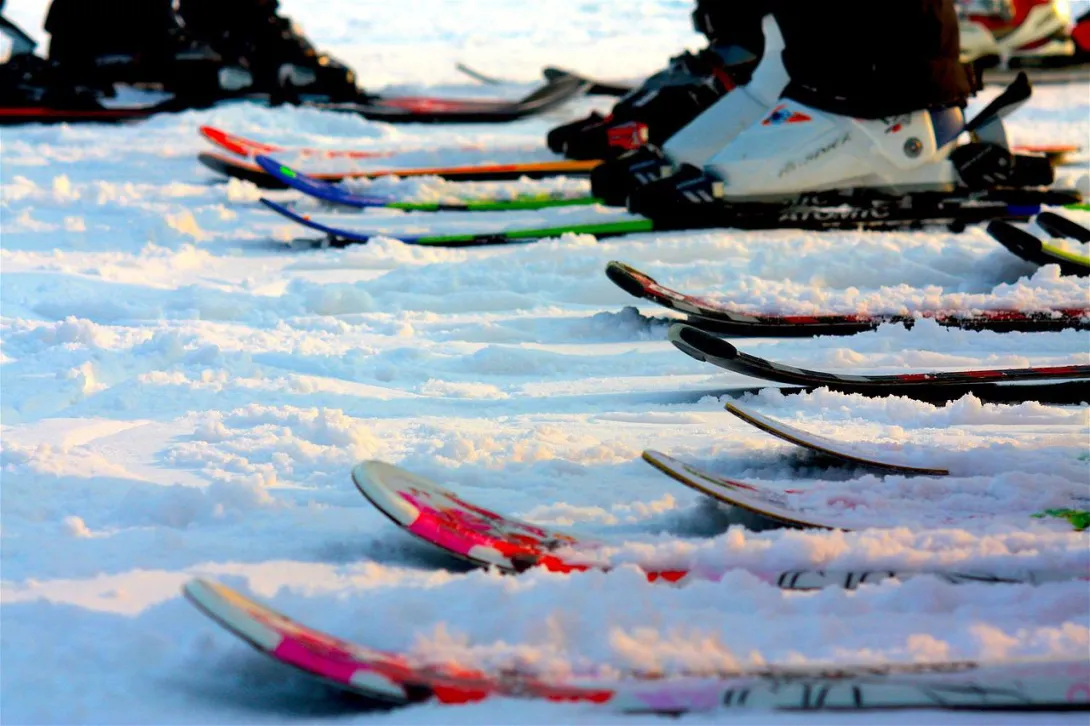 Like any sport, you're not going to be perfect at it right away. Or even after a couple times.
Skiing has many challenges, and it will take many trips before you truly feel comfortable with the entire process. Therefore, it's important to keep your expectations realistic.
It can be frustrating to see a lot of other people on the mountain gracefully skiing all around you (especially when the other people are little kids), but everyone began looking like a deer on ice. 
Focus on mastering one skill at a time, and don't expect to be perfect.
9. You don't have to ski all day 
Image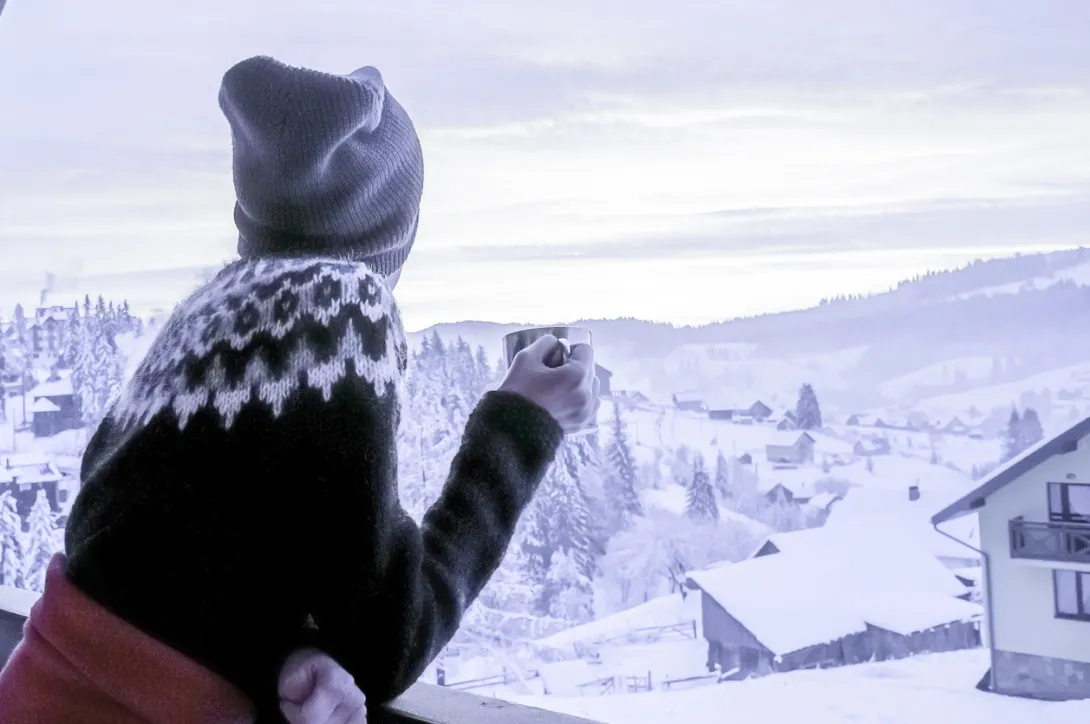 One lesson I had to learn the hard way was that you can take a break, and sometimes skiing for a couple hours is enough.
I was so focused on trying to get the value from my lift ticket and ski rental that I found myself skiing for the sake of skiing and I wasn't enjoying it as much.
Listen to your body and if you need a break mentally or physically, head back and take a break.
It's okay if you aren't on the mountain every minute.
10. Early morning will have the least waits for lifts
Image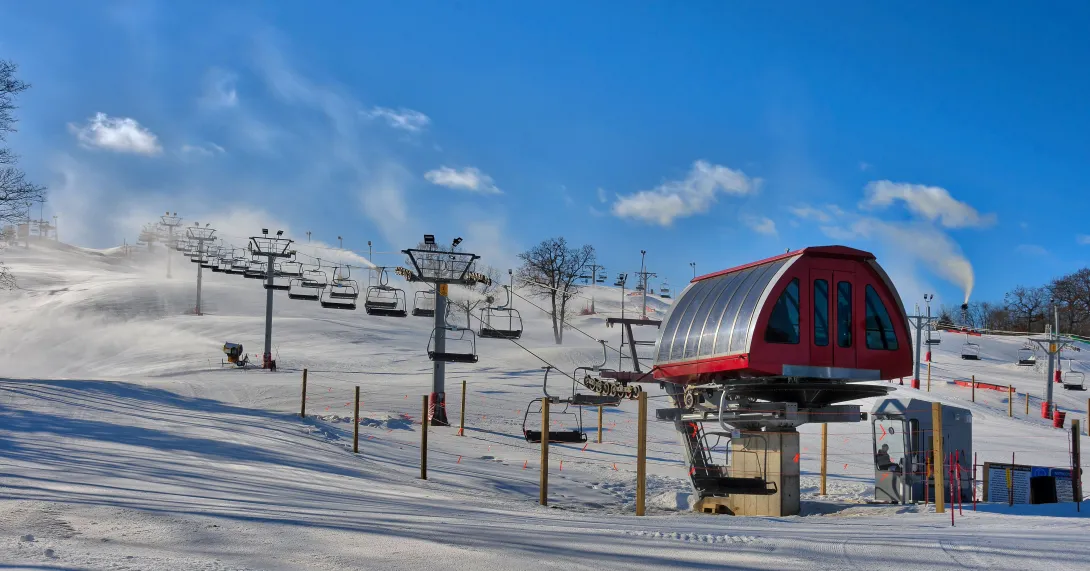 The best time to go skiing is the first hour or two the mountain opens.
Waits for ski lifts are one of the most annoying things about skiing, but there is always the least waits in that first hour the mountain opens.
Waking up early stinks, and that's why most people roll in later in the day.  Take advantage of the lower waits and get in a lot of runs before the crowds arrive by motivating yourself to get up early and be there when the lifts start up.
11. The last hour is also a good time for less waits
Image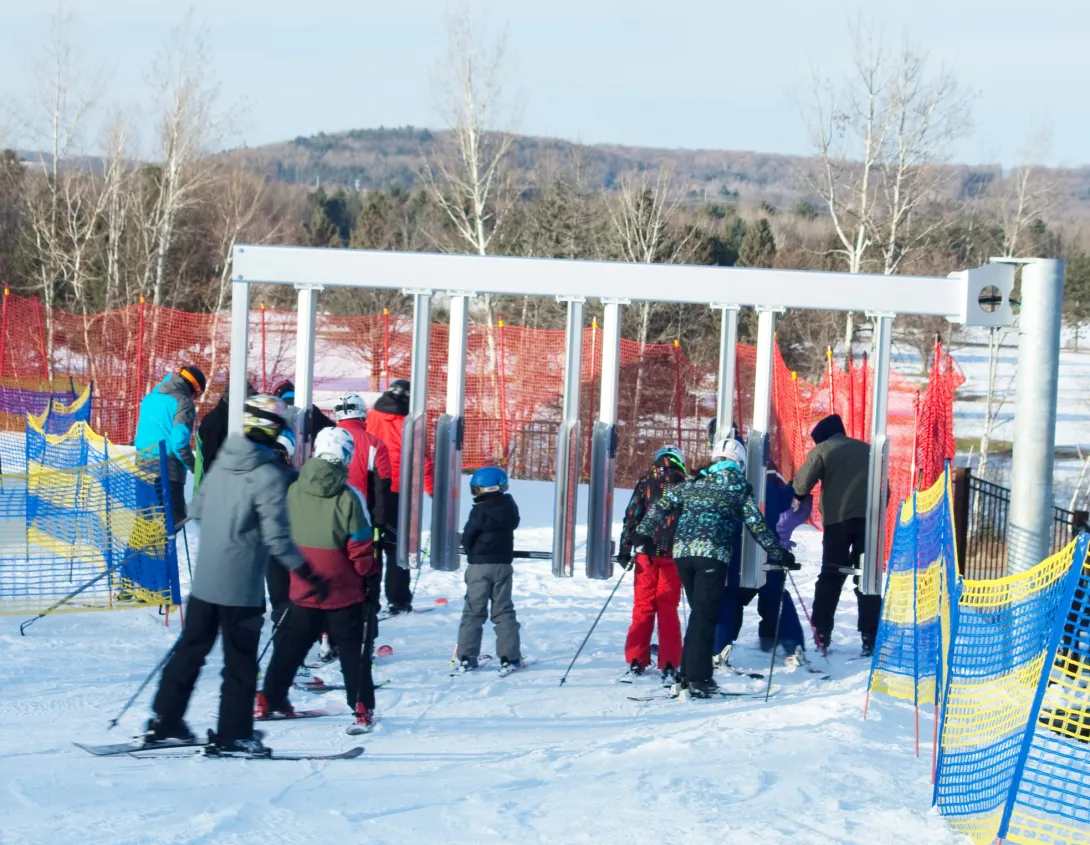 Just like our previous tip, if you can go skiing in the last hour the mountain is open, you'll find less waits.
When it comes down to the last couple of hours a mountain is open, most people pack up and head home. If waking up early isn't your thing, waiting everyone else out for that last hour could be another good way to avoid lines.
12. Rent ski equipment somewhere off the mountain
Image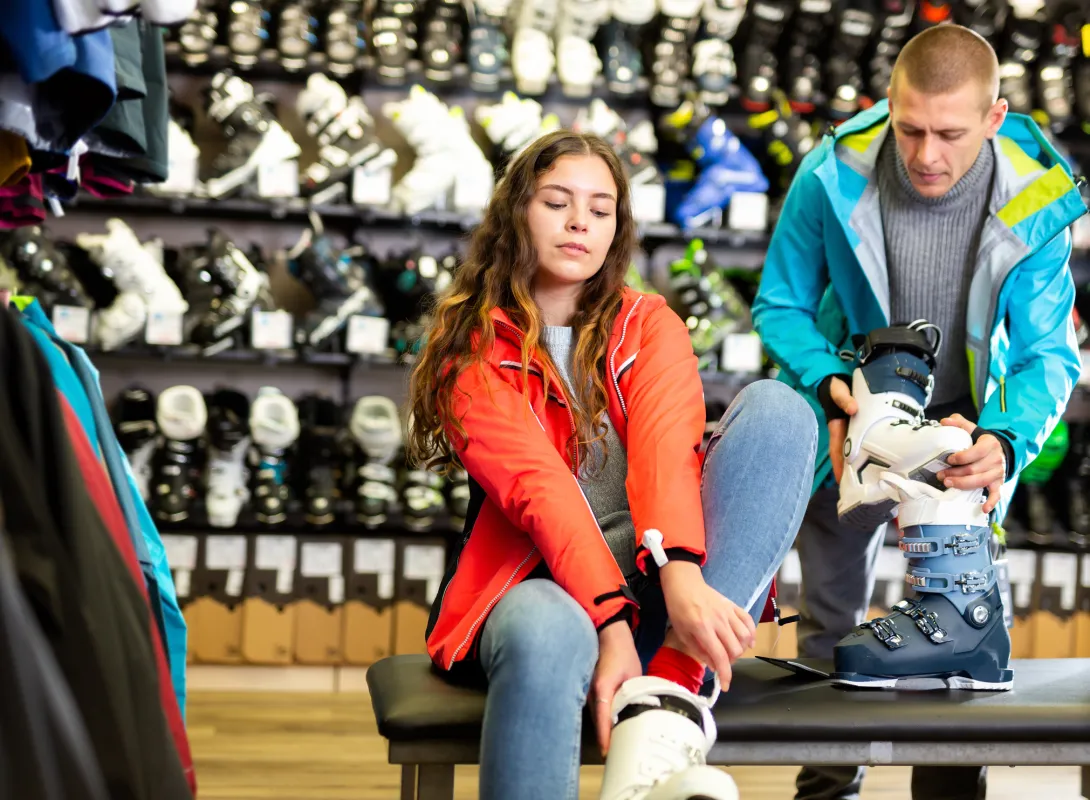 Yes, you can rent ski equipment from the mountain you're skiing at, but you'll probably save money and time if you rent elsewhere.
Most ski towns have a few ski shops offering rentals. Their rates are almost always cheaper, and more importantly, there will be less people to contend with when picking up your equipment.
It's a good idea to do an internet search for the mountain you're going to with the words "ski rentals" and find a shop nearby you can stop at to get your skis, poles, and helmet.
13. Save money on ski clothing with used clothing
Image
If it's your first time skiing, you may not be sure that you're going to want to invest in all new jackets, scarves, goggles or gloves. Instead, buy used clothing.
When I took my kids for the first time, I didn't want to spend a fortune on new clothing.  I found huge savings by buying them clothes on eBay, especially on ski jackets.
Don't worry, a lot of the ski clothing on eBay is very gently used.  I was surprised how many pieces of clothing were worn once, or even not at all. 
14. Make sure your boots fit
Image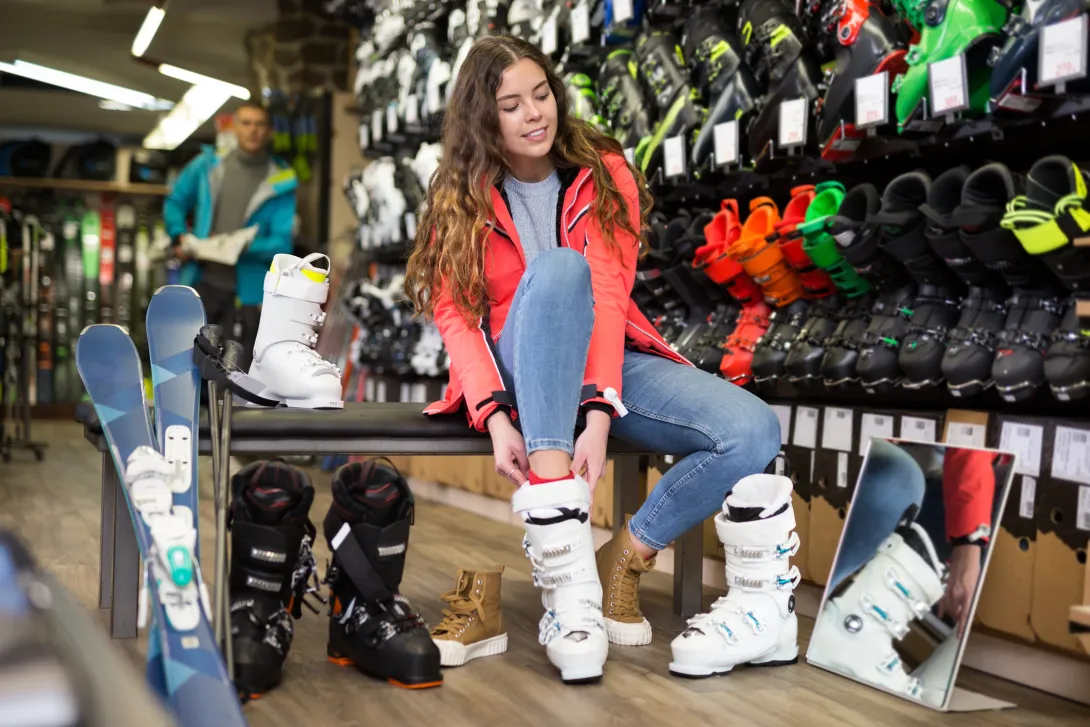 I cannot stress how important it is that your boots fit well before you leave the ski shop.
It's really important that you've got wriggle room when leaning forward as this'll prevent bruises, blisters, and cold feet. You also want to make sure you don't have any uncomfortable pain.
You can always go back and exchange equipment, but it's a hassle to have to stop what you're doing and go back. Instead, do your best to lean in all directions in the boots while you're trying them on, and ask the ski shop folks what to look for in terms of fit.
15. Wear a helmet
Image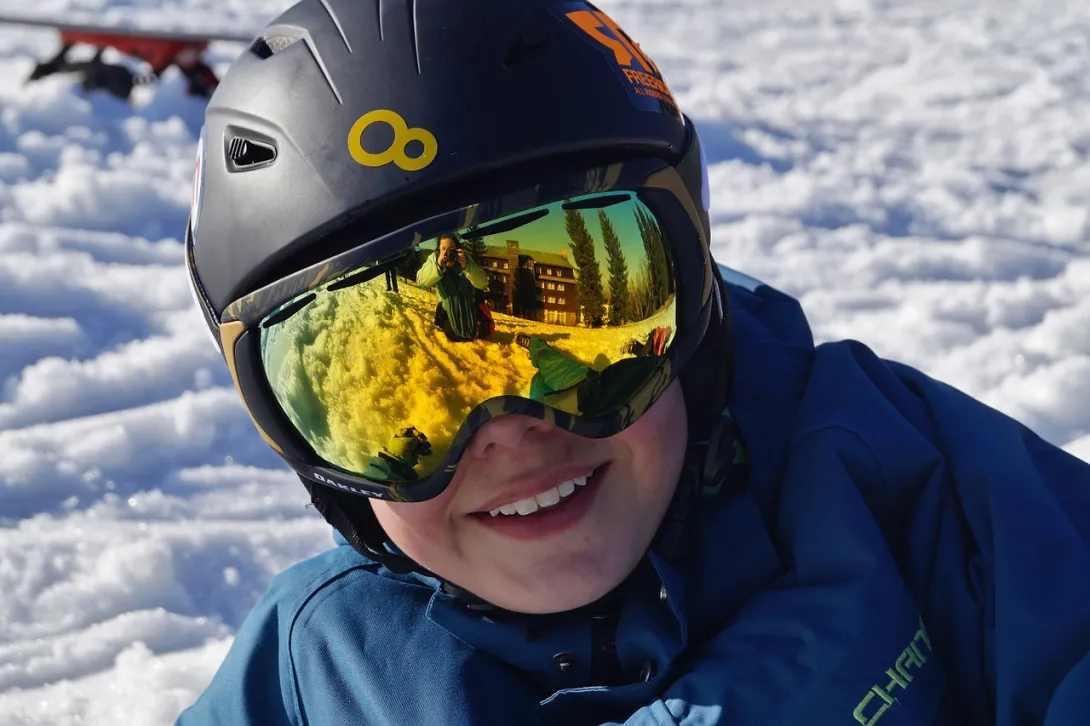 When I was a kid, barely anyone wore a helmet skiing, but these days everyone wears one and it's for good reason.
Head injuries are serious, so forget how dorky you look because everyone else looks dorky too. It's worth it to wear a helmet.
Keep in mind that almost any ski lesson school will require one anyway.
16. Start out slow
Image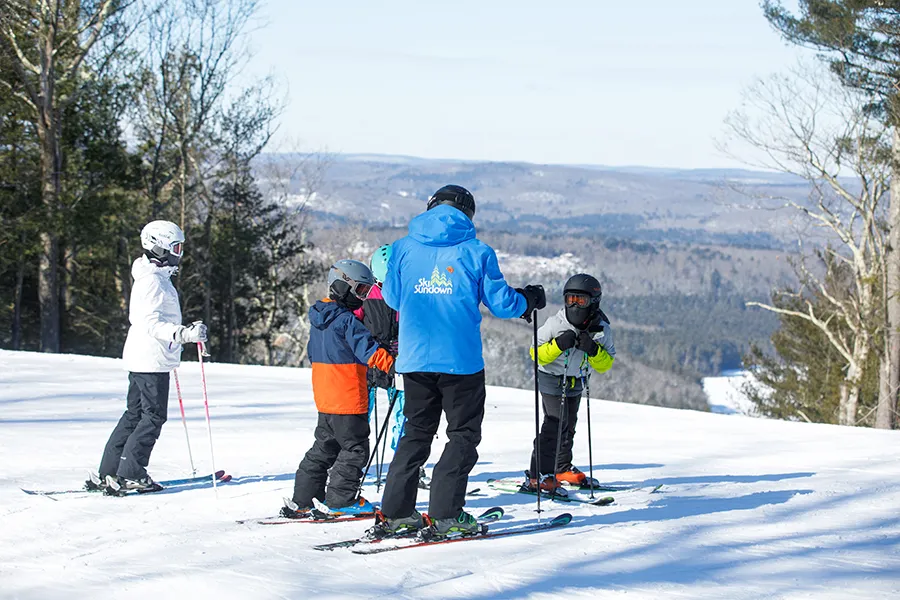 You're going to want to be like everyone else, but it's totally fine to be the slowest person on the slope.
First and foremost, you're learning and going at it slow allows you better control of what's happening. Stopping, turning, and navigating the slopes are all easier when you're going slow.  Plus, if when you fall, it wont hurt as much if you're slow.
Additionally, skiing is a physical challenge and that means using lots of muscles you haven't in the past. Going slow keeps it all manageable. 
17. Wear layers
Image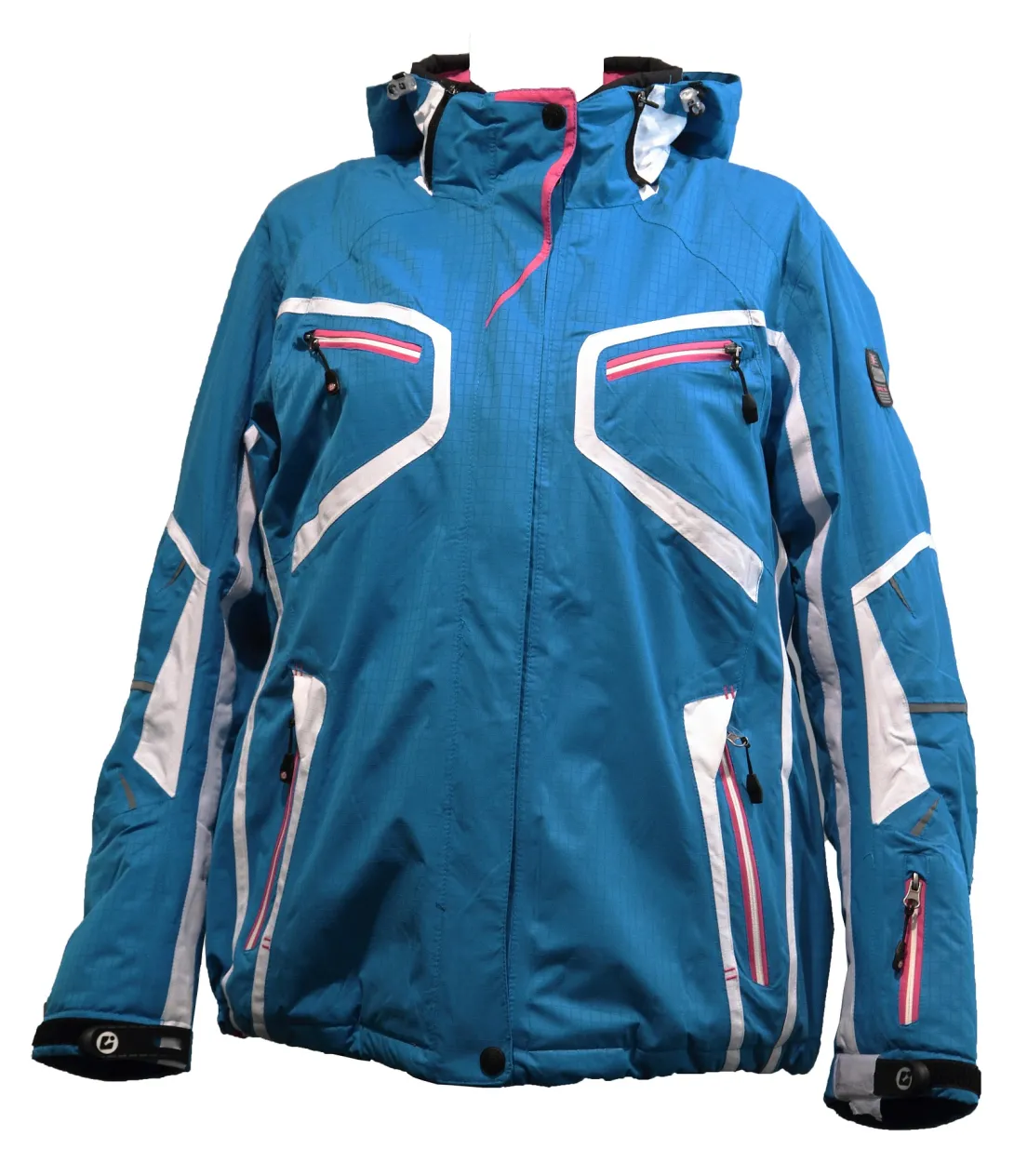 It never ceases to amaze me how warm you can get skiing.
Your best bet is to wear different layers so you can adjust your clothing on the fly.
Dressing properly means you'll start off warm. Depending on the weather, it can be cold or downright frigid while skiing.
As you get going, you're going to work up a sweat, and pretty soon you're going to feel overheated. By dressing in layers, you can take off your jacket but keep your warm mid layer on to keep warm without overdoing it.
In terms of layering, it's a good idea to use this plan:
Thermal underwear base layer
Fleece, sweater, or long sleeve shirt mid layer
Waterproof jacket
18. Have fun
Image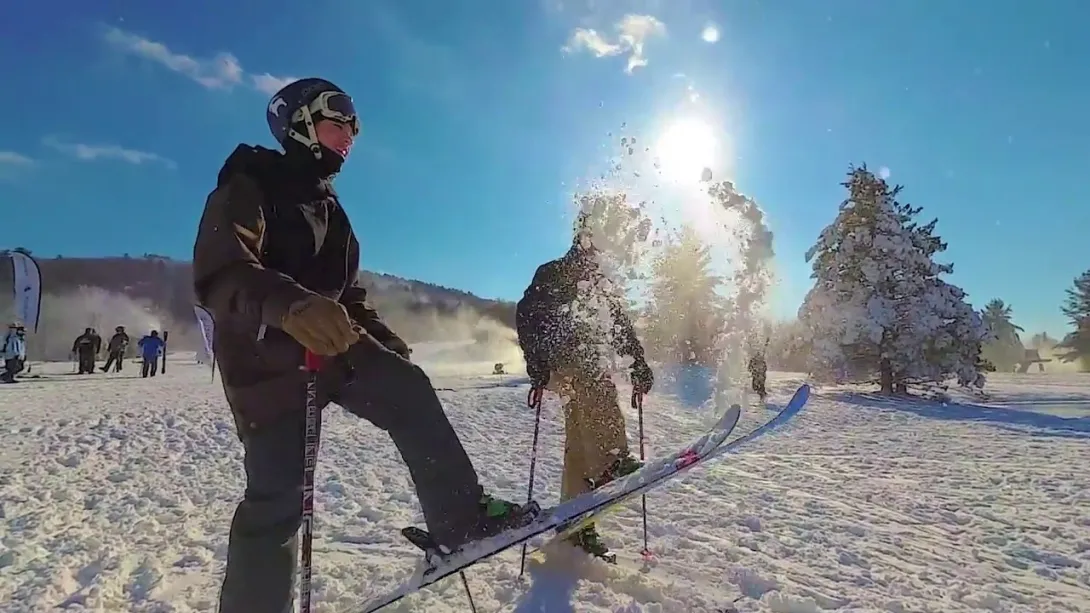 This should go without saying, but enjoy the process as much as possible.
Take breaks, snap lots of photos, and take in the scenery. Skiing is as much about what happens when you're not going downhill as when you're heading down the slopes.
19. Don't buy new equipment if it's your first time
Image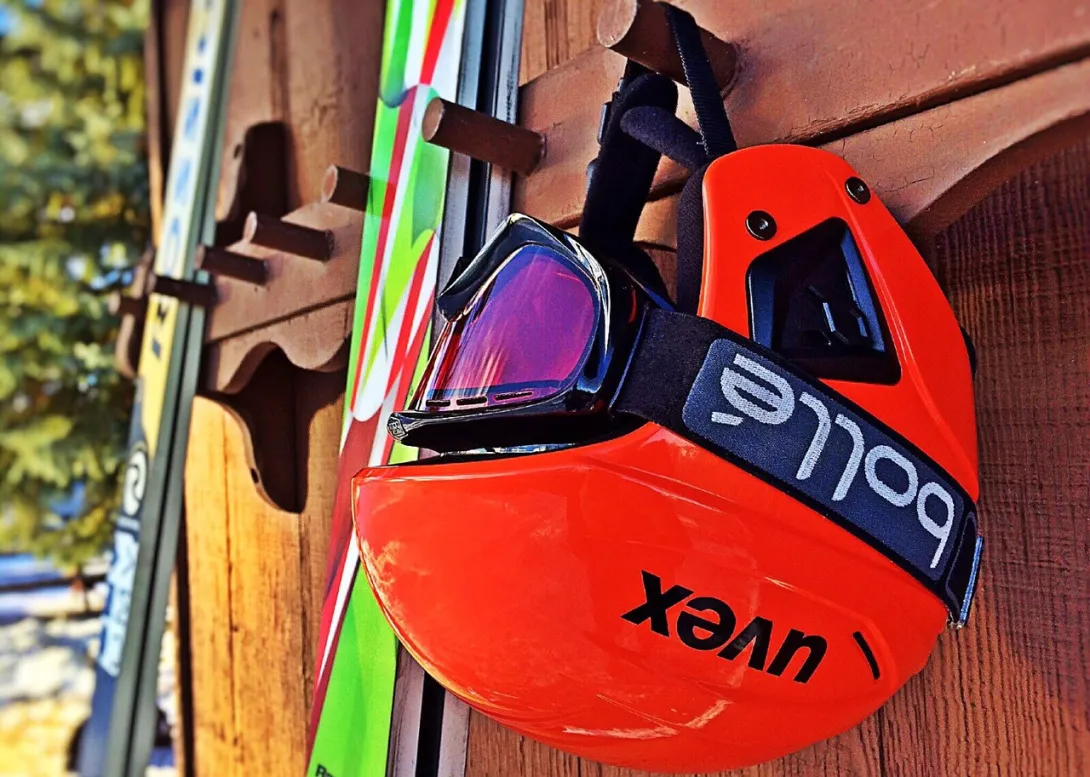 It can be so tempting to buy brand new skis, poles, and boots, but do yourself a favor and rent initially instead.
When you're skiing for the first time, always rent equipment to start off to avoid buying improper equipment (or worse, poor fitting equipment).
By renting to start off, you get a chance to try out skiing without spending a ton of cash off the bat. I think you'll love skiing, but you might not love it either. 
Additionally, renting allows you to try out different equipment types. There are various styles of skis and boots you can consider, so find the one that works for your style.
And if you have kids, buying equipment is like throwing money away since they will outgrow the equipment by next season.
20. Pack snacks
Image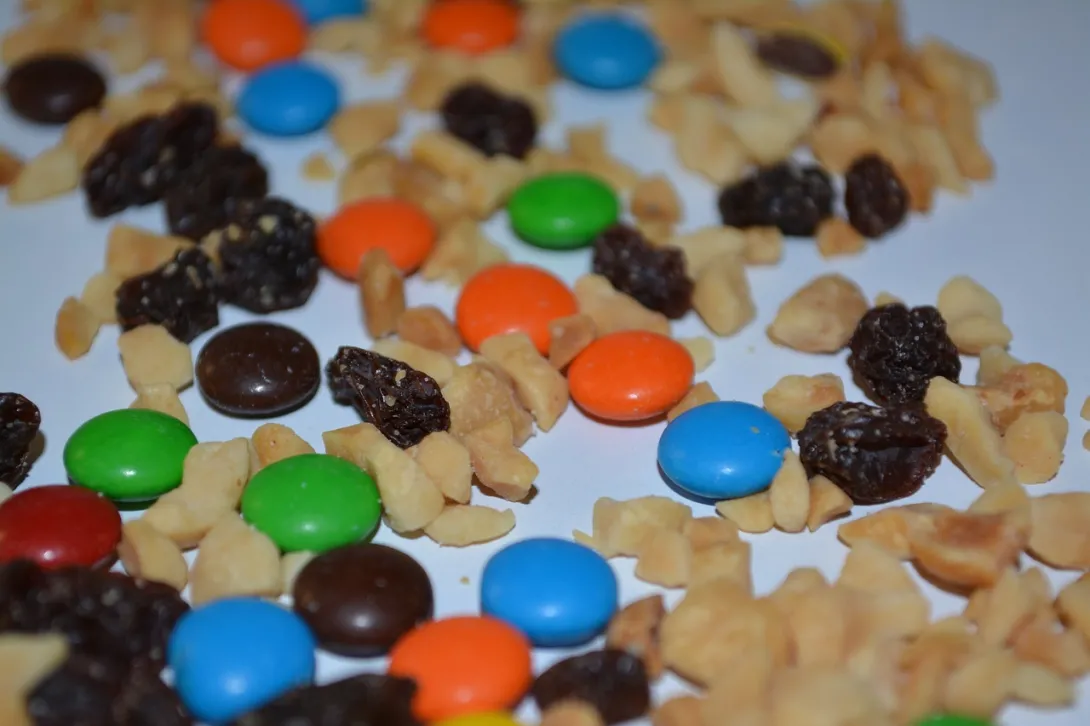 After a couple of runs, you're going to have the munchies. Your body consumes a lot of calories skiing, so you want to stay hydrated and satisfied.
The best kind of snacks for skiing are  fruit, nuts and chocolate so you can pull them out easily and quickly when you need them.
21. Avoid alcohol when you're learning
Image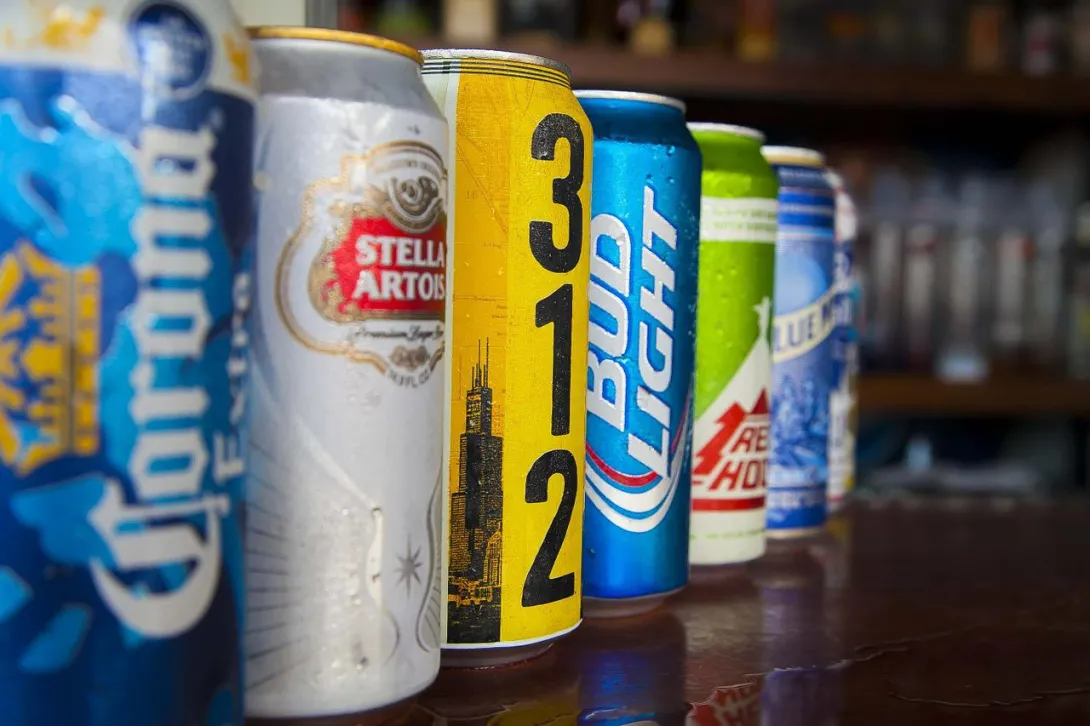 You'll probably see some people having a beer between runs, but when you're learning the last thing you want to do is inhibit your reaction time.
Save the beer for when you're done skiing for the day.
22. Don't ski alone
Image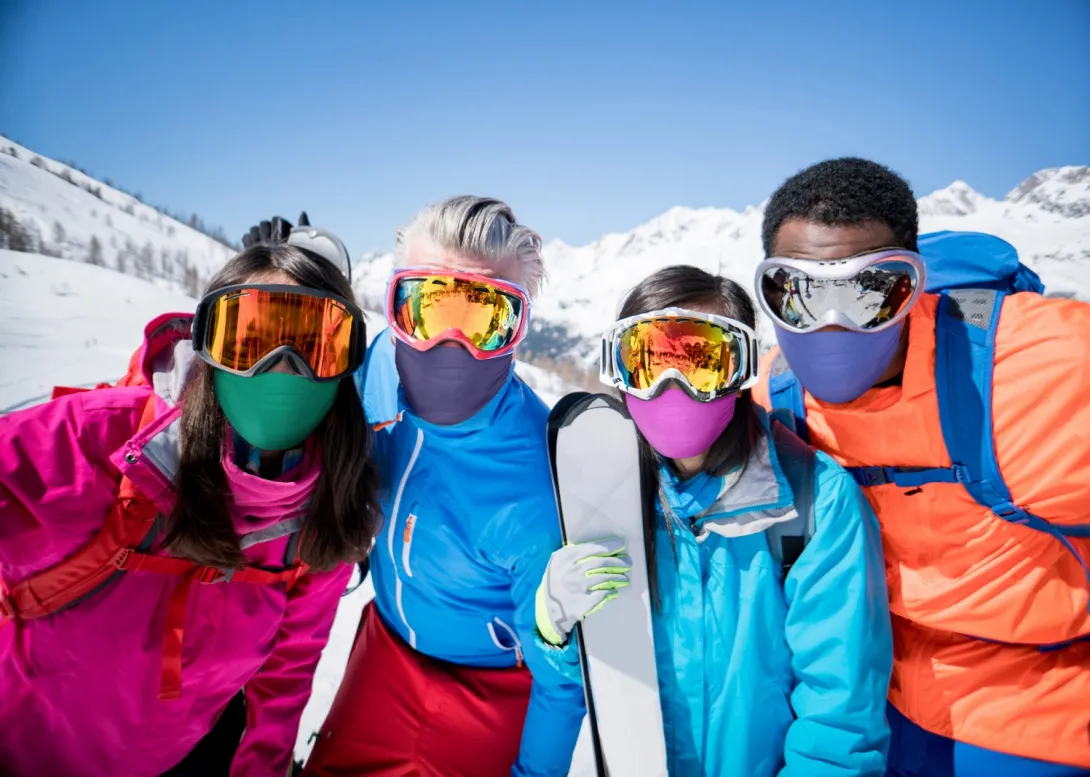 If you aren't with an instructor, bring someone else with you while you ski.
In case you fall, get hurt, or lose your way, having someone with you is important.
Ideally, that other person will be more experienced than you so that they can lend advice.  But even if they are a novice like you, the buddy system works quite well for skiing.
23. Don't give up
Image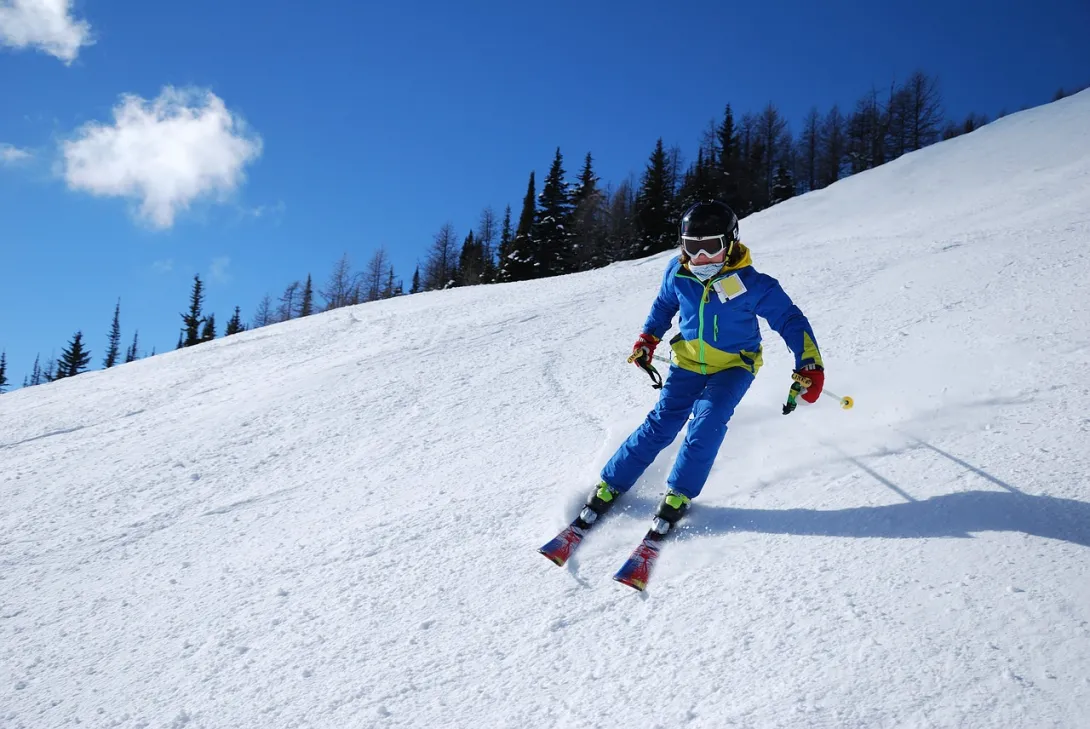 You will fall. You will struggle to turn. You will be cold. You will not understand how that little kid can do everything you can't. But don't let it stop you.
Skiing has a learning curve, but once you get past it, it's an incredibly satisfying experience. In short, it's going to be worth it, so stick with it.
24. Don't be afraid to talk to people on the ski lift
Image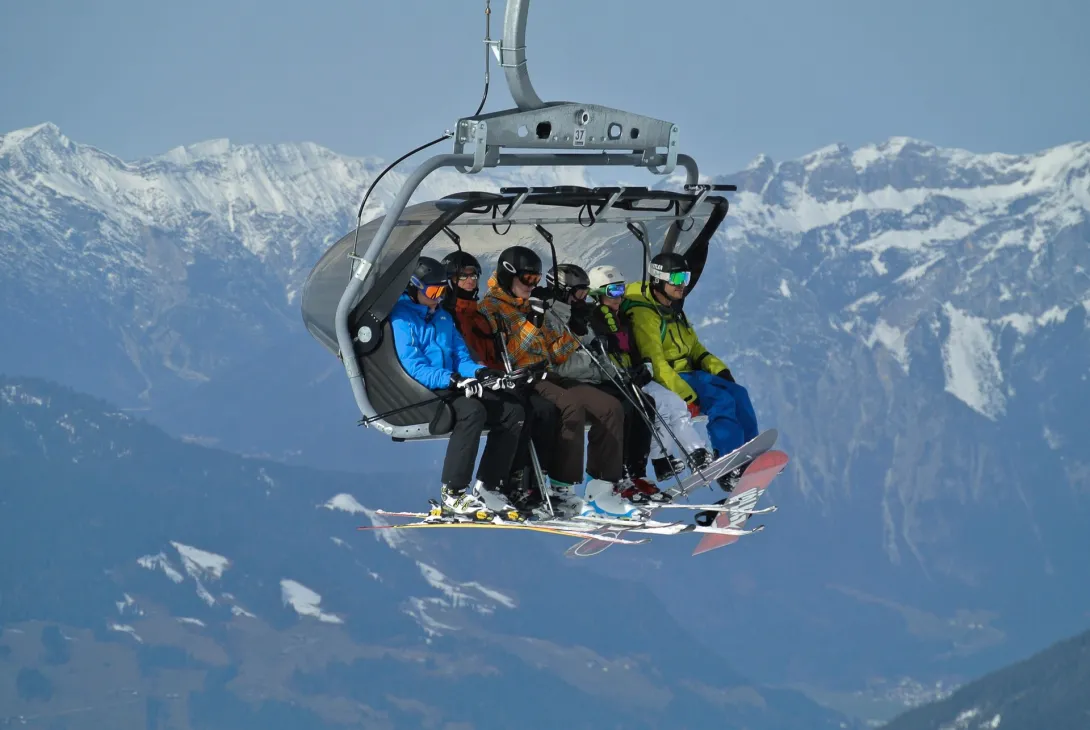 Being on a ski lift is not like an elevator, so feel free to strike up a conversation on the lift.
The ride up is going to take a few minutes, so be friendly and start off with a hello. You don't have to be their best friend, but I've found the conversations in the ski lift with strangers to be interesting, funny, and insightful.
Besides talking about the weather and ski conditions, you might get advice on something they noticed. If nothing else, it makes the ski lift ride far more enjoyable.
25. Lean forward in your skis
Image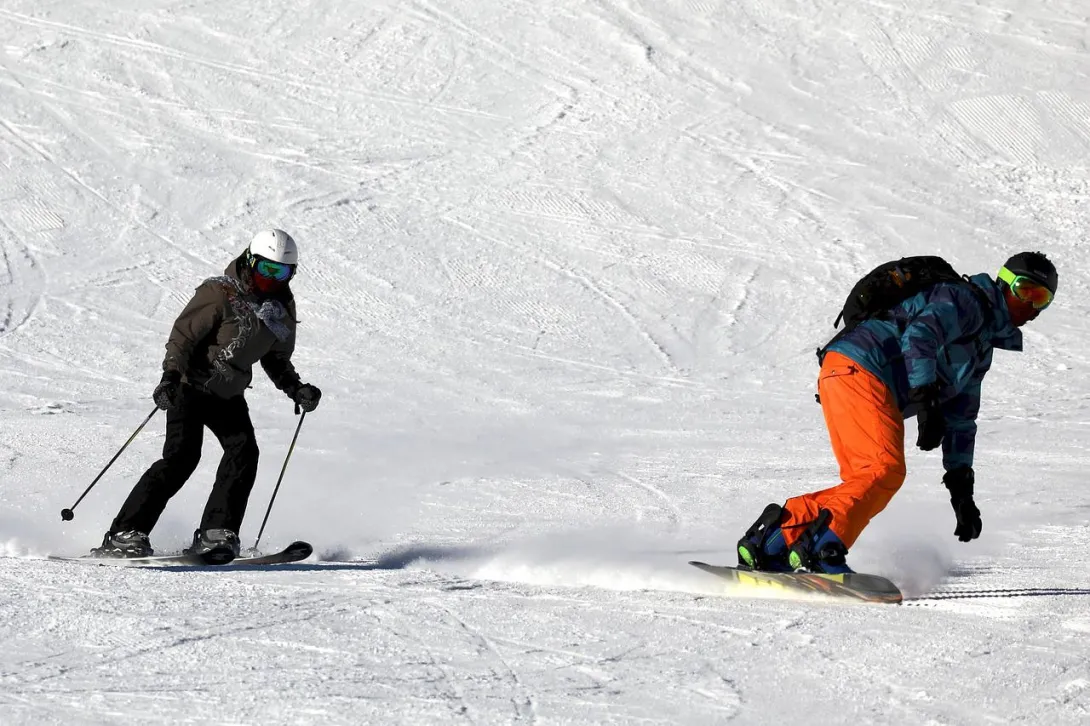 The best way to keep in control of your skis is to lean forward when going downhill. 
This can seem scary and odd, but it will give you much more control.
26. Ski on the groomed trails
Image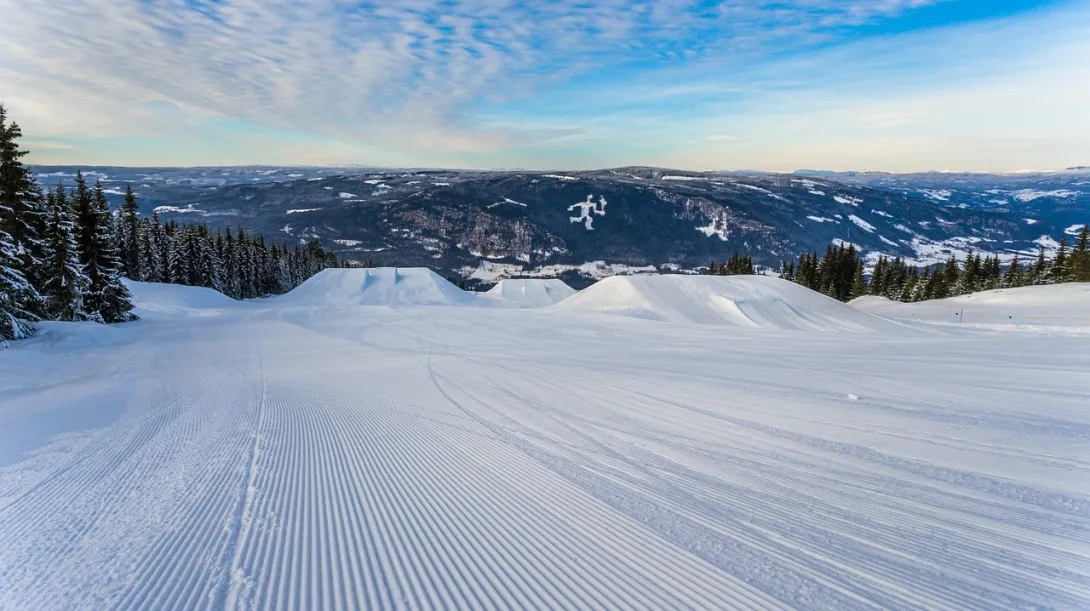 Fresh powder is amazing, but it requires a different set of skills (and even skis), so start off on the groomed ski runs.
27. Learn how to get on the ski lift
Image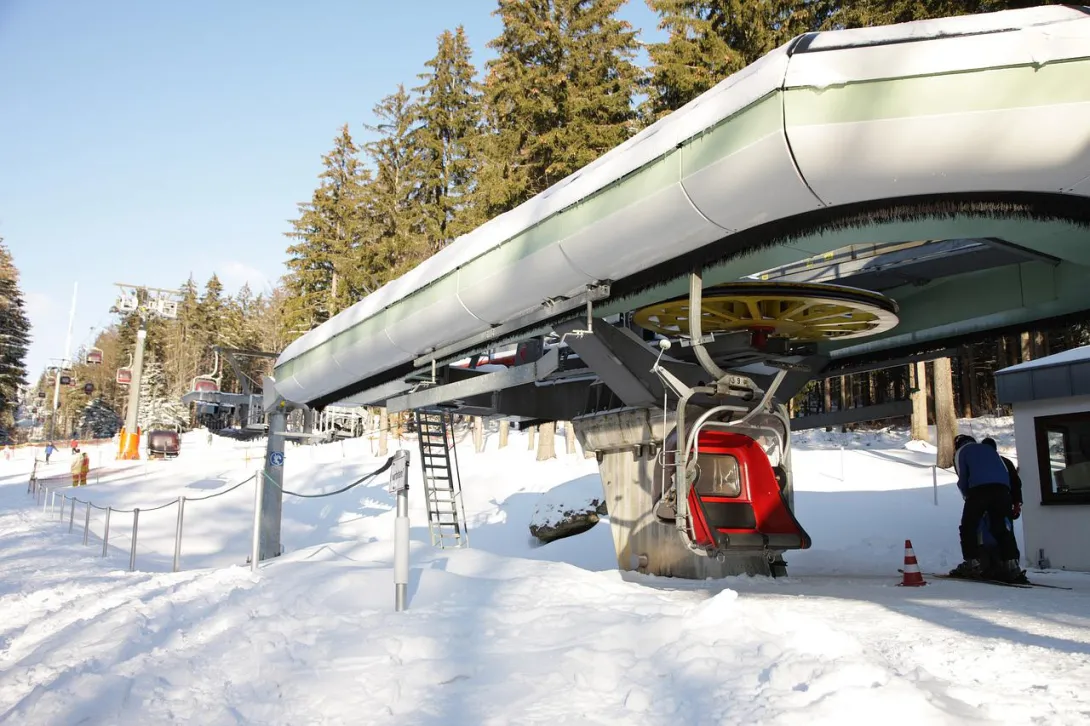 In my experience, getting on the ski lift is far easier than off the lift.
As soon as the chair passes you for the group in front of you, start skiing to the loading point. Look for a strip on the ground to indicate where to wait.
Then put both your poles in one hand and turn around to look for the chair coming around.
Put your free hand down on the bench (or grab the side of the chair if you are on the outside) and sit down as the bench comes in contact with the back of your legs.
28. Learn how to get off the ski lift
Image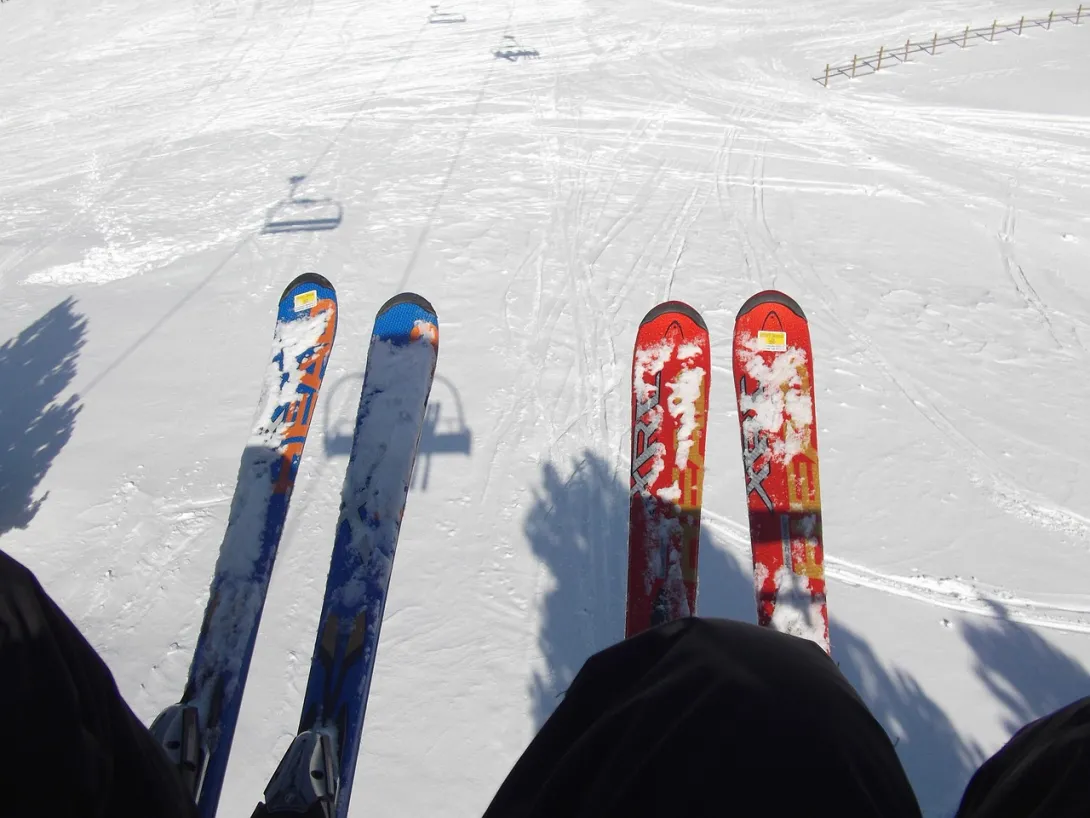 It's critical to understand how you're supposed to disembark the ski chair when you reach the top of the lift.
Look for a strip on the ground where you should be aiming for when your skis hit the slope again.
Put both poles in one hand, preferably not your dominant hand.
Put your ski tips up a bit, so that the back of your skis hit the snow first.
Once your skis hit the snow, stand up and use your free hand to push yourself off the chair.
Image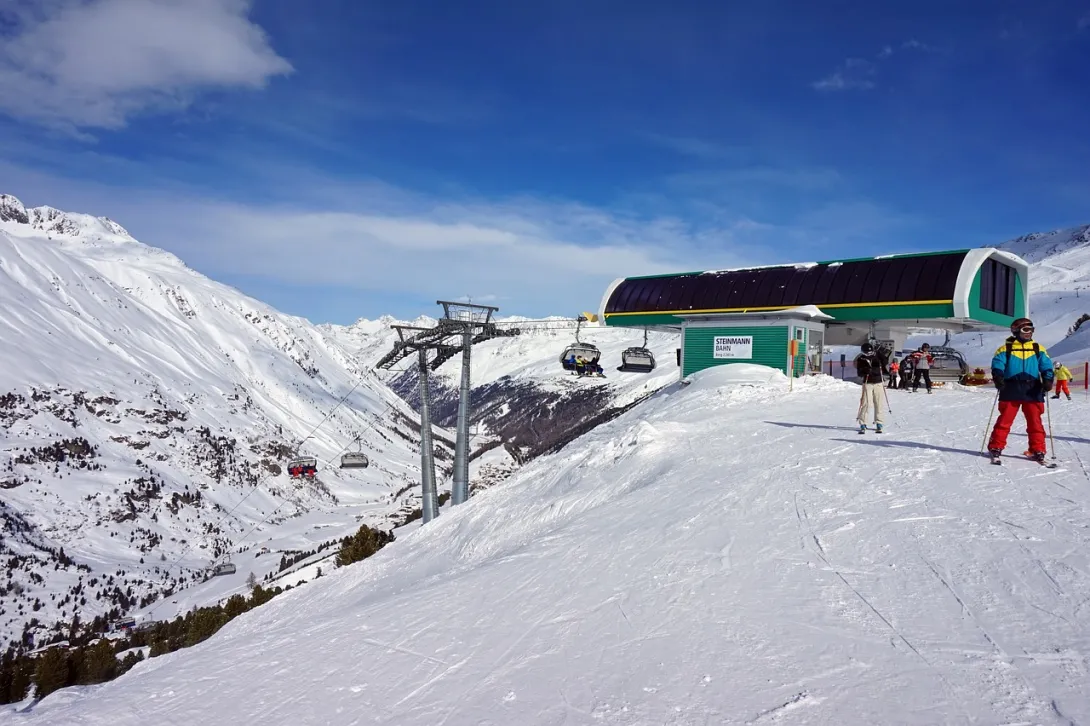 Most importantly, ski straight off the chair. You can always make turns later, but it's very common to have a collision with another skier because you both are trying to turn when descending from the ski chair.
29. You don't need a backpack
Image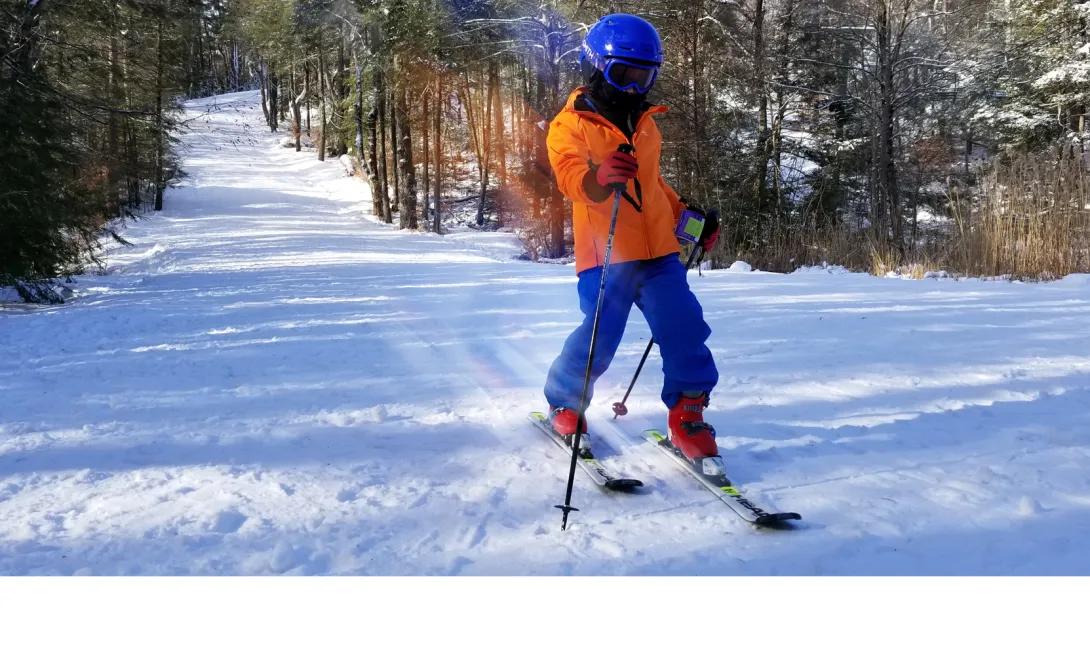 It may seem like wearing a backpack while skiing is a good idea, but it just gets in the way.
First and foremost, a backpack on the ski lift is a real pain and distraction.
Plus, a backpack is going to somewhat inhibit your body motion while trying to learn to ski.
Leave your extras in a ski locker.
30. Don't go down the advanced trails when you're brand new
Image
No matter how tempting it can be, avoid the challenging trails until you're truly ready.
When you ski with friends that are more advanced than you, they're going to encourage you to join them but this is how injuries can happen.
If you aren't ready for the blue or black diamond trails, say no and meet them at the lift at the bottom via another trail.
You're not invincible, no matter how good you are on your first ski trip, so don't act like you are.