For avid skiers who can spend hours on the slopes or those venturing to frigid climates, keeping your hands warm all day can be a challenge.
Thanks to advancements in technology, heated ski gloves are a wonder for those wanting to ensure warm hands throughout their ski day.
There are a couple of things to consider when purchasing heated gloves; budget, in particular, is a major factor. Battery life, comfort, dexterity, and the ability to keep your hands dry are all also key considerations.
Here's a look at our top picks for heated ski gloves and why we picked them. 
What to look for in heated gloves
Image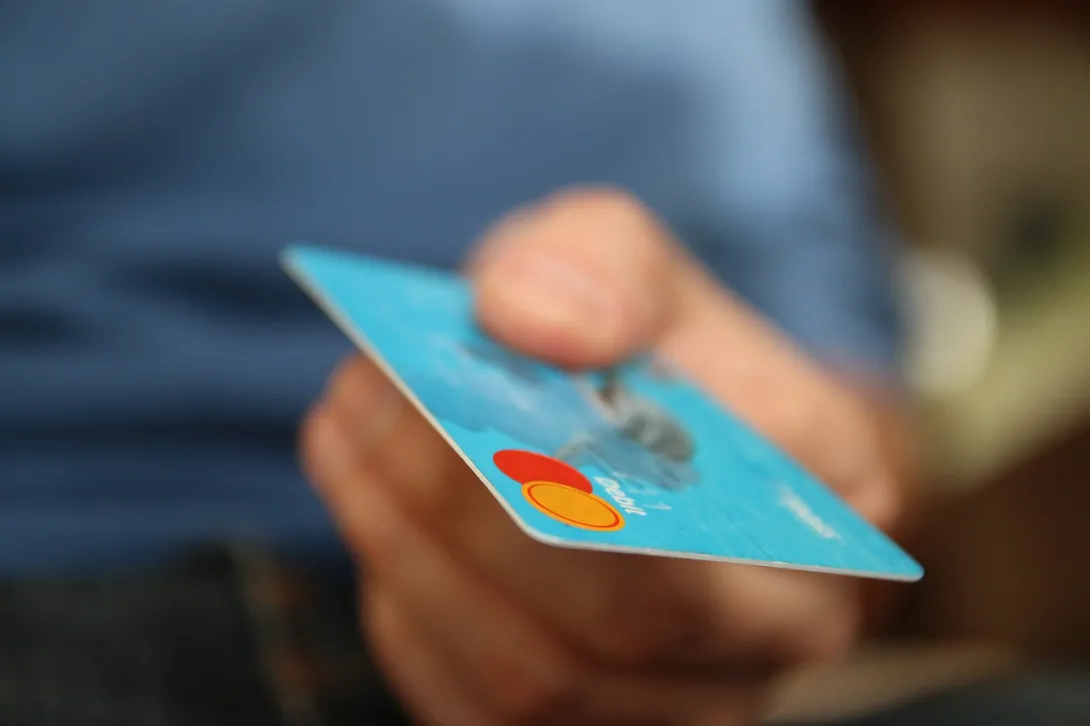 Of course, cost is a deciding factor in most purchases and heated gloves are a premium product. However, for those who plan on long days skiing in cold conditions or tend to have cold hands, they are worth it. There are some options at different price points, with the best rated costing several hundred dollars.
Battery life is one of the most important features of heated gloves. If it is too short, the primary benefit is void. Most heated gloves have different heat level options, and the battery life shortens on higher settings. Batteries are rechargeable, and if you plan on skiing internationally, it is good to have some that have international plugs. Also, consider the cost of additional batteries for a hassle-free ski day.
The heating element area is another factor to consider. Heated gloves have different styles with varying levels of heat distribution. Different coverage areas include the palm of your hand, all your fingers and wrists. Better gloves will have more coverage.
Other considerations
Image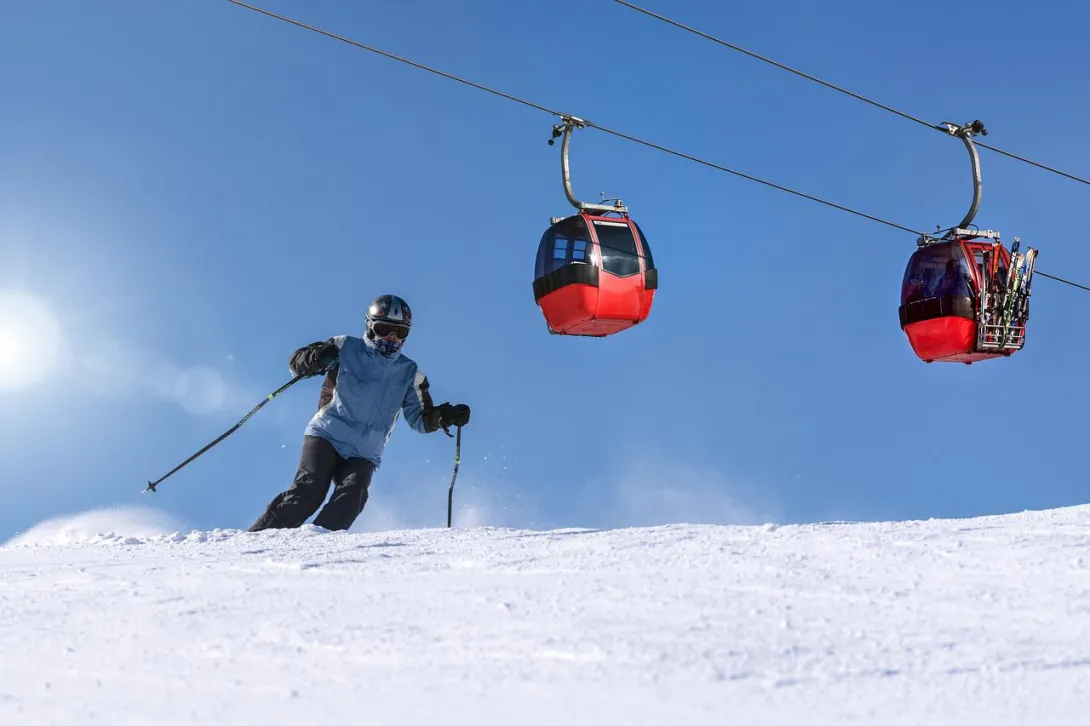 There are some other factors that play a role in the overall quality of heated gloves:
Fabric is vital to preserving warmth and keeping your hands dry. GORE-TEX is renowned for its outdoor products and is often part of the waterproofing layer of a glove.
Insulation is a must to keep the warm, and good gloves will also have a layer of insulation,  such as Thinsulate. 
Touchscreen compatible is an important feature, as you don't want to take off warm cozy gloves to take a picture or check where you are. 
Some users suggest getting an additional battery, so there is no need to worry about recharging mid-way through your ski day.  Something to consider at an already high price point.
Comfort and dexterity are other criteria. If you can't try them on, it is best to measure your hands for the optimal fit and comfort. A bulkier glove often translates to less dexterity.
Our list of best heated gloves 
There are lots of opinions about the best gloves in the marketplace, but there are a few that stand out, with critics and skiers alike applauding their quality. Here are our top pics:
Outdoor Research Lucent Heated Sensor – Price $312
Image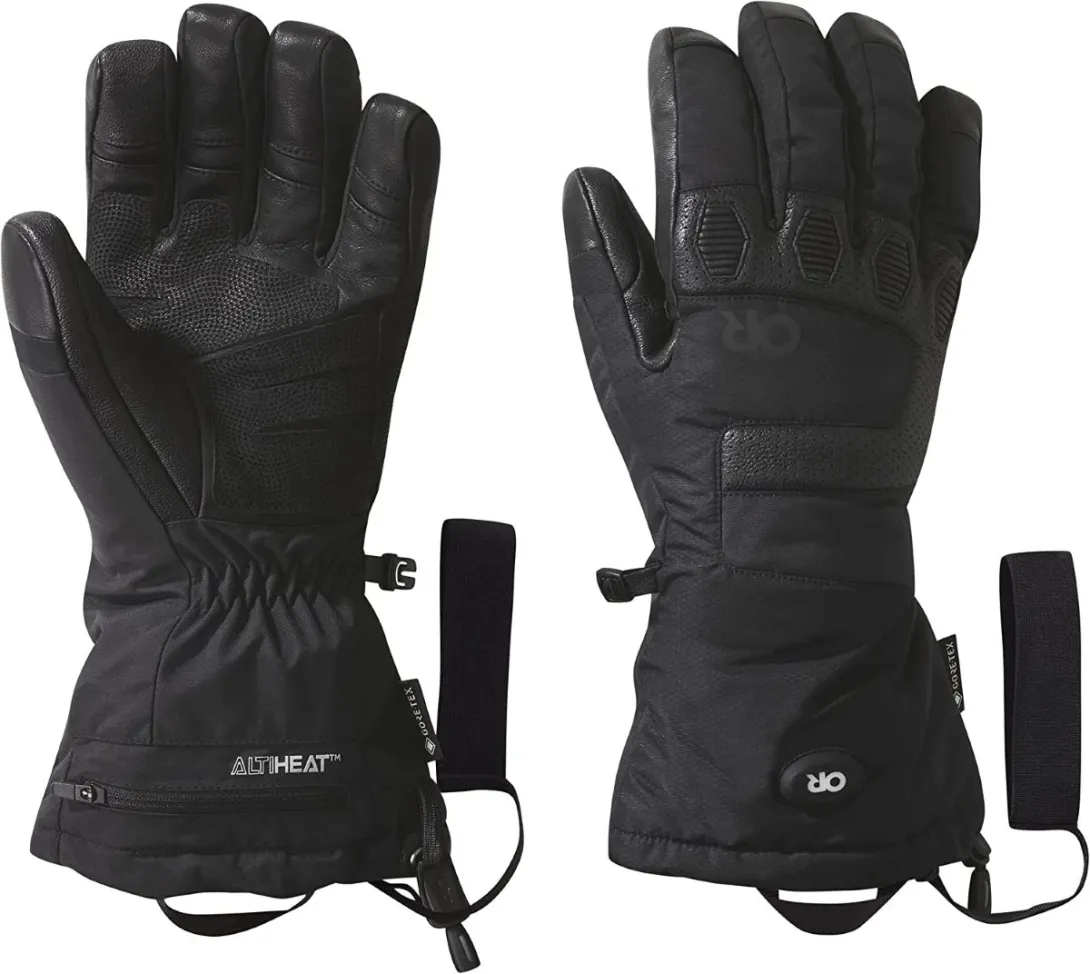 Product features and specifications 
AltiHeat rechargeable battery with three settings
GORE-TEX provides reliable waterproofing
EnduraLoft insulation adds long-lasting warmth
Moonlite pile fleece (soft against the skin)
Palm grip to better hold onto poles
Touchscreen compatible
What to know about these gloves
Skiers like this brand because these gloves keep their hands warm and dry during the toughest of conditions. A plus, the warming element extends to thumbs and fingers. Users have commented that they are among the best they have tried and are particularly helpful for those who suffer from poor circulation or other medical conditions.
The battery has been noted to last 2.5 hours on high, 5 hours on medium, and 8 hours on low, which covers a good portion of a ski day. High quality materials such as GORE-TEX and Enduraloft insulation adds warmth and keeps your hands dry.
Although these gloves are well rated, they are pricey. Some skiers have also commented that they can be a bit stiff.
Black Diamond Solano Heated Glove - Price $400
Image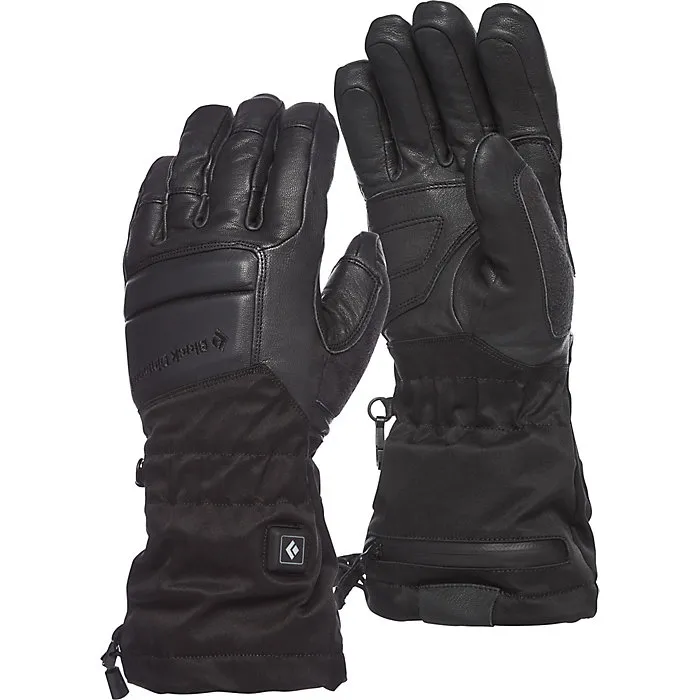 Product features and specifications
Battery powered heater
LEF button controls for more precise heating
GORE-TEX waterproofing fabric
Goat leather shell
Waterproof battery compartment
Fleece lining with PrimaLoft insulation
Includes UK and EU adapters
Touchscreen compatible
What to know about these gloves
Another premium product, these gloves are considered to be one of the best heated gloves in the market. Skiers say that they rarely need the highest heat setting, and they even keep your wrist warm.
The gloves have GORE-TEX waterproofing and Primaloft insulation to add extra warmth and keep your hands dry.
The battery life is not quite as long at 5 hours and the gloves can be a little stiff until they are broken in. And of course, they are expensive.
Capstone Heated Sensor Gloves -  Price $500
Image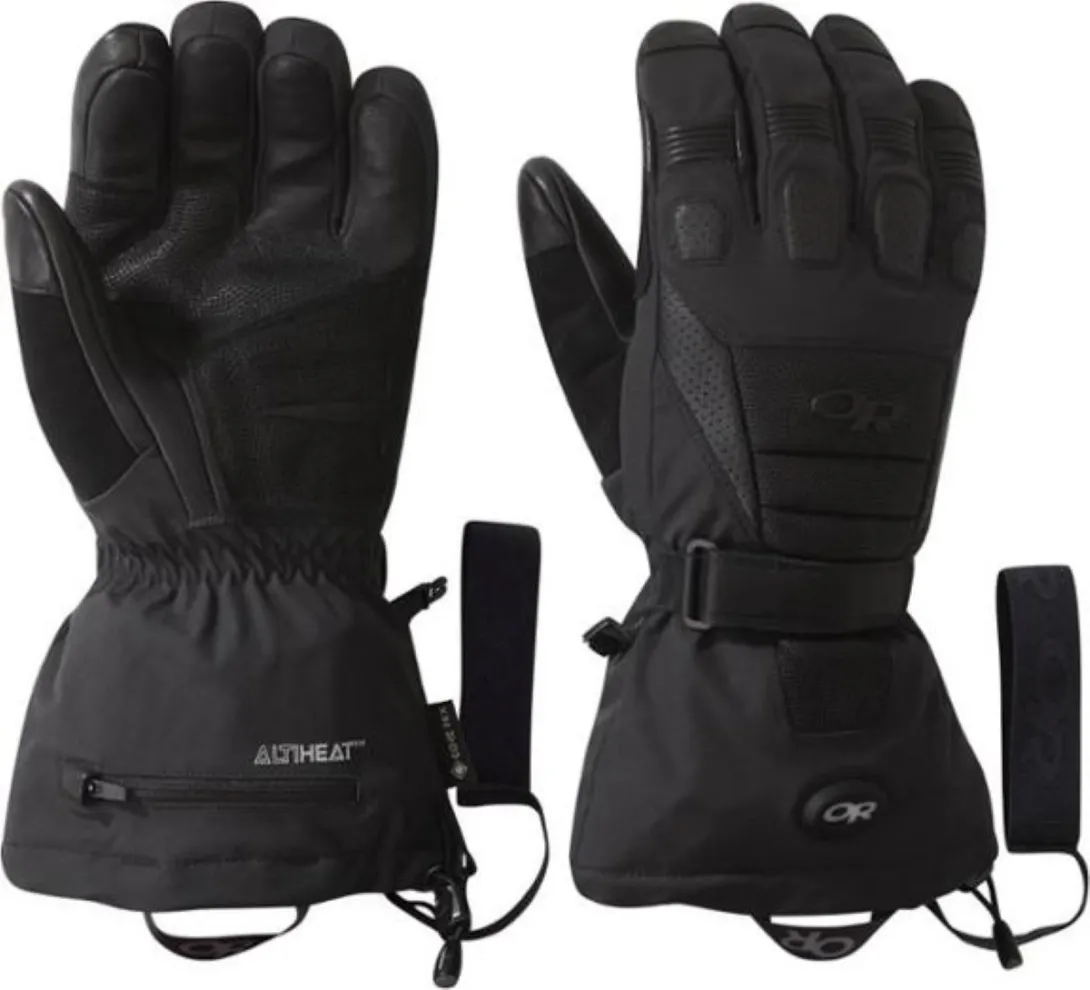 Product features and specifications
ALTIHeat™ Battery-Powered Heat with rechargeable batteries
Ion Batteries
Customizable heat settings
Touchscreen compatible
2 locking zippered compartments for batteries
A waterproof GORE-TEX insert
PrimaLoft and HiLoft Silver insulation
Moonlite pile fleece palm
What to know about these gloves 
These are well rated gloves, which buyers would expect at this high price tag. Contributing to their warmth, the Capstones gloves use two batteries for double the heat output, helpful for those extra cold days. The use of GORE-TEX and synthetic insulation keeps the warmth in, and the goat leather palm is extremely durable.
The gloves come with 4 lithium-ion batteries and a wall charger. Battery life is 2.5 hours on high, 5 hours on medium and 8 hours on low.
The price point might be too much for some skiers, probably one of the biggest drawbacks of these gloves. A few users have complained about long battering charging time and other issues with batteries.
MOUNT TEC Explorer 3 Heated Glove – Price $320
Image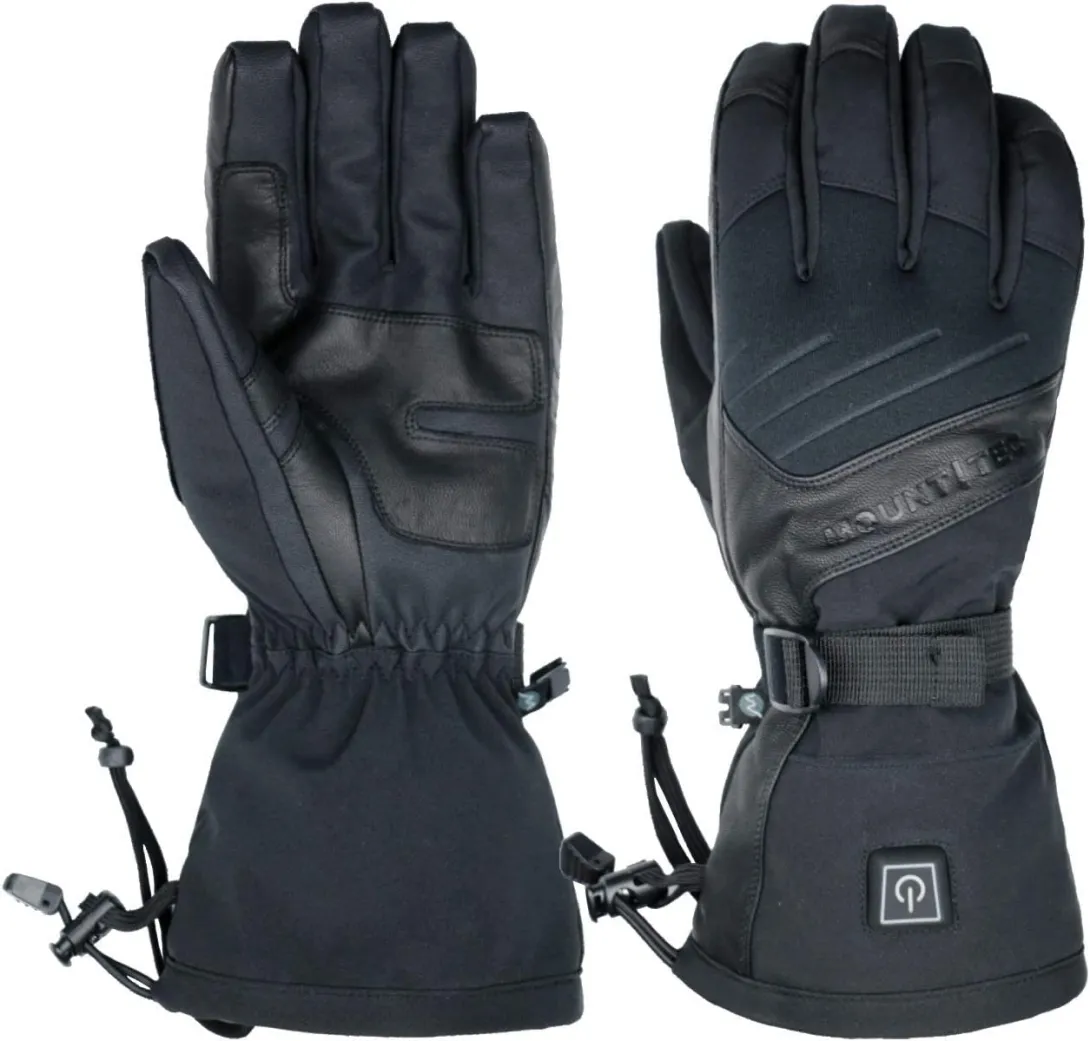 Product features and specifications
Carbon fiber nano heating system
3M Scotchgard waterproofing
Goatskin and nylon shell
Primaloft insulation
Hand shaped heating elements
Three heat settings
Touchscreen compatible 
What to know about these gloves
These gloves heat well, in particular the palm and fingers. The battery lasts 4-8 hours which will last most of the day, especially on the lower settings. Skiers have said the grip is good with these gloves.
They are still relatively expensive, though. Buyers should be aware that the charger is not a USB, and some users say that the heating system is not as hot as it could be.
Snow Deer Heated Gloves – Price $132
Image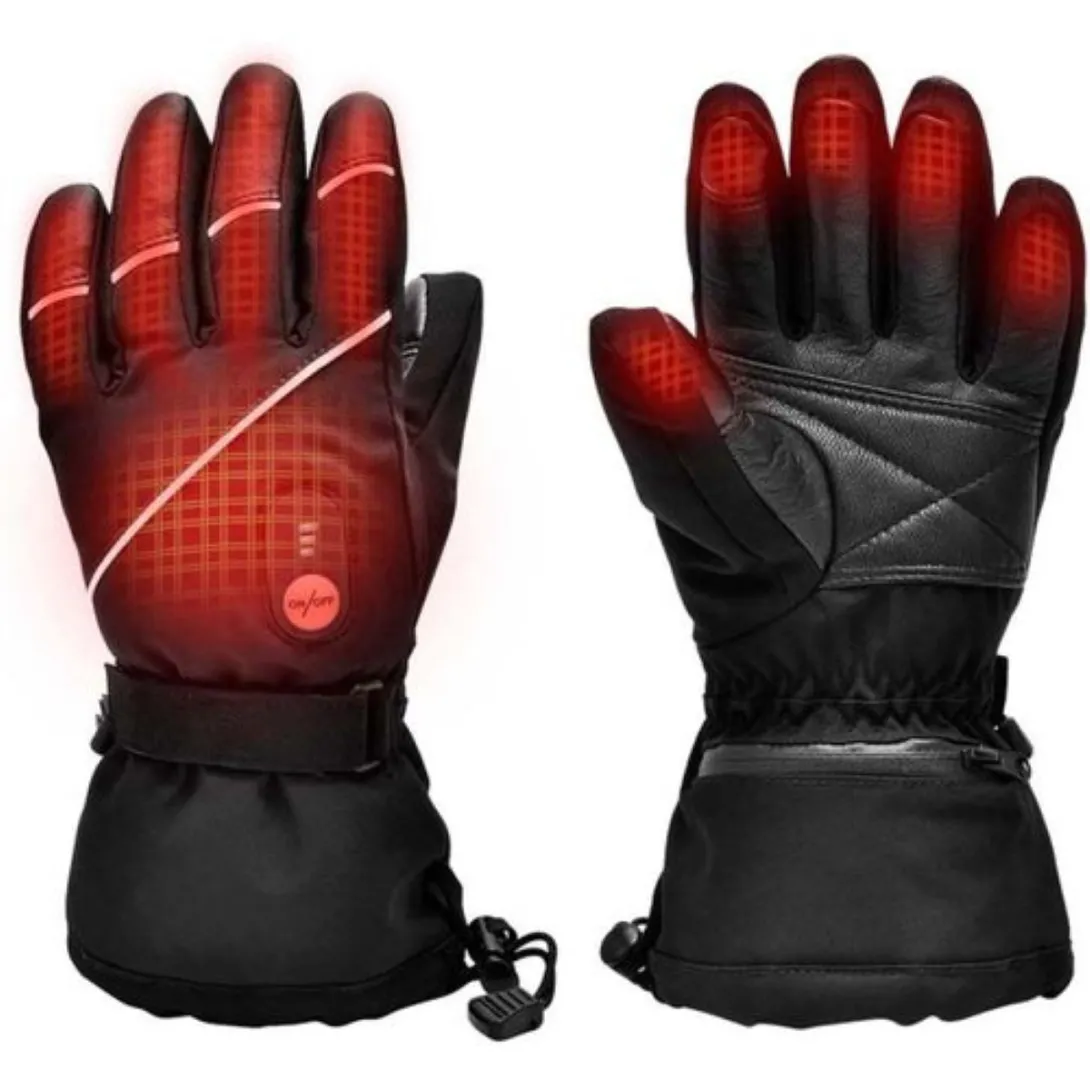 Product features and specifications : 
Three heat settings
Water-resistant and windproof polyester

Soft, breathable material, including sheep leather and polyester.

Soft fleece
Polyester lining

Touchscreen compatible

White illuminate strips for night skiing 
What to know about these gloves 
These gloves are good value at $132, a feasible option for those unsure of using heated gloves, and the top dollar price that premium brands demand. 
The gloves will last up to around 6.5 hours on the lowest setting, 3-3.5 hours on the medium setting, and about 2 hours on the highest. The heating elements cover the back of the hand and fingers.
While many customers love these gloves, a few have reported battery issues.