If you're looking to go skiing for the very first time but have no idea where to even start, this article is for you! Here I'm going to break down everything you need to know to start skiing. What to wear, what to pack, how to ski, and my top tips to help you get better at skiing.
Keep reading to learn everything you need to know about how to ski for beginners!
Preparing For Your First Day of Skiing
Image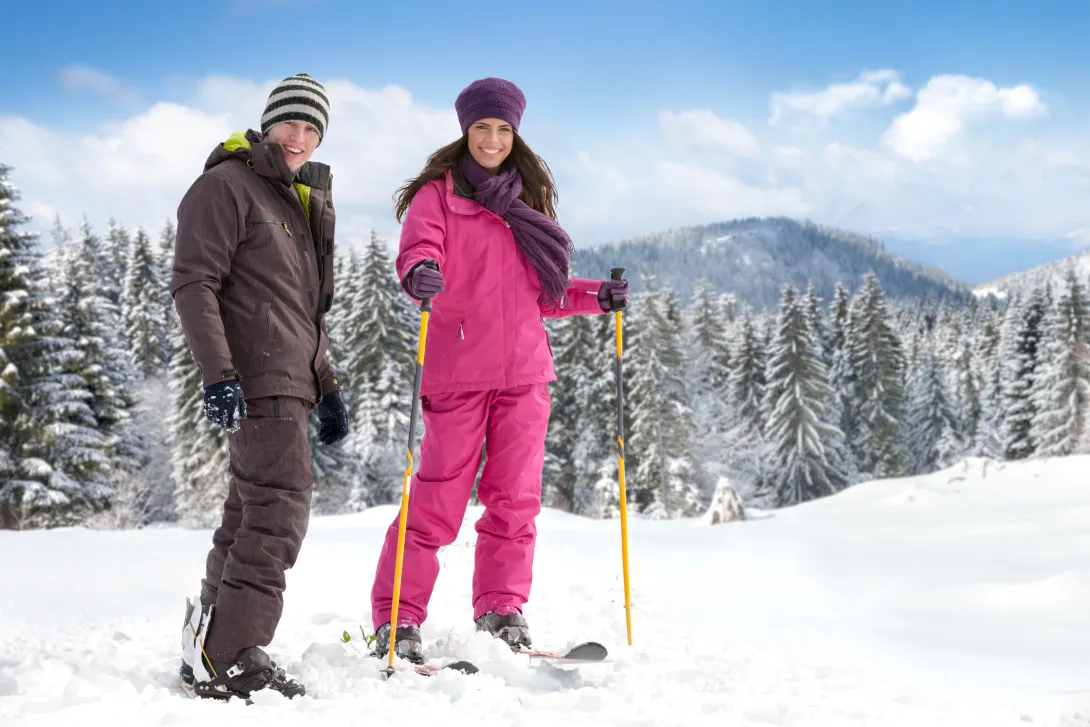 Before you go skiing for the first time, there are a few steps you need to take in order to prepare. First, pick a resort. All ski areas will have trails for beginner, intermediate, and advanced skiers separately, but some resorts are more beginner friendly than others.
Once you pick a resort, look at their packages. Ski resorts want to make your day run as smoothly as possible, so they offer packages for tickets, equipment rentals, lessons, and even accommodation and this will almost always save you the most money.
If it's your first time skiing, we highly recommend taking a lesson. Lessons run either privately or with a group. Private lessons typically run by the hour where group lessons are either a full or half day. Decide which type of lesson best fits your budget and learning style.
What To Wear and Bring
Image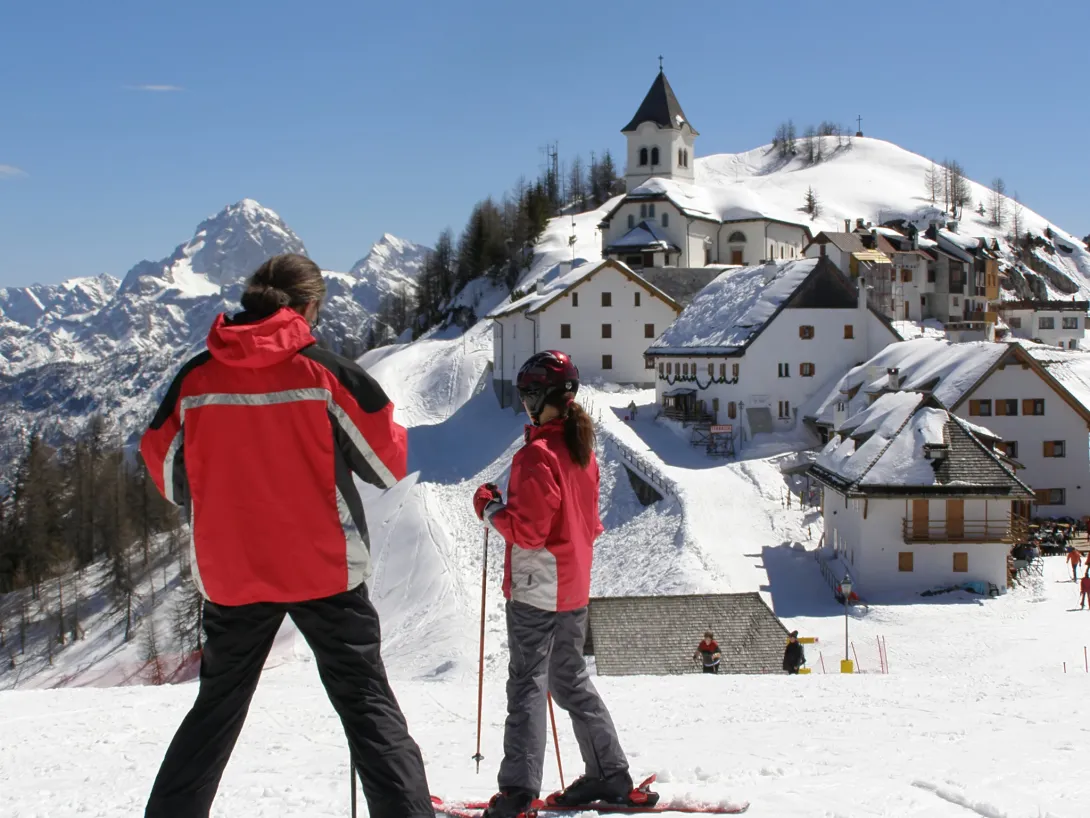 Once your trip is booked, it's time to get ready for your first day on the slopes! In order to be as warm and comfortable as possible, it's important that you dress correctly.
The first layer that you wear will be base layers, which is meant to keep you warm. Wear a fleece form fitting top and leggings.
Your outer layer is called the shell, which is meant to keep you dry and protected from the elements. Wear a jacket and snow pants made out of Gore-tex or another water and windproof material.
Image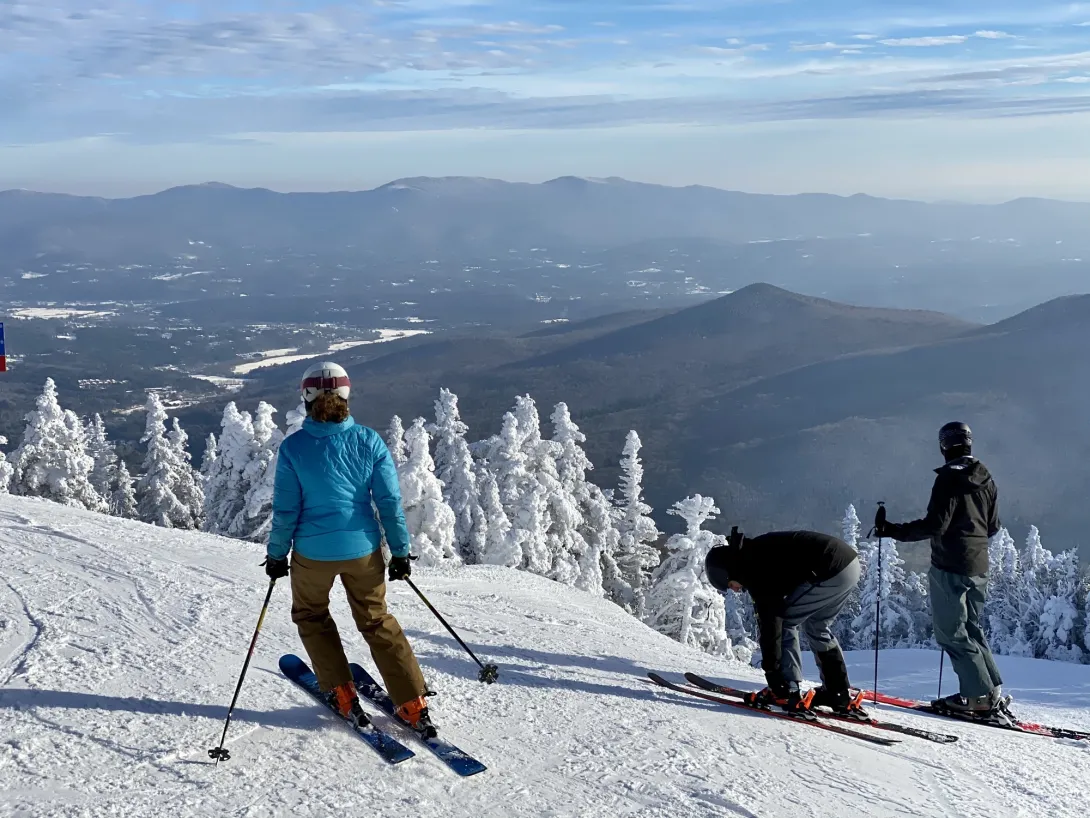 If you need an additional layer for warmth, bring an insulating mid-layer such as a Patagonia sweatshirt or packable insulating jacket.
As for accessories, be sure to wear two pairs of gloves, a neck gaiter or balaclava, warm/breathable socks, helmet, and googles.
As far as equipment goes, you'll need ski boots, skis, and ski poles. When just starting out we recommend renting your equipment from either the resort or a local ski shop such as Christy Sports or REI until you figure out what type of skis you like best.
In your bag, bring headphones, water and snacks, your lift ticket, and phone or camera.
When You Arrive
Image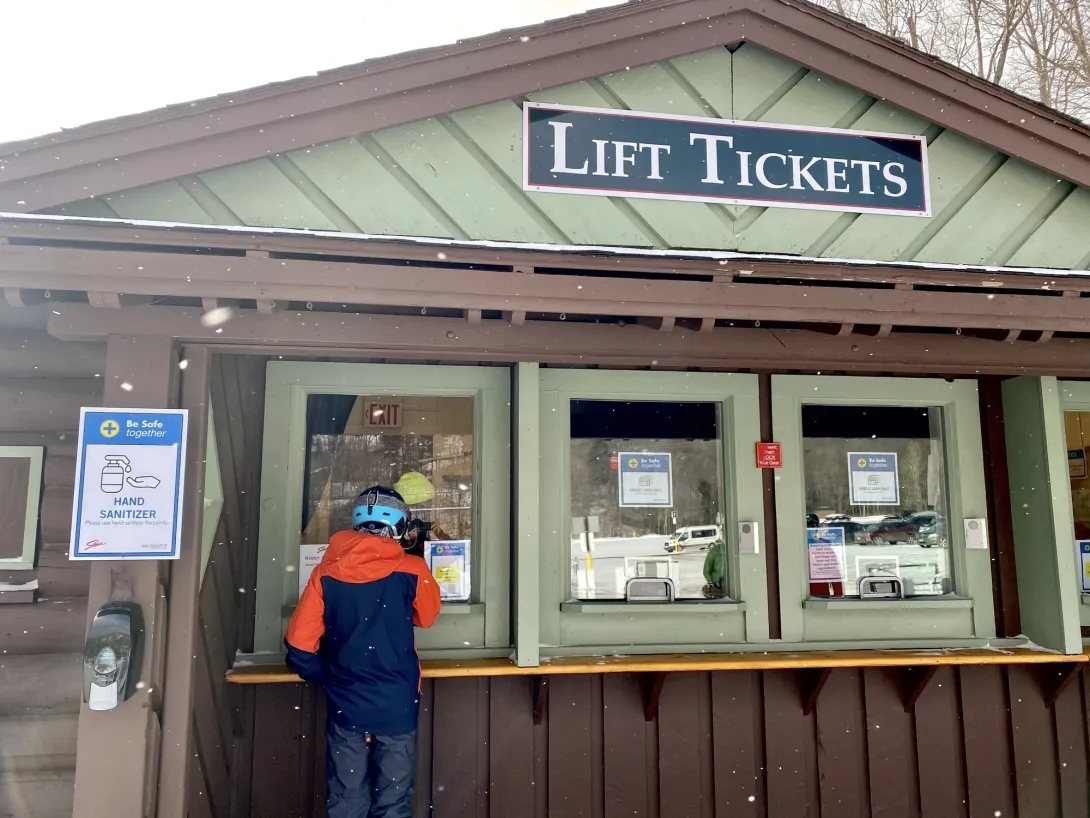 When you first arrive at the ski resort, there will be an office where you can pick up your lift tickets and equipment rentals if you do not already have them. If you do, you're ready to immediately head to the lift!
How To Ride The Chairlift
Image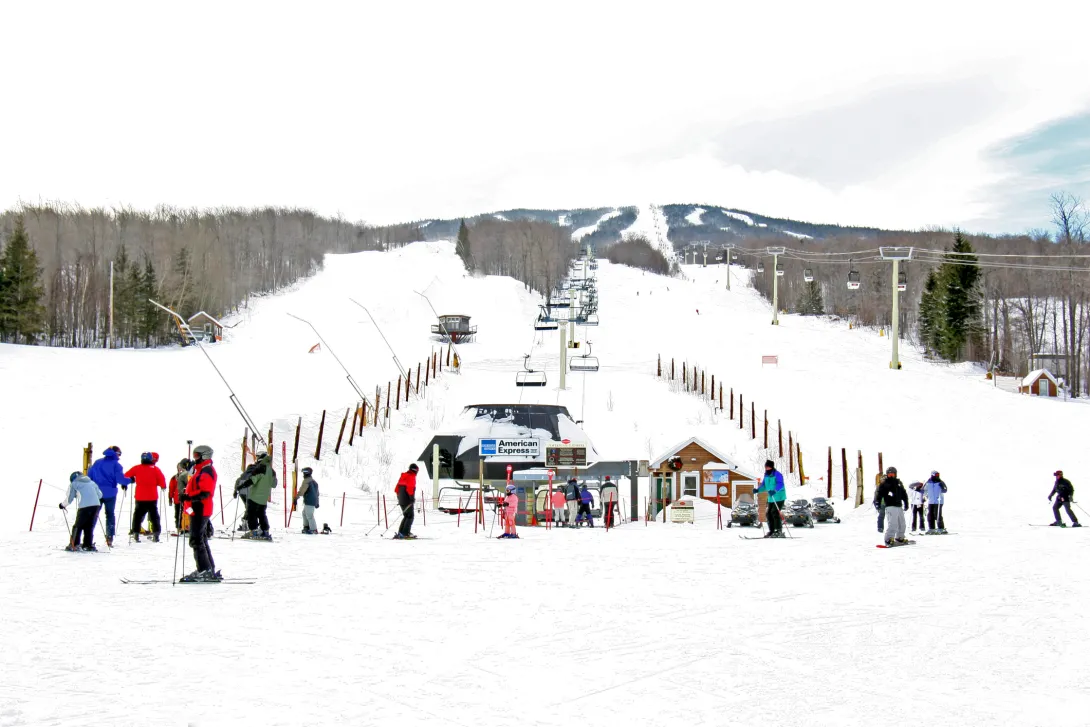 Riding the lift is one of the most common stressors when you first start skiing, but I'm here to make it as easy of an experience as possible for you.
When you're on skis, riding the lift is pretty straightforward. All you need to do is ski up to the red line and wait for the chair to arrive behind you. When it does, sit down and keep the tips of your skis parallel and pointed up. Grab the chair with one hand and keep your ski poles in the other hand. Be sure to hold onto all of your belongings or you'll have to hop off the lift and search for your things from below. This will probably happen to you one time and then never again.
Once you arrive at your stop on the lift, keep your skis parallel, tips pointed up, and ski away from the lift as quickly as possible.
First Movements on Skis
Image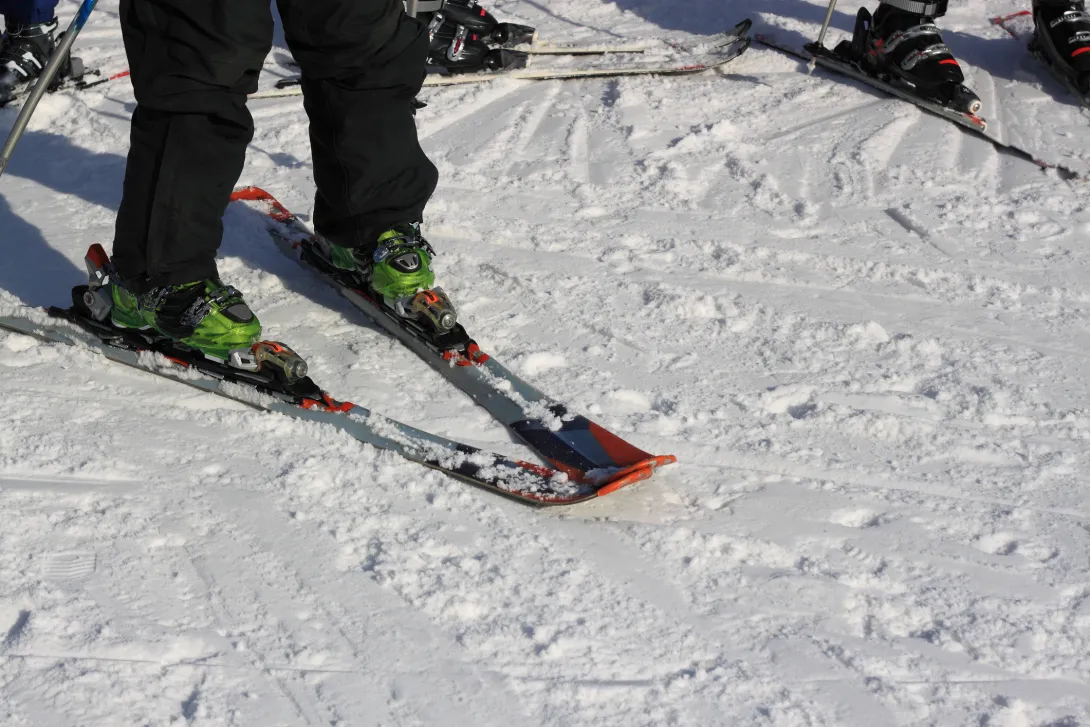 Now that you have everything you need to start skiing, it's time for the fun part-learning how to ski! The first technique you will learn is pretty simple and straightforward, and it's most popular name is the french fry/pizza technique.
"French fries" or having your skis hip width apart and parallel to one another allows you to ski fast and in a straight line.
In order to slow down, you'll use the "pizza" technique. By pointing your toes in toward each other and having your tips facing out, you will push the snow allowing you to move at a slower speed.
Once you get comfortable with french fries and pizza, you'll want to start getting used to tilting your feet from side to side and using your edges, as this is what will allow you to turn and stop on skis.
How To Turn On Skis
Image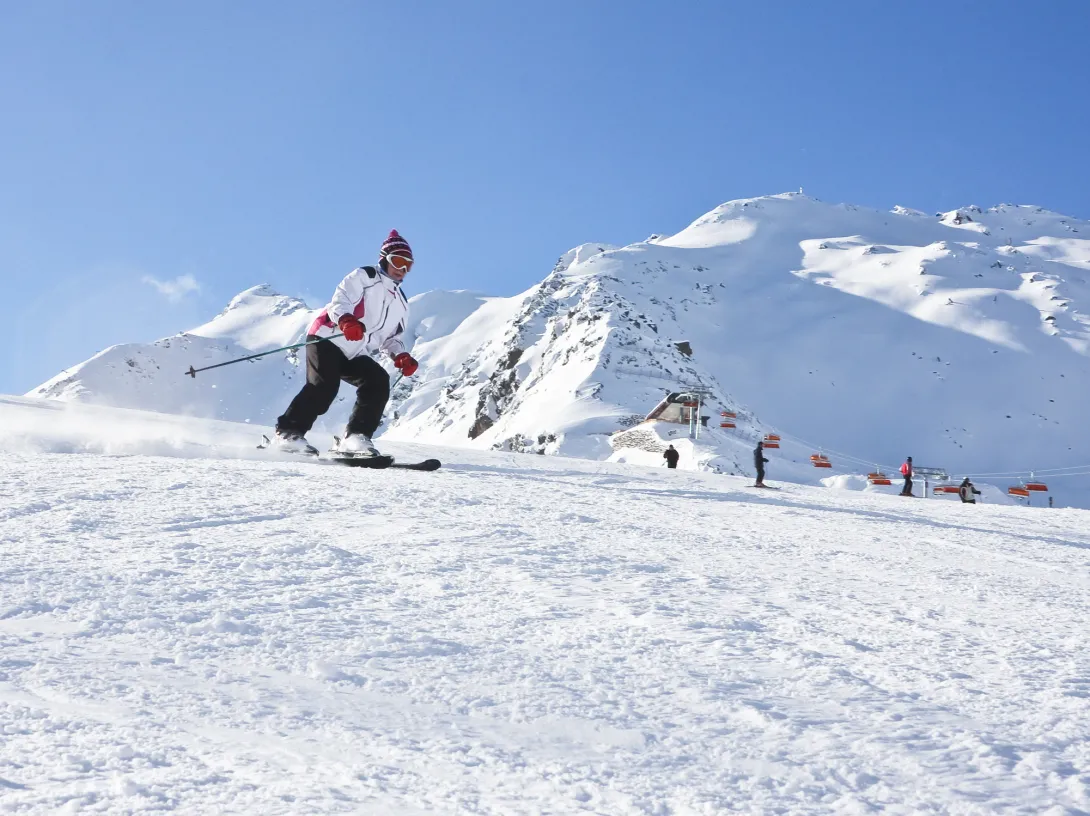 Turning on skis required the use of your entire body.
When you're getting ready to turn, first look in the direction that you want to go, then swivel your hips and lean into your boots as you shift your weight toward the inside edge of your downhill ski. This will initiate a turn!
Whenever you're ready to turn to the other side, first look in that direction and swivel your hips. Once you pass parallel in the center, lean into your boots as you shift your weight toward the inside edge of your other ski, which is now the downhill ski. From there, just keep rinsing and repeating until you feel comfortable moving and turning on skis!
How To Stop On Skis
Image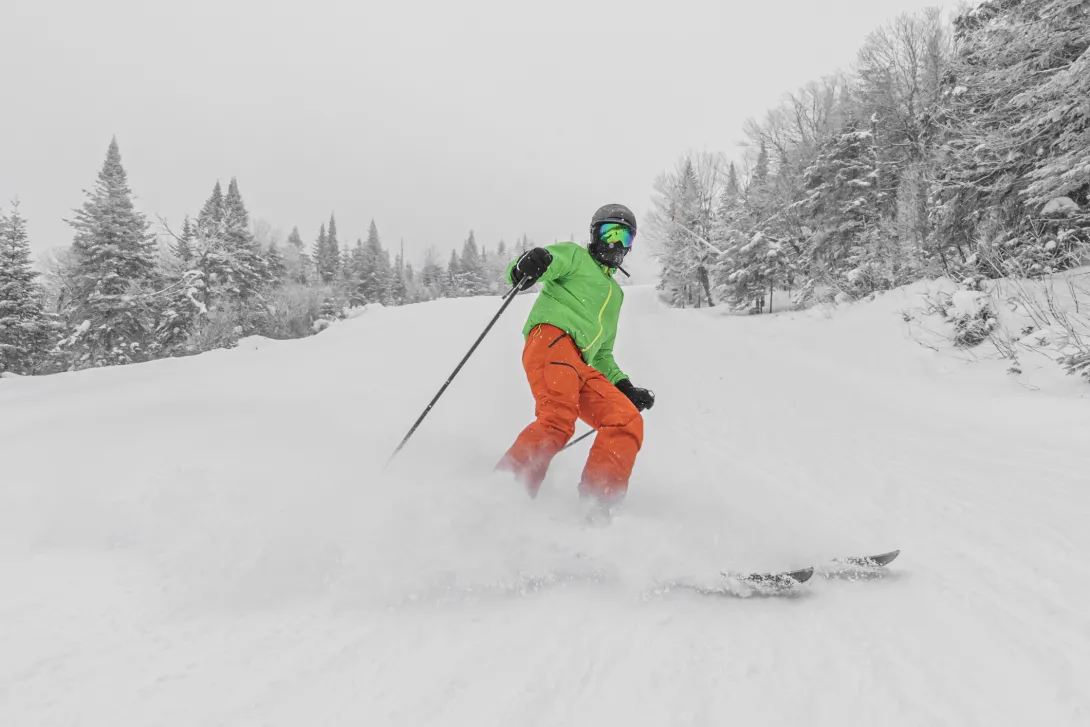 Stopping on skis is an important step to learn before you move on them for the first time. On day one you may learn to stop by using the pizza technique to slow down until you stop, but that won't allow you to stop when you're traveling at speed. In order to stop at speed, you first need to learn the hockey stop.
To make a hockey stop, you will swivel your skis to be perpendicular to the direction in which you are traveling. To initiate the stop-when your skis are parallel, shift your weight so that you're as light on your feet as possible and begin to initiate a turn. When your skis are facing to their right or left, shift your weight to the inside edge of your downhill ski and apply as much pressure as possible. The more pressure you apply, the quicker you will come to a stop.
How To Recover From A Fall
Image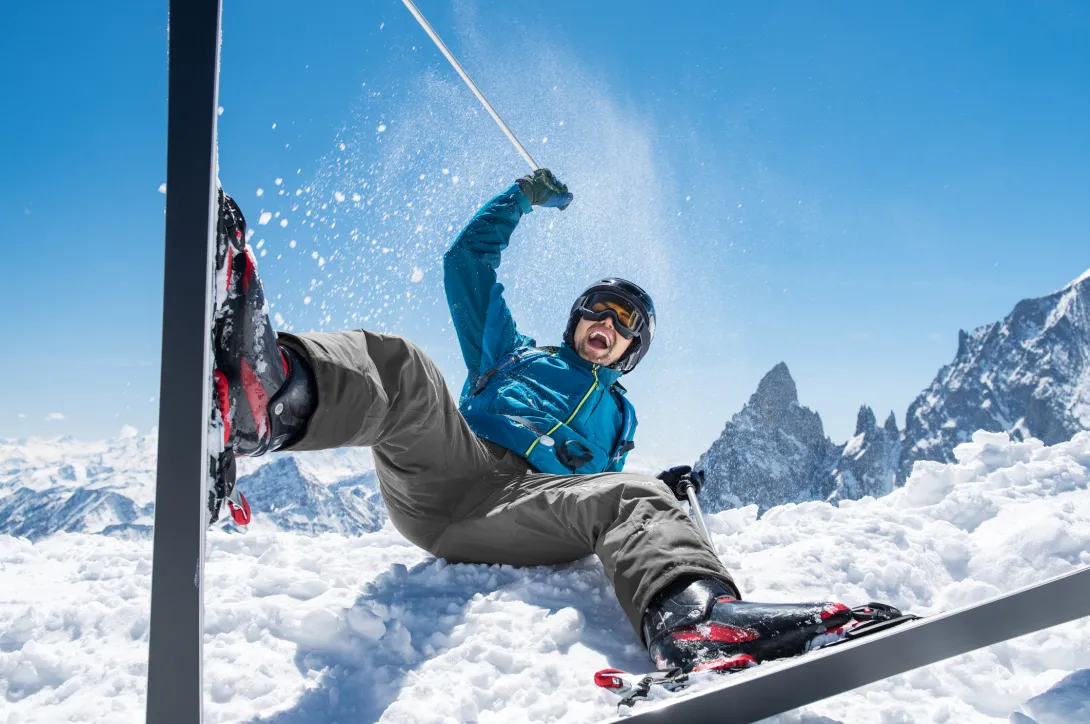 Believe it or not, you can injure yourself by not recovering from a fall properly.
The easiest way to recover from a fall when skiing, is to roll onto your belly and position yourself perpendicular to hill, keeping your feet wide apart. Place your skis on the ground in a V-shape with the tips pointed out at the tails pointed toward each other.
Get on your hands and knees and walk your hands in toward your feet. Keep your weight on your hands until you are balanced enough to stand all the way up with your weight on your skis. Then slowly make your way back to parallel, and head back down the mountain!
Top Tips To Help You Get Better At Skiing
Image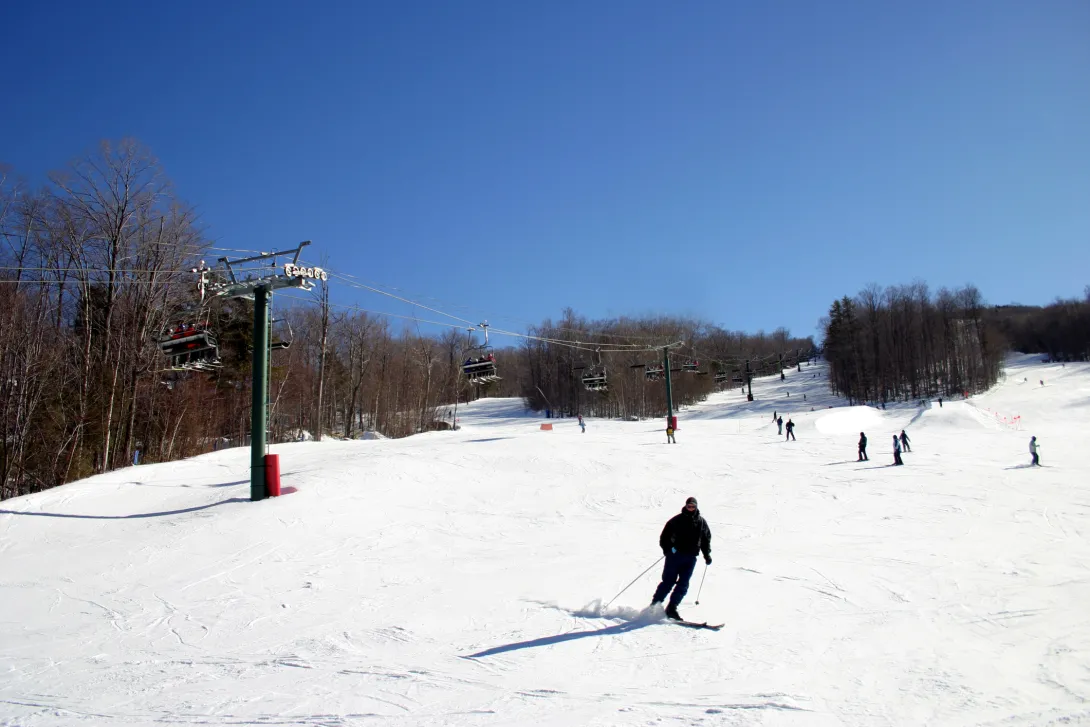 Stay humble and keep practicing
Injuries happen when you get too cocky on your skis and try to go down runs or work on tricks that you're not yet ready for. Work on your technique as much as possible and really nail down your movements before moving on to the next thing.
Practice, practice, practice
They say skiing is easy to learn but tough to master and that is true. But just keep showing up, drilling the technique, and you'll be a pro flying down the mountain in no time!