We know what you're dreaming of: flying down a mountain covered in fresh powder on a black diamond ski run like a professional with no fear.
And we've got great news for you: that will be you one day!
In order to help you reach your goals, we've compiled our 8 best skiing tips for beginners. By following these tips, you'll become an expert skier as quickly as possible. Learn how to get started on your skiing journey, prepare for your first day on the slopes, perfect your skills, and more.
Keep reading to learn our 8 best skiing tips for beginners, in no particular order.
Dress Properly
Image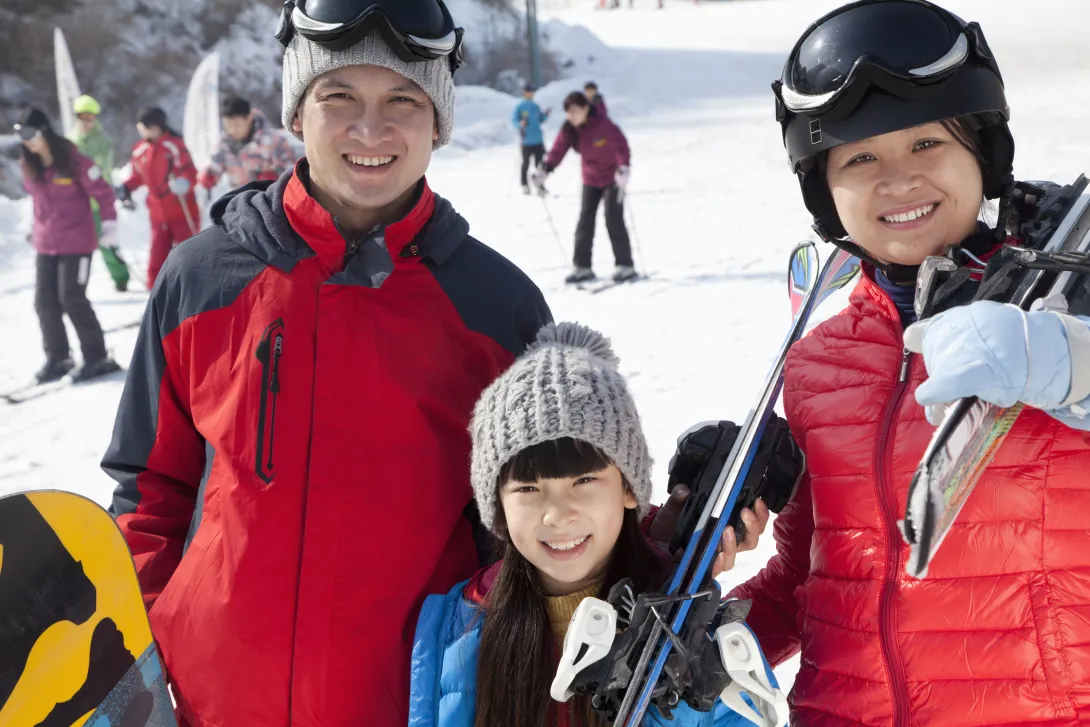 Being cold and wet on the ski slopes can lead to a miserable day quicker than anything else. In order to avoid this, it's important to check the weather before you head out and be prepared.
The most common mistake I see beginners make on the ski slopes is not wearing proper layers, or not wearing a helmet.
For your own safety and well-being, wear a helmet and dress for the weather.
Image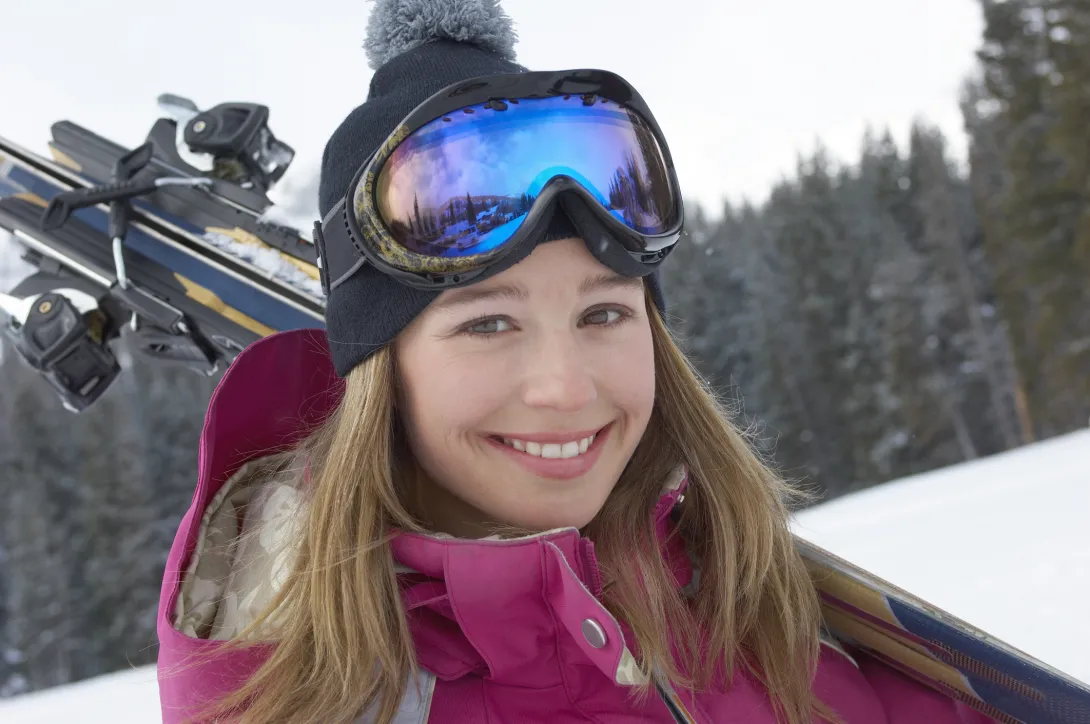 You should always wear an insulating base layer, designed to keep you dry on the mountain. A tight fitting, moisture-wicking fleece top and bottom is perfect for this inner layer.
Your outer shell needs to keep you protected from the elements, so it should be waterproof and windproof. Gore-tex is perfect for this layer.
If it's a cold day, make sure you bundle up with a warm layer in the middle or bring one with you if you're unsure.
Wear a pair of warm, moisture-wicking socks under your boots, a balaclava or neck gaiter around your neck, and a warm pair of gloves under your ski gloves. I'd also recommend picking up a value pack of hand and toe warmers to keep in your car to bring with you on the slopes. You'll be happy to have them!
Rent Equipment Before You Commit
Image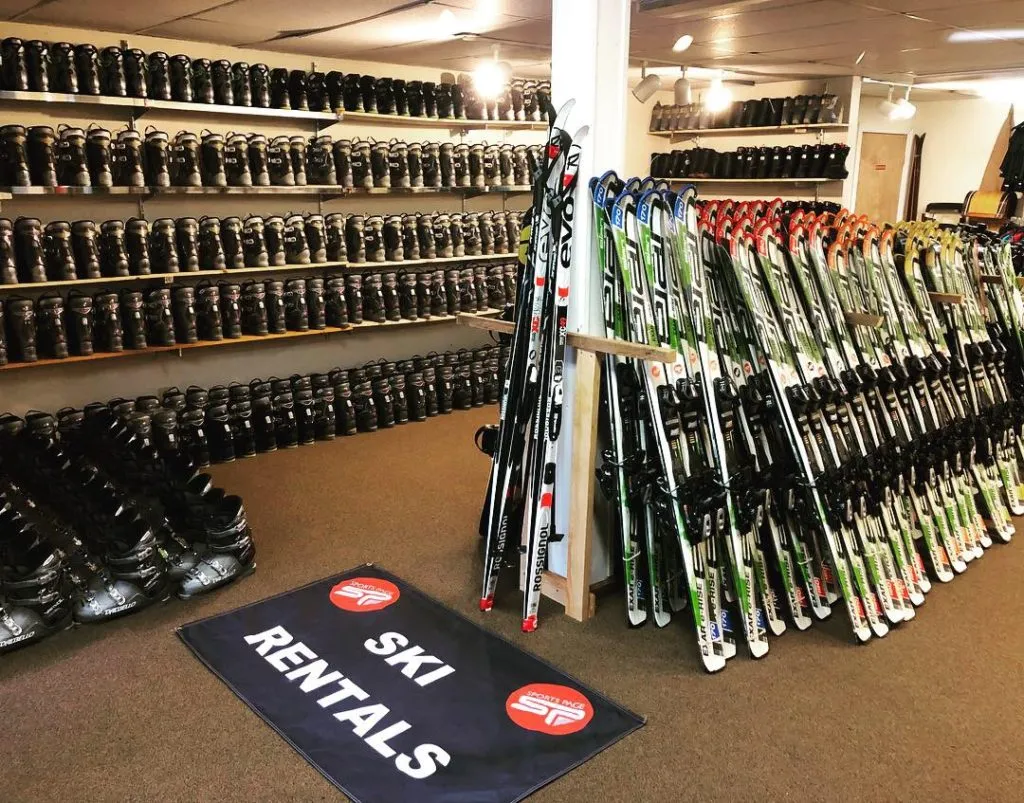 Skiing is an expensive sport, and when you're just starting out the cost of equipment can add up quickly. The good news is that you don't need to buy everything all at once.
I recommend purchasing clothing before gear and ski boots before skis. In fact, your skis should be the last purchase you make.
Your clothing likely won't change much as you get better and your ski boots won't change in size unless you grow. First, purchase clothing so you can be comfortable while you're on the slopes.
Image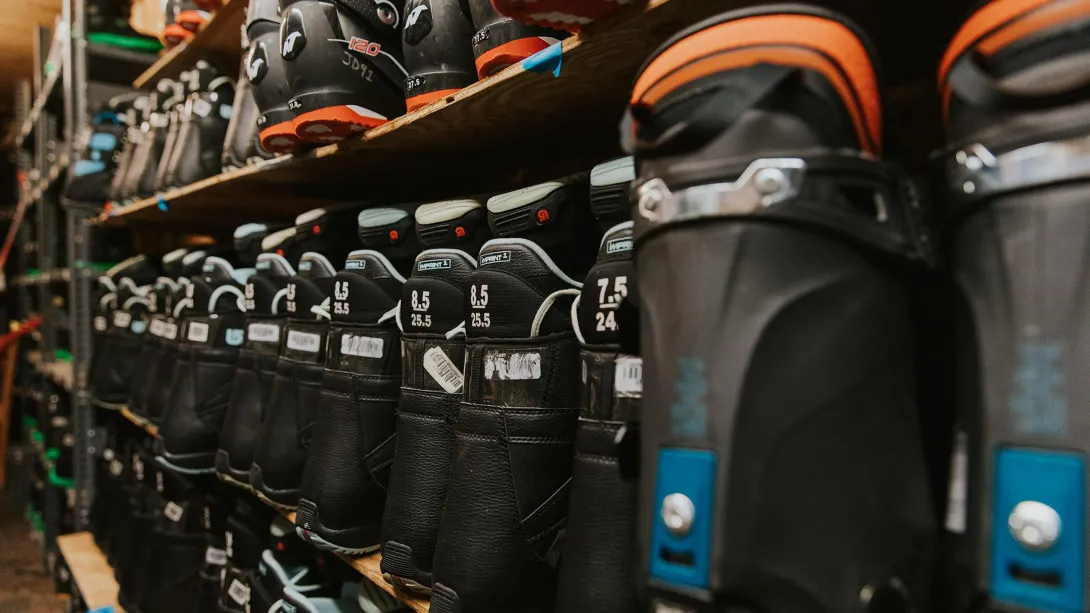 You can rent gear such as boots, skis, poles, and a helmet while you figure out what you like. Once you decide you want to stick with skiing and practice often, I'd recommend purchasing a pair of boots while you continue trying out which skis you like best.
Skis come in all different shapes and sizes and are one of the most expensive items you'll have to purchase, so you want to try out different options before you settle on the best choice for you.
You can read as many blogs as you'd like on the best skis to buy, but you'll never know which ones have the best fit and style for you until you try them all yourself.
Get A Ski Pass
Image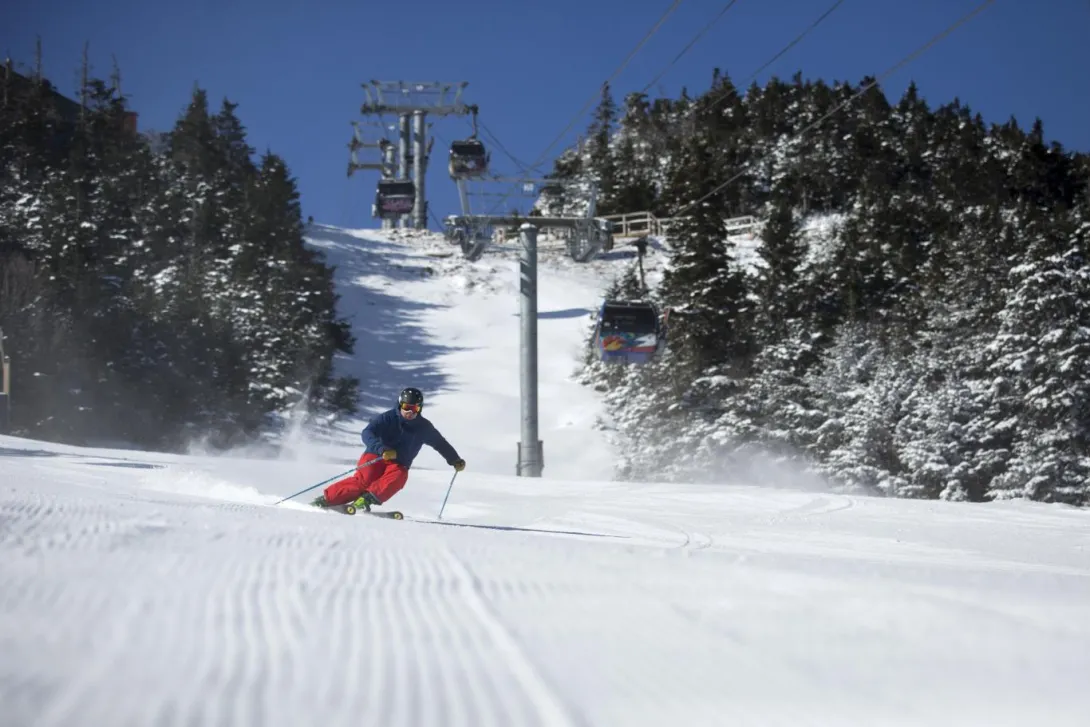 If you're looking to get serious about skiing, get a ski pass. Ski passes will be a little more expensive upfront, but will save you a ton of money in the long run and encourage you to ski more.
When you're just starting out, practicing as much as you can is extremely important. You're not going to get better very quickly if you only ski 3-4 times per season. But skiing any more could be expensive if you don't have a pass.
Image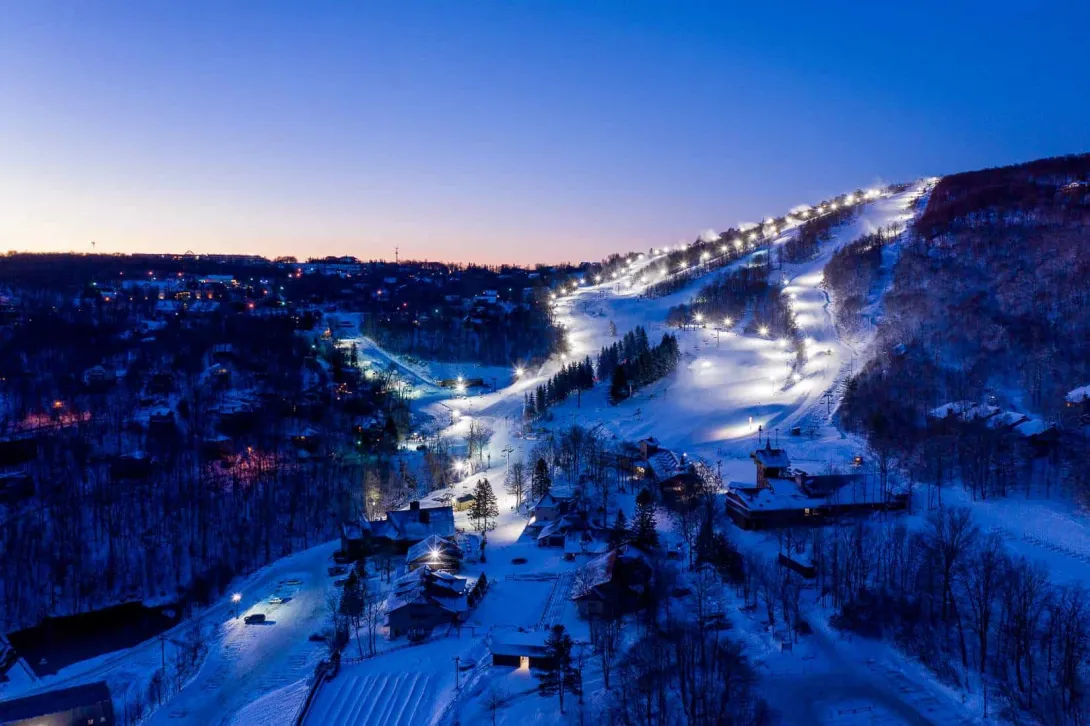 If you live near one mountain and plan to frequent that, see what their deals are and pick one that works best for you.
If you plan to travel, look into a ski pass that covers multiple resorts. Either way, get out on the slopes as much as you can!
Take A Lesson
Image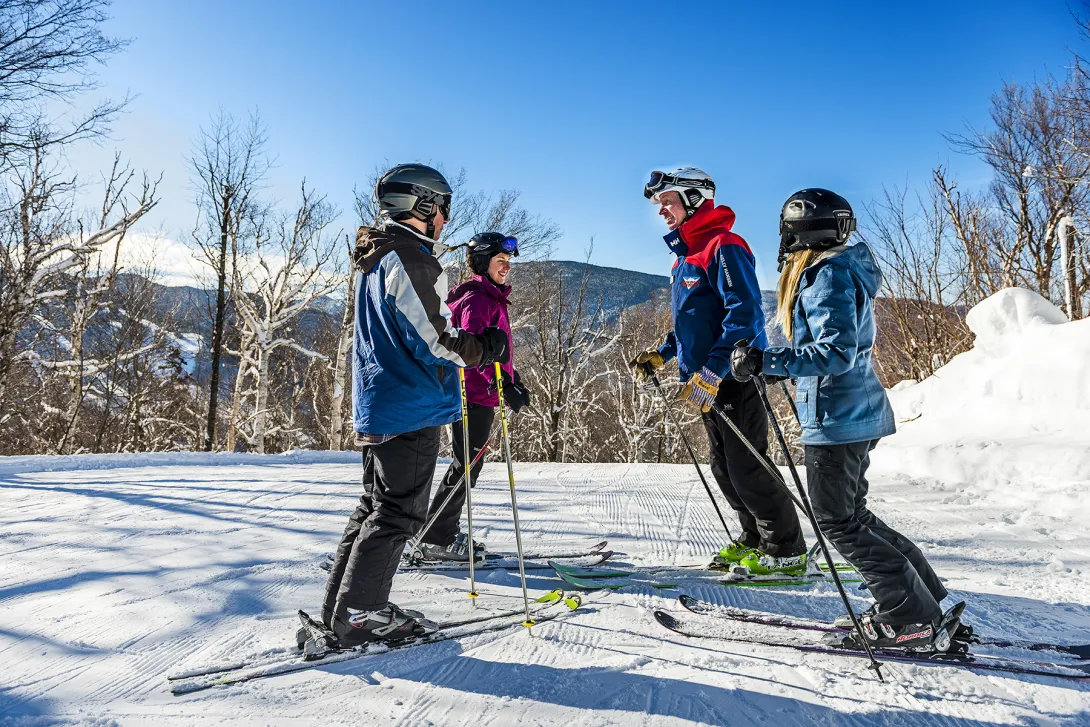 My first time on the ski slopes, my friend told me "french fries make you go fast, pizzas make you go slow" and sent me down the mountain. I hit a tree and lost my helmet on the first run, and didn't go skiing again for almost two years. And the saddest part of that story is that I know I'm not the only one who has had that experience.
My first time back on the slopes after that I took a lesson, which is what I'd recommend you do when skiing for the first time.
A quick one hour lesson can be cheaper than you think and will help you nail down the basics while getting feedback from a professional ski instructor. This will help you ski down the mountain safely and confidently even while you're still mastering the fundamentals.
Riding the Ski Lift
Image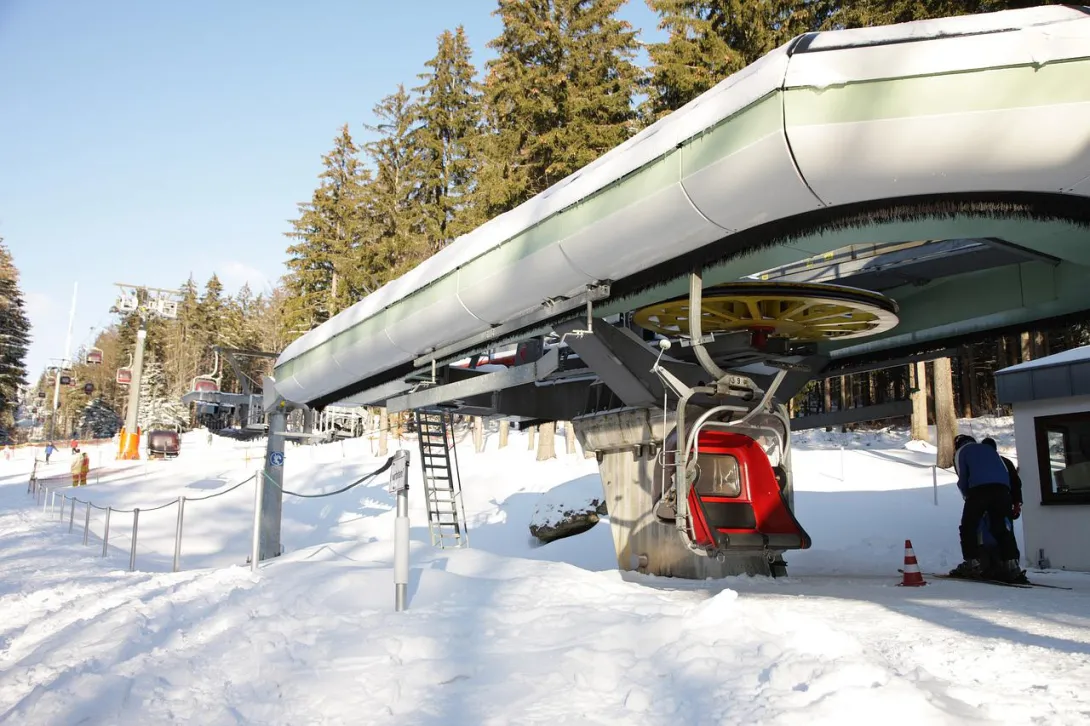 Riding the ski lift for the first time can be a confusing and scary experience, so let's erase those worries for you right away.
As soon as the skiers in front of you get on their chair, there will be an obvious line for you to stand at while waiting for your chair to arrive.
Put your poles in one hand, look behind you, and grab onto the bench with your other hand. Once you're on, keep your tips pointed up towards the sky and wait until it's your turn to hop off. If you're riding the lift for a long time, I recommend unbuckling your boots, hydrating, and eating a quick snack.
When it's your turn to hop off, simply point your toes forward and get away from the lift as quickly as you can.
Know Your Limits
Image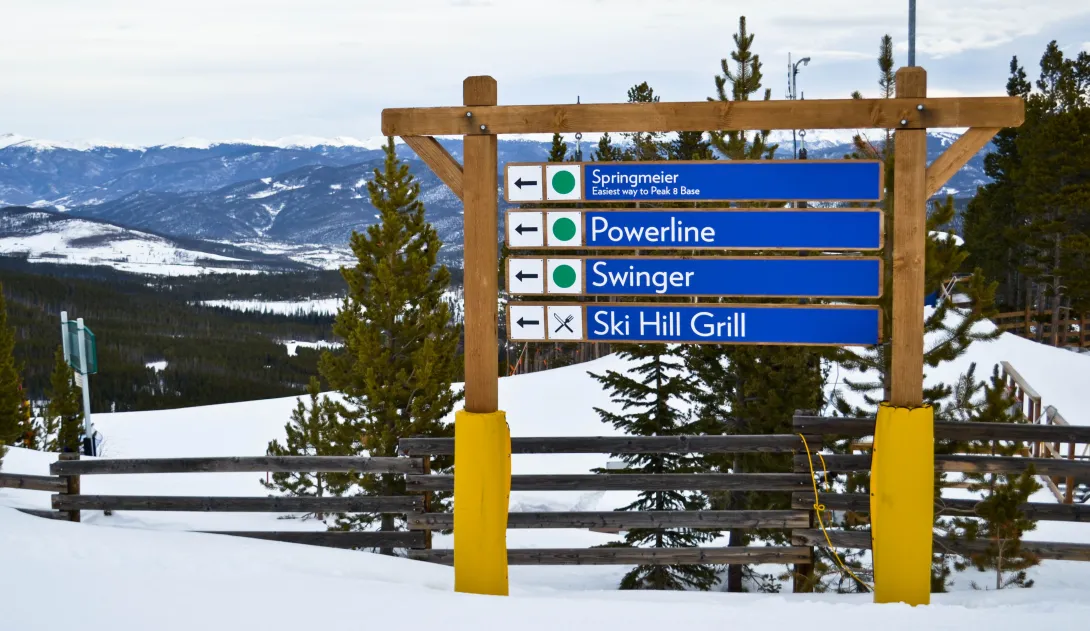 While we always encourage pushing your comfort zone, it's also important to know your limits as being overconfident in your abilities can lead to injury quickly.
The slope colors for each run indicate how difficult the terrain will be for anyone skiing downhill.
It's going to take time to feel comfortable on your skis, learn how to control them, and get better at turning and stopping. You're going to fall a lot, and you're going to get frustrated. But the important thing is not how many times you fall, it's the fact that you get back up and keep on trying until you eventually fall less and less.
It's ok to be a beginner. We all started somewhere!
Build Leg Strength And Endurance
Image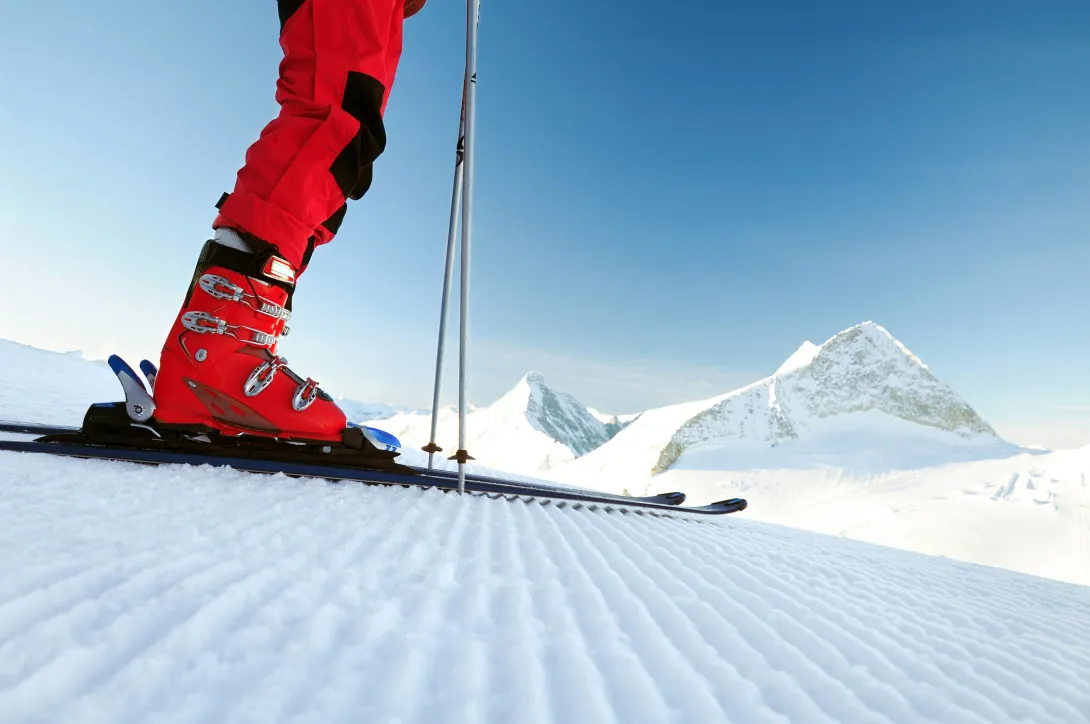 Having a strong, solid foundation is going to help you ski as often as you'd like without getting so sore afterwards.
Skiing takes a lot of endurance and leg strength. If you work on building these things up off the slopes, it'll help you improve faster on the slopes.
Practice, practice, practice
Image
Never stop practicing!
In order to get better at anything, you need to practice frequently and skiing is no exception. The more runs you complete the less you'll fall, the quicker you'll improve your skills, and the more confident you will feel over time.
Get out on the slopes as often as you can, apply the knowledge that you learned during your lessons, and you will be skiing like the pros in no time!